Flyin' to the Hoop once again featured top teams from across the nation and some of the top talent in Ohio. This was the 15th year of the event and Trent Arena was packed with fans to show support to one of the best high school events the nation has to offer.
Trevon Duval 6'2 190 PG – IMG Academy 2017
Duval impressed with his athleticism and playmaking as it's on another level in comparison with other high school point guards. His jump shot can continue to develop but he did knock down two three-pointers. He got wherever he wanted and controls his defender when he has the ball with his shifty speed burst and tight ball handling ability. He still needs to minimize the turnovers as he tries to make the home run play too often. He attacks the middle then leaves his feet to try to find the open man, although he can get away with it at this level, it's a habit to be broken. He recorded seven assists and set up his high flying big men with many easy baskets. Duval scored 20 points in IMG's only game of the event in the win over Hamilton Heights Christian Academy.
Silvio De Sousa 6'8 255 PF – IMG Academy 2018
De Sousa can do so much that impresses you, then you look at the statsheet and realize he hasn't been producing. He's got a man's body and high level athleticism. He's very tough to contain when he's coming full speed. He can improve in trying to get open in the post and moving in the half court. He finishes some plays that not many other high school players can. He ended up with 12 points and six rebounds. All of his points came from simply catching and finishing. He's capable of producing much more but he contributed in IMG's victory.
Emmitt Williams 6'7 210 PF – IMG Academy 2018
Williams brought length, athleticism, and energy. His explosive athleticism allows him to finish anything within two long strides of the basket. He uses his bounce for rebounding and defense as well. He finished with two emphatic blocks but he had multiple coming from the weak side after a foul. Williams finished with 12 points and nine rebounds.
Nickeil Alexander-Walker 6'5 185 PG/SG – Hamilton Heights Christian Academy 2017 (Virginia Tech)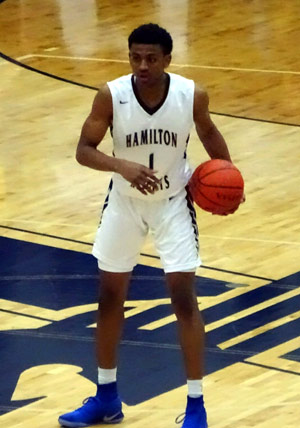 Alexander-Walker scored 20 points and grabbed four rebounds in the loss to IMG Academy. He shot 8-20 from the field and 1-6 from three. Although he didn't have the most efficient game, he's heavily relied on to score as only five players for Hamilton Heights put points on the board. He scored well off step backs and minimal dribble moves. He showed his shooting and scoring ability within the half court but couldn't come away with the victory.
Shai Gilgeous-Alexander 6'5 175 PG – Hamilton Heights Christian Academy 2017 (Kentucky)
Gilgeous-Alexander had the hot hand, scoring from outside as well is at the rim, even showing midrange ability with floaters and jump shooting. He knows how to free himself for a shot when guarded man to man and has good elevation on his jumper. He ended up with 18 points and six rebounds in the loss.
Jordan Tucker 6'7 205 SF – Wheeler 2017
Tucker finished with 21 points (making all nine free throws) and seven rebounds against Pickerington Central. He shot 5-15 from the field and 2-8 from three but was big in the first half comeback as Wheeler was off to a slow start. He shoots well off the catch and is dangerous from midrange and beyond. Wheeler doesn't get much ball movement that finds Tucker open, they tend to force their offense while relying on their superior size and athleticism at each position. Tucker isn't quite as high level of an athlete like some of his teammates but can dunk one in when given the opportunity. On one play in Wheeler's second game against Princeton, he dribbled behind the defender's back in the backcourt and took it to the length of the floor to finish with a jam. He finished with ten points (3-4 shooting) in 15 minutes of play against Princeton.
Darius Perry 6'2 170 PG/SG – Wheeler 2017 (Louisville)
Perry played well in both of Wheeler's wins. He showed both his ability to score and facilitate, pushing the ball favoring Wheeler's athleticism. Perry finished with eight points, three rebounds, and three assists against Pickerington Central. He showed his rebounding ability with 12 against Princeton, also contributing with 12 points and four assists.
Jordan Usher 6'6 200 SG/SF – Wheeler 2017 (USC)
Usher is a high level athlete but forces his offense. He tends to predetermine if he's going to take a shot on a particular play and missed a few dunks. He plays with a lot of passion and gives full effort every time he takes the floor. Usher finished with 16 points and six rebounds against Pickerington Central. He also scored 11 points in the win over Princeton.
EJ Montgomery 6'9 210 PF – Wheeler 2018 (Auburn)
Montgomery is one of 2018's better talents. He is light on his feet and has good agility at his height but has very skinny legs that lack strength. Although he can score inside and out, he needs polish in both areas. Although he made both of his three point attempts, I would like to see him play inside more and get more easy baskets rather than trying to do too much on the perimeter. He shot 5-13 against Pickerington Central scoring 12 points and grabbing nine rebounds. He showed more efficiency against Princeton with 18 points (5-7 shooting) and five rebounds.
Jeremiah Francis 6'3 190 PG – Pickerington Central 2019
Francis showed quickness and midrange scoring. A 5-15 shooting and making only one of seven three point attempts. The sophomore gave it his all posting 11 points, seven rebounds, and four assists but couldn't get the win over powerhouse Wheeler. Although Francis didn't have a great shooting performance, he plays with competitiveness and shows leadership early in his high school career.
Kyle Young 6'7 205 SF/PF – Massillon Jackson 2017 (Butler)
Young shot from deep, displayed his deceptive athleticism, and finished well in traffic. He had a big game with 26 points and ten rebounds against a struggling Our Savior New American. Young has good size and strength, and although he didn't record an assist, he moved the ball well and played within the offense.
Keldon Johnson 6'6 210 SG – Huntington Prep 2018
Johnson had a strong pair of games in both wins. He shoots well from outside and created offense when needed, usually letting it come to him without doing too much. He's mostly a straight line driver and has some explosive ability he uses sparingly. He threw down a 360 windmill against Wayne when the game was out of reach. Johnson finished with 17 points, six rebounds, seven assists, and four steals against Wayne. He followed up with 17 points, five rebounds, and three assists in the much anticipated matchup that gave Prolific Prep their first loss of the season.
Keyshawn Bryant 6'6 180 SG/SF – Huntington Prep 2018
Bryant is a tremendous athlete and explosive one-foot leaper, however, he currently lives off broken plays and needs to find more ways to score. He did knock down one three but didn't show much shooting ability, usually finishing in transition. On a string of plays against Wayne, as the game was ending Bryant through down a windmill, a few plays later he dunked on the break while putting the ball between his legs. Bryant scored 19 points in the win over Wayne and nine points to defeat Prolific Prep.
Jordan Mitchell 6'7 195 SF – Gahanna Lincoln 2019
Mitchell had the best size and athleticism of anyone else on the floor in Lincoln's game but didn't show any elite ability in any area. He did draw a number of fouls with his physical advantages but can improve in traffic as well as shooting and ball handling. Only a sophomore and much time to improve, Mitchell scored 18 points and grabbed six boards in 18 minutes.
Jerome Hunter 6'6 195 SF – Pickerington North 2018
Hunter ended up with a big stat line with 29 points and 15 rebounds (six offensive) but had a very up and down performance against St. Vincent-St. Mary. He would hit a well defended three off the dribble only to miss the rim on an open shot a few plays later. He can tone down the fouls when defending and gets sloppy with the ball when trying to make plays. Physically and athletically, Hunter has much room to increase his stock.
Dane Goodwin 6'4 190 SG – Upper Arlington 2018 (Ohio State)
Goodwin gave Ohio State fans a taste of what they're currently missing, shooting. He made four of his nine attempts from deep, some from NBA range. Although shooting is the only elite skill Goodwin brings at the next level he showed some scoring in the post and wasn't fazed when Garfield Heights tried to get physical. Goodwin finished with 34 points, matching the scoring total of the opposing team, and 13 rebounds. He didn't force any scoring or look to get his own points and was a very willing passer.
Gary Trent Jr. 6'5 210 SG – Prolific Prep 2017 (Duke)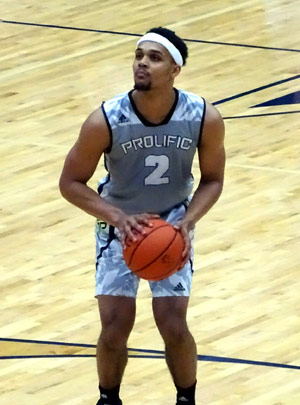 Once again, Trent shot very well scoring 33 points in each game. He forced his offense at times but has the ability to hit difficult shots and Prolific Prep doesn't have many offensive weapons. Trotwood got physical with him but he answered by continuing make baskets. He had a few takes to the rim, throwing down a dunk through the middle of the lane. I would like to see him mesh with the offense more as most of his points come in isolation and I don't see him as a one on one scorer at the next level and beyond. He also only had two rebounds and one assist in each of Prolific Prep's games.
Abu Kigab 6'6 200 SG/SF – Prolific Prep 2017 (Oregon)
Kigab has made much improvement over the past two years especially as a shooter and ball handler. He plays with great intensity and can legitimately defend all five positions at the high school level. He shows pivots in the midrange, can get to the rim, and draws a high number of fouls with his size, athleticism, and physicality. He can be out of control and quick with his shot selection but he plays well in tight games and brings much confidence. Kigab ended up with 21 points and eight rebounds in the loss to Huntington Prep. He finished with 24 points, seven rebounds, and four assists to beat Trotwood.
Justin Ahrens 6'5 180 SG – Versailles 2018 (Ohio State)
Ahrens led Versailles to victory over Tri-Village with 26 points and nine rebounds. He stayed in attack mode with very good athleticism looking display his ability at every opportunity. He can improve as a shooter especially from the free throw line going 6-13. He made moves off the dribble as well as utilized his size and athleticism in the post. Despite being face guarded at times he still manages to be effective on offense.
Darius Bazley 6'8 185 SF/PF – Princeton 2018 (Ohio State)
Bazley has good size and athleticism. He didn't shoot well (5-16) but finished with 11 points, ten rebounds, five assists, and three steals. It is also worth noting that it was his first game with Princeton after transferring. Most of his points came from midrange pull ups and scored when defended well. His effort couldn't get the win but his skillset at his size gives him intrigue.