This year's Final Four featured a number of players with draft aspirations but the games did not have a huge effect on their draft stocks. Nonetheless here is a look at how their performances shifted scout's views of them.
Rising
Peyton Siva — In the title game it was Siva, and not Russ Smith, that looked like the potential future NBA guard. Siva showed composure and leadership that has teams considering that he can make it as a back up in the league.
He's shown excellent progress in his decision making and flashed his tremendous leaping ability converting on a first half ally oop. Siva also served up an incredible ally oop to teammate Montrezl Harrell at the close of the first half which helped them seize momentum. Siva finished with 18 points and his 5 assists to 2 turnovers were big as the cardinals primary ball handler. Siva shot just 6-15, but his 4 steals were crucial.
Having an NCAA title under your belt never hurt anyone, and Siva worked very hard over his four years playing season with much more patience and maturity than he had exhibited in the past. Siva struggles from 3 point range hitting just 29% on the season, but his free throw percentage (87%) shows that he has potential as a shooter. His speed and athleticism gives him a chance to make up for his lack of ideal size (5'11) and find a place with a team.
Trey Burke — Despite falling a game short of a national title, Burke's stock can't go any where but up. Trey was the driving force behind UM's run, showing a competitive fire and leadership ability unrivaled on the college level. He had an impressive final going for a game high 24 points on excellent shooting numbers (7-11 fg, 3-5 3p), saving his best performance in the tourney for the final game.
Burke struggled in Michigan's Final Four match up with Syracuse, however most are willing to give him a mulligan as Syracuse's 2-3 zone makes pretty much everyone look bad. His inability to create shots and even pass the ball against the length of Michael Carter-Williams was apparent. But Burke and Michigan also slowed down MCW and he outplayed the Syracuse PG individually.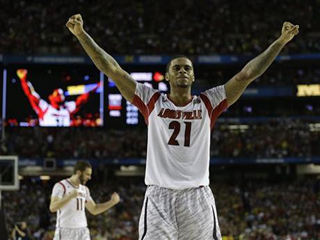 Chane Behanan — Behanan was absolutely a man amongst boys at the end of the title game, gathering rebounds and putting his body on the line with reckless abandon. He wanted it more than Michigan's bigs, and had more energy (and fouls) left to make the key plays. He made a few key rebounds and put backs that were huge in determining the outcome of the game.
Behanan finished with 15 points (6-12 fg) and 12 rebounds and was praised after the game by Coach Pitino for being one of the difference makers. It's remains uncertain whether the sophomore will enter this year's draft. As an undersized 6'6 PF, with the success of guys like Paul Millsap, DaJuan Blair and others, there is reason to believe that Behanan has a chance to make it in the league. He would likely benefit by becoming more of an impact player, and should have a bigger opportunity next season with Gorgui Dieng graduating.
Cleanthony Early — Wichita State's 6'8 combo forward used the big stage of the Final Four to showcase his tremendous motor and solid athleticism. Against Michigan he put up a very impressive 24 and 9, showing the ability to crash the boards and score around the rim as well as knock down outside shots. He's a tweener forward, but could have enough skills to make in the league as an undersized energy forward.
Falling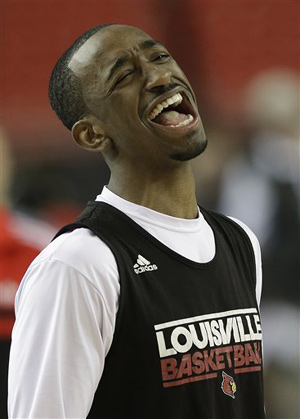 Russ Smith — How does someone lead all scorers in the NCAA tourney (134 pts, 22 ppg) on the way to helping his team win the national championship, and still appear on the falling portion of this page?
The reason is that Smith's final game left such a bad taste in scouts mouths that he lost the momentum he'd gained. It got so bad that Coach Pitino benched him to begin the second half of the title game against Michigan after the guard went 1-9 in the first half. He finished the game shooting 3-16 and 1-6 from 3, with 9 points and 3 turnovers. The Cardinals beat Michigan despite Russdiculous, not because of him.
His decision making was atrocious as he launched numerous ill advised shots,at one point he decided to take a shot with 30 seconds still on the shot clock, in an obvious milk the clock situation, with under two minutes remaining. A potentially horrific mistake as the miss gave Michigan the ball back with a two possession (6 point game) and 1:30 on the clock.
After the game, Smith's Dad said that Russ will enter the draft, but nothing official has come from Russ himself. For a 6-foot guard, his poor decision making as a lead guard and lack of outside shooting consistency are major deficincies. Smith would be best advised to return to Louisville and work on the deficiencies in his game.
Tim Hardaway Jr — Hardaway shot just 3-14 from deep in the combined Final Four games and aside from the opening round game against South Dakota State really struggled shooting and scoring in the tourney as a whole. In a bad draft, Hardaway has some proponents as a catch and shoot, NBA rotation level shooting guard, and could get some first round looks, but his Final Four didn't help his cause.
Against Louisville, Hardaway had a number of shots rim out, one of which could have really swung the pendulum in Michigan's favor, but in the end his 0-4 shooting night from 3 was costly.
Hardaway did flash his excellent leaping ability with a thunderous dunk in the first half and finished with a respectable 5-13 from the floor, finishing with 12 pts and 4 assists, but in the end it wasn't enough for Michigan to take home the title.
It's still up in the air whether he will enter this year's draft, but with the rest of his teammates likely leaving and it being a weak draft, it's uncertain whether his stock will ever be any higher than it currently is. Hardaway needs to work on his body and handle, but was a solid leader and contributor on a young team that made it to the title game.
Michael Carter-Williams — After a very impressive tourney run, helping Syracuse reach the Final Four, some of the wrinkles in MCW's game became apparent. He fouled out of their match up with Michigan and many noted that he didn't show the leadership to support his teammates, instead showing a selfish attitude and pouting on the bench.
He's a talented player with a huge wingspan and a lot of natural talent, but effectively playing the point guard position at the NBA level requires leadership that to this point scouts aren't sure MCW possesses.
Regardless, in a weak draft Carter-Williams still figures to land in or near the lottery and be one of the first 3-4 point guards off the board.