There was certainly more than enough drama and intrigue during the final session of the EYBL at Sports Academy in Thousand Oaks, CA. Not only were teams fighting for their Peach Jam lives, but as always players were fighting for college offers and individual ranking supremacy. With "the Final Stop" now out of the way, we will go into some of the top performers and notes on the event, as well as some upcoming prospects to keep an eye out for. Special thanks to Mike Gribanov of "Ode to Oden" podcast, who contributed with some prospect reports of his own.

Marvin Bagley 6'11 225 PF – Nike Phamily 2018
Session Stats (4 games): 27.8 ppg, 15.3 rpg (7.5 orpg), 1.5 apg, 1.5 spg, 3.3 bpg, 1.5 topg, 51.8% FG, 30.8% 3PT, 57.5% FT
EYBL Stats (15 games): 25.8 ppg, 14.9 rpg (6.1 orpg), 1.7 apg, 0.9 spg, 3.1 bpg, 3.2 topg, 54.6% FG, 23.2% 3PT, 63.2% FT
The Phamily phinally (had to do it) won a game in EYBL, and actually finished the weekend 2-2. They end the year with a 2-14 record, which still managed to include numerous flashes of dominance from the consensus #1 player in 2018. Constantly facing double and triple teams, Bagley still managed to assert his dominance on the offensive end with his impressive quick leaping ability. He is explosive off the floor, can do work off of the dribble and even put in work as a rim protector. He played center the majority of the time on the floor, while still logging in quite a bit of time as the primary handler.
He is so tough to handle in transition and when he is hitting shots, there is little one can do to stop him. However, Bagley's shooting is still very much inconsistent both from the FT line, mid and long range. He also has yet to show much of an ability to distribute for others, though his teams lack of acumen certainly did not help his cause. Still, he showed a lot of desire this weekend after what had to be a frustrating EYBL campaign and while he may have a few players gunning for the top spot in 2018, he showed that they still have to go through him.
Bol Bol 7'2 225 C – California Supreme 2018
Session Stats (4 games): 20.5 ppg, 10.3 rpg (2 orpg), 2.5 apg, 5.5 bpg, 1.3 topg, 63.3% FG, 43.8% 3PT, 75% FT
EYBL Stats (15 games): 24.1 ppg, 10 rpg (2.3 orpg), 1.9 apg, 0.5 spg, 4.5 bpg, 2 topg, 65.6% FG, 48.9% 3PT, 83.3% FT
Bol was absolutely dominant on both sides of the floor and will undoubtedly be the main attraction at the Peach Jam in July. Even with him definitely playing at his own pace and at times jogging up and down the court, he asserted his dominance on both ends. He is definitely willing to fight for position close to the hoop and has a nice touch, though it is his rim protection that truly stands out. He gets some blocks based on his pure length, with a wingspan the has to be in the neighborhood of his 7'7 father Manute's height, though it is his timing and ability to keep the ball in play that leave an impression.
If his towering height was not enough, he also has been a threat from three-point range. Even with a low and somewhat awkward release, his size makes him pretty difficult to deter when he wants to shoot from distance. He covers quite a bit of ground, gets rebounds at a high point and while he certainly can add strength, his body is not at all bad at this stage in development.
One might like to see a little more focus at times and of course less possessions where he is going at less than full speed, but he led his team to a 4-0 record and may have just been a little tired from the EYBL schedule. If this is the case, with a month of rest, teams in the Peach Jam will need to watch out. In a class considered to have only a few players among the top tier, Bol has proven to absolutely be one of them. A 5 who stretches the floor while still providing the things such as rim protection and ability close to the basket, Bol's developed into what the 2018 class desperately needed in terms of intrigue with his increased offensive potency.
Tre Jones 6'2 180 PG – Howard Pulley 2018
Session Stats (3 games): 16.7 ppg, 4 rpg, 4 apg, 1 spg, 1.3 topg, 43.8% FG, 77.8% FT
EYBL Stats (15 games): 19.3 ppg, 5.4 rpg (0.9 orpg), 8.3 apg, 1.9 spg, 1.8 topg, 56.5% FG, 27.3% 3PT, 80% FT
The player who many considered the odds on favorite for EYBL regular season MVP unfortunately went down with what was determined to be a high ankle sprain. Pulley, who was 13-1 and up 34-32 on Pro Skills, proceeded to lose the game he went down and their next game to the 1-14 Nike Phamily. Jones, who is almost the spitting image of his older brother Tyus, is an absolute leader, with fantastic court vision and has absolutely dominated other guards in the EYBL with his change of speed and intelligence. He seems to see plays a few steps ahead of everyone else, which once again beckons to his brother who did much of the same thing at this stage in his high school career.
One definite difference between the elder and younger Jones is that Tre works almost entirely from inside the arc, as he only made 6-22 3PT during 15 EYBL contests. He did a good job getting to the foul line and shoots 80% FT, though it will be interesting to see if he can maintain the level he finishes at the basket. He is a crafty finisher and at this point in time can even use his body to get through defenders, though this will of course not always be the case at the NCAA level. He still finds ways to score and was far and away the best distributor in the EYBL and should be a quick plug and play running the show at the college level.
Working on his long-range shooting will be necessary as far as pro prospects, though at this point in time he is absolutely one of the better and more college ready players in his class. If he is able to come back from his ankle injury by Peach Jam, a skilled Howard Pulley team is absolutely in the running. Though they showed, they need Jones at the helm.

Cameron Reddish 6'8 205 SG/SF – Team Final 2018
Session Stats (4 games): 20.5 ppg, 9.8 rpg (3 orpg), 3.5 apg, 1.3 spg, 4 topg, 39.7% FG, 18.8% 3PT, 69.6% FT
EYBL Stats (16 games): 22.6 ppg, 7.8 rpg (1.7 orpg), 3 apg, 1.5 spg, 0.8 bpg, 2.4 topg, 40.3% FG, 28.6% 3PT, 75.9% FT
With an impressive frame, fluid athleticism and ball skills, Reddish's talent is evident to anyone who watches him play. This weekend, with what appeared to be a short-handed squad, that was simply not enough as his Team Final went 0-4. Reddish ran point almost exclusively, though as an astute Greg Anthony pointed out in the stands, that does not seem to be his wheelhouse. Anthony also brought up the strong point of college coaches likely knowing what these players do best, and with Reddish that would be playing on the wing.
Reddish seems to have so many tools as a scorer and while he shows ability to possibly be a strong secondary distributor or even at times running the break, playing with someone more suited to be a primary distributor would help him immeasurably. He still managed to score and generally assert himself with his physical gifts, plus at times make some strong reads, but he pointed to many things he can work on. For a player who has been fairly ineffective from long-range in the EYBL, he settles too often and will need a lot of work on that. His mechanics certainly look alright, though it is confirmed that this inconsistency has been a pattern.
In terms of NBA size, along with his ability to contribute in the all-around game with tools to play both ends, Reddish still is among the better prospects in the class. He still has some rough edges that need to be smoothed out and that may come to fruition if he gets teamed with someone more suited to run an offense.

Jaylen Hoard 6'8 200 SF – CP3 2018
Session Stats (4 games): 18 ppg, 6 rpg (2.8 orpg), 2 apg, 1 spg, 0.8 bpg, 0.8 topg, 52.2% FG, 55.6% 3PT, 71.4% FT
EYBL Stats (16 games): 14.9 ppg, 6.9 rpg (2.6 orpg), 1.2 apg, 0.9 spg, 0.5 bpg, 1.9 topg, 50.6% FG, 39.5% 3PT, 71.2% FT
The forward from France seemed to take some time to get acclimated to the EYBL initially, though he finished the last few sessions as a match-up nightmare playing combo forward for CP3. With a strong build, Hoard finished some lobs, plus showed a silky shooting stroke. He is pretty comfortable off of the ball and looks to potentially be a dangerous spot-up shooter. He can at times disappear and his defensive technique can use improvement, but he looked to be one of the more interesting wings at EYBL in terms of upside. He is not among the top tier in the class, though should thrive as a complementary piece, with some ability to play either forward spot and a frame that should add muscle quite well. While his shooting did not have a huge sample size, his soft touch certainly appeared quite real and he seems to have some definite upside moving forward on both sides of the ball.

Emmitt Williams 6'7 210 PF – E1T1 2018
Session Stats (4 games): 17.3 ppg, 9.5 rpg (2.8 orpg), 2.5 apg, 1.3 spg, 0.8 bpg, 3.3 topg, 70% FG, 42.9% 3PT, 52.6% FT
EYBL Stats (16 games): 17.6 ppg, 11.6 rpg (3.4 orpg), 1.6 apg, 0.6 spg, 1.3 bpg, 2.2 topg, 61.5% FG, 48% 3PT, 58.7% FT
There was likely not a more intense player during the weekend than Williams, who showed a strong leaping ability and was very physically dominant, even with a lack of ideal PF size. He even was flashing some ability to shoot from mid and long-range, including a baseline 16-foot dagger that upended CIA Bounce at the buzzer. He had some issues defensively with bigs such as Simi Shittu and Kamaka Hepa, who were bigger and could stretch the floor. Williams also was kicked out of the game against CP3 for apparently arguing with the ref. Even with this, he was completely engaged in the game, getting his team water and cheering them on to a victory in which his teammates Antwann Jones and Will Richardson stepped up in his absence. He is a bit older for class and it is hard to tell if his shooting is real as he can have a hard release at times, but he will be an energy PF that will surely make some noise in college.
Coby White 6'4 185 PG/SG – CP3 2018
Session Stats (4 games): 22.8 ppg, 5.3 rpg, 3.8 apg, 2 spg, 2.5 topg, 60% FG, 31.6% 3PT, 68.4% FT
EYBL Stats (16 games): 21.6 ppg, 3.5 rpg (0.5 orpg), 3.1 apg, 1.3 spg, 2.4 topg, 55.9% FG, 33.8% 3PT, 67.6% FT
One of the more impressive raw scorers from the weekend was White, who showed an ability to get to the hoop and even had some finishes above the rim. He is definitely a score first type guard, though he displayed some valuable ball handling and distribution ability, some defensive intensity and flashes ability as a shooter as well. The North Carolina commit is looking like he could be a McDonald's All-American candidate and is turning into one of the better combo guards in his class. He does at times force the issue and his shot selection can use some work, but he can knock down shots from all three levels and has a great scoring package. White has had a huge spring and should shoot up the national rankings.
Jalen Lecque 6'4 165 PG/SG – Southern Stampede 2019
Session Stats (4 games): 16.8 ppg, 4.8 rpg (1.3 orpg), 1.3 apg, 0.8 spg, 0.8 bpg, 1 topg, 54.5% FG, 25% 3PT, 45.5% FT
EYBL Stats (16 games): 17 ppg, 3.8 rpg (1.4 orpg), 1.2 apg, 0.8 spg, 0.8 bpg, 1.7 topg, 46.8% FG, 30.6% 3PT, 68.4% FT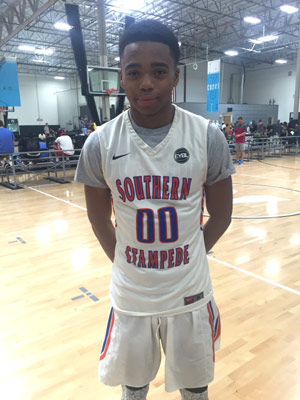 His frame and the way he moves scream "basketball player", and he has a developing skill set that gives him loads of potential. While he is still much more of a scorer than an all-around player at this point in time, this may be attributed to him hurting his knee in the summer of 2016. It seems that he has come back strong and that has led to him at times attacking the rim with reckless abandon. On a couple of occasions this weekend, Lecque literally jumped through people, sometimes even in the half court. He seems to understand change of speeds and while his shot needs some work, his ability to rise up and attack the basket have led him to be one of the better scoring underclassmen this season in the EYBL. He looks to have an incredibly bright future and if he develops more as an all-around player, he should catapult up the 2019 rankings.

Simi Shittu 6'9 225 PF – CIA Bounce 2018
Session Stats (4 games): 18.5 ppg, 9.3 rpg (2.8 orpg), 3.5 apg, 1.3 spg, 2.5 bpg, 2 topg, 62.5% FG, 25% 3PT, 59.1% FT
EYBL Stats (16 games): 20.1 ppg, 10.2 rpg (3.5 orpg), 3 apg, 1.2 spg, 1.4 bpg, 3.1 topg, 58.5% FG, 38.1% 3PT, 55.9% FT
With great dimensions for a big man (around 6'9 with a 7'1-7'2 wingspan), Shittu did work on both ends at EYBL. Offensively he is kind of figuring himself out at this stage, at times hesitating to play down low, where he was absolutely most effective. His shooting is still a question mark, though he also does damage from the high post, where he displayed strong vision and an ability to set his teammates up in scoring position. While he shows some versatility as a defender and can switch on to smaller players, at his size he should likely focus on playing either the 4 or 5 in college, where he could make a killing as a match-up problem. He truly asserted his physical dominance in the game with E1T1, with 32 points, 15 rebounds as wells as 3 steals and 2 blocks, even if Bounce came up just short with Emmitt Williams buzzer beater. Shittu's ability as a defender has always kind of been his calling card and while his offense is not fully consistent, he still contributes and that seems to justify his being among the better prospects in 2018.
Ignas Brazdeikis 6'7 225 SF – CIA Bounce 2018
Session Stats (4 games): 20 ppg, 6.5 rpg (1.8 orpg), 2.5 apg, 1 spg, 2.8 topg, 50% FG, 23.1% 3PT, 71.4% FT
EYBL Stats (15 games): 22.4 ppg, 7.5 rpg (2.1 orpg), 2.3 apg, 0.7 spg, 0.4 bpg, 2.5 topg, 50.4% FG, 30% 3PT, 70.7% FT
The Canadian-Lithuanian lefty has proven to be one of the more consistent scorers in the EYBL this season, finishing 6th overall at 22.4 ppg. Brazdeikis is ultra aggressive, either using his strength inside to take advantage of either forward spot on a regular basis or on drives to the hoop, where he gets to the FT stripe on a consistent basis. His shot is definitely inconsistent and it is no assurance that it will be so down the line, though he does seem at least comfortable shooting from long range and there are not a lot of complaints mechanically. "Iggy" is more of a volume shooter than an efficient scorer in most cases, though he was someone teams had to worry about and when he does get hot, he can change the game. He certainly has the size to play either forward spot in college and it looks like a number of high major schools have taken interest in his services as a bucket getter.
Ayo Dosunmu 6'4 180 PG/SG – Mac Irvin 2018
Session Stats (4 games): 25.8 ppg, 3.5 rpg (1 orpg), 2 apg, 1 spg, 3.5 topg, 48.7% FG, 20% 3PT, 74.3% FT
EYBL Stats (16 games): 23.2 ppg, 3.9 rpg (1.2 orpg), 3.1 apg, 1.4 spg, 2.2 topg, 47.8% FG, 27.3% 3PT, 79% FT
Really aggressive guard prospect, Dosunmu is always in downhill mode. Impressive array of floater and flip shots, which makes him incredibly hard to guard, especially in transition. Enough handle and vision to play some PG, even though it is clear he has a scorers mentality. Strange mechanics and a low release point on his shot, but makes it enough to keep defenses honest. If he is able to gain consistency as a jump shooter, he could be a lottery level talent. Does a solid job sliding with his man as a defender and fighting through pick and rolls. Is the rare AAU star that's actually a two-way player and often guards the biggest perimeter threat on the opposing team. Quick crossover, and effective side step to get to his off the backboard runner if defender takes away the middle. Quick change of direction dribbles allow him to get to the free throw line at a high rate. Despite his assertive style, he also has the ability to play with pace in the pick-n-roll, putting his defender in jail and shows patience getting in range to get up his signature right hand runner. -MG
Keion Brooks 6'8 190 SF – Spiece Indy 2019
Session Stats (4 games): 17.3 ppg, 5.8 rpg (2.5 orpg), 2.5 apg, 1 spg, 2.3 topg, 51.9% FG, 71.4% FT
EYBL Stats (16 games): 18.2 ppg, 6.8 rpg (3.2 orpg), 1.8 apg, 0.4 spg, 0.7 bpg, 1.9 topg, 49.5% FG, 23.3% 3PT, 72.1% FT
Brooks is a class of 2019 forward with excellent length and athletic ability. He is explosive and has very good quickness for a player his size. However, his skill level is currently really raw. He has only made a handful of three-pointers over the course of the entire EYBL regular season and mostly depends on cuts and transition opportunities for his offense. Furthermore, for a player with his physical gifts you might expect him to be more impactful as a defender, yet it is Brandon Johns that usually takes on the toughest assignment for Spiece Indy on that side of the court and Brooks' steals and blocks numbers are fairly underwhelming. The athletic talent is certainly there and as a player with 2 more years of HS eligibility there is easily a pathway to harness those tools for Brooks but his lack of perimeter skills in particular keeps him from being the elite prospect that his natural ability suggests. -MG

Vernon Carey 6'9 245 PF – Nike Team Florida 2019
Session Stats (4 games): 15.5 ppg, 4.8 rpg (2 orpg), 2.8 apg, 1 spg, 1.5 topg, 49.1% FG, 25% 3PT, 72.7% 3PT
EYBL Stats (16 games): 17.4 ppg, 5.8 rpg (2 orpg), 1.1 apg, 0.7 spg, 1.1 bpg, 1.9 topg, 54.3% FG, 31.7% 3PT, 70.7% FT
One of the most highly sought after players in the fairly deep 2019 HS class, Carey is still ironing out the kinks in his game but having only turned 16 years old a few months ago, he certainly possesses plenty of upside. Standing about 6'9 with a massive frame, the son of an NFL lineman Carey is surprisingly mobile and nimble, playing in a very up-tempo, transition focused system at Nike Team Florida. His stamina is fairly impressive for someone with his body type and he shows a versatile offensive game, stepping out for three pointers, finishing at the rim and at times even driving close outs. I'd like to see him focus more on using frame inside as he has shown a fairly advanced post game for a player his age and at times he still tends to coast for stretches. His defensive position may also be a challenge at higher levels of play but the all around package of skills and physical gifts Carey provides still makes him one of the more intriguing long term prospects in all of high school basketball. -MG
Cole Swider 6'8 215 SF/PF – BABC 2018
Session Stats (4 games): 19.3 ppg, 7 rpg (2.3 orpg), 0.3 apg, 1.5 spg, 1.3 topg, 56.9% FG, 31% 3PT, 80% FT
EYBL Stats (16 games): 19.4 ppg, 6.3 rpg (2.5 orpg), 0.7 apg, 1.6 spg, 0.6 bpg, 1.8 topg, 49.5% FG, 35% 3PT, 82.6% FT
Swider is a prototype modern combo forward with good size at 6'8, 215 with compact, quick, consistent mechanics and range on his shot. If he gets in the weight room and perhaps grows another inch or two in the next 2 years, could easily play the 4 in today's pro basketball. Does not have great vertical explosion or lateral agility but enough to guard slower wings or stretch 4s at the next level and shows above average feel and understand of concepts as a team defender. Doesn't need much time or space to get his shot off and loves to run the court and provide spacing as trailer in early offense. Not very quick but a fluid handler who should be able to drive close outs and perhaps run some pick and roll. Strong frame makes him a component rebounder and post defender. Will never be a top-notch defender and playmaker, but his combination of size and versatility as a shooter provides just enough intrigue to his profile. -MG
Notes and Other Standouts
You never know whom you will see in LA and in this case, at Sports Academy during the EYBL final stop. While there were numerous NBA players and potential draftees in the crowd, no one appearance made as much noise as that of Sean "Jay Z" Carter. Jay was there, along with his buddy World Wide Wes, to watch his nephew Nahziah Carter play for City Rocks, as he finished with 22 points in a 63-60 win over Pro Skills. The nephew Carter is a 2017 who was originally a Dayton commit, though has helped himself greatly in EYBL play and may be on the verge of committing to high major. He had a rough game against Team Phamily that next morning without his uncle in the crowd, though his lone field goal was a monstrous dunk on Marvin Bagley.
Among the many basketball players, coaches that showed up were MVP frontrunner Russell Westbrook, Chris Paul to support CP3, Penny Hardaway of Team Penny, Rodney Hood to support MEBO, Tyus Jones to support younger brother Tre, Michael Carter-Williams supporting his twin brothers Marcus and Max Zegarowski, DeMar DeRozan, Skal Labissiere, Malachi Richardson, Jerami Grant, Tyler Ennis whose dad, Tony, coaches CIA Bounce, Joseph Young and Derek Fisher. An absolute slew of potential draftees were in attendance as well, such as Jayson Tatum, De'Aaron Fox, Jordan Bell, Luke Kennard, Johnathan Motley, John Collins, Xavier Rathan-Mayes and Kennedy Meeks. Also, former Indiana coach Tom Crean was there and had a long talk with a couple of his former players, OG Anunoby and Thomas Bryant. Finally, Jim Boeheim the lone major head coach in the building, on hand to watch his son Buddy Boeheim play for City Rocks. The younger Boeheim is a 6'5 knockdown shooter (47.4% 3PT/89.5% FT) and was the team's second leading scorer behind none other than Nahziah Carter.
Boo Williams has one of the most consistent performers in Keldon Johnson, who averaged 16.3 ppg and 9.3 rpg. Even so, rising 2021 PG Zion Harmon at times can run the show for them. Harmon is definitely small in stature (listed at 5'10/170), but he displayed supreme confidence and a mature understanding of the game. His patience to attack on drives and even to use his body to shield his shot being blocked by the plethora of big men on Nike Team Florida was quite impressive. At only 15, Harmon is likely not done growing, and he will be a highly sought after floor general down the line.
Saw numerous games of Team Melo and combo guards Noah Locke and Wynston Tabbs both have definite value as college combo guards. They are both more scorers than playmakers, with Locke finishing with the most made three-pointers in this year's EYBL at 53-107 (49.5% 3PT). Tabbs seemed to be more comfortable on the ball, with a very solid build, also providing shooting during the season (42.6% 3PT) and even hit the game winner in an 81-80 win over Nike South Beach.
All-Ohio Red were among 6 teams that finished 13-3 and they have themselves a special shooter in Foster Loyer. Loyer also is quite comfortable as a distributor and a very tough competitor, committed to Michigan St. with fellow teammate Thomas Kithier. Loyer's shooting splits are 50.3/42.5/98.8, as he is averaged 17.5 ppg in the EYBL. He was a perfect 83-83 FT's, until he missed his final attempt against Indy Spiece as they fouled him in an attempt to extend the game. Loyer was definitely upset with the miss and it is safe to say, expects perfection. The fact that he got to the line as often as he did (over 5 FTA's per game) and was almost flawless, was incredibly impressive.
While we listed some impressive 2019's up above and EYBL leading scorer RJ Barrett was not present at the event and may be reclassifying to 2018, there were a lot of intriguing big man prospects. Team Penny's James Wiseman is the youngest and is very raw at this point in time, but he has fantastic length, is pretty fluid and he even made a couple shots outside of the paint. MoKan had Roman Wilson, a bouncy athlete who caught an impressive one-handed block at the rim and could finish lobs. Wilson is also quite raw, but has a great frame and is absolutely one to watch. In terms of just being physically imposing, New York Rens'Kofi Cockburn is an absolute load near the basket. Cockburn struggled against Cal Supreme, but had one play where he dunked through Bol Bol. He also averaged 11.6 ppg and 9.2 rpg while being tremendously raw in terms of skillset. Needless to say, these 3 guys should all be back next year and are big men to keep an eye on.
Nike Team Florida and Team Penny were two of the youngest teams in attendance who should show a lot of promise next year if they keep everyone together. Trendon Watford seems to be a potential stretch 4 and hit a buzzer beater over Team Melo that started the weekend off with a bang. Balsa Koprivica, also of Nike Team Florida is a legitimate 7-footer who has an intriguing skill package that is still getting worked out. With Penny, forwards DJ Jeffries and Chandler Lawson are cousins who already played a significant role on a team that went 10-6. Jeffries is a tad older and has more of an understanding of the game, while being a bit more bouncy as an athlete. Lawson, whose brothers just transferred to Kansas, has incredibly long arms and finished the year averaging 12.4 ppg. He does not have incredible lift, but moves pretty well, has some vision and could be a real nuisance as a defender.
Tre Jones may be the conductor that ran Howard Pulley, though the team itself certainly had some skilled and capable players who made the engine run. Gabe Kalscheur is a dangerous outside shooter with pristine form. Daniel Oturu is committed to Minnesota and has the look a great college 5 with potential as more as a rim runner, defender and rebounder. Jarvis Thomas and 2019 David Roddy also filled their roles really well as complementary pieces. Thomas is an energy 4 who gives some defensive versatility and Roddy does a little bit of everything with a solid frame for a wing. A lot of talented college pieces on this roster and it was a thing of beauty when everyone was healthy.
Gerald Liddell is an intriguing prospect and has long been ranked in the top prospects in the Class of 2018, but 2019 Tyrese Maxey ran the show for RM5. Maxey is a threat from outside, has a better than 2:1 assist-to-turnover ratio and also has good size for a PG. He knocks down FT's at a 86.2% FT and even has a mid-range game to boot. 2019 guards De'Vion Harmon and Chris Harris were also solid performers, while 2018 sleeper Keonte Kennedy is one to keep an eye on. Kennedy defended well, had a couple strong alley-oop finishes and even hit some outside shots. He seemed pretty long and could develop into a really nice wing guard.
Darius Garland has some definite quickness and ball handling, plus some potential as a shooter even if he can at times be a bit streaky. Still a bit on the slight side, Garland's toughness helped him close a close game with Team Penny. Another huge help was the play of 2019 big man Francis Okoro. With 13 points and 16 rebounds in the 71-60 win over Team Penny, Okoro really asserted himself inside and has a mans body.
With a couple of key injuries to Team Takeover in their match-up with Team Penny, 2020 big man Hunter Dickinson came up huge. Not that it is much of a stretch for the near 7-footer, but he played well at the rim in the zone and showed a really soft touch near the basket, finishing with either hand. He is definitely a bit of a lumberer in terms of movement, but he got the better of his underclass big man battle with James Wiseman, finishing with 12 points, 7 rebounds and 3 assists, with a key basket that gave Takeover the 62-60 victory.
MEBO Team Hood had a tough year and finished with a 6-10 record, but Robert Woodard is still one of the more effective defensive wings in the class. With a solid build and athleticism to play above the rim, Woodard averaged 1.8 spg and 1.2 bpg on the year, putting in good effort beyond just those numbers. He struggles shooting the ball, but finds ways to score and is tough near the basket. At around 6'5 and 225, Woodard has physical maturity and his defense could be a huge help to whatever college he lands at.
Will Richardson was huge for E1T1 in their narrow win over CP3, making key plays on both ends of the floor to give his team the 70-68 win with Emmitt Williams out of the game. Antwann Jones was a big helping hand as well with his strong frame and ability to get to the basket, but Richardson's poise under pressure and 3 blocked shots really stood out. He has great size and sneaky athleticism for a PG, plus an all-around game that lets him make an impact even if his shot is not falling. Production wise he may not be on the same level as top PG's right now, though in terms of pro potential, Richardson has a lot going for him.
Follow Michael on Twitter @NBADraftMikeyV. For any comments or questions feel free to e-mail him at [email protected].
Special thanks to Mike Gribanov, who you can follow at @mikegrib8 and look for him on the @OdetoOden podcast.