After what was unquestionably the most tumultuous and exciting offseason in NBA history – an offseason that had the most roster turnover the league has ever seen – we are finally at a point where we can begin to assess just how each franchise comported themselves during the draft and subsequent free agent melee. And while some teams clearly were winners, and some were losers, some teams' rosters look so different that it's really still too early to decide which side of the line they fall-on. So here's a quick look at your Eastern Conference winner, loser, and those that for now get a draw, plus a breakdown of each team's best and worst offseason move.

Milwaukee Bucks – Draw

I initially had the Bucks as a loser, but the more I analyzed their offseason, the more comfortable I became with their moves. The team was probably smart to ultimately stay away from Malcolm Brogdon at such a huge number (4 yrs $85 million), especially with the injury concerns. And although re-signing Middleton was a must, 5 yrs $178 million feels like a lot to invest in a guy that has made only one All-star team. But the deals for Kyle Korver, Robin Lopez, Wes Mathews, and George Hill are just the type of veteran signings that can help this team get over the top now that Kawhi will be haunting someone else's playoff dreams.
Best Move: Re-signing George Hill (3 yrs, $29 million)
Hill is getting a little long in the tooth for a point guard, but this deal should see him through to the end of his efficacy while giving the Bucks veteran depth and postseason poise.
Worst Move: Re-signing Kris Middleton (5 yrs, $178 million)
I know the Bucks didn't have a choice here as the move was necessary if there is any hope of re-signing Giannis, but it's a lot of money to invest in a player who has probably already reached the zenith of his abilities. If Giannis leaves, Middleton's age (he's already 28) and deficiencies as a primary scoring threat, may make this a tough deal to move for any value if the Bucks are forced to rebuild again.
Cleveland Cavaliers – Draw
The drafting of Darius Garland following the drafting last year of Colin Sexton leaves Cleveland with two undersized scoring guards as the future of the team. But Garland was the best player on the board and Cleveland will likely be able to move one of the two as an asset if they become redundantly untenable. Trading to grab Kevin Porter Jr. is the type of aggressive move you like to see from a young team hoping to rebuild, and for now Cleveland's commitment to youth is the right choice. They aren't winners because their bet last offseason that someone would be left with Kevin Love in their lap after this summer's game of free agent musical chairs didn't quite pan out, and it was surprising that they got no value for a very cap-friendly JR Smith deal.
Best Move: Drafting Darius Garland 5th
The Cavaliers could have over-thought this pick and reached here, or moved down, but I like a team in a rebuild that will be bad for a few more years deciding to just take the best player available and figure it out.
Worst Move: Stretch and waive JR Smith
I just don't understand how Cleveland couldn't find a single suitor for Smith's grandfathered contract and instead will have to take a $1.4 million cap hit next season.
Boston Celtics – Lose
Boston's evaluation ultimately comes down to expectations versus execution. For three consecutive off-seasons we've heard about the Celtics having the pole position in the race for nabbing the available superstar du jour, and for the 3 straight years Boston has watched someone else win the race. And this offseason, not only did Boston have to deal with AD in LA, but they also saw the departure of Al Horford to Philadelphia and Kyrie to New Jersey. All of that was compounded by the loss of key depth with the trades of Terry Rozier and Aaron Baynes, and Marcus Morris signing with the Knicks. Adding Kemba Walker was a plus as he may ultimately be a better fit stylistically with Boston's young players (and certainly will be a better fit with the media and fans) than Kyrie ever was. And Boston drafted a bevy of intriguing young players. But objectively, this Boston team will be worse off than anyone predicted at the beginning of this summer.
Best Move: Trading for Kemba Walker
The surprising addition of Kemba had an incredibly stabilizing effect on an otherwise jarring summer for Boston.
Worst Move: Not re-signing Al Horford
If the rumors are true, Boston wouldn't offer any more than the $97 million guaranteed (plus $12 million) that Horford ultimately agreed upon with Philadelphia. And while I think it's possible that Horford's deal can be albatross on the back-end, the combination of Horford's leadership, defensive prowess, and Boston's lack of depth at the position makes it feel a bit chintzy that the Celts weren't willing to pay-up for a player that went such a long way in shaping the teams culture both on and off the court.

Chicago Bulls – Win
Let me preface this by saying that sometimes it's about the moves you don't make.
After several off seasons studded with veteran overpays in an effort to stay relevant, the Bulls seem to have finally embraced the shift towards a youthful rebuild; highlighted by the fact that they stayed away from the CP-3 and Russell Westbrook deals after being speculated to be interested. And that was the right decision for a team full of young talent. In that same vein, the additions of veterans Tomas Satoransky and Thaddeus Young are just the type of experienced players you want to help nurture the growth of the Bulls young core.
Best Move: Drafting Daniel Gafford 38th
The Coby White selection was a no-brainer once he fell to the Bulls at #7. And while I still like the pick, a lot of the questions about White's shooting and finishing around the rim re-surfaced in summer league. But Gafford (who the Bulls singed to a 4 year $6.1million deal) played well and is the type of player at the 36th pick that really helps flesh out a roster as a low-risk rotation player with some nice upside.
Worst Move: N/A
The Bulls didn't crush it this offseason, but they were pragmatic and patient in staying away from bad trades, not signing particularly onerous contracts, and managed to not sell-off draft picks this year. There was no conspicuously bad move for the first time in a while for Chicago.
Brooklyn Nets – Win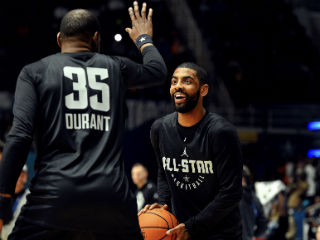 The Nets were the Clippers before the Clippers this offseason, wrestling the narrative and potentially conference dominance from the rest of the east. Adding Kyrie Irving and Kevin Durant, without sacrificing team depth, gives Brooklyn a roster that rolls out 10 legitimate NBA players even before KD laces up a shoe again. There are of course serious questions that aren't being asked enough about what the pairing of Irving and Durant will be like functionally both on and off the court, but if you're New Jersey, you're fine with letting those things play out under newly aggrandized expectations and scrutiny that even the finals teams never had.
Best Move: Landing Durant & Irving
Kyrie and Kevin were a packaged deal, so it's impossible to judge one addition as more important than the other, but their additions have the potential to reshape the power structure of the entire east. And even if the reality never meets the expectations, Brooklyn has made themselves one of the most intriguing and talked about teams for at least the next couple of seasons.
Worst Move: Signing DeAndre Jordan (4 yrs, $40 million)
I understand that Jordan perhaps was the third corner in this free agent triumvirate, but that still doesn't reconcile giving ten million a year for four years to a player whose degradation has been rapid, whose style of play is passé, and who is the second best player at his position on his own team.
Charlotte Hornets – Lose
The one positive thing that can be said about Charlotte's offseason is at least they managed to nab a starting point guard via trade for a team that was far too cash-strapped to offer a contract in free agency to any players of note at the position. But then you look at the roster and wonder why the hell is this combination of bad contracts for guys supposedly in their prime, and young guys that they hope can turn a corner, left with no money to spend on getting better?
Best Move: Trading for Terry Rozier
Charlotte was headed towards an incredibly bleak off-season once the departure of Kemba Walker seemed imminent, so the fact that they were able to trade for a replacement starting point guard in Rozier was the one positive in an offseason of bleakness.
Worst Move: Signing Terry Rozier (3yrs, $58 million)
This Rozier contract has the familiar overpriced stench of the Nicolas Batum and Cody Zeller deals; deals that put Charlotte in a financial position where they could only grab someone like Terry Rozier via trade in this summer's free agent free-for-all. The Hornets are a self-feeding snake of inept draft moves begetting terrible contracts, and seem incapable of learning their lesson from past mistakes.

Toronto Raptors – Lose
The loss of Kwahi leaves this team a gladiator's body with no heart to pump the blood. Toronto will still be competitive, but Kwahi's departure most likely means that by the end of this coming season, the Raptor's roster will be Pascal Siakim and a lot of draft picks obtained via trade. It's fair to expect that Toronto will unload their bevy of veterans on expiring contracts to contenders come trade deadline. But with a title in hand, after managing to forestall the inevitable culture change to a youthful rebuild by one momentous year, Toronto still wins the 2019 calendar year–just not this offseason.
Best Move: Re-signing Patrick McCaw (2 yrs, $8 million)
The Raptors really didn't do much in the offseason in terms of adding players, so McCaw is about as good as it gets. Fortunately for the Raptors they have the benefit of equity with the fan base, so staying pat was smart as they transition toward the next phase of the franchise. That doesn't mean I don't think the Raptors can still be a competitive team in the East, but I do expect the team to realize during the course of the season that without Kawhi the Raptors are a toothless tiger.

Worst Move: N/A
Not much to say here. If the rumors are true, Kawhi was never really interested in going to Toronto once he and PG decided to join forces, so you can't fault Toronto for not pulling the trigger if they were in-fact being used as leverage for the Clippers deal. The team now has a title, and after that championship detour, they are back on the path they were headed down prior to trading Kawhi last season.
Orlando Magic – Lose
In an offseason where quite a few high-caliber lead guards changed hands, the Magic's closest analog for a key addition was the retread of Michael Carter-Williams. Just so we're clear, that means the Magic's point guard depth chart is D.J. Augustin, Michael Carter-Williams, and Markel Fultz…no offense to Augustin who played above his head last season, but no thank you!
Add to that the inexplicable addition of another lengthy non-shooter in Al-Farouq Aminu, and it's hard to feel like Orlando did anything to move the marker forward from a team that eked into the playoffs last season.
Best Move: Re-signing Nikola Vucevic (4 yrs, $100 million)
Vucevic had his best offseason in a contract year, so some regression to the mean can be expected, but he is important to the culture of the Magic and has a skillset that should age well with the deal.

Worst Move: Signing Al-Farouq Aminu (3 yrs, $29 million)
Aminu is a nice player, the type of glue guy that is a great option as the 6th or 7th best player on a contender, but the redundancy of style and abilities with players already on the Magic makes it feel like this money could have been better spent on someone like Tomas Satoransky or Seth Curry.
New York Knicks – Draw
The Knicks offseason was surely disappointing for its fan-base, especially with the team's inability to land a noteworthy free-agent. But in terms of substance, New York signed a ton of veteran free agents to team-friendly deals on short contracts. That makes it's auspicious glut of power forwards feel more like a matter of having to spend money and doing so wisely, instead of opening up the pocket book and mortgaging the team's future for a second-rate star. And, while RJ Barrett's summer league performance only confirmed all the questions I have about him as a player, he was the right pick at the time and it's too early to presume that he can't improve on his glaring deficiencies.
Best Move: Not overpaying for available free agents
I don't love any of the free agents that the Knicks signed, and I believe Julius Randle was probably an overpay, but New York seems to be finally establishing a culture that appears to have a direction, and for a franchise that's been rudderless with a captain (James Dolan) who couldn't navigate out of a lake, the team finally feels like there is a cohesive message of patience and youth.
Worst Move: Signing Marcus Morris (1 yr, $15 million)
Don't get me wrong, I like Marcus Morris, a lot, but a one-year deal means that trade value for Morris is very small, and adding him to a team that has about 10 guys already at the position (possibly just to spite the Spurs for a prior slight pertaining to Kristaps Porzingis) feels like an unnecessary spend for a player that doesn't make them a significantly better team.

Miami Heat – Lose
The addition of Jimmy Butler gives Miami a star whose style and work ethic fits perfectly with the culture down in South Beach, but the last 2 years of that deal could very likely be rough. And losing Josh Richardson plus a first round pick, on top of signing Jimmy to a 4 yr, $141 million deal is too steep a price to pay for a player who is on the other side of his career. Most importantly, the Heat didn't have much cap flexibility, and though they'll go into the 2020 off-season with some space once they shed Goran Dragic's and Meyers Leonard's contracts, next year's crop of free agents doesn't inspire much excitement.
Best Move: Drafting Tyler Herro 13th
After seeing Herro play in college last season I was convinced that he was going to be a steal for whoever took him in that 12-15 range. Herro will get plenty of run this year and should be a great fit next to Jimmy Butler for years to come. He's a player with a great feel for the game, a good motor, and as long as he can continue to stroke it from range, he has a chance to be a very-good all-around player for Miami
Worst Move: Trading Mo Harkless plus a 1st round pick to the Clippers fro cap relief
I know that Miami had to get from under the hard-cap threshold to be able to afford Jimmy, so the trade of Hassan Whiteside to Portland for Mo Harkless and Meyers Leonard and then moving some salary packaged with a first round sweetener made sense. But Harkless is a much better fit than Leonard in Miami, and with both players' contracts being comparable (Leaonard- $11,286,517, Harkless- $11,011,236) it feels like Miami could have found a similar suitor for Leonard and really used Harkless on the roster.

Atlanta Hawks – Win
The Hawks are in the midst of what has the potential to be an exciting youthful rebuild, and the drafting of De'Andre Hunter, Cam Reddish, and Bruno Fernado are all pieces that encouragingly further that process. Atlanta's youth is going to cause some moments of agita and frustration for Hawks fans, but excitement is high and the Hawks have the possible building blocks of something exciting for years to come.
Best Move: Signing Jabari Parker (2 yrs, $13 million)
It's been quite some time since Jabari Parker has been looked at as a positive asset when viewed with the backdrop of both pay and expectations, but $6.5 million a year for a proven bucket-getter, who theoretically can give an experienced prospective about how to deal with high expectations for some of the Hawks' youngsters, is just the type of deal that perfectly builds team depth.
Worst Move: Trading for Evan Turner
Trading for Turner to add veteran depth makes sense, but making him your back-up point guard, a position where he has been proven to be below league average in value added, absolutely does not. This move means that if anything happens to Trae Young, the Hawks are going to be in a precarious place with their lead guard position.
Indiana Pacers – Win
The Pacers had the type of highly-active offseason that will go a long way in delineating the direction of the team for the next several years. After a sign-and-trade for Malcolm Brogdon, trading for TJ Warren, signing Jeremy Lamb (3 yrs, $31.5 million), and letting Bojan Bogdanovic go to Utah, the Pacers will have a lot of new locker room introductions to make. But if Indy can find a way to compensate for the loss of elite perimeter shooting with Bogdonavic's departure, the Pacers have one of the league's deeper rosters, and a group that should be near the top of the league defensively and will have quite a few ways to attack their opponents on the offensive end.
Best Move: Sign-and-trade for Malcolm Brogdon
The Brogdon deal is one of those moves that makes sense for some teams, but not for others. While I still feel $21.25 million per year is too steep a price to pay for the former Buck – especially in a backcourt that now features two starters that have a history of injuries – there wasn't a better place for Brogdon to land in terms of on-court fit. Brogdon's defensive abilities, as well as his capacity to be effective both with the ball in his hands and as a spot-up shooter, means that the eventual pairing with Victor Olidipo could give Indiana one of the most complete backcourts in the league.

Worst Move: Drafting Goga Bitadze 18th
It's not that I don't like Bitadze, the 19 year-old Georgian center's ability to shoot and block shots should make him a good fit for the current style of play for bigs in the league. But with Myles Turner, Domantas Sabonis, and TJ Leaf Indiana seems pretty set at the power forward/center position. I would have much preferred the Pacers drafting Brandon Clarke, or Ty Jerome; players who could provide immediate impact and positional flexibility.
Washington Wizards – Lose
I have to admit that writing about the Wizards actually began to make me feel depressed for their poor fan base. Washington went nearly 3 months without a GM, and it showed. First the drafting of Rui Hachimura felt like a reach for a player who should be solid, but never more than that. That was followed by the departures of Bobby Portis (meaning the Wizards essentially got nothing of note in last year's Otto Porter Jr. deal), Tomas Satoransky, Jeff Green, and the trade of Dwight Howard to the Grizzlies (another deal that netted them nearly nothing after inexplicably adding him last year in a move that unnecessarily unburdened the Nets). All this roster upheaval led to a team that, even with Bradley Beal and sans the injured John Wall, could be the worst roster in the league next year.
Best Move: Acquiring Jonathan Simmons and Admiral Schofield from the 76ers for cash considerations.
While I'm a little surprised that a roster as belligerently bereft of talent as the Wizards' couldn't find a place for Simmons (they cut him immediately), the addition of Scholfield for cash is a smart move for a franchise that has very little assets or financial leverage capabilities with which to add talent. Scholfield has the type of work ethic and tenacity that sets a tone every time he's on the floor, and having him bully and push Hachimura in practice and for minutes has a chance to make both rookies better players.
Worst Move: Not re-signing Bobby Portis
Please don't be confused, I'm not a huge fan of Portis', but objectively he is a better player than any big man currently on Washington's roster (and Washington did spend $25 million to re-sign Thomas Bryant). And letting him go means they traded away Otto Porter and managed to net only a conditional second-round pick from the Bulls after saying goodbye to both Portis and Jabari Parker this offseason
Detroit Pistons – Lose
Even by their own star player's admission, the Pistons were hard-luck losers in the effort to lure a superstar to the motor city. But even if they couldn't land a top-tier player, Detroit also missed out on the middle-tiered guys as well. Which means, substantively that Detroit will roll-out a squad very similar to last years, with the only additions of note being Derrick Rose, Markief Morris, and Michael Beasley. Not exactly an exciting haul for a roster that really needed to add some shooting and bench depth. I did really like the drafting of Sekou Doumbia, but he is just so raw and we got to see almost nothing of him from summer league.
Best Move: Signing Derrick Rose (2 yrs, $15 million)
Rose had a wonderful season as a reserve last year for Minnesota (though he still only played in 51 games) and could provide the type of punch off the bench that the Pistons so sorely need.
Worst Move: Trading the rights for the 30th pick
Cleveland traded 4 second-round picks and $5 million for the rights to the 30th pick, a pick that Detroit had nabbed in a previous deal with Milwaukee that included the Pistons getting Tony Snell and trading Jon Leuer. The pick ultimately turned into Kevin Porter, and while I'm not a huge fan of Porter's, I'm even less of a fan of Tony Snell's, and abhor franchises that are in need of young players trading down for meager assets. Detroit should have rolled the dice on Porter and taken a chance on his potential as they are in need of some young excitement.
Philadelphia 76ers – Win
Philadelphia surprised everyone this offseason coming out of nowhere and nabbing Al Horford from the Celtics and managing to add Josh Richardson in the Jimmy Butler deal. Add to that the max contracts for Tobias Harris (5 yrs, $190 million) and Ben Simmons (5 yrs, $170 million) and Philadelphia has decided to go all-in on this group. While the Horford deal could be a problem on the back-end as he ages, Horford is great insurance against any Embid's injury-issue, and Richardson is a downgrade from Butler, but he can do a lot of what Butler could minus the playmaking ability and perennial locker room issues. The loss of JJ Reddick will be felt as the SIxers really need his spacing on the offensive end, but adding Horrford and Richardson while losing Butler and Reddick ultimately is a net-gain for Philadelphia from a talent standpoint, especially when considering how all the respective pieces should age.
Defensively this team is set-up to be perhaps one of the best starting fives we've ever seen, though Philadelphia did commit themselves to be a luxury tax team for the foreseeable future and again didn't do much to address the issues of depth that plagued them in last season's playoffs.
Best Move: Getting Josh Richardson in the Jimmy Butler sign-and-trade
Letting Jimmy go was an imperative following the decision to add Al Horford because of the finances of the deal, so managing to nab a high-quality starter who they have under contract for 2 more years was a great move by Philadelphia.
Worst Move: Not attending to the bench
Philadelphia's Achilles heel last year was clearly the inability to hold leads when the bench had to relieve their overburdened starters, and unfortunately the additions of Trey Burke, Raul Neto, and Kyle O'Quinn, to an already maligned group that saw the departures of T.J. McConnell, and Boban Marjonavic, does not do much to inspire any preemptive excitement. I did like what I saw out Zhaire Smith in summer league, but this is a group that really needs perimeter shooting, and I'm not sure he's quite there yet with his shot. Phllly's going to have to hope that James Ennis, Smith, Mike Scott, or Shake Militon can play over their heads this coming season. Either that or they are counting on some key additions later this coming season in the buyout market. Neither strategy I think is sufficient enough to compensate for what was already a glaringly obvious deficiency.
Come back next week for coverage of the Western Conference.