A standout senior point gaurd at Illinois, Demetri McCamey averaged 14.6 ppg 6.1 apg, (2-1 a/to ratio), and 3.4 rpg. He also knocked down 45% (74-164) from 3 point range.
How was your senior year at Illinois?
My senior year taught me a lot about the game of basketball, what's important, how to approach the game. I always try to improve on all aspects but I came into this season looking to improve my outside shot and 3pt percentage.
How is the future of the program looking?
We have young guys like (D.J) Kennedy and (Brandon) Paul. Both are hardworking guys. They will need to keep working on their ball handling and point guard skills to help the other guys next season.
You lost to Michigan in the Conference tournament then beat UNLV before losing to the #1 Kansas in the NCAA tournament. What are your thoughts on the post season tournament and conference play?
It was a real good learning experience for the young guys. It was hurtful but it taught me a lot as well. It makes you want to work harder to do better.
In the Big Ten tournament, we played against Michigan who ended up having a pretty good year. Darius Morris is a good player with nice handles. He had a good season.
What is your best memory of Illinois? When are you graduating?
Scoring 31 against Eric Gordon (Indiana) in my freshmen year. We ended up losing the game at the end in double overtime but that game was against one of the best players and teams in the country.
I graduate 14th May and it can't come soon enough. I studied a Recreation, sports and tourism degree.
You recently declined to participate at the Portsmouth Invitational. How is the rest of your pre draft schedule looking? What workouts/camps do you have planned?
I'm heading to the Wizards on Saturday, they are interested in bringing in a back up point guard who is a little different to John Wall. I will be working out with the Knicks as well, I just need to confirm when. After that, I will be preparing for Chicago pre draft camp. I won't be attending the group work out in New Jersey.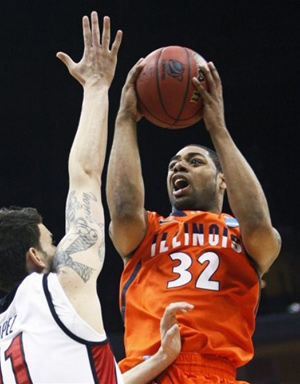 I chose not to play at Portsmouth so I could work on my own game. The competition I felt I needed to face leading up to the draft wasn't in Portsmouth.
What will you bring to an NBA team?
As a back-up point guard, I will bring toughness and the ability to stretch defenses with my outside shooting.
My focus is on making team mates better and getting assists

What part of your game are you looking to improve on?
I am working on everything, all aspects of my game. Each day I do different drills, shooting, defensive, ball handling.
Ill need to keep working on the pick and roll and my one on one defense.
Who is your toughest opponent on any level?

My big brother Evan Turner. I played against him a few times in my junior year and we matched up just about every time. As a 6"7 point guard his versatility is really tough to defend. He can shoot, beat you off the dribble, post-up.
Who is your favorite player? Do you pattern your game after anyone?
I'm going to go a bit old school and say Baron Davis.
He's a big body guard. Now I like Deron Williams.

Your thoughts on NBA playoffs?

Here there isn't much choice but to be a Bulls fan but I think the winner out of Bulls and the Heat will take it all.
It's hard to say who is going to come out of the west with the Hornets giving the Lakers a hard time. Ill say between the Lakers and Thunder, both teams have a lot of talent.