On Wednesday, following a workout along with Hassan Whiteside, I got a chance to sit down to interview Daniel Orton. Despite being just a freshman and struggling for playing time, Orton shows a confidence and surprisingly polished game for such a young kid.
NBADraft.net: How do you feel about your NBA readiness?
Daniel Orton: Coming out here working with Frank and Coach Hill has made me a lot more confident. I feel ready.
NBADraft.net:What was the biggest factor in entering the draft this year?
Daniel Orton: Just with the season ending and with everyone saying I have a chance to go high in the draft. That's was something that I just got excited about.
NBADraft.net: Did the potential of a lockout factor into anything?
Daniel Orton: No. But me being here now in the draft, it makes me feel better with the possibility of a lockout.
NBADraft.net: Talk a little bit about the Chicago Combine, the process with all the interviews, how did that go?
Daniel Orton: It was stressful. Not so much the interviews, that was kind of fun but having to go all day from like 8-9 in the morning to ten o clock every night. I didn't get to eat until probably 10:30 each night. So I mean I was eating like once or twice a day and going all day, like a marathon, which wasn't so good.
NBADraft.net: How many teams did you end up interviewing for?
Daniel Orton: Like 15 or 16 over the course of 3 days.
NBADraft.net: How many teams do you think you will end up working out for?
[img_assist|nid=22448|title=Daniel Orton & Aran
Smith|desc=|link=none|align=right|width=450|height=330]Daniel Orton: I haven't worked out for any teams yet. And I really don't know yet how many I'll end up working out for.
NBADraft.net: In the interviews you had in Chicago, did any of the scouts or GMs have any advice for you, or was it more just getting to know you?
Daniel Orton: Yeah it was more getting to know me. The advice they did have was just to work hard and stay positive.
NBADraft.net: Talk about the season at Kentucky, was it a frustrating experience knowing that you could bring more to the team and not getting the minutes and touches to show what you could do?
Daniel Orton: Yeah, I mean it was frustrating. I think it would be frustrating for anybody. So I just tried to develop and tried to make the best of the situation, make it a positive and have fun with it instead of letting it get to me.
NBADraft.net: How was going up against Patterson and Cousins on a day to day basis?
Daniel Orton: Playing against Josh and Perry as well, all four of them helped me. Just together it turned out to be a great learning experience. Playing in high school I was going against guys 6'4, 6'5, and then now your going against guys 6'10, 6'11 every day, it's a great change.
NBADraft.net: With the lack of opportunity this past year at Kentucky, if you had to do it over again, would you have gone to a different school?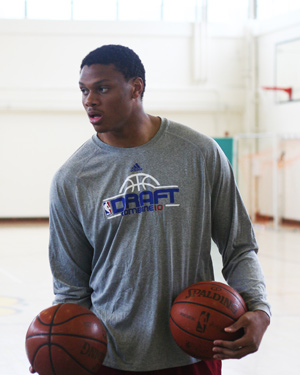 Daniel Orton: If I had done it differently I would have gone to Kansas. But with the way things have worked out, in the end, no I wouldn't have done anything differently.
NBADraft.net: Talk a little bit about the workouts with Frank Matrisciano. You guys are training without weights and doing training on the beach. What's that like?
Daniel Orton: Yeah, it's a lot different. It's different than you would imagine. I hear he's chased away a lot of guys that just couldn't handle it. The only guys that are here are guys that want to be here. I've been working out with Frank, this is my fourth year. I worked out with him my junior and senior years over spring break for just a week. It was just a little taste basically. I came out here my first full year last year.
NBADraft.net: Talk a little bit about Hassan Whiteside, you've been working out with him for a few weeks now, what's he like?
Daniel Orton: First thing that comes to mind is that he's long. The second is that he's athletic. I think something people may not realize is that he's got a great shot. He can shoot the ball very well. His length might actually make it seem that he's not as athletic, but his length is one thing that really helps his game.
NBADraft.net: Alright last question, people have some concerns with the knee (Orton had knee surgery in high school), you have been checked out by doctors and everything is 100% fine?
Daniel Orton: I've been checked out by all the NBA doctors. It's doing great it's fine.
NBADraft.net: Thanks for your time Daniel. Best of luck to you.