Northeastern Senior point guard Chaisson Allen averaged 16.7 ppg, 6.1 rpg, and 3.7 with a 1.9 a/to ratio. He also had a strong showing at the 2011 Portsmouth Invitaional Tournament. He'll look to find a spot in this year's draft.
NBADraft.net: How did you find your senior year from both a team and personal perspective?
Chaisson Allen: I wouldn't say disappointing but it was definitely a learning experience. For me this season had new roles and challenges. I shifted to more of a scoring and leadership role. It was tough with young guys coming in but we had an alright season not what I was hoping for though.
NBADraft.net: What were your thoughts on CAA championships?
Chaisson Allen: The CAA is such a tough conference, anything can happen. We didn't have the best season but we expected to get some wins in the championships. We ended up having a tough loss to Delaware in the first round, coming down to the last shot.
NBADraft.net: What is your best memory at Northeastern?
Chaisson Allen: My junior year, playing at home against Wright State. I got the rebound and shot from half-court to win the game.
http://www.youtube.com/watch?v=nndsDW6eU8E
NBADraft.net: Your team recently won the title at the Portsmouth Invitational Tournament. How did you find that experience?
Chaisson Allen: Portsmouth was a good experience. I didn't have any expectations and was fortunate to be on a good team. We had a lot of good guys on the team and we decided that we all wanted to play together which I think put us over the edge. We complemented each other well.
NBADraft.net: What is rest of your pre draft schedule looking like? What workouts/camps do you have planned?
Chaisson Allen: As of now, I am heading to New Jersey for the month of May to work out in preparation for the pre draft camp.
NBADraft.net: What will you bring to an NBA team?
Chaisson Allen: Right off, I'll bring leadership, high basketball IQ and I'll fill up the stat sheet with whatever the team needs me to do for us to win. Weather its scoring, rebounding, passing or defense.
NBADraft.net: What part of your game are you looking to improve on? What feedback are you receiving from teams and scouts?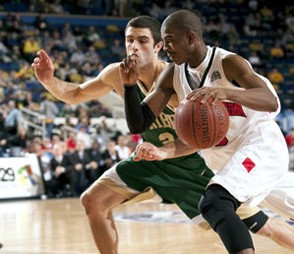 Chaisson Allen: Right now, I am trying to perfect my mid-range game. I'm pretty good at everything else but if I can perfect that, it will improve my chances. So I am trying to perfect my mid range game and work on coming off the pick and roll. Teams want to see if I can play the one at the next level. I am a one and expect to play there most of the time and can play the two-guard if needed. I played both guard positions at Portsmouth. I started playing the 2 where I would get the rebound and bring the ball up then played mostly PG after that.
NBADraft.net: Who has been your toughest opponent on any level?
Chaisson Allen: I played against Jonny Flynn from Syracuse early in my career. Jonny had a good team, he is quick with a nice little jump shot. I pride myself on defense so he was a tough cover.
NBADraft.net: Who is your favorite player? Do you pattern your game after anyone?
Chaisson Allen: Deron Williams. He doesn't try to score 40 each night or do too much. He lets the game come to him and does whatever needs to be done to help his team.
Chris Paul is another guy. When you watch these guys, it's hard not to like them.
NBADraft.net: Your thoughts on NBA playoffs? Predictions?
Chaisson Allen: Well I'm really excited about my Memphis Grizzlies right now going up 3-1 over the Spurs. I hope they can keep it up.
Up here in the Boston area, you get into debates about the Celtics chances. I mean, they played the Knicks who weren't exactly functional this series with guys just coming over and the loss of Billups. They will play Miami in the next round. I hope the Heat get to the finals and think they will play either the Lakers or Thunder.