Tres Tinkle, Oregon State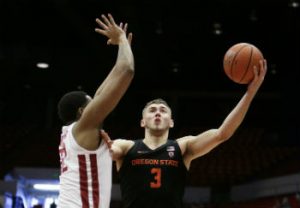 On Saturday, the 6'7 senior scored 27 points on 10/16 shooting in a win over Iowa State to go along with 11 boards, four assists and three blocks on the defensive end. A huge plus for Tinkle was how hot he was from deep which he shot 6/8 from beyond the arc. Very impressive stuff early in the year.
In Oregon State's most recent outing, they did just come up short to a talented Oklahoma team Tuesday but Tinkle still had himself a strong double-double performance. He did a little bit of everything for the Beavers scoring 18 points to go with 10 boards, five assists, one block and three steals. Look for Tres Tinkle to remain a focal point of this Oregon State team on both the offensive and defensive sides of the ball.
Who's Hot
Nick Rakocevic, USC
The 6'11, 225 lb. senior for the Trojans had a career high in scoring against South Dakota State to give USC its 3rd consecutive win to open the season. Rakocevic had 27 points on 8/14 shooting from the field and got to the free throw line an impressive 17 times. He also dominated the boards with 16 rebounds. The Trojan forward did it all on both ends of the floor logging two blocks and an amazing five steals on the defensive end as well.
If Nick Rekocevic can put up these types of performances for the remainder of the year, along with getting some support from his teammates with production and intensity mainly on the defensive side of the ball, watch out for the Trojans. A super strong performance for the senior but if there is one thing he can work on improving, it would be his free throw shooting as he shot 11/17 from the stripe against the Jackrabbits. If he continues to get to the line at such a high capacity, he is going to have to convert more.

Who's Not
Alonzo Verge Jr. + Jaelen House, Arizona State
In the Sun Devils first game of the season, Verge Jr. and House were very cold against the Colorado Buffaloes. Colorado took this one by a 10-point margin and that could be in large part because these two young men could not get it going offensively. Verge Jr. shot just 2/11 from the field and 0/4 from 3-point range in his 29 minutes on the court. In 30 minutes, House shot 1/9 from the field and converted on one of his three attempts from beyond the arc. Each player also had two turnovers. These guys are going to have to step it up on the offensive end if this Sun Devil team wants to replace some of the production that Luguentz Dort brought last season. Both Verge Jr. and House along with this ASU team should be expected to bounce back and build from this loss to Colorado.
Top 5 Games of the Week in the Pac-12
1. Cal. vs. UNLV (Cal. wins 79-75 OT)
The Cal Golden Bears had themselves a close won against UNLV Tuesday and it took overtime to get the job done. Sophomore guard Matt Bradley was the high man for Cal as he poured in 23 points on 50 percent shooting. The main factor that won the Golden Bears this game was putting the pressure on UNLV defensively. Cal had five steals and seven blocked shots compared to UNLV who only had two and three in those categories. Cal. had four guys score in double figures and they were able to capture this win shooting 38 percent from beyond the arc which is fortunate for them. If they can shoot a little more efficiently from beyond the arc, this Golden Bear squad can make vast improvements from last year.
2. Oregon vs. Memphis (Oregon wins 82-74)
The 14th ranked Oregon Ducks defeated the 13th ranked Memphis Tigers and did a phenomenal job defending the 3-point line in particular holding Memphis to just 17 percent from beyond the arc. Senior forward Shakur Juiston was the MVP of the game for the Ducks this game with 17 points, 10 boards and two steals on 8/15 shooting. He was one of four players who scored in double figures for the Ducks along with Pritchard, Mathis, and Richardson. Expect Oregon to continue rolling after their hot 3-0 start to the season.
3. Washington vs. Baylor (Washington wins 67-64)
The Huskies found themselves trailing by seven at halftime of this game but turned it around in the second half outscoring 16th ranked Baylor by 10 points for the close win. Junior guard Nahziah Carter was the biggest reason Washington was able to capture this win with his strong performance. Carter had 23 points on 8/15 shooting from the field and 4/6 shooting from downtown. He also added seven boards and three steals. The Huskies really got it done on defense recording 11 blocks and eight steals as a team. And yes they were able to do that with Matisse Thybulle now in the NBA and no longer with the team. If Washington maintains their current culture of playing tenacious defense, they could be very interesting to watch this season.
4. Washington vs. Mt. St. Mary's (Washington wins 56-46)
Similarly to their matchup against Baylor, the Huskies outscored Mt. St. Mary's by 10 points in the second half, this time after being all tied up at halftime. The Huskies did a way better job of sharing the basketball and using ball movement than their opponent recording 16 assists as a team compared to Mt. St. Mary's seven. Again they put on the defensive pressure and held the Mountaineers to just 29 percent shooting from the field. They did not allow anything easy, a great sight for Husky fans.
5. Arizona vs. Illinois (Arizona wins 90-69)
The Wildcats were all tied up at halftime against Illinois and then proceeded to dominate the second half, outscoring the Fighting Illini by 20. The highly anticipated freshman Nico Mannion was the high man for Arizona scoring 23 points on 9/15 shooting to go with nine assists and two steals. Arizona had an excellent defensive game forcing Illinois to commit 22 turnovers in the game. This game may have been a bit of a blowout but it was still a fun game to watch as Mannion simply went to work and the Wildcats played so strong on the defensive end. If Mannion can keep up this kind of production, his name will be mentioned a lot more in the Pac-12 conference.