1. Villanova Wildcats
2016-2017 Record: 31-3 (15-3)
Key Departures: Josh Hart, Kris Jenkins, Darryl Reynolds
Key Additions: Omari Spellman, Jermaine Samuels
It's no surprise that the Wildcats are projected first to start the season. They have won the conference regular season title for four consecutive years for a plethora of reasons, namely their ability to consistently bring in talented recruits to fill voids left by star players.
Nova sports the preseason favorite for Big East Player of the Year in Jalen Brunson. Brunson, a junior, is one of the top point guards in the country. He averaged 14.7 points per game, 4.1 assists per game and shot 62% on two-point field goals last season as a first-team All-Big East player. Brunson could become more of a go-to guy and should have every opportunity with the departure of star players Kris Jenkins and last season's conference Player of the Year Josh Hart. Then again, Brunson could remain as more of a facilitator with a lot of quality options around him.
Villanova still has great pieces in place around Brunson. Junior guard Donte DiVincenzo developed into a key, toughnosed backcourt mate along with Brunson and Hart last season. Maybe the top shooting, and most versatile player in the conference is junior forward Mikal Bridges. He is the lengthiest defender, with a 7-foot wingspan and can put up 20 in a game when called upon.
Returning forward Eric Paschall will be joined by incoming freshman Omari Spellman. Spellman, the No. 21 overall player in the class of 2016, had to sit out last season for academic reasons, but is back. Think a more athletic Kennedy Meeks, he is a perfect fit in the Nova offense with his ability to run the floor, hit a jump shot and play physical with his back to the basket.
Returning guard Phil Booth was a key cog in the Wildcats 2016 National Championship run, but was hampered with injuries last season that forced him to play just 72 minutes. He returns as an efficient guard who can score.
The biggest question mark coming in for Nova is, like most years, their frontcourt. They have always been a guard oriented team under Jay Wright, giving up interior size for athletic ball handlers. If Paschall, Bridges and especially Spellman can give the Wildcats a good presence inside, they can further dominate the conference. Jay Wright is hands down the best coach in the conference and has been for many years. His squads are always solid offensively, defensively and in not turning the ball over. This is their conference to lose, they have a clear leg up on the competition to capture another regular season title with their returning title experience.
2. Xavier Musketeers
2016-2017 Record: 21-13 (9-9)
Key Departures: Edmund Sumner, RaShid Gaston, Malcolm Bernard
Key Additions: Kerem Kanter, Paul Scruggs
Xavier enjoyed one of the most magical runs in the Big Dance last March, galavanting all the way to the Elite Eight as an 11 seed. It's a tough choice who should come after Nova for the second spot between the Musketeers and Seton Hall, but because of last season's success and the presence of star player Trevon Bluiett, Xavier gets the nod.
Chris Mack and his team channeled March Madness magic last season to run off three wins as underdogs, eventually losing to runner-up Gonzaga. They got even better news this offseason when star guard Bluiett elected to return for his senior season. Bluiett, a huge challenger for Big East Player of the Year this season, averaged 18.5 points per game, 5.7 rebounds and shot at a 43% clip. He became the leader during the tournament run, averaging 21 points against the likes of Maryland, Florida State and Arizona.
They lost an important guard in Edmund Sumner, who averaged 15 points per game last season before an injury kept him out for the rest of the season. Their frontcourt is a mystery coming in. Sean O'Mara was wildly inconsistent last season, only scoring in double digits seven times before averaging 10 points per game in the tournament to help fuel a run. He will have to become more consistent.
Their recruiting class was ranked No. 11 overall. They brought in two four-star recruits in guard Paul Scruggs and forward Naji Marshall. They should create flexibility and dynamics for Bluiett to work with. Grad transfer Kerem Kanter (New York Knicks center Enes' Brother) arrives, who has tools to work down low and features an outside touch as well.
This is a very deep, experienced and veteran team. The greater success they find, the more consideration Bluiett will receive for top player in the conference. They figure to finish better than their 9-9 conference record of a year ago, and end up right behind Nova.
3. Seton Hall Pirates
2016-2017 Record: 21-11 (10-8)
Key Departures: Madison James
Key Additions: Myles Cale
This is a very deep team returning almost all of their key peices from last year, one that made the NCAA Tournament as a No. 9 seed but lost in the first round to Arkansas.
They are bringing back their leading scorers in Khadeen Carrington and Desi Rodriguez, but the man that makes this team go is senior center Angel Delgado. Delgado is up there with Brunson and Bluiett for Conference Player of the Year based on last season's performance. The 6'10" interior force led all of college basketball with 13.1 rebounds per game and found his scoring touch with 15.2 points per game. His only weakness was his free throw shooting, where he shot at a miserable rate of 55.6%. He is easily the best low post force in the conference, dominating on the glass and will be a tough assignment to stop.
Overall though, this is a very experienced team for head coach Kevin Willard. They've gone to the Big Dance two straight seasons and the senior trio of Carrington, Rodriguez and Delgado can lead them back.
The big key is that they must improve upon their defensive. Last season, they were the fourth ranked scoring defense in the conference and ranked ninth in opponents' field goal and three-point percentages. They were very good on the boards, ranking first in rebounding and good at forcing turnovers, third in steals.
They will have to find a way to replace the loss of point guard Madison James. In the end, they can give Xavier and Villanova a shot at the conference if their defense hunkers down and Delgado plays as well as he did last season.
4. Providence Friars
2016-2017 Record: 20-12 (10-8)
Key Departures: Ricky Council, Ryan Fazekas
Key Additions: Makai Ashton-Langford
Providence was one of the largest surprises in the conference last season. Instead of a rebuilding year, they won 20 games and made the Big Dance. If that wasn't good enough, head coach Ed Cooley now returns all five of his starters and all eight of his total rotational players.
Rodney Bullock, 15.7 points per game, and Kyron Cartwright established themselves as two of the best players in the conference last year, earning second-team All-Big East honors. Since hitting the game-winning layup in the first round of the NCAA Tournament against USC in 2016, Bullock has erupted and stepped up as the leader of this Friar team. They only lost two players this offseason who can easily be replaced. They added dynamic four-star recruit, point guard Makai Ashton-Langford to add another playmaker to the backcourt.
They were already the second-best defense last season behind Nova and they return just about everyone from last season. They arguably have the best experienced, all-around bunch of players of any team in the conference to go along with consecutive years of postseason play.
Their non-conference slate of games include Minnesota and Rhode Island, but their biggest competition will be Xavier, Seton Hall and Nova. The other six teams shouldn't give the Friars too much difficulty. It is not a stretch to say this could be the Xavier team of last season and with their depth and experience, make a serious run in the postseason.
5. Marquette Golden Eagles
2016-2017 Record: 19-12 (10-8)
Key Departures: Luke Fischer, JaJuan Johnson, Katin Reinhardt, Duane Wilson
Key Additions: Jamal Cain, Harry Froling
Ever since Buzz Williams left in 2014 to coach Virginia Tech, coach Woj has turned this Eagles program into an offense juggernaut. They led the nation last season in three-point shooting at 42.9% and bring back the national leader in three-point percentage in Markus Howard. Marquette was the best scoring offense in the conference at 82.5 points per game.
Senior guard Andrew Rowsey was a good scorer for them (11.6 points per game, 46.1 field goal percentage) but his 92.6% free throw percentage led all major conference players.
They did lose a lot from last year, however. JaJuan Johnson led the team in rebounding, blocks and was also a great shooting big. The shooting touch from Reinhardt will be sorely missed. The offense should be replaced well enough, but whether it's replaced to the level of last season remains to be seen. The defensive side of the ball must automatically improve with the loss of Johnson. They will need better defense to move up from their fourth place finish in the conference last year.
Luckily, they have two talented forwards in Jamal Cain and Harry Froling coming in to help down low immediately. Marquette has big question marks as we head into the season.
6. St. John's Red Storm
2016-2017 Record: 14-19 (7-11)
Key Departures: Mark Ellison, Darien Williams,
Key Additions: Justin Simon, Marvin Clark Jr.
This could be the second biggest surprise Big East team by the end of the season as things appear ready to click in their favor.
One, this is year three of head coach Chris Mullin. Last year, the team did not finish well with just 14 wins, but it was an improvement from the previous year. They also bring back one of the most talented pairings in not just the conference, but in whole country in sophomore guards Shamorie Ponds and Marcus LoVett. Ponds, 17.4 points per game, and LoVett, 15.9 points per game, were both All-Big East members and will be relied upon even more this season.
What will hurt them is the loss of key players to unfortunate reasons. Mark Ellison and Darien Williams were key rotational players who added important size to the Red Storm, but they both transferred this offseason. The addition of 6'5", versatile guard Justin Simon (Arizona) could be significant as he should help upgrade their perimeter defense on the plethora of talented Big East guards. Tariq Owens led the conference in blocks per game off the bench and should see an expanded role this season.
Still, they are unproven and have not been to the postseason since 2014, before Mullin arrived. They still go up against much more complete teams and skilled backcourts. Their inconsistent rebounding and size down low has been an issue for years, but if that gets sorted out, they can make a big move up the standings. Ponds and LoVett are a powderkeg backcourt that could lead this program back to relevancy and Mullin has enough experience under his belt to make strides.
7. Creighton Bluejays
2016-2017 Record: 25-9 (10-8)
Key Departures: Justin Patton, Maurice Watson,
Key Additions: Kaleb Joseph, Mitchell Ballock, Manny Suarez
One Big East team that finished quite well last season should take a couple steps back is Creighton and the biggest reason is due to their departures from last season. Justin Patton was a touted draft pick who left after one, solid season. Patton was one of the best rim protectors and set the tone down low. He did a good job on Angel Delgado and helped keep them above Seton Hall, for example, but he's gone and they need to find ways to bolster the interior. The loss of point guard Maurice Watson Jr. who was their key facilitator will also be felt. He went down with an ACL tear at the start of Big East play and without him the point guard position was flat and the offense never recovered.
On the positive side do bring back explosive senior guard Marcus Foster, the second highest scoring guard in the country at 18.2 points per game. Newcomer Manny Suarez can hopefully step into the center role and replicate some of Patton's production.
They are a solid guard driven team like just about everyone in the conference, but their frontcourt woes and departures will be critical. Plus, St. John's and Providence could very well take the next step forward and directly push past Creighton. It could be a long, difficult year for head coach Greg McDermott.
8. Butler Bulldogs
2016-2017 Record: 23-8 (12-6)
Key Departures: Andrew Chrabascz, Avery Woodson, /> Savage
Key Additions: Paul Jorgenson
The team that will take the biggest plunge from last season should be Butler, who finished second last year right behind Nova. When head coach Brad Stevens left to the NBA a couple years ago, Chris Holtmann stepped in and did a fantastic job of keeping the program relevant and back as a threat in the postseason.
Now Holtmann is gone, off to Ohio State and he is taking a number of recruits he had lined up at Butler with him. In comes former assistant LaVall Jordan, who had coached an abysmal Milwaukee team in his first year with the program last season.
What they do have going for them is they get back senior Kelan Martin. The 6'7" forward averaged 16 points per game last season and has seen expanded roles each year. This year he will be counted on as the team's leader. Kamar Baldwin exceeded expectations last season, averaging 10.1 points per game and should have an expanded role this year. Paul Jorgenson is a transfer from George Washington to keep an eye on. The Bulldogs also return two of their top three scoring options from a year ago.
Andrew Chrabascz was a big-time leader and is 11.4 points per game and 32.7 minutes per game will need to be made up. Butler looks primed for a down year with significant departures, production losses and potentially too big a stage for only a second year overall and first time Big East head coach. Who knows, maybe Jordan can keep the program right on pace as before like Holtmann did for Stevens before.
9. DePaul Blue Demons
2016-2017 Record: 9-23 (2-16)
Key Departures: Billy Garrett Jr., Chris Harrison Docks
Key Additions: Marin Maric, Austin Grandstaff, Justin Roberts
This could very well be the year that DePaul gets out of the basement of the Big East, but that should be the realistic expectations of this program. They weren't an overly talented team to begin with and then the loss of longtime starter Billy Garrett Jr. and Chris Harrison-Docks hurt. Overall, seven players left this offseason which greatly hurts.
On the bright side, they did pick up a talented transfer in Marin Maric from Northern Illinois. Maric averaged 14.4 points per game, 8.4 rebounds and shot 56.8% from the field last season. Eli Cain comes back, who was their leading scorer last season with 16 points per game. Justin Roberts is a talented freshman to watch.
Freshman guard Austin Grandstaff is a player that brings some intrigue due to his athleticism and potential. Whether he can make an impact in year one remains to be seen.
No matter what, head coach Dave Leitao is starting at 10 straight seasons of sub .500 teams. The conference has been getting better and better over the years and they have yet to find ways to excel on the recruiting trail. It's going to be extremely challenging to compete with the rest of the Big East, as this year figures to be no different from the previous years.
10. Georgetown Hoyas
2016-2017 Record: 14-18 (5-13)
Key Departures: Rodney Pryor, LJ Peak
Key Additions: JaMarko Pickett, Jahvon Blair, Antwan Walker
Patrick Ewing, arguably the greatest Hoya of all-time, returns to his alma mater to rebuild a program that has fallen on very hard times. Ewing spent 15 years as an assistant in the NBA, but this is his first experience as a head coach, so his head coaching style remains to be seen.
Ewing has a challenging rebuilding job ahead of him this year will probably struggle to make much progress. They lost two huge scorers and playmakers in Rodney Pryor and L.J. Peak, who combined for 34.3 points per game. The Big East is too loaded to have a team with a deficiency in scoring.
Ewing was able to sway four-star recruit and former Ole Miss commit JaMarko Pickett to switch to Georgetown.
Even so, they only won five conference games last season and lose a tremendous amount of production. It's going to be very tough for the Hoyas to win that much again this season and if they do, it would be a success on the season. Ewing doesn't have the roster, talent or experience yet to.

Top 5 Big East Prospects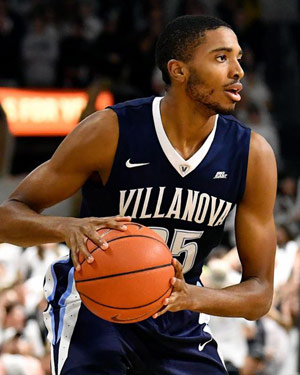 Bridges possesses an intriging skillset with his shooting touch, extreme length, defensive and his ability to play multiple positions. Versatility is everything in today's game and that is Bridges greatest asset. With Josh Hart's departure, will this be the season that he puts it all together and breaks out as a star on the National level? The talent is there, but Villanova's grind it out, defensive oriented system may be his biggest hurdle as a talented prospect that is flying under the radar. He clearly has first round NBA potential, but will need to become more assertive and tougher going to the basket.
Spellman isn't the biggest power forward at 6'9", but possesses a large wingspan and good explosiveness. He doesn't possess the rim protection of former Wildcat Daniel Ochefu, the player he will be asked to replace. But he is smart and talented with the ball in his hands and his offensive toolbox for his age is impressive. He can score inside with quickness and speed and is developing a nice touch outside.
3. JP Macura
One of the most entertaining college players to watch, Macura in his senior season is a crafty scorer, averaging 14.4 points per game as a junior and is a gritty defender who amassed 1.4 steals per contest as well. What makes him intriguing is his intensity and energy that he brings to the table. A solid shooter and scorer, he has a versatile skillset and his competitiveness makes him a tremendous teammate.
4. Kelan Martin
Martin has good scoring ability and his frame as a combo forward allows him to body up bigger players and have a serious height and weight advantage over smaller guards. He has improved his offensive game over time and developed into a guy that can create and make his own shot.
His size and athleticism might not be ideal, but he is a proven winner with a solid pedigree. He has developed into pinpoint facilitator of an offense and has a National title under his belt. The NBA is becoming more shooting/scoring oriented and not only does he have a nose for scoring, he also finds ways to get his teammates scoring opportunities.