Phenom / The Next Lebron / Best Player In The Country / Differential / Too inconsistent / Passive / Disappointing / The Next Superstar
Andrew Wiggins may only be 19 years old, but somehow he's already heard it all. The former Toronto area prep wunderkind has managed to run the entire spectrum of basketball criticism. From prep phenom, to college enigma, to trade fodder, to underwhelming rookie, back to the next big thing, Wiggins' narrative has come full-circle in just a little over two years time. But after perpetual scrutiny and a ho-hum start to the season, Wiggins seems prepared to take control of his story. And if the last two months are a portent of things to come, perhaps we should finally let him.
Following an underwhelming first 26 games of the season in which Wiggins averaged only 12 points per game on 38% shooting from the field, people began to question whether or not Wiggins had the drive to reach the star potential that had been foreseen for him. Wiggins had been known for being tentative at times during his one year at Kansas and questions about competitive drive had begun to become prominent fixtures in the dialogue of criticism of the former Jayhawk. Wiggins for his part, did little early-on to dissuade the criticism, as he floated in and out of games in terms of his presence; Wiggins scored in double figures only once in his first five games. But once again, he's just 19 years old. And be warned, he's beginning to figure it out.
As Minnesota's starting line-up has been decimated by injuries through the course of the season, the T-Wolves have begun to rely more heavily on Wiggins to bare the offensive burden, and last year's number one overall pick has finally begun to respond. After what was yet another underwhelming performance in a Dec. 21 loss to Indiana (a game in which Wiggins scored just five points on 2 of 8 from the field -his third straight game under double-digits), Wiggins has taken-off and been every bit the top pick in the draft. Since that Dec 21 loss, Wiggins has scored double-digits in 23 of 24 games, including rattling off 22 straight such games from Dec. 23 to Feb. 2.
So what changed?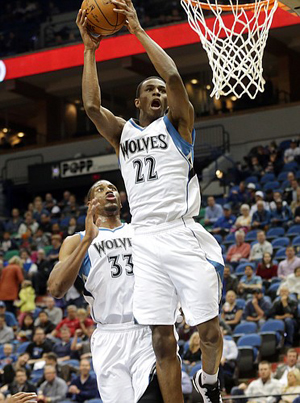 To begin the season, Wiggins was already seeing plenty of action within the T-Wolves offensive sets, but he looked uncertain on the floor, except for when in the post where he has continued the trend he began in Kansas. Wiggins was already a plus-level post player for a small forward, mixing a lethal baseline turnaround with a bevy of moves utilizing his superior athleticism when he turns into the paint. But as comfortable as he looked in the post the reciprocal was true when he was forced to make a decision on the perimeter. His passivity lead to him holding onto the ball for stretches, hobbling offensive sets and allowing defenses to play him tightly as his uncertainty made him less of a threat, especially with his inability to hurt teams off the dribble.
But things have changed. Wiggins has finally shown the assertiveness that detractors had been looking for as his field goal attempts per game have jumped from 11.4 per game to 15.2. During that stretch, Wiggins assist percentage has also increased by 2.7% despite his usage percentage only increasing by 1.1% from the prior 24 games. Meaning, that despite seeing the ball just slightly more, Wiggins has been making decisions – be it shoot or distribute – at a much greater rate. This shift belies a "catching-up" mentally for Wiggins, who now comes off screens prepared to use his superior leaping ability and quick release to get a shot off, and has added a pump-fake, one dribble into the paint, combination to his arsenal. A move that has forced defenses to not just run him off the line, as they were doing quite often early in the season. When Wiggins gets in the lane, defenses are collapsing as Wiggins shoots 67% at the rim and is a nightmare to contest because of his superlative athleticism. Wiggins has responded to the extra defensive scrutiny by finding the open man as his assists per game have increased from 1.3 to 2.3 – even while taking significantly more field goal attempts.
Whether by necessity or desire, Wiggins has become far more assertive and subsequently outright dangerous. Since exploding for 27 against Cleveland, Wiggins has been on a tear, averaging 18.9 points per game, on a healthy 46% from the field, while increasing his offensive rating from 89 to 100, and decreasing his turnover percentage from 13.2% to 9.7%. This monumental shift has all but locked up the "Rookie of the Year" award for Wiggins, who looked to be the clear frontrunner in a class weakened by injuries even prior to this offensive outburst. But, Wiggins perceived shift in mindset goes beyond statistical analysis, as the eye test tells you that he's gained confidence and looks more comfortable with his instinctual decision-making. His mind has caught up to both his body and the speed of the NBA game. Wiggins now comes off screens prepared to attack and defenders have been far more back on their heels than they found themselves being in the early goings.
But what should we have expected? Wiggins was the number one overall pick. And Wiggins is young. Very young. Young enough that perhaps we should allow more time for a player of his abundantly apparent physical tools to develop. Not every star is Lebron or KD, pre-packaged and ready for primetime right from the jump. Wiggins is rapidly becoming a dichotomy in the nature of immediacy within basketball. While the criticism levied here was simply based on Wiggins possibly winning the rookie of the year while enmeshed in a woeful statistical season, Wiggins superior skillset has lead to unfairness in terms of the quickness to judge) What level of star he will be seems uncertain, but he will be a star. For some it takes more time than for others. Paul George and Dirk Nowitzki didn't come out the gate superstars, and perhaps we need to be more conscious in terms of our patience, or lack thereof, when defining a player who is still so far from defining himself. To those that were so ready to write Wiggins off as just a good player, be it due to his motor or otherwise, it's important to remember that while Wiggins may be flawed, he's also still raw. He is raw, both of physical ability and mental composition, but just like Wiggins himself, the narrative of Andrew is still developing. And I, for one, am excited to watch him write it.