By Eric Guilleminault and Michael Visenberg
This year's adidas Nations was absolutely loaded with talent. It was difficult to pick a top 10 as there were many kids deserving. And there are sure to be a few stars that break out from the group not included in the top 10. This year's senior class has amazing depth and talent, particularly at the PG position and many of those players were on display at Nations.
Top 10 Prospects
Dennis Smith 6-2 180 PG NC 2016
Smith was the most explosive player at Nations and other than Ben Simmons' brief appearance on the first day of camp, he was the must see prospect. His solid crossover and NBA slam dunk competition hops make him a difficult match up at any level. He has some eerie similarities to a University of Maryland Steve Francis when he goes to the hole either for a double clutch lay in or more often a highlight flush. Smith led Nations in assists with 7.6 apg and was a leader in steals at 2.2 spg while scoring 16 ppg despite lowing his stat line when he injured himself during the first half of the last evening session. Unfortunately he tore his left ACL and is reported to be out for the next 6 to 9 months. While this injury is a major set back, this may allow him to work on other parts of his game.
At Nations he showed the ability to make deep range threes but at times he nonchalantly would bring the ball up the court and take long distance shots. He needs to work on the consistency of his jump shot both at mid range and at long distance. Developing and relying more of a consistent outside game will allow him to lessen the wear and tear on his knees. Probably due to fatigue of a long summer circuit, he seemed to go through the motions during the first 3 quarters of games, allowing opponents to attack him when he was on defense (see Wesley Alves Da Silva). Nonetheless the minute he is on the court, he's a game changer. Given his injury, he may not be heard about much this year, but he seems to be the player to beat for top PG in the 2016 class.
Terrance Ferguson 6-7 185 SG/SF TX 2016
After winning the gold and being an integral part of the FIBA U19's, Ferguson brought that pedigree to Nations. Ferguson averaged 15.3 ppg while shooting 46.3% from three. His shot is smooth, fluid, and quick and the best at the catch and shoot at Nations. He possesses strong foot work working off baseline screens pivoting in stride and catching and shooting behind the 3 point line with a quick release. He is good in transition due to his leaping ability. He is probably closer to 6'6 in height, rather than 6'7, which makes it imperative that he work on his body and his handle. If he was stronger with the ball his lack of body strength probably would not be quite as noticeable. He probably had the quickest and one of the most accurate releases from long distance but despite playing 6 games he was unable to shoot a free throw once at Nations; a glaring indication that there is still work to be done.
Trevon Duval 6-3 185 PG DE/NJ 2017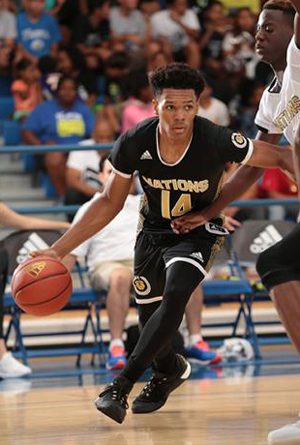 At times Trevon looked like the best traditional point guard in camp. He has a very advanced understanding of how to set players up in the half court set. In pick and roll situations he had the uncanny ability to make the perfect pass at the perfect time. He is strong with the ball and shot the ball at a reasonable 45.3% as a guard. He does not possess the athleticism of a Dennis Smith or Kobi Simmons but does have strong leadership traits and a bull dog mentality both on defense and on offense. He needs to work on his shooting as he was 7-19 (36.7%) from the free throw line and 1-11 (9.1%) behind the arc. Nevertheless, as a junior he more than held his own against any guard at Nations
Gary Trent Jr. 6-5 195 SG MN 2017
At Nations, Trent Jr. averaged 20 ppg, the most of any underclassman at Nations. While Terrance Ferguson has the quickest release, Trent was the best as far as creating jump shot opportunities, with pump fakes and/or one dribble mid range shots. He is strong with the ball and can finish strong, but needs to continue developing other aspects in his game. This includes setting up teammates for good looks. Also needs to focus more at the free throw line (58.3%). He was one of the more advanced scoring guards here regardless of class and after leading Team USA in scoring at the U16 FIBA Americas, he seems to have claimed a spot near the top of his class.
Jarrett Allen 6-10 225 C TX 2016
The guards definitely tend to outshine the big men at these events and while Allen played a role on the title team, he did not do a lot to standout. He looks the part of a nice center prospect, with fluidity, long arms, a frame that can add weight and a good set of hands. It is a shame that he was not able to show off more of the post game he has developed a reputation for, as most of his points came off of cuts or offensive rebounds. On defense he understands how to be long and disrupt a shot without fouling, an underrated but important skill. He is still a center prospect well worth watching and appears to be one of the top big men in the 2016 class.
Lonzo Ball 6-5 185 PG CA 2016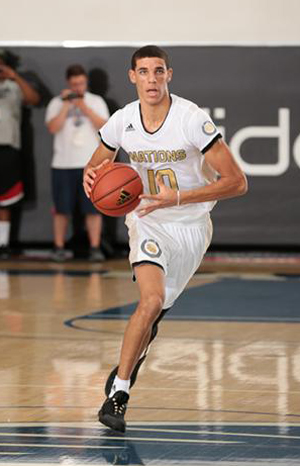 The best transition point guard at Nations. At 6'5 he sees the court in a very Jason Kidd-esque way and his game will probably translate better to the high octane speed of the NBA than college. He was on the strongest team on paper which also ended up winning the championship. Although he started, he played less minutes in the games as many were blowouts, limiting his statistics to a degree at Nations. He still stuffed the stat sheet and demonstrated a great court sense. His assist-to-turnover ratio was 2.4:1. He also impacted the game with his defense and intensity. On the negative side, his jumper is anything but a thing of beauty, it almost looks like he is shooting across his body. It goes in enough that he may refuse to change it but he shot the 3 at just 29.8% and even struggled at the FT stripe. Guys like Rajon Rondo have made a big impact at the NBA level despite having poor shooting mechanics, but it has also hindered his impact. Ball is young enough to overhaul his shooting form if he chooses to, but it will require patience and time.
Edrice Adebayo 6-9 240 PF/C NC 2016
The guards may have put Team Rose over the top, though having the raw power of "Bam" Adebayo certainly helped their cause. Adebayo is incredibly physically imposing, combining his strength with top notch athleticism for his size. He runs the floor hard and makes his presence felt on the glass. It was surprising that he did not record a single block at Nations, however he made up for this by averaging a team leading 2.6 spg, once again showing his high level of activity.
Even more encouraging, he flashed a soft jump shot out to about 12-feet, which should do wonders for his offensive capability. He can still stand to stretch his shot further and improve his ball skills, along with refining his post footwork. This was still a great few days for Adebayo and he was absolutely one of the more impressive players here and continues to impose his will on the majority of his peers in 2016.
Rawle Alkins 6-4 200 SG NY 2016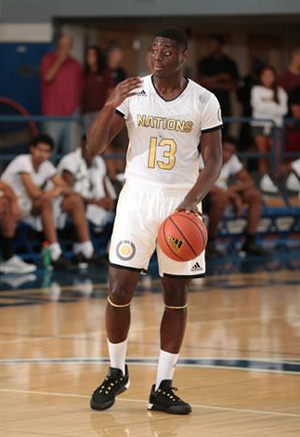 Few players have been more dominant than Alkins over the last few months of events, as he capped off his summer as both Nations MVP while guiding Team Rose to the camp title. He is an absolute terror in transition and he is proving to be a top notch scoring guard. If his shot is falling, as it was when he went 6-for-8 from 3PT in the camp final, you can really only hope to contain him. He scored 26 points in his final game against Team Wall in only 20 minutes of action. He also finished 4th in assists, with a body and athleticism that could make him a solid defender.
There are combo guard aspects to his game, though his best attributes are absolutely as a scorer. Even with all of the talent on team Rose, when the team lost focus at times, Alkins was the player they looked to when they needed to get back on track. With final averages of 21.8 ppg, 5.6 rpg and 5.4 apg, he really contributed all-around and keeps solidifying his status as one of the top overall guard prospects in this deep senior class. Alkins is still yet to choose a high school, but whoever lands his services is getting one of the top scoring threats in the nation.
Markelle Fultz 6-5 185 SG MD 2016
Although a sprained non-shooting hand cost him a day of action, Fultz still left quite an impression and has an absolute blur of a first step. He has some combo guard ability and finished with a 20:3 assist-to-turnover ratio, though he certainly seems to be more of a scoring guard. His jump shot still appears to be a work in progress, as his follow through is inconsistent, and was a definite weakness right now, as one could play off of him and limit his speed advantage. His body also needs to add a lot of strength. What you do come away with when you watch Fultz is is quick first step and that he has fantastic imagination and body control around the basket and through contact, where he manages to make some really tight finishes look easy. He had a huge workload in the Final for a guard depleted Team Wall and was not overly efficient, but he had a number of occasions where he flashed just how dangerous he can become once he puts it all together.
Kobi Simmons 6-5 175 PG GA 2016
On a team stacked with point guards, Simmons was the main person running the show for Team Rose. At his size, he has another gear he can turn on that helps him get to the rim and can even finish spectacularly at the cup on occasion. He was the 2nd leading assist man at the camp, boasting a 4.7:1 assist-to-turnover ratio in 5 games. His shot selection is shaky, and he still struggles to be a consistent long range threat. Working on his body is an absolute must for his development and he really did not get to the line as much as someone with his ability to drive to the basket should. He has major upside as a point guard and is already strong on the drive and kick, his physical development and jump shot will be the key as far as the level he achieves. Even so, he was a top player here and it definitely appears that he has the makings of a NBA level prospect.
Others
De'Ron Davis 6-9 235 PF/C CO 2016
Davis was a strong, physical presence with one of the more developed offensive skill sets amongst the US big men. He has a bit of a post and face-up game, while he was also quite aggressive on the attack. He also seems to have worked on his body and showed solid energy, getting to the FT stripe very often. Although he did show some ability to block some shots, he will need to work on his defensive awareness and also on maintaining his level of conditioning. He may not be as highly ranked as he once was, but he still remains a very competent big man prospect with great length.
Frank Jackson 6-3 170 PG/SG UT 2016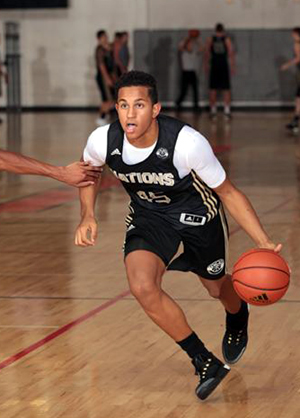 This was not a great camp for Jackson efficiency wise, as he had difficulty getting into the flow when he was with the many guards of Team Rose and struggled shooting when he played in the finals with Team Wall. It is still clear that this is a player who can create shots for himself and while they may not have fallen as consistently as he would have hoped, on most cases he is getting a great deal of buckets. He has some explosive ability at the basket and can definitely make plays for others as well. He was ice cold from long-range at Nations, but this seems to be the exception as opposed to the rule. Other top PG's did outshine him here and there may be grumblings about him being an undersized 2-guard, it just seems very clear that he has a very strong offensive skill set. A former BYU commit, he has long been rumored as a Duke lean and would more than likely thrive under Coach K. He is still contemplating going on a two-year Mormon Mission, though he will remain a highly sought after recruit for 2016.
Brandon McCoy 6-11 220 C CA 2017
McCoy showed good dexterity and athleticism for a 6'11 center. Unfortunately his stats online are omitting most of his performances, but through 3 sessions he was one of only 3 players who had double digits in rebounds and was a particularly good offensive rebounder. He has good hands and finishes strong around the basket. He needs to continue to refine the skill side of his game, in particular working on his go to post moves and developing a pick and pop mid range shot and a consistent baseline shot. Right now his mid-range game is not a consistent part of his repertoire. It will be interesting to see his progression this season. There's obviously a lot of raw ability and upside with this kid.
Jaylen Hands 6-2 165 PG CA 2017
Hands came off the bench behind The Trent Jr./Duval backcourt. The San Diego point guard has a very smooth game. He is deceptively athletic throwing down a 2 handed dunk in transition that had the crowd at the last session going wild and getting to the hole with ease utilizing a strong crossover. He has strong handles and good vision leading the team in assists (5.0 apg) despite coming off the bench. In fact his assist-to-turnover ratio was an impressive 2.5:1. He shot a poor field goal percentage by often taking ill advised shots that at times were at the end of the shot but in other cases just took too long to release. He needs to continue to work on the consistency of his shot and to create enough space in his mid range game so a defender will not alter his shot. At Nations, Jaylen shot 37.4% from the field and only 47% from the free throw line. Still has time to grow into his body and could be much more efficient in another year.
Mario Kegler 6-8 220 SF MS 2016
One of the main complaints with Kegler centers around going hard on a consistent basis. He certainly has some ball skills and even can flash a long range game; he just seems to do so in spurts. While he at times looked like just another role player, in the finals against Team Wall, he hit a couple three pointers to go with some nice driving finishes. It is still a question as to where he will play at the college level and he may be best suited to being a stretch 4, as he would be an absolute match-up problem with the strength and athleticism to possibly hold his own defensively. If he wants to prove he is a SF, he must work on his perimeter defense and level of activity. Going to Oak Hill for his final season should be a good move and he absolutely has some tools that could make him a nice forward prospect.
Mustapha Heron 6-5 205 SG CT 2016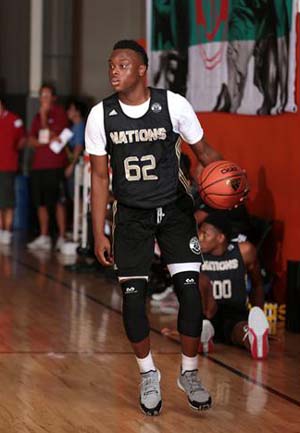 Heron missed one game due to a lower back issue, but came back for very strong showings in his last two contests. An AAU teammate of Rawle Alkins, Heron is also a high level scorer, although he is not the same level of athlete or playmaker. He still provided Team Rose with key baskets and plays in their final two games against Africa and Team Wall, displaying how unshakeable he can be in clutch situations. The level of strength he already possesses as a wing should likely make him a strong contributor once he gets to the NCAA and he seems to be a probable McDonald's All-American candidate.
Braxton Blackwell 6-8 215 SF TN 2016
Blackwell is a SF who stuffs the stat sheet, he provided help as a rebounder and passer for Team Wall. He also could be an imposing match-up for smaller wings, with some ability on the low block and aggression finishing at the hoop. His ball skills are strong for his size, though he will need to work on extending his range and improving as a shooter. Joining Mario Kegler and Harry Giles at Oak Hill, look for him to be a very nice utility guy for what is sure to be one of the nation's top prep teams. Once he gets to college, he should see the ball in his hands pretty often. As he expands his offensive repertoire, he definitely has the makings of a very productive forward.
Payton Pritchard 6-1 180 PG OR 2016
It seems any time this young man is challenged with the best the nation has to offer, he more than holds his own. Other point guards in this class may be more athletic or explosive, it just really seems like there are not many more poised. After a rough first couple of games, Pritchard really was beginning to fit in well with the likes of Dennis Smith, until his unfortunate injury. Forced to step up during the final, he did just that, nailing a flurry of long range bombs that had Wall in the thick of things in the first half. He has a great court sense, a nice change of speed and is someone who will absolutely kill you if you give him the open shot. He will be going for his fourth straight State title at West Linn and does so with a strong performance here under his belt.
Kyle Guy 6-3 165 PG/SG IN 2016
He is definitely not the most physically gifted player, but he is an absolute nightmare if you give him open looks. Guy was well on his way to gaining a berth on the All-Nations team before spraining his ankle early in Team Wall's third contest. In the two games prior, he was absolutely scorching the nets from deep, going 5-6 3PT against Latin America, than 8-12 3PT in an exciting comeback win over Africa. For what Guy lacks in strength, his long range shooting and court sense make him a very nice get for Virginia. He is really more of a combo-guard than a pure point, with his ability to stretch the floor being his standout quality. Tony Bennett has used three guard sets very well in the past and once Guy gets to campus, he should fit in beautifully.
Udoka Azubuike 6-10 270 C FL 2016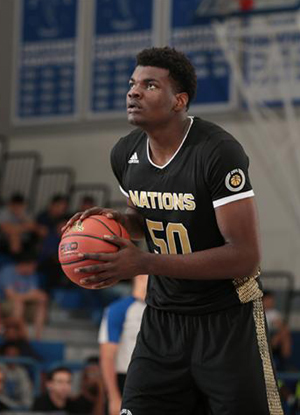 It is true, Azubuike is an absolute man child, even if you question how much of a "child" he really is. His listed age notwithstanding, his strength is very impressive and most catches with in eye shot of the basket turn into dunks. He has a massive frame and long arms, with a right baby hook that can be quite effective. Indeed, Azubuike shot a very impressive 28-36 (77.8%) FG in his six games at Nations. He also seemed to be in better shape than he was earlier in the summer. Even so, he still can lose effectiveness as the game wears on, while having a tough time with double teams. He has next to no range at this point in time and his flat shot at the FT stripe is a bit concerning. People are still quite skeptical of his age (supposedly turning 16 in September), but he is an imposing presence with strength and athleticism very rare for his size. There have been some wild comparisons made with him, think Tony Parker of UCLA.
Dewan Huell 6-10 215 PF/C FL 2016
Huell has some nice size and athleticism, yet is still quite skinny and did not really impose his will as often as many of the other big men on the two senior teams. He seems to be at his best in transition or cutting to the basket, with a lack of upper body strength making it difficult for him to maintain good post position. Often praised for his face-up game, we did not see much of that on display here, which may have been more due to the style of play at Nations as opposed to Huell.
Ike Anigbogu 6-9 235 C CA 2016
The UCLA commit Ike (pronounced E-Kay) Anigbogu was a productive center and the team's most imposing shot blocker, averaging 2.4 bpg. His offensive game is still very much a work in progress, though the 16-year old Anigbogu gave a nice effort on the glass and is very strong. His overall court sense and awareness is still in the early stages, but he knows his role and has a massive wing span. As he works on his post footwork and learns better spacing, he should become a nice college center.
James Banks 6-11 230 C GA 2016
Upside is a key term here, as Banks' play here was limited and he is still very much in the developmental stage. However, he also has big hands and incredibly long arms, while already possessing good center size. As he should still continue to develop his strength, he does work right now as a shot blocker and on the glass, while also running the floor quite well. His back-to-the-basket footwork and focus are keys for his future, though this is a very dynamic young man who could do great things if he keeps putting work into his game.
Sacha Killeya-Jones 6-10 205 PF VA 2016
Killeya-Jones was the standout for "Team Nations Select", which combined some top American High School prospects with some Asian players. While the coaches were Chinese and playing time may have been tougher to come by than it should have for the Americans, Killeya-Jones did his best to make them close to competitive. He has nice size and moves very well, especially given the fact that he turned 17 after the camp was complete. The former Virginia commit reopened his recruitment and was hearing from many of the top schools in the nation. He certainly seems to have a lot to work with as a PF with some size and athleticism.
Javin DeLaurier 6-9 210 PF VA 2016
DeLaurier was Team Rose's third leading rebounder and someone who is in constant motion on the floor. He still needs to add strength and can refine his offensive game, but he has a lot of similar qualities to Team Africa's Mamadi Diakite. His energy should make him a fan favorite and if he can stretch his game, it should give him another strong offensive facet to add to his ability off of the cut.
Ira Lee 6-8 220 PF CA 2017
His team's guards definitely deserved the publicity, it should also be noted that they were not the only players doing work for Team Lillard. Ira Lee was the name many observers noted as one of the hardest working kids at Nations, as he attacked the rim and glass with reckless abandon. He is a bit undersized and does not have much of a stretch game right now, but he backs down from no one and can be pretty bouncy.
EJ Montgomery 6-9 200 SF/PF FL 2018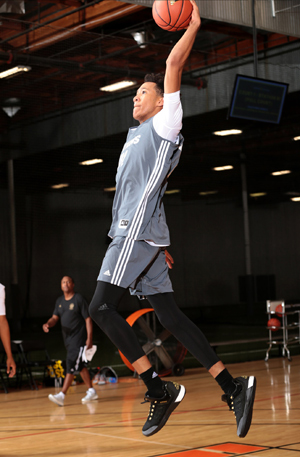 The Nations "veteran" sophomore was a pretty strong contributor for Lillard and has a diverse skill set at either forward spot at this point in time. He did most of his damage closer to the hoop, on the catch or rebound as opposed to off of the bounce. Montgomery has a great deal of potential and already has enough size and skill where it is not difficult to see why he is such a highly regarded prospect. He can work on his shot selection and possibly starting closer to the hoop rather than drifting out on the perimeter. In time this could help him develop into even more of a match-up problem if he commits to playing the 4.
Jaedon LeDee 6-6 195 SG TX 2018
LeDee struggled shooting the ball at times, but he has great size for a wing and some guard skills that make him quite intriguing. He has been playing on the Adidas Circuit at the U17 level for the past two years and he could become a very difficult match-up at shooting guard. His youth showed a bit at times, though he still played a decent role on a team that made it to the final four and provided flashes of why he is quite highly regarded.
Nick Weatherspoon 6-1 175 PG/SG AL 2017
Weatherspoon is a 6'1 combo-guard who averaged 17.5ppg at Nations. He has Eric Bledsoe like athletic ability. On one play at Nations the defense forgot to block him out and he went way above the rim for the offensive rebound with a strong two handed jam. His free throw shooting percentage was good but he needs to continue to work on his shooting, specifically from mid range and behind the arc where he went 1 for 9 for the event. He also needs to work on his lead guard skills to set teammates up. But with his athleticism and ability to score, it will interesting to watch his development.
Xavier Tillman 6-8 230 PF MI 2017
Tillman at 6'8 is an undersized power forward that knows how to get his jersey wet. He has a non stop motor that is contagious and pushes his teammates. He enjoys giving and receiving contact and has very good soft hands. This helps him around the post and in pick and roll situations. He would fit right in the old Big East or today's Big 10. However, he does need to work on his body. He has very little lift and although he knows how to create space, it would be interesting to see how much quicker and how much more lift he could add with an aggressive dietary plan.