Day 1 Recap
This year's adidas Eurocamp got underway on Saturday with the usual suspects on hand. Numerous GMs and scouts made the pilgrimage once again for 3 days of hoops and pizza in Treviso. As we have already mentioned, the event got a face lift this year with the immense level of talent brought in by adidas in the USA junior group.
The morning practice gave scouts a chance to watch potential first rounder Vasilje Micic. His masterful passing and ball handling skills were on full display as he hit teammates within 5-5 half court drills with terrific passes included a one handed baseline bounce pass which drew some oohhs from scouts. When Team 2 moved to the auxiliary gym was when Micic really put on a show, but unfortunately only a small handful of scouts were there to catch some more incredible passing and running of the team.
Micic's Team 2 would battle later in the morning with the camp's first game, although Micic seemed to pull something in his leg at one point during the scrimmages and struggled in the first game of the camp appeared to be laboring. Micic had just 4 pts and 4 rebs 4 ast, and 3 to in 19 minutes in the afternoon game. On the bright side, a less than stellar day one performance likely means we will get a chance to see more of Micic on Day 2.
USA Juniors vs France U20
The USA Junior Team was coached by former UNC and NBA standout Jerry Stackhouse. They faced off with the Under 20 French National Team. The USA team is absolutely loaded with talent but they could not keep pace with the size and strength of France as the blue team converted far too many easy scores after rebounds and USA turnovers. For the French squad Kevin Harley stood out. He's a solid athlete who doesn't try to do too much but just looks for ways to help his team win. Whether he has any one skill that stands out enough to get draft, is probably the important question, but he plays smart and hard. Mouhammadou Jaiteh is a name draft fans are familiar with as he has been featured on mock drafts over the past couple years and was also a part of the 2013 Hoop Summit. Unfortunately Jaijeh's athleticism appears to have peaked as he lacks much foot speed and explosiveness giving his draft chances less intrigue. One last France player that we'll be keeping an eye on from the National squad is Benjamin Sene. Granted he was going against guys 2-3 years younger than himself, he appears composed and shows a solid feel for the game. He's a 94 kid so he has 2 additional years of eligibility.
The USA Team will be very interesting to watch each day. They will face off with Euro camp All Stars on Sunday and then Carleton University on Monday. 2 games which I feel they stand an excellent shot to win.
Jaylen Brown was the real standout for the USA squad in Day 1. His physical resemblance to Stanley Johnson is unmistakable with a similar body type, though not as strong, and his hairstyle. Brown really made some fans with the scouts in attendance showing a tireless motor and using his athleticism to block shots at the rim and attack the basket on the offensive end. Kobi Simmons was also impressive with his length and quickness running the PG position. The French team struggled to contain him when he decided it was time to drive. More on all of the USA prospects over the next few days.
Tomas Dimsa not in camp
Dimsa's agent told me he was unable to attend the event due to still having to finish up the season with his team and therefore would pull his name out of this year's draft.
Jusuf Nurkic vs Dario Saric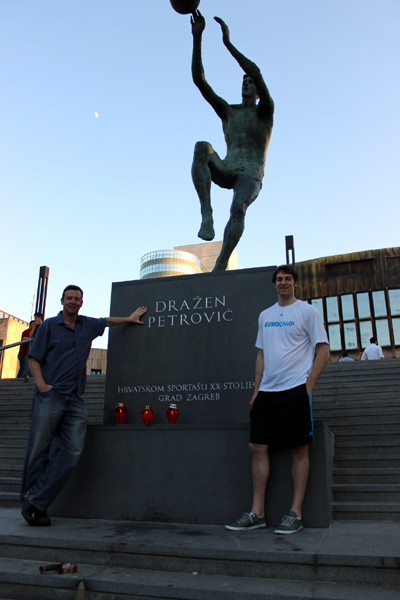 Some of the ambitious scouts (teams we saw included the Mavs, the Lakers, Sixers, Nuggets and Celtics and ESPN's Fran Frachilla), decided to cut out during the evening session to make the 3 1/2 hour drive to Zagreb, Croatia to watch a couple of players scouts have mentioned as possible lottery picks. Nate Duncan of Basketball Insiders, NBADraft.net International writer Rick Fois and myself decided last minute to make the road trip. Getting a chance to see two potential mid first rounders face off in the competitive environment of a Domestic League championship was well worth the extra travel. Nurkic's team took a commanding 2-0 lead in this best of 5 playoff at Drazen Petrovic arena over Dario Saric and Zagreb.
Jusuf Nurkic One NBA scout told me they have him in the mid teens on their big board during the morning session along with Kristaps Porzingis. Nurkic was a part of the Eurocamp last year and has really progressed in the year since. He didn't get into the game until close to the end of the first quarter but his impact was immediate and apparent. He is sort of like a faster version of Nikola Pekovic as he's able to grab rebounds and use his great strength and quickness to be disruptive defensively. At the end of the game he repeatedly shut down Saric on drives to help Cedevita seal the victory. He struggled some to finish off play at the rim, and with his lack of lift, finishing at the rim against help defense in the NBA could limit him to a degree. He's so big that injuries could be a concern and also the possibility to getting overweight. But with his great mobility for his size, he's a player on the rise and should find a spot in the first round.
Dario Saric He's already the best player on his team and he's barely 20 years of age. However, Saric could begin to slide some on draft boards in the final weeks leading up to the draft. He's got the intensity and desire to become a contributing NBA player and few question that he will be solid due to incredible desire. But there are some major limitations regarding his lack of athleticism to defend either forward position or make plays at the rim. He's improved upon his shooting this season, however it has gone from bad to just decent and there's little reason to believe he'll become a great shooter in order to compensate for his positional (quickness) issues. He's currently projected as a late lottery pick, but there's a real chance that either Porzingis or Nurkic or both could leapfrog him on draft night, and he could slide into the late teens to early 20s. We'll include both players in our final write up with further notes.
Amazing Italian food in Croatia! Longtime Sixers Director of Player Personnel Courtney Witte gave us a great pasta recommendation (Boban in Zagreb) before the long drive back and it capped off an excellent day of basketball, getting back well after 3 am.
*At midnight of the game we found ourselves out in front of the arena, in front of the Drazen Petrovic statue, 21 years to the day (June 8th, 1993) of Drazen's tragic death. A candle memorial had been set on his statue in tribute.