Talen Horton-Tucker 6-4 235 SF Iowa St. Fr.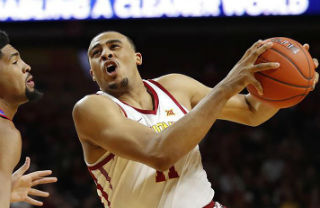 Horton-Tucker was mysteriously projected as a first rounder for much of the season by some. The idea that his 7-foot wingspan and being the youngest freshman equated to being a top 20 pick is illogical. In reality he's an undersized and slow footed forward that doesn't have a standout skill, nor a great deal of upside left to develop. He doesn't possess the speed or athleticism to play shooting guard. And at 6'4" he will likely struggle to overcome his lack of height. His shooting clearly needs improvement, especially his shot selection. He does play very physical and utilizes his aggressiveness to get to the line. But his free throw percentage has to improve, from just 62.5 percent this past season. He plays aggressive on the defensive end, but it tends to lead to ill advised fouls, at times. He can improve his chances to contribute if his passing and court vision improves, but he still needs to work on taking care of the basketball and limiting turnovers. He made the unfortunate decision to leave Iowa State and may struggle to stick in the league without a few years of college development. His February arrest for a theft at an Ames, Iowa Walmart certainly doesn't help his cause either. If his shot improves, he projects as a player similar to Tulsa's DaQuan Jeffries, but he's still 2-3 years away from being that polished, and no longer has the benefit of developing at the college level.
Jaxson Hayes 6-11 220 PF/C Texas Fr.
Hayes should develop into a solid NBA defender due to his great length, and natural rim protecting ability. But he's perhaps the most raw prospect in the entire draft and is being projected as a mid-to-late lottery pick. If he indeed goes around the 10th pick, the expectations will be extremely high for him to become a high level player. He's still a long ways away and will need time. He only averaged 5 rebounds per contest as a Longhorn. Whether he can actually deliver on his upside remains to be seen, but he's clearly a boom or bust type pick with limited offensive game and likely will be developing in the G-League for 1-2 seaons before he can contribute at the NBA level. Toughness remains a real question mark, though he does have a father that played in the NFL, so perhaps his physicality and toughness will come in time. He needs to gain some weight and overall physical maturity to become a better rebounder. Right now, his feel for the game and offensive skill level is extremely limited. He came out of high school barely rated on top 100 rankings, as he averaged just 12 points and 7 boards as a senior at Moeller HS in Cincinnati, Ohio and would seem to be a safer bet as a pick in the 20s as opposed to the lottery.
Romeo Langford 6-6 210 SG Indiana Fr.
Langford came into college as a top 5 recruit on some lists and seems to have ridden his HS hype to being a fringe lottery pick, as he has received a green room invite. His play on the court this season however showed a lack of intensity, and perhaps even more troublesome, a lack of efficiency. He has to improve his shooting in all facets to be effective at the next level. His 3-point percentage was a dismal 27% and his 72% from the FT line didn't indicate that that it was an aberration. His shot selection needs work, as well as his overall decision making. With solid versatility, he's got a chance to be an Evan Turner type of pro, but he needs to learn to raise his level of intensity in order to get there. His defensive intensity and ball protection were also areas of concern in his freshman season. Apologists will defend him by saying that Indiana was a bad fit, and that his high school career is a better indication of his talent. But he showed a lack of intensity at the prep level as well. He has lottery level talent, but failed to show the hunger, consistency and impact to warrant it.
Jarrett Culver 6-6 195 SG Texas Tech So.
Culver has a great off-court reputation as a great individual. He figures to be a solid pro, but may go entirely too high on draft night, which will subsequently intensify the expectations unfairly around him. As a top 5 pick, he would likely find it difficult to meet the expectations as a player that lacks the fluidity and dynamic athleticism to be a star. He does not jump out of the gym or blow past opponents off the dribble with the ease that you would like to see from a standout college player. His 3 point shooting also needs a lot of work as he shot just 30.4% from deep in his sophomore year at Texas Tech. His 70% free throw shooting doesn't give a warm and fuzzy feeling about his ability to improve substantially as a shooter either. He needs to work on his overall ball handling and dribble penetration to become more of a scoring threat from the perimeter. Culver is one of the top character guys in the entire draft and figures to be a solid pro. But if he indeed is selected top 5, or close, as some are projecting, he's clearly overrated.
Tyler Herro 6-6 195 SG Kentucky Fr.
Herro is considered a fringe lottery pick and has impressed teams in workouts with his shooting ability and toughness. If he can truly become an elite shooter at the NBA level then he can justify being taken that high. But at this point he's a very good shooter, but not elite. And there is reason to believe he may struggle to get good looks with limited speed and quickness to shed defenders or create looks for himself. The fact that he shot 93% from the FT line certainly creates some optimism about his chances, granted that was only on 93 attempts. While he gets up for some nice dunks at times, he's generally considered a below average run/jump athlete by NBA shooting guard standards. He was a very good defender at Kentucky, but it remains to be seen whether that can translate to the next level. His foot speed and lateral quickness appear to be below average. He also has a negative ape index with a 6′ 4.5" barefoot height and a 6′ 3.25" wingspan. 35% from three is decent, but the fact that it wasn't higher illustrates his inability to get clean looks consistently due to his less than ideal quickness getting shots off. As well as his struggles with speed in general. He made 1.5 three pointers per game, which if being a specialty shooter is the projection, isn't a compelling body of work. He's a bit one dimensional as a shooter at this point and may struggle to generate offense, outside of spot up shooting at the next level. His 2.5 assists per game were solid, but he doesn't have the vision and passing skills to make those around him better or play two steps ahead of the competition.