Each year the Maui Jim Maui Invitational provides arguably the best early season tournament, and that is especially true when a number of elite teams are involved, as was the case this year with Gonzaga, Duke and Auburn, all top 10 teams coming into the field. The event has a great track record of producing National Champions and long tournament runs, as a number of Maui Invitational winners have gone on to win the NCAA title, including Duke, UNC and UConn. It provides a unique opportunity for scouts to see teams and more importantly top prospects compete in a win or die format. It generally brings out the best in players and the level of competition of the games feels like NCAA tourney games, only in November. With as many as six or seven potential first rounders and as many as four potential lottery picks, this year's Maui Invitational was as exciting as it's been in recent memory. Here's a look at the top (twelve) prospects that participated.
1. Zion Williamson 6-7 280 PF Duke Fr.
Williamson is an incredibly unique prospect. He has a body and ability to move that seems to defy logic. Sports Science really needs to do a feature on this guy because there's no way that a person that weighs this much should be able to move and jump as explosively as Zion does. He doesn't pass the eye test from a physical dimension standpoint as a typical first impression of him is generally that he's too short and thick to be an elite NBA player, but looks can be deceiving. The amazing part is that he's actually in much better shape than he was in high school, and he seems to have toned down the leaping to some degree (possibly to avoid injury). Perhaps it was the additional weight making it seem even more impossible, but Zion actually seemed to jump even higher as a sophomore in high school. A player this athletic actually has to be careful not to put themselves in situations that could expose themselves to injury. Zion actually has more athleticism than he has shown, from a pure leaping standpoint. Bill Walker is one of the few players and prospects over the past 15-20 years that could possibly match his explosiveness, and the fear with this type of player is the amount of stress that jumping so high, along with the weight, has on their legs and knees. Blake Griffin missed his rookie season but has been able to avoid injury for most of his career. Walker unfortunately saw his career cut short due to injury. Breaking down Williamson's game, one thing that stands out is his passion and intensity. He appears to be ultra competitive and focused and if anything can become too emotionally invested at times, and will need to mature some. He seems to have a solid basketball IQ as he gets a lot of steals just by being a step ahead of opponents, reading what their next move will be before they make it. His ability to second jump and beat opponents to the punch at the rim creates a lot of scoring opportunities. His body control is another key to his success. It's rare to find a player with such dexterity and body control as he never seems to get out of control or off balance. He's got great ability to finish around the rim even when he's not dunking. Zion's outside shot is better than advertised, but not exactly a strength. He hit 1-of-5 from three in Maui, and obviously becoming a better outside shooter is an area to focus on. Against Gonzaga, Zion was Duke's best player putting up 22 and 10 on an efficient 8-17 shooting and also chipping in 4 blocks. He's taken an early lead in the number one pick race, but these things have a tendency to change as seasons roll along, so stay tuned.
2. RJ Barrett 6-7 190 SG Duke Fr.
RJ caught quite a bit of criticism following Duke's 2 point loss to Gonzaga after missing five shots in the final minute. He obviously still has some work to do on shot selection and balancing creating his own shot opportunities with getting teammates involved. Critics noted how Barrett had missed as many shots on the season as teammate Zion Williamson had taken following the Maui event. But in reality, Barrett is as intense a competitor as you will find at his age and though he has struggled with efficiency and playing hero ball, his talent dictates taking shots instead of deferring to inferior teammates not named Zion or Cam. While Barrett has had some hiccups in the early part of the season, he remains one of the surest prospects for this year's draft. He's got the intangibles and competitiveness missing from Reddish's game, and is a more well rounded, and less injury prone athlete than Zion Williamson. While Zion offers a lot of mystery and intrigue in what he might become, Barrett has the far more comprehensive track record as a prep player, having won international competitions (U19 Worlds) beating Team USA with a shorthanded group of Canadian teammates. He also led a Montverde team to an undefeated record and HS national Championship as a senior. He's far from a finished product and has a bit of a choppy style of play, and choppy style of athleticism. But if there's anyone in this year's draft that can give Zion Williamson a run for being the top pick, it's RJ Barrett, who appears to have the highest floor of any prospect, at least at this point.
3. Cameron Reddish 6-8 220 SF Duke Fr.
Reddish has really turned into a deadly outside shooter. He is shooting with much more confidence and fluidity than he exhibited in high school. He had a solid all around Maui Invitational, though his flaws may be perfectly masked as Duke's third best player. He is getting incredible looks as teams are forced to put inferior defenders on him at times, and collapse off of him. True to his high school reputation, Reddish showed great flashes, but disappeared when the team needed his contribution most against Gonzaga. Reddish had an amazing And-1 finger roll against San Diego State in the opener, and continued his red hot 3 point shooting. He's an undeniable talent and the smoothest athlete and shooter of their three elite prospects. Reddish has been very solid, both in Maui, and overall, but it's apparent he is missing the same level of competitiveness and assertiveness that his left handed teammates (RJ and Zion) possess.
4. Rui Hachimura 6-8 220 PF/SF Gonzaga Jr.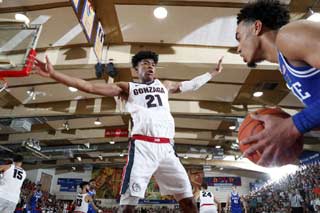 Hachimura showed that he's not only ready to take over as the team's scoring leader, but emotional and overall leader as well. He came up big in their win against Duke, taking it upon himself to be the one to score important buckets down the stretch by using his athleticism and size to gain position and developing low position to utilize his back to the basket skills, getting his opponents off balance and creating good looks. Not to mention his important stops on the defensive end late against RJ Barrett. He put up 20 and 7 with 5 assists showing very good vision and passing ability on top of everything else. While there are still some question marks regarding position and NBA fit, he's shown the ability to excel on a huge stage, playing against Duke in the Maui Invitational title game. He's certainly gained a great deal of confidence and embraced the role of being the team's superstar and go to scorer. He may lack NBA superstar athleticism, but he's showing the ability to be something close. His draft stock continues to be on the rise, and being a top 5 pick is a possibility.
5. Jaden McDaniels 6-10 190 PF San Diego State So.
McDaniels struggled in the opener against Duke but made scouts in attendance take notice with his great run jump athleticism and offensive skill set in their come back win over Xavier. His 26 points and 8 boards on 9-for-14 shooting including 3-for-5 from three showed what he's capable of doing when he's on his game. Unfortunately that's exactly what McDaniels needs to work on, playing at a high level every time out. His inability to play well in SDSU's loss to Iowa State on day three proved that he still has to get stronger and mentally tougher. His thin frame is obviously a concern, though he plays stronger than his frame would suggest. With the ability to face up and hit shots as well as drive; playing as a stretch four, McDaniels possesses a lot of intrigue. He can play himself into the first round if he develops better consistency and efficiency as the season progresses.
6. Chuma Okeke 6-8 220 PF/SF Auburn So.
Okeke had some buzz coming into the event with scouts and he certainly created some buzz coming out of Maui. He displayed a wet jumper in warmups, showing both range and an effortless form from the perimeter. He's a bit of a tweener as his athleticism and foot speed appear better suited to play the four. However, he's got some great handles which he showed off in the Duke game, beating pressure on a few occasions and bringing the ball up the floor when necessary. His 7′ foot wingspan helps offset his lack of great height as a four, and gives him some real intrigue as a player that can guard multiple positions. While he struggled shooting the ball from three in games going 0-3, 0-3, and 1-5, his ability to shoot from outside is one of his real assets. Despite not putting up huge statistics overall in Maui, he was efficient from the floor, aside from the Duke game, leaving scouts with a lot of intrigue due to his length, athleticism and shooting ability.
7. Zach Norvell 6-5 200 SG Gonzaga So.
Norvell was clutch in Gonzaga's big match up with Duke outperforming RJ Barrett in crucial moments late. He showed an ability to knock down three pointers both off the catch and shoot as well as off the bounce. He's a solid athlete with adequate size for the shooting guard position, and plays with a great deal of maturity. He struggled from deep in their first two games against Illinois (2-for-6), and especially Arizona (3-for-13), but came up big hitting 4-for-7 against Duke in the final. His ability to not only thrive in the half court but make plays on the break make him an intriguing prospect, despite being an underwhelming physical specimen. Former UCLA Bruin Arron Afflalo carved out a very solid NBA career with similar size and athleticism and Norvell may have similar intensity and intangibles to overachieve.
8. Tre Jones 6-1 190 PG Duke Fr.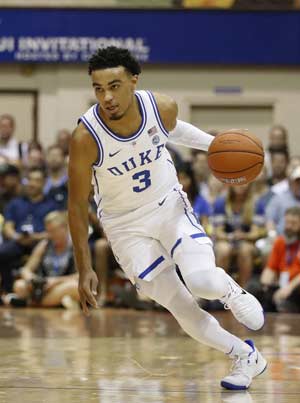 Jones had a very solid tournament scoring in double digits and above 50% in each of the games. He played 39 minutes in both of their close match ups (Auburn and Gonzaga) and had a 2/1 assist to turnover ratio overall. He's arguably as indispensable to Duke as anyone. They don't have quality depth behind him at the point guard position and for him to miss games late in the season or foul out of a key tourney game could prove their demise. Jones is an incredibly solid and consistent floor general for a freshman. He's their engine and the team figures to go as he goes in March. While he lacks standout speed and athleticism, he's a smooth athlete and should prove to be as good as his brother, Tyus Jones, who went 24th overall in 2015. Jones being a one and done first rounder may hinge on the Blue Devils winning a championship, or at minimum a strong showing in the tournament and a deep run. While Tre Jones didn't have the same level of hype entering college that his brother Tyus had, many feel that he's a bigger and stronger athlete and possibly the better long term NBA prospect.
9. Filip Petrusev 6-11 225 C Gonzaga Fr.
Petrusev is likely a year or two away from considering putting his name in the draft, but he's already getting looks from NBA scouts as he's a fluid big with very good shooting and overall skills. He participated at the adidas Eurocamp in 2016 with the Next Generation group and also opened some eyes in February at the Basketball Without Borders in Los Angeles. In Maui he was able to impact the Duke game with his outside shooting along with his ability to rebound and make plays in the paint. He played limited minutes in all three games, but his 11 points helped Gonzaga hold off Duke's late charge. He hit 5-7 including a three pointer and is a smooth big with first round potential if he continues to develop over the next 2-3 years.
10. Austin Wiley 6-10 260 C Auburn Jr.
Wiley missed all of last season after being ruled ineligible as part of the FBI investigations. He's an incredibly long player with a 7'5 wingspan making him plenty big for the NBA center position despite being just 6'10. He saved his best game for Auburn's biggest with 17 and 9 against Duke. In another era he would be a no brainer first rounder, but in today's NBA his questionable ability to defend the perimeter and lack of shooting will probably render him a second rounder. Athletic centers with limited skills just don't have the value that they once did. Regardless, Wiley seems to still be getting back to playing shape and his best performances are likely yet to come this season. He's a full year younger than Marquise Bolden and showed his dedication with his impressive body fat percentage at last year's Draft Combine, despite missing the season.
11. Brandon Clarke 6-8 215 PF/C Gonzaga Jr.
Clarke was instrumental in the Zag's Maui Invitational title and ascent to the number one ranking in the nation. He brings tremendous energy and plays with consistent effort. He lacks great shooting ability, however he revamped his shot in the offseason and it has shown improvement. He's a great competitor and plays above the rim with great put back dunks and rebounds. Projecting him beyond college, Clarke has a chance to play at the next level. But The San Jose State transfer turned 22 in September so there is some concern about how much more he can develop his body, and skills. He's seen as a forward/center with a limited offensive game, and limited positional size at 215 lbs and 6'8 with a 6'9 wingspan. Regardless, if Gonzaga is able to cut down the nets in Minnesota in April, or come close, it will certainly give a few of their players a boost, and Clarke could possibly hear his name called in the mid second round.
12. Marques Bolden 6-11 250 C Duke Jr.
Bolden had one very impressive performance against Auburn, sandwiched between two average performances (SDSU and Gonzaga). He showed some ability to be a rim protector and finished with 7 blocks. He isn't being called upon to provide much in the way of scoring with so many mouths to feed at Duke. Not to mention, he just doesn't have much of an offensive skill set. He's finally healthy after struggling with injuries in each of his first two seasons at Duke. He looked athletic and quick at times in the event, but struggled against Gonzaga as Petrusev was able to exploit his inability to defend the perimeter, NBA style. With a 7'5 wingspan, Bolden has the kind of length that will perk up the ears of NBA teams and will likely give him a great shot to be drafted as a project. He's unlikely to put up big numbers this year, but a big game here or there on Duke's run to Minnesota is sure to help his cause.