The victorious West squad was led by 2016's top prospect Josh Jackson and future Duke Blue Devil, Frank Jackson. In addition to the Jacksons, the West was loaded with many talented prospects. Here's a breakdown of how they performed.
Josh Jackson – Undecided
Jackson performed well all week. After looking like the best player in practice, Jackson capped it off to earn Co-MVP of the game scoring 19 points in 17 minutes, while shooting 9-11. He was active the entire game and asserted himself as the top player of the class. He guarded Jayson Tatum well, making him uncomfortable in his half-court offense. He still has a slight hitch in his shot but connected on nearly everything and got where he wanted when he slashed through the defense. He displayed his elite athleticism on the finishing end of oops and court vision setting up others to score. Jackson also had four rebounds and three assists to lead the West to victory.
Frank Jackson – Duke
No relation to the other Co-MVP, Josh Jackson, Frank Jackson scored 19 points of his own. He got hot from outside making five of his seven attempts from three. Jackson's second half performance brought a spark off the bench. He utilized his pull up game and scored in bunches. He has natural scoring ability and exceptional athleticism. Molding himself into a true point guard will be the next step Jackson's progression.
Marques Bolden – Undecided
Bolden posted a solid 13 points and seven rebounds while shooting 6-8 from the floor. There were many talented big men on the floor but Bolden was the best low post and back to the basket offensive player. He has such soft touch around the basket for a player of his size and strength. He was well defended in the game but showed great confidence trying to score with either hand. He gets good lift finishing the oop on a few plays and is reliable cleaning up in the paint.
Josh Langford 6'5 – Michigan State
Langford had a nice game. He didn't wow the crowd but provided 12 points in 14 minutes while shooting 50%. He scored from a few different spots on the floor with a good balance of pulling up for a jump shot and taking it all the way to the rim, all within the flow of the game.
Malik Monk – Kentucky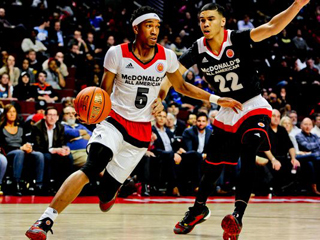 Arguably the most explosive player on display, which is saying a lot in this class. Monk scored 11 points. He didn't shoot well from outside missing all four of his three point attempts. He beat the first line of defense off the dribble a few times to get to the basket. He had a few missed dunks that brought the crowd to their feet because of his eye opening explosiveness. Monk also finished with four assists as he does a great job of dumping off to an open teammate after he slashes through the perimeter defense.
Jarrett Allen – Undecided
Allen didn't break double figures in the scoring column but stood out defensively, leading all shot blockers with five. He played his game scoring nine points and grabbing five rebounds. He did a great job as a screener running the pick and roll with Jackson and Ball, always alert for the pass. He has a good understanding of positioning and timing on both ends.
Zach Collins – Gonzaga
Collins made the most of his time on the court. In 12 minutes of play, he finished with nine points, six rebounds, three assists, and two steals. He made his presence felt every minute he played and was often at the right place at the right time. His scoring came simple, not trying to do too much and it worked out well for him.
Alterique Gilbert – Connecticut
Gilbert was active in his limited 12 minutes. He tried to make something happen every time he touched the ball, whether it's trying to score himself or hunting for an assist. He finished with seven points, five rebounds, four assists, and four turnovers. He didn't seem to catch the flow of the game like he's used to, his moves seemed a little out of sync. On one of his plays, what he thought was an open three point attempt got blocked with Markelle Fultz coming from his blind side. Gilbert showed off his athleticism on a break, pulling off a reverse mini-pump dunk.
Lonzo Ball – UCLA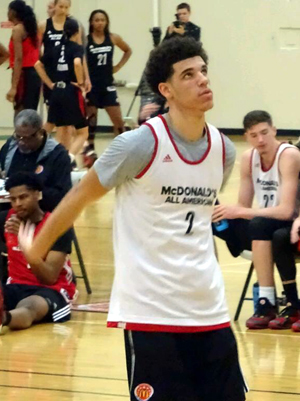 Ball went scoreless only taking three shot attempts. He did, however, lead all players in assists with 13, tying Jacque Vaughn's McDonald's All American Game record. He started breaks and assisted in a number of ways; connecting teammates on backdoor lobs, making full court passes, even ooping Malik Monk off of a bounce pass as the final seconds came off the clock. Ball's court vision and passing separate himself from even the elite players of the 2016 class. He didn't record the triple double that he averaged this season but finished with four rebounds, two blocks and a steal in the win over the East.
Kyle Guy – Virginia
Guy scored seven points and passed two assists in 12 minutes. With his reputation as a pure shooter, he made one of his three attempts from deep. He moved well without the ball; he got a few good looks but a few shots took a bounce. He's got a lot of craft to his game, when he gets ran off the three point line, he can counter with floaters and runners.
TJ Leaf – UCLA
Leaf had a quiet six point performance. He led the West in rebounds with nine. He played within himself not forcing his offense or putting the ball on the floor much. After rebounds he was quick to give the ball up to a guard. He's not an overwhelming athlete but knows his limitations.
Dewan Huell – Miami
Huell had a rough game, only scoring two points on a tip in while missing his other seven shots. He tried to force his scoring at times but couldn't connect. He did well on the boards grabbing six in 12 minutes.