In an enjoyable and competitive game, the World Team held on to beat Team USA by two 103-101, giving well respected Coach Roy Rana (@Roy_Rana) his third win in five games.
Here are scouting reports and outlooks on each World Team player, (plus thoughts from World Team Coach Rana taken the night before the game):
Ben Simmons, Australia 1996 (6-10, 239 lbs, 6-11 wingspan, 8-7 standing reach)
We've been enamored with Simmons' versatility since we first saw him as a 6-foot-7 rising sophomore playing alongside countryman Dante Exum at the 2012 adidas Nations. While some envisioned Exum as the better long term prospect, the potential to be a one and done, and contend for the top pick was evident then with Simmons. He's grown three inches in three years, and three Monteverde High School National Championships later he remains our top prospect in the class. He had nine assists in the game, setting up teammates for numerous easy baskets off of drives. He puts a lot of pressure on the defense with his ISO game. He also was impactful in the open floor with his defense and anticipation. His biggest weakness is obviously his shot which needs better consistency, but as one scout put it, he's not a bad shooter and once he gets to the league, that's all he's going to be doing, so it will improve. Lamar Odom has become a chic comparison and is obviously safer, but if there has ever been a player deserving at least a "poor man's" comparison to LeBron, it's Simmons. His body for a 18 year old is truly remarkable, and he can legitimately carry 240 plus pounds and move like a small guard. Can he jump out of the gym like LeBron? No, he's not quite a 10 out of 10 athleticism-wise. But he's still the most versatile athlete in this class, combining great speed, explosiveness, and physicality. Is it blasphemy to compare anybody to this generation's best player? Probably. But Odom was never really able to fully utilize his versatility in the NBA, in particular vision, passing and making those around him better. Simmons appears to be able to, similar to "a poor man's" LeBron.
Coach Rana on Simmons: "Man child… Talented… Strong… Can finish… He's got a great feel… Facilitates for his teammates… Great kid. Really good personality. Soft spoken. Attentive. Looks you in the eye… He's got stardom written all over him… Just needs to continue to work on his jumpshot in order to become a star. He's pretty much got everything else right now… As his stroke improves, his ceiling just goes higher and higher."
Skal Labissiere, Haiti 1996 (7-0, 216 lbs, 7-1.5 wingspan, 9-0.5 standing reach)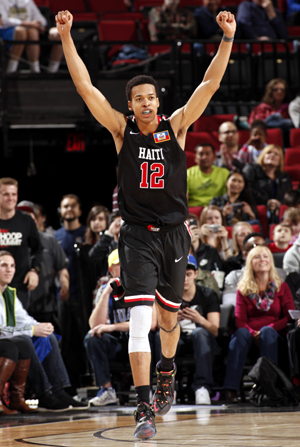 Skal has been on a meteoric rise over the past month or so after adding muscle to his frame and improving upon his offensive skill set. He has legitimately moved into discussion as the top overall prospect from this class and gives the 2016 NBA Draft additional intrigue at the top. He has very good fluidity running the floor and shows extremely soft touch on his shot. He gets great elevation, which combined with his height makes him very difficult to defend. His post game shows promise as he's able to utilize his touch with moves in the paint and hook shots, and appears highly coachable. While the Hoop Summit measurements say he weighs 2 lbs less than Maker, which is possible, he appears about 10-15 lbs bigger. He should be able to pack on another 20-25 lbs, or more, to his frame without losing much mobility. Skal has received comparisons to another UK alum, the "Brow". However his dimensions, athleticism and skill set are more similar to LaMarcus Aldridge.
Coach Rana on Labissiere: "Love him. Another really high level guy… Great length. Unique elevation for a guy his size when he shoots it… He really gets up on his shot. Active defensively… I think he's a star as well."

Nedim Buza, Bosnia & Herzegovina 1995 (6-8, 199 lbs, 6-11.75 wingspan, 8-8.5 standing reach)
Buza came on as the week progressed. On Friday he really hit his groove shooting the ball and began to receive some praise from scouts. He's not overly athletic, but he;s very smooth and shows a solid understanding of the game. He plays with good energy and competes. He's a 1995 kid, so he has the advantage of being older than most of the other kids that participated. However his performance here should help to set him up to be a draft pick, as early as this year as a draft and stash guy.
Coach Rana on Buza: "Much more of a North/South straight line guy, drives it hard in straight lines. He's pretty tough. Can make an open shot. He's a guy that can draw a lot of fouls."
Cheick Diallo, Mali 1996 (6-9, 220 lbs, 7-4 wingspan, 9-1 standing reach)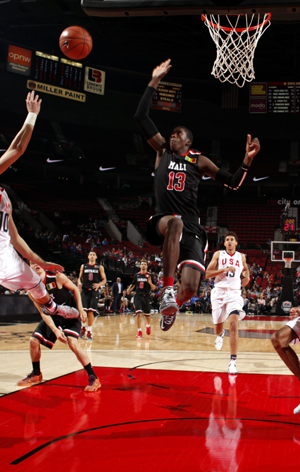 Every scout that weighed in on Diallo gave a glowing review. "That's the guy I like", was the general sentiment. It's hard not to love Diallo's approach to the game. He plays every possession with a house on fire sense of urgency. His skill set and energy are reminiscent to Kenneth Faried, although he seems to have better defensive instincts. His 7-foot-4 wingspan also helps. Diallo, who was very impressive winning MVP in Chicago at the McDonald's game, did a little of everything once again being a terror under the basket as a rim protector, blocking some shots near their apex, as well as getting some impressive finishes on the break. His agile footwork to spin to avoid defenders while on the break and then finish is very impressive, as he showed in practice and in the game. A very impressive 12 point (5-9 fg), 6 rebound and 3 block effort in just 16 minutes of action, nearly half the time Murray (31), Simmons (30) and Labissiere (27) received.
Coach Rana on Diallo: "Motor guy. Just goes and goes. Active. Can rebound… Can shoot the 15 footer. Anything around the rim is a dunk. Just a really, really aggressive…fun kid. A fun kid to work with."
Federico Mussini, Italy 1996 (6-1, 154 lbs, 6-2 wingspan, 7-9 standing reach)
One scout commented that Mussini was the World Team's most skilled all around player. He showed high level offensive ability with both passing, ball handling and shooting and would make a solid guard at a decent level in college. His main problem is a lack of great size and athleticism when projecting him to the NBA. He was a valuable contributor for this team, giving them stability, even if he lacks stand out talent. This event surely elevated his status in Europe and he opened some eyes as a possibility for college if he chooses to go that route.
Coach Rana on Mussini: "Crafty, tough, can really shoot it, I think that he has shown that he can handle pressure from our guards, Murray and Lucas, will he be able to handle the in your face stuff that the American guards will show tomorrow. He could be an impactful player tomorrow because of his decision making. A great decision maker and hen his ability to stretch the floor is unique"
Jamal Murray, Canada 1997 (6-5, 204 lbs, 6-7 wingspan, 8-2.5 standing reach)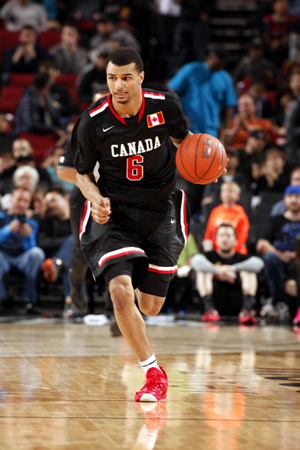 Murray was the breakout performer of the game.He was sensational, leading all scorers with 30 points on 12-23 shooting, and guiding the World team to victory. The Canadian combo was the star of the game, which was not according to script. He looked extremely comfortable, and that was to be expected with him participating for the second year. But breaking out for 30 points was surprising. He did it with spectacular baseline dunks, as well as looking very impressive shooting, knocking down the three ball (3-for-7). The key for Murray will be further developing his point guard skills.
Q: Which player has impressed you the most?
Coach Rena on Murray: "Ben Simmons is obviously the guy, he and Skal have been great and are just no brainers. Those guys are high level players… But I think Jamal Murray has been spectacular. He's not fancy. He just gets it done, all the time… And with a point guard with his size? Somebody's going to win a lot of games."
George de Paula, Brazil 1996 (6-6, 202 lbs, 6-11.75 wingspan, 8-6.5 standing reach)
de Paula is an intriguing prospect to scouts due to his length and versatility. A 7-foot wingspan on a 6-6 frame is rare. He also has enormous hands, which give him great control of the ball. He was very streaky in practice shooting the ball, and that proved to be the case in the game as well as he swished his first three point attempt and air balled his second. He struggled to make much of a mark in the game. He had some drives in traffic but didn't show much in the way of creating for himself or others. He's not very quick footed, which makes defending point guards and getting by them on offense a challenge. He's also more long than he is bouncy. His explosiveness is average, though he doesn't have to get off to floor very far to finish with such great length. He has received some discussion from scouts as a draft and stash guy, but after such a poor performance in the game, it will be difficult for teams to justify taking him higher than early to mid second round.
Coach Rana on de Paula: "de Paula really started slowly and appeared that he was struggling to find himself. He has really begun to come on of late… He's got great length. A pretty good athlete. Can get to the rim… Shoots it better than I thought. He's a combo guard for us. He's probably a point guard down the road. He's got some point guard instincts. He will probably play on the ball and off the ball… I'm excited. I think he could be a little bit of an x-factor for us."
Zhou Qi, China 1996 (7-2, 209 lbs, 7-6.5 wingspan, 9-6.5 standing reach)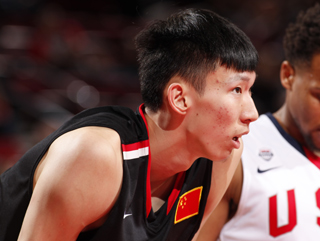 "Joe Chee" as his name is pronounced, is the biggest hope from China since Yi Jianlain, who happened to be in Portland for the game. Zhou had an ankle injury the first day of practice which knocked him out of the next two days of practice and seemed to limit his overall effectiveness. He's got excellent fluidity and movement considering his enormous length. He shows very good shot blocking ability, having led the CBA in blocks this season. Offensively he shows some touch, although he seems to struggle in getting up shots quickly and within the flow of the game. His standing reach alone is enough to pique the interest of scouts, and the fact that he has such great fluidity and mobility and he's not a total lost cause offensively also makes him an intriguing prospect. Throw in the potential for marketing and his stock rises further. Strength and age are obvious concerns. And Qi may struggle to play in the NBA due to the speed of today's game, but there's a good chance a team will take a gamble on him in the early second round, or possibly even late first, whenever he makes himself eligible.
Coach Rana on Zhou: "Freakish length. And skills to go with it… He can shoot it. Has great touch around the rim. Very good athlete. Another one that is young within his body and his physical size. As he improves, there just aren't a lot of guys like him. As he showed today in practice he can change some shots defensively. Blocked a few as well. He had an ankle injury the first day, it swelled up and was a legitimate sprain. We wanted him back so we took is slow, treating it properly and then getting him back."

Thon Maker, Australia 1997 (7-0, 218 lbs, 7-3.25 wingspan, 9-3 standing reach)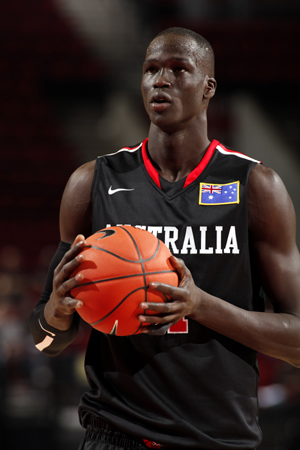 Maker is a talented kid showing the ability to knock down shots and an advanced offensive skill set on a lengthy frame. He really hustles, competes hard and impressed us in our interview with him as a thoughtful, ambitious kid. He's been highly rated for some time now, and figures to be a first round draft pick at some point. Where he really struggles with is exploding and making plays through contact. His frame is very weak, especially his lower body and it limits his effectiveness around the basket. Adding strength over time will be the key to his success. He's obviously a solid NBA prospect, but the hype around him got out of control for a while. His intensity is well received, but more than one scout made comments to the "not feeling it" effect in terms of the hype surrounding him. Hopefully he will take a year or two in college to get stronger and improve upon his game before attempting a jump to the league.
Coach Rana on Maker: "Great kid. Very receptive to training. Wants to get better… For a guy 7-feet, the way he can move, what he can do…His ball skills are at a very high level… He's one of those kids where physical maturity will really help him. As he gets stronger in his core and his legs, he'll get more explosive. Not a great shooter, but he can shoot it… Give him a couple years and he can be one of the best from this group."

Stefan Peno, Serbia 1997 (6-6, 200 lbs, 6-7.25 wingspan, 8-3.25 standing reach)
Peno struggled throughout the week with the speed and athleticism of his teammates. He had a number of ill-advised shots in practice and wasn't much of a factor in the game. He is a versatile guard with excellent size and the playmaking ability to play the point in Europe. But his game is much better suited in a slower setting. He's a creative player, who excels when the ball goes through him, but there just wasn't the opportunity to play to his strengths with the speed of the athletes he was competing against.
Coach Rana on Peno: "Another one. Kind of crafty. Shoots it. Not a knock down shooter but he can make shots… He can pass it. Can play multiple positions. Pretty versatile guy at his size."
Tai Wynyard, New Zealand 1998 (6-10, 263 lbs, 6-10 wingspan, 8-10.5 standing reach)
The most impressive thing about Wynyard is his great attitude. He's a consummate team player who was over matched in terms of experience and talent in practices, but never got down and kept a positive outlook throughout, supporting teammates and giving great effort. He's one of the youngest kids and has a very strong body. He may never see much action at Kentucky considering their usual talent level, but he is an absolute tank with a pretty solid basketball IQ.
Coach Rana on Wynyard: "One of the youngest kids here. Just a load… Once he starts to learn to use his body, he'll be very good… He's got pretty good hands, pretty good feet… He's a better athlete than you would think for a guy his size. A little bit of a sleeper, I think he could be very good in a few years."