While this year's USA Select team didn't have the raw talent of last year's team which consisted of as many as five one-and-done players (Jaylen Brown, Dennis Smith, Brandon Ingram, Kobi Simmons and Thon Maker) this year's bunch had much better chemistry and experience. No USA team had ever even come close to winning a game in Treviso before, and this year's bunch blew the doors off the hinges, winning all three of their games in convincing fashion. Here is a look at the prospects.
Game 1 Boxscore: U20 France National Team vs. US Select Team
Game 2 Boxscore: Eurocamp All-Star Team vs. US Select Team
Game 3 Boxscore: US Select vs. Greece U19
Kobi Simmons 6-5 PG St. Francis (GA Alpharetta, GA) 1997
Simmons is arguably the top long term prospect on the team. He has a rail thin body and therefore gets muscled going against older and more physically developed opponents. He struggled against France's U20 Team in particular, scoring just 4 points on 2-of-6 shooting. He did however seem to gain confidence as the event went on, having his best performance in the rout over Greece on the final day, finishing with 13 points and 4 assists to 2 turnovers. Despite being thin, he shows aggressiveness taking the ball into the paint where he has a developing floater. He's got great length and explosiveness for a point guard and really excels at pushing the ball up the floor. He needs to add strength and consistency, but with great quickness and athleticism, he's a high level PG prospect in the mold of a Shaun Livingston, and has a bright future.
Frank Jackson 6-4 PG Alpine (Lone Peak, UT) 1998
The youngest player for Team USA, Jackson certainly was not bashful about shooting. In fact, he drew complaints from scouts about shooting too often and not looking to pass enough. He took 39 shots in three games, by far the most of any USA Team player. His efficiency was not great as he shot 5-15, 6-14 and 2-10 (13-of-39 overall) in the three games. He averaged 9.6 ppg scoring 29 pts overall. He also averaged just one assist in those games. But aside from his shooting too much and lack of efficiency 33% on fgs, he did some things well. He came up big with some baskets late in a close France game. He has a strong body and defended well. He showed excellent speed splitting double teams and a nice handle. He's got a very solid body and is not afraid of contact.
Joshua Langford 6-4 SG Madison Academy (Huntsville, AL) 1997
Langford was very good but maybe not quite up to the level of expectations coming in as a top 10 prospect in the class. He put up 25 over three games, with one game showing aggressiveness, getting to the line for 7/8 Fts. But he failed to hit a 3 pointer and didn't have any real standout games. He's a little undersized for the SG position at 6-4, though he has long arms (6-9 wingspan roughly) and good body strength. He's a solid athlete and performed fairly well, hitting just under 50% on fgs and playing efficient, smart all around basketball. He showed why he's considered one of the top shooting guards in the class with his smooth floor game.
Rawle Alkins 6-6 SG Christ the King (Brooklyn, NY) 1997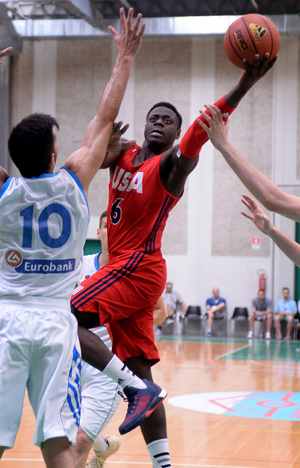 Alkins came out with a lot of swagger early giving Team USA a spark and confidence in the early going. He's a freakish athlete with long arms and huge leaping ability. Alkins has a natural feel for the game with great ball handling and scoring instincts. He averaged 11 ppg, and had 5 or more rebounds in each game. He's also a tremendous defender utilizing his length and physicality. He was the most impressive wing for Team USA, playing very well in 2 of the 3 games. He connected on 3 pf 6 three pointers and had a tremendous dunk, reminiscent of Baron Davis' playoff dunk on Utah. He has some of the same powerful athleticism as Lance Stephenson, though he displays more maturity. He will have a real shot to climb into the top 10 of his class rankings and is a player with one and done potential if he continues to progress.

Mustapha Heron 6-7 SF Sacred Heart (West Haven, CT) 1997
Heron is a high level athlete who was relatively quiet in his first two games before the 42 point blowout against Greece on the final day, when he had 15 points on 6-12 fg. He's got excellent strength and athleticism and does a good job of playing within the team concept. He's a bouncy athlete with good fluidity and size on the wing. While his skill level can improve, he shows a good motor and willingness to defend. Could look to be a little more aggressive offensively, but then again he did a good job of defending and rebounding and seems to be a player with upside left to improve.
Braxton Blackwell 6-7 SF Christ Presbyterian Academy (Nashville, TN) 1997
Blackwell has a tremendous body for a high schooler. He was a little up and down in the games, but shows nice athleticism and strength and willingness to play physical. He needs to improve upon his perimeter skills, as he's too small to play in the post at the highest level but has time. He scored just 13 points in the three games, but played a solid role coming in and delivering energy.
Edrice Adebayo 6-10 PF/C Northside (Pinetown, NC) 1997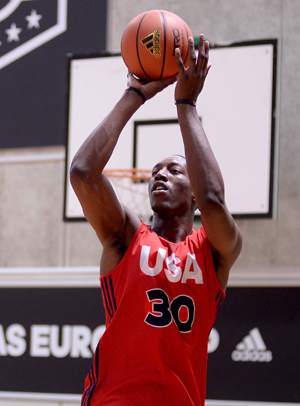 "Bam Bam" was the team's most spectacular player and seemed to come up with plays at the end of games to put their opponents away both emotionally and on the scoreboard. He was the team's top scorer averaging over 11 ppg, many of those point came in the full court, head at the rim, vicious dunk fashion. He still has a ways to go in terms of post skills and offensive polish. But his form on the FT looks pretty good and he plays with great passion and energy. If he can put some more weight on his body and continue to expand his game, he's a got a real shot to be a one and done guy. Some scouts felt he was the most impressive prospect of the event.
Mario Kegler 6-8 SF/PF Arlington Country Day (FL) (Jackson, MS) 1997
Kegler really struggled to get on track in Treviso. He seemed to be in a bit of a fog, maybe it was jet lag or playing in unfamiliar surroundings. In his first two games he scored just 2 points with a -8 efficiency rating after the first game. Kegler has been considered one of the top prospects in his class for some time, and has shown he's a talent in other settings, so this was likely just a bad event for him. He did rebound with 8 points in the blowout, the final day, a number of those points came very late, however in garbage minutes.
TJ Leaf 6-9 PF Foothills Christian (San Diego, CA) 1997
Leaf showed good versatility with the touch to knock down outside shots, as well as the length to be a factor around the rim as a shot blocker. If his legs get stronger, he could have a really nice future. He's sort of a more mobile version of Ryan Kelly of Duke a few years back. He's not especially explosive or athletic, but has good dexterity, especially with his hands. Struggled with just 4 points in the first two games, but finished with 10 in the final.
De'Ron Davis 6-9 PF/C Overland (Aurora, CO) 1996
Having played at Eurocamp last year, it was obvious that Davis came in with confidence, knowing exactly what to expect. He was consistent and a contributing factor in all three of their games and may have been the team's unheralded MVP. Davis is a load on the block and played a key role for this team as a rebounder and strong defensive presence on the block. He's got exceptionally long arms, most likely in the 7-2 plus range and seems to have trimmed some of the fat. He's always going to be a widebody, but if he can stay around 250-260, it will help his mobility immensely. He's sort of in the Waymon Tisdale mold of thick 4s with nice touch and feel for the game. Not overly explosive, Davis along with Huell were the team's only 1996 born kids and played with maturity.
Dewan Huell 6-9 PF Miami Norland (Miami, FL) 1996
Huell was a nice contributor in the games, playing solid on the block. He gets a little overpowered physically with his slight frame, but has nice hops and gives effort and energy. He may always be on the slim side as he's turning 19 this year and his body, especially his legs, look extremely thin. He did a solid job on the boards with 5 per, in roughly 15 min per game. His scoring was mainly around the basket, but he did show a few nice moves on the block.