By Aran Smith / Davide Bortoluzzi and Rick Pietro
Dragan Bender ('97, 7-0, PF, Croatia, Ironi Ramat Gan)
It is certainly not easy to be a top prospect of a generation nowadays. There are many events with NBA scouts tracking your every move, so expectations are high. The reality is that Bender is still very young, and possesses an impressive skillset and a huge frame. At Eurocamp he once again fell in love with his outside game, when he could have easily been more effective operating around the basket. On the bright side, the mechanics on his shot seem improved. His leg and core strength have not made the strides that you would like and this remains his biggest obstacle. But Kristaps Porzingis two years ago had an even skinnier body, so Bender just needs to put the work in the weight room with squats and upper body exercises. He has a great feel for the game, he runs well, moves well with the ball and is a great passer in transition. He also is good in reading the defense on hi-lows. His body hasn't matured enough where he can dominate the paint physically, but he did finish strong through the contact a couple times. Defensively he was great with his ability to move his feet and length to contest shots at the rim and in switching situations. Bender came in with high expectations surrounding him and though he had some flashes, the consensus was that he could have done more. Despite Slovenian PG Aleksej Nikolic being named MVP, Bender was clearly the most important prospect of this year's Eurocamp and played well enough to have received the award. Scouts will have a great chance to see him fulfill his potential in a couple of weeks in Greece at the U19 World Championships where Bender will be one of the top 5 players in the competition leading a Croatia team, that strongly believes they can fight for the gold medal.
Gerschon Yabusele ('95, 6-7, PF/C, France, Roanne
As we reported in our Day 2 recap, Yabusele was the breakout prospect of the event. He showed impressive intensity and energy, leading the French team in scoring. Yabusele has a massive frame with tremendous body strength. He's an explosive athlete with a big wingspan and nimble feet. He also displayed a nice shooting stroke from the perimeter as well as crafty moves to get shots off around the basket. His mobility and quickness for a player his size gives him a lot of promise, despite being undersized as a post prospect. It's unlikely that he has the speed and skill level to play on the wing, but his got a unique amount of dexterity and coordination for a player his size. He has first round potential for next year's draft.
Kevin Harley ('94, 6-6, PG/SG, France, Poitiers)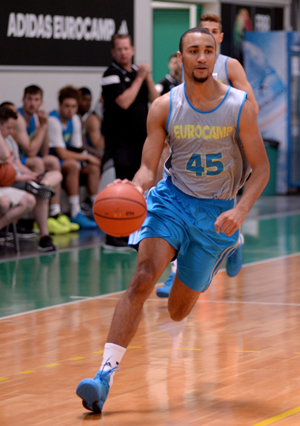 Credit Harley for showing up and participating as he is one of the few draft eligible prospects with a real chance to be drafted. From a physical standpoint, Harley was one of the best prospects on the court. He confirmed that his athletic skills are up to NBA standard thanks to his combination of size, quickness and explosiveness. He's 1994 born, meaning he has the option to pull his name out and improve upon some of the aspects of his game that are limiting his appeal as an NBA prospect. Harley still lacks aggressiveness and doesn't take over games the way his talent should dictate. He is too content being a role player, which might be a good thing, but it limits his appeal. He didn't significantly help his draft stock during the camp, but he has intriguing combo skills and athleticism that gives him a good chance to be drafted.
Dejan Todorovic ('94, 6-6, SG/SF, Serbia, Bilbao)
Todorovic confirmed that he's an outstanding athlete, at least by European standards, and threw down a couple of powerful dunks during the scrimmages. In addition, he had the opportunity to prove all his technical skills, basically in every aspect excluding the shot mechanics. In order to be a reliable NBA prospect he will need to work extensively on his shot, which is currently taking him out of draft discussion. A significant improvement on his shot mechanics and consistency could open him new opportunities in the following years.
Aleksa Ilic ('96, 6-9, SF, Montenegro, Sutjenska)
Ilic didn't collect astonishing numbers nor performances during the event, but he was was able to confirm our positive opinion about him. He had some offensive glimpses when he had the opportunity to show his nice handle and passing skills. Furthermore as a 6-8 SF he has great size for the role, and even if he still has a lot of work to to on his structure, he's athletic and explosive. Measured 6-.25 barefoot with a 6'10.5 wingspan and a 9'0" standing reach. He's got huge hands and uses them well to control the ball with one hand. On the final day, he was fouled going to the basket and hurt his foot. He bowed out of the game raising some questions about his toughness, instead of taking his free throws. His on court demeanor will need to become a lot tougher as he's playing with the big boys now and needs to start acting like he's willing to sacrifice his body and play hard. His future really hinges on his ability to add strength and toughness as he has NBA talent, but lacks the heart and toughness at this point. Regardless, one of the players to track down for next couple of years.
Sidy Ndir ('95, 6-2, PG, France, New Mexico State)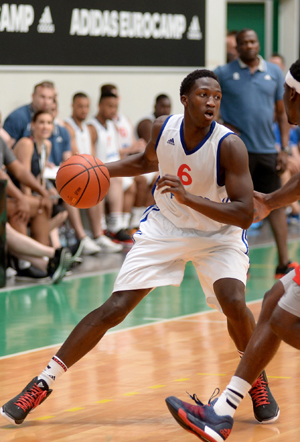 N'Dir impressed scouts with the time he got. He sat out most of the second half against the USA team in the loss, for unknown reasons, but was back leading the charge for the French teams in the subsequent games. N'Dir is a talented PG but struggled with eligibility and missed last season after playing at West Oaks Academy in 2013-2014. He's scheduled to play for New Mexico State next season and should be able to be an impact player. One scout mentioned that it is apparent he's a better prospect than de Paula, the Brazilian PG who came into the event with a lot of hype. He's got great defensive abilities and also shows natural point guard instincts. He showed off his athleticism with an and one dunk on the break. He still must learn better leadership as he gets frustrated far too easily when calls go against him. It's obvious that his inability to get eligible has taken it's toll on him as he's a true talent that hasn't gotten the opportunity to spread his wings.
Mateusz Ponitka ('93, 6-5, SG, Poland, Ostende)
Ponitka was rather disappointing during this Eurocamp, reducing his chances to be selected to slim to none. The flaws in his shot, both from mid-range and from three point are not up to NBA standard, especially for a shooting guard. He has solid body and athletic skills, plus he proved to be a solid contributor in other aspects of the game. But as a slasher with limited offensive potential, his appeal is limited.
Alpha Kaba ('96, 6-9, PF, France, Pau Ortez)
Kaba was one of the most highly anticipated participants of the competition, and he confirmed to be one of the most intriguing ones. From a physical standpoint, he combines size and mobility, with great length. Sometimes he looked lost on the court, showing a lack of comprehension and positioning, but his instincts and feel for the game are solid. He's had injury problems the past few seasons, and his legs appear very stiff. It's unlikely that his foot speed will allow him to play on the perimeter. At this point his game is far too perimeter oriented, as he usually drifts out to the perimeter and looks to take 3 pointers. He doesn't have any real post skills, and shies away from contact on the block. He'll likely pull out from this draft. If he can work on becoming stronger and developing a post game, he could move up in the draft in future years. He's 1996 born giving him some intrigue, healthy permitting, for the future.
Laurynas Birutis ('97, 7-1, Lithuania, Zalgiris)
The big man from Lithuania made progress from last summer and he looks a lot more like a player than a project. He has a good feel for the game and rebounding in particular. The long arms and surprisingly good feet help him to fight for rebounds and he is explosive enough around the rim to finish. He can't jump very high, but he does get off the ground quickly. His balance has also made progress and he doesn't get pushed around anymore, instead he was great on the offensive boards and putting himself in the right position. Still not a great rim protector because of the lack of jumping and strength at high level, but with his length, he creates problems for guards to score around the basket. He is a player that cannot be judged too early as his body is still in a development stage. But it's apparent scouts are optimistic about the impact Birutis can have on the game, finding ways to score, grabbing rebounds and blocks and he is still not close to his ceiling. There are structural problems that will likely never allow him to be a top player at the highest level, but he appears to have the potential to become a second round pick in time.
Diego Flaccadori (6-5, '96, SG/PG, Italy, Aquila Trento)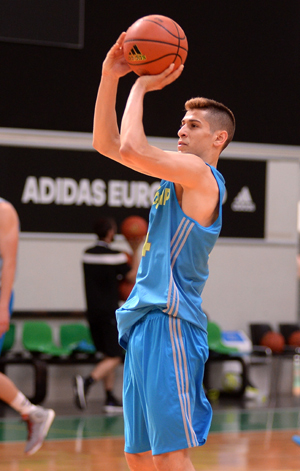 The Italian combo guard was one of the players that took full advantage of the event to make a name for himself to the NBA world. Famous for winning the Mannheim international tournament last year, Diego didn't have much playing time for a really good Trento team this year. But he came to Treviso aggressive, one of the few players we saw who was able to create from the dribble or off pick and roll without any problems. Built with a skinny (too skinny) but wiry strong body, Flaccadori is the prototype of a slasher, very smooth in getting to the rim. The lefty guard made progress on his 3pt shot, that last year was very flat and now looks a lot better. He has a very good wingspan and big hands that combine with his understanding of the game make of him a really dangerous player on both ends. If he was 20 pounds stronger and most importantly more explosive finishing drives at the rim he would a more interesting prospect. Right now he still struggles to finish around the rim because of the lack of athleticism. Nevertheless, Flaccadori was a pleasure to watch In Treviso, he's the age of a college freshman, he always seemed to be about to create something, and it is not easy in Europe to find guards so aggressive who are actually able to impact the game. If he makes progress with his body and keeps improving his shot, next year he could make an even bigger impression.
Isaac Fotu (6-8, PF/SF, New Zealand, Manresa (SP)
The former University of Hawaii player isn't exactly a great fit for events like Eurocamp. He needs a system to function at his best, but he did show some very interesting skills and a high level motor and love for scrappy basketball. The size of Fotu doesn't help him from an NBA prospective, but he can become a very effective Euroleague player. Fotu loves to fight around the basket and knows how to use his body to get angles and finish against opponents bigger than him. Another big weapon of his offense is the 3pts shot, he loves to space up the floor and pop, and though he didn't shoot particularly well in Treviso it was easy to see how comfortable he is behind the 3pts line. He has good hands for passing as well and IQ to read the defense. Will never be a good player 1 on 1 but he will build his career taking advantage of the defense mistakes and punishing late rotation. He was one of the best this weekend but his NBA chances are highly remote, but he can have a terrific career in Europe.
Wael Arakji (6-2, PG, Lebanon, Al Ruyadi Beirut)
The Lebanese PG was the camp sensation at least in the first two days establishing himself as the best passer and best court vision in the camp. Relatively unknown Wael declared for his year draft and he did do the best of his time in Treviso making sure at least everybody would know who he was. Exciting player to watch, he had a couple of scrimmages where he took over with some great reads of the pick and roll and in transition, though sometimes he forced the assist too much resulting in bad TOs. Unlucky for him his shots isn't where it should be to have realistic chance of a NBA call. He does make some shots, but overall he is not consistent enough and the release is pretty slow. The athleticism as well isn't on his side, it is hard to imagine he could guard NBA point guards any time soon without struggling with their strength and quickness. But despite everything it was a pure pleasure to watch him playing in the desert of pure talent ( except maybe Bender) of this year camp. Hopefully he can continue improve and have a chance soon in Europe to represent his country and show everybody his game.
George de Silva ('96, 6-6, PG, Brazil, Pinheiros)
de Silva participated at the NBA combine and then also showed up here in Treviso. He has a tantalizing wingspan and set of hands. His ball handling and passing are intriguing as he has obviously worked hard on them and he does show some natural vision and play making ability that can;t be taught. Unfortunately his overall feel for the game remains very low. He's a project in every sense and would struggle on both ends of the floor even at the college level at this point. Whether he has the foot speed to defend point guards in the future is debatable, but his length and willingness to defend made him a real pest at this event. He struggles to score and really doesn't even consider shooting except as a last option. His fundamentals are very low as he doesn't get into a defensive stance, and is very upright and rigid in his movements. de Silva could be drafted based on long term potential, but at this point he's a long term project with a long ways to go. Scouts were less optimistic about his chances than following the Portland Hoop Summit.
Awudu Abass ('93, 6-7, PF/SF, Italy, Cantu)
Abass has shown solid improvement over the past couple years, yet he remains very limited skill wise. He's an undersized 4 and though he has a powerful body and plays hard, it's difficult to see how he would translate to the NBA. He's begun to have more of an impact for his Italian team, and was one of the better players in camp. But aside from being stronger than most of the competition and having determination, he's just doesn't bring enough to the table from an NBA standpoint. He's got a long 6-10.5 wingspan, and solid standing reach 8'10.5, but at 224 lbs, his body appears to be completely filled out and lacks the strength to be a 4 at the NBA level. He's fluid in the open floor and explosive, but at 6-7, it's difficult to imagine a place for him with such limited skills. His shot and touch are below average, as are his offensive skills to create baskets both on the perimeter or in the post. He gets most of his baskets off of rebounds or open floor, broken play situations.
Kevin Dinal ('93, 6-9, PF, France, Souffel)
Dinal has an outside shot to be drafted. He's got excellent length and a good frame for a power forward. He was a late show and did not appear on the roster but was one of the better prospects in camp. If he was in the US he would probably have been a PIT camp invite and gone undrafted. He's a 10 ppg, 8 rpg player in France's Pro B, with decent shooting ability. He shot just 50% from the line but shows some ability to extend on his jumpshot and some promise to score from the perimeter. As with all Euros, the fact that a team could draft him and stash him gives him added intrigue. Essentially he has another 2-3 years on his American counterparts to develop.

Axel Bouteille ('95, 6-7, SF France, Chalon)
One of three standouts along with Yabusele and N'dir for the French U20 team. Bouteille is a solid athlete, more smooth than explosive. He has decent offensive skills sith the ability to knock down mid range jumpers as well as get out on the break and convert around the basket. He was one of the team's top scorers and showed solid consistency. While not a definite draft pick and probably a player for Europe, he's got two years to improve his body and game. One to track as he's one of the better '95 kids on display at Eurocamp.
Adin Vrabac ('94, 6-8, SF, Bosnia, TB Trier)
Vrabic is one of those rare players with a wingspan exactly the same length as his height (6'7 barefoot). In other words, he lacks length. He's participated in Eurocamp for a few years now and generated some hype as a youngster, though it was probably overblown based on his age and early maturity. He's a smooth athlete with a pretty good feel for the game and he competes. Unfortunately there really isn't anything about his game that stands out. He's declared himself eligible for the draft and is another player that a team could potentially take a flyer on, but seems like a long shot to make it in the NBA without a standout skill.