The 2011 draft is a wrap and it's time to start looking ahead to the 2012 and 2013 drafts. Here are eight prospects to watch out for in the 2011-12 season.
Josiah Turner – The future Arizona Wildcat is a dynamic scorer with a knack for getting into the lane. A big, athletic point guard like Turner is sure to see some success in the Pac-10 next season. We all didn't get a chance to see him in the McDonald's All-American Game or the Jordan Brand Classic, but he has one-and-done lottery talent. Which is exactly what the coaching staff at Arizona are saying. This is especially true if he proves that he can become a consistent outside shooter and a quality playmaker.
Dwight Powell – Powell is a very long, very versatile forward with a high amount of potential. In his first year at the collegiate level, he impressed with his activity and overall feel for the game. His biggest fault revolved around his poor consistency. His production was up and down throughout the season, in part because he couldn't manage to stay out of foul trouble. This is not an uncommon problem for young players like Powell, so look for him to improve upon this issue in his sophomore season. Consistency — couple with a bit of added responsibility with the basketball — could catapult Powell into top-10 discussions before you know it.
Tony Mitchell 2586 – After being ruled academically ineligible at Missouri, Tony Mitchell is reportedly transferring to North Texas. He won't be able to play right away, but there's no denying his talent if/when he manages to take the court. He's an excellent athlete with great size that can defend multiple positions. People who have seen him in high school were extremely impressed with his ball-handling ability and play in transition. A dynamic athlete, Mitchell is averaging 5.6 ppg and 8.8 rpg for Team USA in Latvia at the U19 Championships. He may still be raw offensively and missing a season didn't help his cause but once he finds the court, he should explode into draft discussions.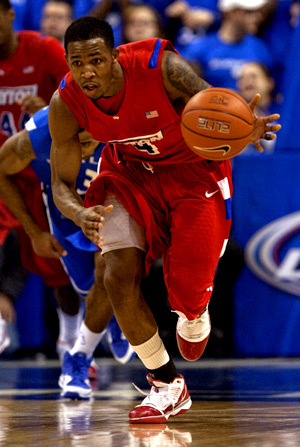 Chris Johnson – High-flyer — though maybe not quite in the vain of his recently undrafted ex-teammate Chris Wright — that separates himself from the other Chris with his skill on the perimeter. Johnson is a volume shooter with NBA range and a quick trigger-finger. The lefty has really settled into being a great role player for Dayton, but will have the opportunity to break out during his senior season. If he responds well to that opportunity, expect him to be a legit first round prospect next year.
Tim Hardaway Jr – The son of former NBA all-star Tim Hardaway is beginning to make a name for himself. Junior made a big impact in his freshman season, scoring nearly 14 points per game. He was regulated to a spot-up shooter role playing off of 2011 draftee Darius Morris, but Hardaway is a very capable penetrator that should be able to show this ability off next season. He loves to push the ball in transition and use his NBA-caliber athleticism to finish above the rim, often in an electric fashion. His ability to shoot, defend and create for his teammates at a high level reminds some of Dwyane Wade.
Ian Miller – Miller is a perfect fit for Leonard Hamilton's Seminoles squad. He's a big, explosive point guard with excellent defensive attributes and intriguing offensive potential. He didn't get much burn with FSU last season, but made the most out of his playing time by making open jumpers and doing damage in fast-break opportunities. As a bonus, he even shot 93% from the stripe last season (made 13 of 14 attempts). Miller wasn't exactly polished on either end of the court, but he'll get a hefty bonus of playing time now with Derwin Kitchen graduating. Could be poised for a breakout season in 2011-2012.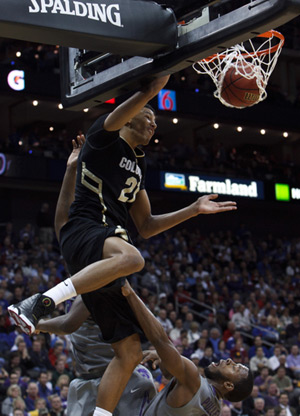 Andre Roberson – In his freshman season at Colorado, there weren't a lot of plays that were designed to get guard/forward Andre Roberson the ball. Instead he was put in a position where he had to get it on his own. He used his outstanding leaping ability and high motor to make an impact on the glass (averaged 7.8 RPG in a measly 22.3 minutes) and kick-start transition opportunities defensively (1.3 SPG and 1.1 BPG). Roberson was limited last season, playing as a power forward instead of his natural position on the wing. Though he's a willing role-player, his ball-handling and shooting abilities have the potential to make him a much more dynamic offensive player. With Burks and Higgins off of the roster, we'll certainly see more of what Roberson can do. He could even sneak up into lottery discussions at some point in the next 2-3 years.
Travis McKie – If there's anything to be salvaged of the wreckage that was the Wake Forest 2010-2011 season, it's the play of freshman Travis McKie. The athletic forward made the ACC All Freshman Team, as he managed to lead the Demon Deacons in both points (13.0) and rebounds per game (7.7). He plays at his best off the ball, using his size and strength to score around the basket off of cuts and offensive rebounds. He's not the best shooter yet, but he showed that he's at least comfortable out to the three point line. If he develops a little bit of consistency with his outside jump shot, he'll be a big-time scoring threat in the ACC next season. Don't sleep on his teammate JT Terrell either.
Deonte Burton – Playing in the WAC Conference, the 6'1 Nevada freshman went virtually unnoticed on the national level. The electric point guard averaged 13.7 ppg and 3.5 apg (1.5 a/to ratio) as a frosh. The late bloomer out of LA was considered a shooting guard and rated 44th in the nation as a senior by ESPN. He's a blur with the ball with tremendous first step to blow by his man and the explosiveness to finish at the rim. Burton turned down a scholarship offer from UCLA to attend Nevada. Similar to former Wolfpack PG Armon Johnson, Burton has been real find and has become a budding star playing in Reno. His playmaking and ball protection improved during the season and if they can continue to progress, the athletic lead guard has a chance to develop into a first rounder in the next 2-3 years.