The adidas Eurocamp was celebrating it's 10th anniversary and there were numerous NBA GMs on hand including Kevin O'Connor, Mitch Kupchak, Masai Ujiri, Donnie Nelson, Daryl Morey, and Dell Demps, to name a few. I've separated the camp into two parts with eligible players and future players. My first report focuses on the current "draft eligible" players.
Top Prospects
Evan Fournier 6'7 204 SG France 1992
There are two schools of thought on Fournier. One is that he is too unathletic and slow to make it in the league. His athleticism is something along the lines of Marco Belinelli who was a lottery pick a few years ago with the Warriors. The difference is that Fournier struggles with his outside shot (29% from 3 this year) and Belinelli is a sharp shooter. The other school of thought is that due to Fournier's tremendous feel for the game, he will find a way to overcome his athletic shortcomings and his mid-range game will continue to grow and his body will develop. The interesting thing about Fournier's performance is that it's unlikely that anyone's opinion changed about him. In essence we see what we want to see. Fournier put up excellent stats, (2 games, 26 pts, 11-20 fg, 4-7 from 3 pt, 6 ast, 10 to) finding teammates with nice passes and scoring on the break with dunks as well as knocking down some outside shots. He didn't attack the rim as much as scouts would have liked and did appear frustrated to a degree in the second game. His 5 turnovers in each game also took some of the luster out of his quality shooting performance. He struggled some to get past defenders, in particular surprise 1991 guard Oleksandr Lipovyy (Ukraine). His defensive intensity was not as consistent as you would like. Fournier has the benefit of a team potentially looking to stash a player in Europe and not having their first round pick count against their salary. We just don't see him worthy of a stash pick.
Tomas Satoransky 6'7 200 PG/SG Czech Republic 1991
Satoransky had an excellent first day and shut it down. He played well showing his versatility and stand out athleticism on the European stage. But it wasn't anything new as he had been the most impressive performer in the camp a year ago as well. There are scouts that actually prefer Satoransky to Fournier. He's more versatile, athletic and shows a better attitude. The problem is that he plays better on the ball than off it making his NBA position a more difficult proposition. Scouts also complain that he really hasn't shown great progress in the past couple years. He struggled with Seville this past season, and some of that can be blamed on the system but a year without great development is never a good thing. Regardless, scouts feel that the kid can play and it's very likely that he will hear his name called in the second round on draft night.
Tornike Shengelia 6'9 228 SF Rep. of Georgia 1991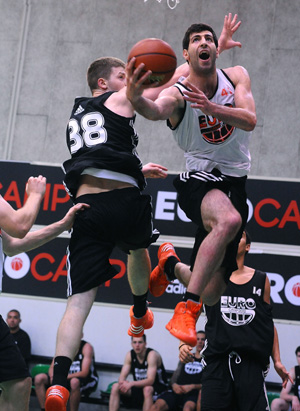 Shengelia was the most athletic player in camp. He has good size and plays with solid energy. He missed a few crucial years of development in the last few years playing for teams where his skills were not developed due to lack of playing time and inferior coaching. Shengelia handles the ball surprisingly well for a forward and shows great speed off the dribble. He made some highlight dunks including one two handed stuff on the break over a defender. His big Achilles is his lack of touch and shooting ability. It's unlikely that his shot will ever become a strength meaning his role will be more of an energy, hustle athlete. Scouts also question his age, as all players from Georgia are suspect to skepticism. The consensus seems to be that he's most likely 2 years older than his listed age, but that shouldn't dissuade teams from taking a flyer on him in the second round.
Josep Franch 6'4 186 PG Spain 1991
Like Shengelia, Franch's big drawback is lack of shooting ability. His shot isn't broken, but it needs serious improvement. Franch seems like the perfect player to select in the second round and see what kind of advancements he can make over the next few seasons. While his body and athleticism don't turn any heads, he does show deceptive speed and leaping ability. He's also got excellent size at 6'4. He outperformed French PG Andrew Albicy showing the ability to run a team as well as solid defensive ability. He may lack the speed to ever make it at the NBA level, but worse European prospects have been selected in the second round.
Ilkan Karaman 6'10 236 PF Turkey 1990
Karaman wins the award for the best physique in camp. He shows an excellent basketball body with a 7'0.5 wingspan, with broad shoulders and muscles and veins popping out all over the place. His cut body is so ripped that it wouldn't surprise me if he was on some sort of growth hormone. He's a raw player but his touch from the perimeter combined with his frame makes him an interesting prospect. He had a solid camp, knocking down some shots and raising some eye brows with his mobility and athleticism. He shows a willingness to bang, but prefers to camp on the perimeter and lacks much in the way of offensive post ability. Still very raw, but his upside could persuede a team to make him one of those late second round mystery picks.
Maximilian Kleber 6'10 211 SF Germany 1992
Kleber has good size and solid agility. He shoots the ball well and has a long (6'10.75 wingspan), skinny body. He has solid fluidity but lacks tremendous speed. He hurt his wrist on day 2 but x-rays revealed it wasn't broken. A team could consider taking a flier on him, but it seems more likely that he will withdraw from the draft and work on his body and try to improve his draft stock.
Tomislav Zubcic 7'0 229 SF/PF Croatia 1990
Zubcic has been around forever and has been left for dead by most scouts. His lack of confidence has derailed what once appeared to be a can't miss draft pick, a few years ago. He played well in the final day knocking down 2-2 three pointers, finishing with 10 pts. Overall, scouts remain pessimistic about his future as an NBA prospect. He's got the physical attributes as a 7-footer with great fluidity but lacks the assertiveness and toughness to play to his abilities.
Andrew Albicy 5'10 169 PG France 1990
Another year and another disappointing performance from Albicy in Treviso. For some reason Albicy really struggles to play well at the Eurocamp. His shot was off and he wasn't able to run the offense or play to his abilities. He's a pest defensively with his speed but had a difficult time doing much else. Due to his lack of size, his margin for error just isn't great. He's not a good shooter and has too many holes to his game to compensate for his obvious lack of ideal size.
Nihad Djedovic 6'7 211 SG Bosnia Herzegovina 1990
Djedovic has long been considered the top shooting guard in his age group. He has NBA size and athleticism. Unfortunately his skill level just hasn't progressed to the point where it needs to be. He had a disappointing showing, turning the ball over and missing shots. He may be the top 1990 SG prospect available, but it's still seems unlikely that he gets drafted.