Jimmer Fredette
As the prospects entered the room, it was Jimmer Fredette who drew the biggest crowd, and not Kyrie Irving. The intrigue surrounding the National Player of the Year continues, as the world remains split on his potential to run the point.
"I've never really played shooting guard in college or high school, so I don't really know what people see. I've always handled the ball if they watch the games at BYU, that's what I've done, I play point guard. In certain situations I can play off the ball but I think the teams I've seen want me to be a point guard, and that's what they vision."
Though seemingly confident in his abilities, he understood the difference between scoring against a guard in the Mountain West Conference, and scoring in the NBA. Making adjustments will be critical towards his success, as he lacks the quickness and size of his future competitors.
"The biggest thing will be the speed of the game, the athleticism of the guys. They close a lot quicker in the NBA than they do in college, and I think you have to get used to it."
Jimmer discussed what he's worked on with coaches during workouts. It was evident that scouts have made clear to Jimmer what he needed to work on moving forward.
"I've continued to focus on my quickness and athleticism. What I really focused on a lot was ball screen stuff, either offensively or defensively. It's a ball screen league, you have to be able to defend it and make quick decisions when you're on offense, so I worked on that a lot."
Being that media day was held in New York, it was inevitable that Jimmer would have to talk about playing for the Knicks. With family in up-state New York, Jimmer was previously quoted as saying he'd love to be a Knick. Today, he continued to express his interest in wearing Orange and Blue.
"I feel like being in New York, the huge media market. It would be a thrill to play with those guys in coach D'antonio's system. But I'm just looking forward to playing in the NBA wherever it is."
Still, nobody knows where Jimmer will end up. He's projected 7-15, with Utah's third pick dictating the rest of the lottery.
I'm one of those players who's all over the board. Some people really like me. Some people don't like me at all. It will be interesting to see what happens, a lot of trade talks, so we'll see. Excited to get it over with."
Kyrie Irving
"It definitely feels good knowing that I'm still projected to go number one. We'll see how it goes tomorrow but it's an honor to be in the number one spot".
The first words of Kyrie Irving, who believes the Cavs will take him with the number one pick. Irving said he still hasn't spoken with coach Byron Scott since his workout, but that his agent has had conversations with Cleveland management. Going to Cleveland will no doubt generate discussion over filling LeBron's shoes, which still remain empty after a 19 win season.
"I'm not the next LeBron. My name is Kyrie Irving. I'm not really concerned about filling that void."
Irving was limited to just 11 games this season due to a toe injury, and after refusing to workout against anyone or participate in the athletic testing at the combine, questions arose over how well his toe had healed. Irving addresses the issue, or lack there of.
"Honestly, if I had concerns about my foot I wouldn't have done all the physical and medical stuff at the NBA draft combine. I don't really feel that there are any more questions about my toe, or about my health".
Though he took questions with his gameface and seemed defensive at times, he still remained humble about his future in the NBA.
"The dream I had of hearing my name called just plays over and over and over. I don't know how I'm going to react. Right now it's just a lot of anxiety and a lot of excitement."
Enes Kanter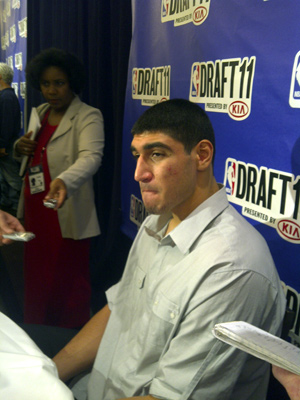 Despite looking like a bad guy from a Three Ninjas movie, Kanter gave off great vibes, looking extremely relaxed and comfortable for an International player dealing with the American media. He combined confidence with humor, a great formula for a likeable public figure. Kanter was unable to play this season for receiving improper benefits overseas, and was limited to just practice with Kentucky, the team that recruited him.
"It was really tough, because your not playing in any games, you're just practicing. So every practice was my game. I just tried to give myself 100% in practice. Like coach Calipari taught me, every practice is your game."
Something we don't know about Enes Kanter?
"Everybody knows I'm a wrestling fan", he said with a smile."You know Undertaker, he's my favorite wrestler."
Showing us both sides of the mysterious Turkish center, he was asked about his biggest fear moving from Europe to the US. With the look of a man who had no fear, he convincingly said, "I don't have any fear".
Kanter has seen his stock soar after the 2010 Nike Hoops Summit, where he scored 34 points and grabbed 13 rebounds in his only live game-action in a year. Between that, practices at Kentucky and team workouts, that's about all the experience he has playing Americanized basketball. He spoke about the transition.
"When I came here first, I was shocked because of the fast break game. In Europe it was so slow, but i like American play much better"
Other interesting quotes from Kanter…
"If there's a lockout, I will go to Turkey"
"When I was 16 years old, I played against 30-35 year olds.
"I learned how to shoot the ball, and I learned my face-up game where I arrived here".
Kanter will be great for the NBA, and fans will embrace him. With projected Derrick Williams being a poor fit for Minnesota, expect Kanter to get serious consideration as the number 2 pick.