News and Notes From the LeBron James Skills Academy
By Joel Steiner and Josh Cochran
Akron (OH) – The 2011 version of the LeBron James Skills Academy did not include the typical 30 plus NBA Scouts or the 2010 media blitz caused by LeBron's pending free agency. However, it did not disappoint as 20 of the top collegiate players and 80 of the top high school players showcased their talents.
In previous years college coaches were prohibited from attending the camp but this year the camp was open. The final two days was a veritable who's who of college coaching. When you look to your left and you see Coach K, Tom Izzo, Billy Donovan, Roy Williams, to name a few, you know this camp is important.
Buzz from the week:
* Start paying attention to [player: Darius Johnson Odom] of Marquette. The kid is a bulldog that loves to defend and is showing a refined offensive game. Look for him to get some NBA looks with a strong season.
* Shabazz Napier may be one of the steadiest point guards in the country next year. When you watch him play you admire his ability to stay under control and has good feel for the game. He will play a major role for the defending champs with Kemba off to the NBA.
* Thomas Robinson is a physical specimen at 6'10/240. He plays with great energy and should be one of the best rebounders in the country next year. His touch around the rim and back to the basket moves needs improvement but his intensity will make him an offensive force for the Jayhawks.
* Anthony Davis did not disappoint, holding his own against the top college players and against LeBron himself. The 6'10/215 forward needs to add 20 pounds but he does a good job of creating space with his quickness and ability to handle the ball like a guard. He is an above average rebounder considering his thin frame and is extremely dangerous in the open floor with the ability to finish with authority. If Davis adds a back-to-the-basket post game he may be unstoppable.
* Speaking of unstoppable let's talk about the best post passer in the college game today. Jared Sullinger may not be the flashiest player but he is the most complete big man. Sporting an improved body that looked toned at 6'10/281, nobody in the camp was able to match up with his physical style of play and improved 15-foot range. Without sharpshooters Jon Deibler and David Lighty, Sullinger will need to extend his range as he is sure to see more double teams this year.
* When you watch the Plumlee's (Mason and Miles) during drills and during head to head competition they look somewhat mechanical.
* Will Rodney Williams Jr. ever realize his potential? He just looked like an average wing player this week.
* I think Tu Holloway and Ray McCallum have solid all-around games but they just don't look like NBA players to me.
* Michael Gilchrist's jump shot leaves much to be desired and his range is in need of vast improvement if he is eyeing the next level.
* We spent some time with NBA to College Coaches Kevin Ollie and Chris Jent. Both are great additions to the UCONN and Ohio State staffs as both rosters are full of NBA prospects ready to be mentored by veterans of the league.
* We spoke to a member of the Texas staff who may have added some great insight on why he thought Tristan Thompson went #4 to Cleveland. Tristan was described as the hardest worker on the team spending extra time in the gym working out, even at times after games. Combine that with his high character and what the Texas staff described as huge upside as he refines his game and you get why Cleveland traded Hickson and feels that Thompson and Irving are the cornerstones of the franchise.
* We watched about 15 hours of high school players scrimmaging and if we rated the top 5 players they would be 1.) Jabari Parker Class of 2013, 2.) Julius Randle Class of 2013, 3.) Brandon Ashley Class of 2012, 4.) Gary Harris Class of 2012 and 5.) Montay Brandon Class of 2012.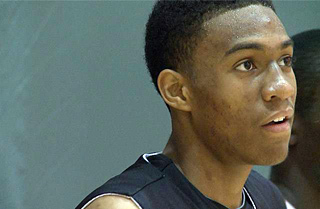 * When you watch Jabari Parker and how he can do it all on the court all you think is future #1 overall draft pick (likely in 2014). His size, ability to the handle the ball and feathery jump shot are reminiscent of Carmelo Anthony and leave you very impressed.
* Julius Randle was second on our board but numerous college coaches felt he was the best player at the camp. He is a competitor with a mean streak that any coach would love to have on their team.
* Charles Mitchell (2012) won't often be mentioned as a big time prospect, because he is an undersized post player at 6'7/266. However, he has a tremendous motor and he is a ball hawk. Mitchell repeatedly outworked his opponents for rebounds and loose balls. He also displayed nice footwork and post moves. He is going to make some college coach and fan base very happy for four years.
* Shaquille Johnson was easily the most athletic player in Akron and he brought the house down with several impressive dunks. Auburn fans have something to look forward to next year.
* Class of 2014 players Justin Jackson and Jahlil Okafor will continue to improve and are names to watch for in the next few years. Jackson may have been the best pure shooter in the entire camp and Okafor is a Jared Sullinger clone in terms of body type. Okafor is still very raw, but he uses his body well and has excellent size.
Note: Height was measured with shoes, weight was done without shoes.