Team Latin America 73 vs. Team Africa 59 (3rd Place Game)
In a nationally televised game (CBS Sports Network), 6'0 Cezar Guerrero helped the Latin American team claim 3rd place with a masterful 20 point 6 reb, 1 ast, player of the game performance.
Team Latin America built a 10 point lead after 1st quarter 21-11.
Brazilian bigman Christiano Silva Felicio had a nice pass off of a deflection to Gerson do Espirto Santo for a dunk
Guerreo showed his ability to penetrate and kick to his teammates. He's a polished decision maker and has an excellent feel for taking what the defense gives him.
Team Latin America seemed more aggressive both offensively and defensively in the second quarter.
Jordan Burger made a nice drive into the lane and passed to Steven Adams, who missed the dunk but got fouled, Adams was able to fight through contact and get to the free throw line.
Indiana recruit Peter Jurkin had a huge block on Guerrero sending the ball flying out of bounds late in the 2nd
38-24 Latin America at Half
Bryan Pamba displayed an ability to knock down both the 3 point shot and the mid-range jumper. He also converted a spectacular runner from the free throw line in the 3rd. Engaged in a nice PG battle with Guerrero. He also had a nice up and under move in the 4th.
Cezar Guerreo was the story of the game and was sensational all week. He had the play of the game looking Tony Parker-esque with a spectacular behind the back move knifing through the lane in transition, alluding defenders while falling down and finished through contact with an and-1 lay in. Nobody should be sleeping on this guy as it's apparent he's Pac-Ten starting PG material. Heck, NBA scouts are in love with this kid. He also made a blocked shot on a three point attempt and then pulled up for a nifty shot jump shot in transition on the other end. Guerrero displayed great leadership and control of his team throughout the game. He also displayed an ability to fight through contact to hit tough lay ups. He showed unbelievable speed on a steal which resulted in a goaltending call, blowing by everyone on the court in the process. Guerrero also seems to be a very heady point guard.
After team Africa cut the lead to 5, Team Latin America went on an 11-0 run in the 3rd to increase the lead back to 16
57-45 Team Latin America after 3.
Athlete supreme Hanner Parea had a nice and-1 lay in in the 4th, however he couldn't seem to find his groove most of the game, but began to come on some in the 4th quarter. Parea remains very raw and seemed to bail many of the Team Latin America players out with stupid fouls.
Pitt bound New Zealand center Steven Adams doesn't have the greatest hands, seemed to miss a few easy rebounds. He's still raw but shows a lot of potential.
In the end Guerrero and Adams were just too much for Team Africa as Latin America cruised to a 73-59 victory.
Team USA 2011 82 vs. Team USA 2012 68 (Championship Game)
Behind a balanced scoring attack, the 2011 squad avenged their earlier loss in the week with a 14 point win. This game had much more of a High School All American showcase feel, which is both a positive and a negative. The game was marred by poor possessions by both teams throughout the game. Both teams wanted to push the ball up the court continuously, a huge contrast between the half court game between the Latin American and African teams. Both teams combined for 26 turnovers.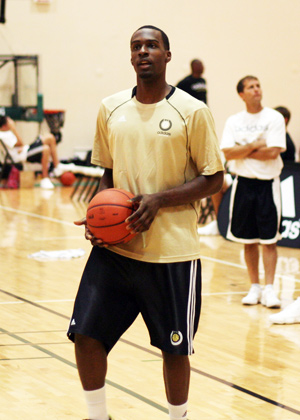 Shabazz Muhammad showed a good knack for rebounding the basketball. Muhammad did a good job of attacking the rim on the fast break flushing the ball with a defender closing on him. Muhammad displayed his ability to get above the rim and finish. He also showed the ability to create contact and get to the line.
Isaiah Austin made news by announcing his college destination (Baylor) before the game. He had a with a nice tip in early in the first. Austin had a nice blocked shot on Quincy Miller on the 3 pt. line. With excellent length and anticipation, he showed that he can be an impact shot blocker in the future. Austin also shows great ball handling ability for 7-footer. He had a nice baby hook in the lane in the 2nd quarter.
Quincy Miller struggled early from the free throw line. Miller tried forcing some shots that just weren't available. He showed off his passing ability with a nice alley oop pass from the 3 pt. line to Deuce Bello. Miller showed that he could bring the ball up the floor and play some point forward at the college level. He showcased his athleticism with a big dunk in the 4th.
Deuce Bello really showcased his athleticism with a nice dunk on the break.
2012 bigman Jarnell Stokes showed an ability to step out and hit the mid-range jumper, also showed that he could be physical and fight through contact to get to the free throw line.
Alex Murphy with a nice slash through the lane for a lay in right after checking into the game.
USA 2012 lead 15-13 after 1st quarter, very sloppy basketball to start.
Cody Zeller with a nice dunk to begin the 2nd quarter.
LeBryan Nash attempted big dunk on fast break, missed, but got fouled, showed that he attacks the rim hard no matter what. Nash showed his ability to step out and hit the 3 as well.
DaJuan Coleman not making smart plays, tried running the fast break when he could have given it up to a guard easily, resulted in a missed lay up by him. Coleman tries doing more than he is capable on the offensive end.
Cody Zeller with a nice running tip slam with 2 minutes remaining in the 2nd. Zeller goes after rebounds with authority. Lacks much bulk and has a thin frame, but plays tough.
Marshall Plumlee with a nice fade away jumper from the block. Nice clean up dunk by Plumlee with 20 seconds left in 2nd. Marshall Plumlee committed to Duke, could be the first time 3 brothers play on same college team together.
USA 2011 led 31-25 at halftime
Kevin Ferrell didn't stand out like he had all week, but again showed his ability to hit the pull up jumper.
LeBryan Nash with a big dunk from the baseline after beating his defender off the dribble from the corner. Nash also converted a nice alley oop pass to Qunicy Miller late in the 4th.
Sophomore Rodney Purvis, who might be the youngest kid in the entire event. He was the only sophomore in the event but he is very mature physically. Purvis had a quiet week but some flashes in the 2nd half with a nice and 1 on a mid-range jump shot. He also had a strong move through the lane finishing through contact.
USA 2011 up 10 after 3rd quarter 58-48
Amile Jefferson showed a knack for being in the right place at the right time. His footwork and fundamentals aren't pretty but he finds a way. Jefferson had a nice dunk on the break early in the game.
Quinn Cook showed that hit could hit the long range 3, also showed that he could penetrate an create for his teammates. Cook received player of the game with 12 points, 6 rebounds, and 5 assists.
USA 2011 wins 82-68
*Check back for adidas Nations (high school and college) player evaluations.