[img_assist|nid=23064|title=Dejan Musli & Jeremy
Tyler|desc=|link=none|align=right|width=300|height=412]While the talent at the 2010 adidas Eurocamp is down from past years, it still has a number of intriguing prospects as 3 GMs (Larry Bird, Donnie Nelson and Chris Wallace) are in attendance including a total of 77 team personnel, an all time high for the camp. The camp has switched from Reebok to adidas (adidas bought Reebok a few years ago and the merger has brought on a number of changes, some good, some bad).
Enigmatic Jeremy Tyler, who was the first player ever to skip out on his senior year of high school to turn professional, is one of the most intriguing players here. By all accounts, Tyler ended up in a terrible situation for his development (Maccabi Haifa) with a team that appeared to be using his name to market itself, instead of being a club that could facilitate his development. The fact that Tyler was not able to make it through the year, leaving the team before the season was up, is a sign of his immaturity, and lack of discipline. He no longer has NCAA eligibility and will likely look to play in the D-League next season or possibly find a better fit in Europe. Playing at this event is a big opportunity for him to redeem himself. Jeremy Tyler has struggled to do much with 7 points and 4 rebounds 5 points and 0 rebounds and then had just 2 points in the night cap on Sunday playing just 2 minutes.
Dejan Musli has been the most polished and impressive bigman. He did not declare for this year's draft but as a 1991 born shows some potential. His body is vastly improved and he showed some grit when facing Jeremy Tyler roughing him up and frustrating him with elbows and hip checks. On day two he struggled some to play up to his abilities apparently somewhat intimidated by the 70 plus NBA scouts watching his every move. In his first three games, Musli has put up 10, 17 and 5 points outplaying Jeremy Tyler in their head to head match up on day 1.
The biggest disappointment of the camp has been Tomas Satoransky. The athletic Czech guard who was projected by some as a possible first rounder seems to have completely lost his confidence and looks like a shadow of the player he was last year. In two games he has put up a total of 2 points. He looks much more like a European level player now than a future NBA guy.
*Check back tomorrow for a full report on all the top prospects.
Day 1 Results:
Game 1 – Team 4 vs. Team 5 51-50
Game 2 – Team 1 vs. Team 2 44-59
Game 3 – Team 3 vs. Team 4 55-41
Game 4 – All Star Game: Croatia U20 – adidas Eurocamp All Star 84-91
Day 2 Results:
Game 1 Croatia U20 vs France U20
Game 2 Team 1 vs. Team 5 47-48
Game 3 Team 2 vs. Team 3 48-51
Game 4 – adidas Eurocamp All Star Game
Jeremy Tyler Workout
Scouts rushed over for a Miroslav Raduljica/Jeremy Tyler workout at 2:45. Unfortunately Raduljica showed up in cargo shorts and when asked by Camp Organizer Pete Philo if he was ready to start the workout, he said "I don't feel like it." With so many scouts showing up to watch him workout, Raduljica proceeded to sit in the corner to watch the workout he was supposed to be featured in, but was quickly asked to vacate the premises.
Tyler ended up working out with Ludovic Vaty and Bangaly Fofana in front of around 40 scouts. But none of the players wowed. Tyler is a bit a of a specimen with his huge wingspan and natural body strength but his offensive skills still have a long ways to go. And when he isn't dunking the ball, he struggles to put the ball in the basket.
Vaty appears to be a solid European prospect with some bulk and explosiveness but has no where near NBA level speed and athleticism.
Fofana is interesting because he's so long (7-6 wingspan, 9-5 standing reach) and a bigtime athlete as well. He literally appears to be a guy that could scratch his knees without bending over. He is still extremely awkward offensively but has been playing the game for just 4 years and does show an enthusiasm for the game. He has a long ways to go and even with such incredible physical attributes remains a longshot, but could see his name called in next year's draft with a team opting to leave him in Europe for 3 or more years to see how he develops.
NBA Scout Mock Draft
On the first night of the camp we met with a number of scouts for drinks at the Maggiore Consiglio (adidas Eurocamp HQ) for the annual opening night "mixer". Towards the end of the night a spontaneous mock draft began with Borko Popic and I each participating along with 4 NBA scouts. We each took turns taking picks for respective teams. The exercise was for fun, and there was no list at the table to go from. Picks were made fast and furious without much consideration but it turned out to be an interesting and humorous event.
The funniest part being after the 30th pick was made when it was realized that everyone had forgotten about Ed Davis.
Here are some of the highlights:
-Evan Turner went 3rd after Wall and Favors.
-Ed Davis was completely forgotten about until soon after the final pick of the first round was made. All of the picks were made without any lists to go from so when folks would get stuck, everyone would throw out a few names as possibilities.
-Lazar Hayward and Mac Koshwal were selected. Both shockers.
– I caught a lot of crap for taking Patrick Patterson at 6. But I explained how I felt the Warriors already have upside players (Brandon Wright and Anthony Randolph – which this draft is full of, and Patterson is one of a small handful of surefire, rock solid pros in this draft.)
-Nemanja Bjelica went 24th and Kevin Seraphin went 22nd which might have had something to do with his agent (Bouna Ndiaye) being at the table while the mock was taking place. Seraphin is looking for a promise in the first round but according to his agent has not yet received one.
Notable Undrafted:
Ed Davis 6-9 225 PF North Carolina So. (everyone agreed he should have gone top 15 minimum and was only forgotten, not intentionally passed over)
Quincy Pondexter 6-7 210 SF Wash. Sr.
Gani Lawal 6-9 233 PF G.Tech Jr.
Larry Sanders 6-10 220 PF VCU Jr.
Willie Warren 6-4 195 PG/SG Oklahoma So.
Eurocamp Roster
*Draft Eligible
**Declared for draft. (have until June 14th to withdraw)

[img_assist|nid=23065|title=Nicolas Batum & Pete
Philo|desc=|link=none|align=right|width=350|height=233]1986
*Lucas Alves

1987
*Jonathan Tavernari

1988
*Pietro Aradori
*Daniel Clark
*Vladimir Dasic
*Rolands Freimanis
*Oleksander Kolchenko
*Abdoulaye Mbaye
*Titus Nicoara
*Andreas Person
*Lucca Staiger
*Ludovic Vaty

1989
**Robin Benzing
Dairis Bertans
**Stefan Bircevic
**Sarra Camara
Filip Covic
**Bangaly Fofana
Orhan Haciyeva
**Thomas Heurtel
**Edwin Jackson
Mindaugas Kuzminskas
**Uros Lukovic
Can Ozcan
**Xavier Rabaseda
**Mamadou Samb
Sead Sehovic
**Semen Shashkov
1990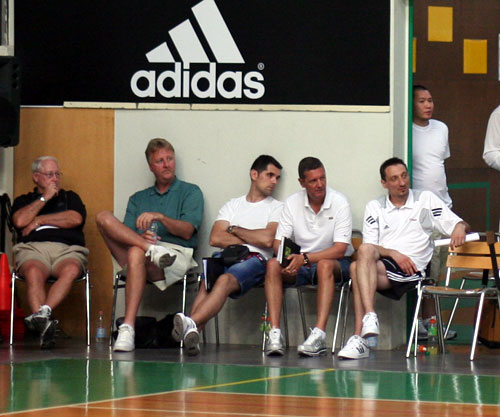 Nihad Djedovic
Vladimir Jankovic
David Jelinek
Rasid Mahalbasic
Meng Duo
Andreja Milutinovic
Matias Nocedal
**Tomasz Nowakowski
Nikolaos Pappas
Roberto Rullo
Siim-Sander Vene
Jakub Wojciechowski
1991
[Player:Josep Franch]
**Miralem Halilovic
Dong Hanlin
Augusto Lima
Dejan Musli
Tomas Satoransky
Jeremy Tyler

1992
Bogdon Bogdonovic
Lynos Chrisikopoulos

U-20 Croatia
Luka Babic
[Player:Ivan Batur]
Josip Bilinovac
Domagoj Bubalo
Dino Butorac
Mario Delas
Nikola Dosen
Duje Dukan
Matteo Juricic
Sime Olivari
Darko Planinic
Toni Prostran
Ivan Ramljak
Robert Rikic
U-20 France

Lens Aboudou
Andrew Albicy
Alexandre Gavrilovic
William Herve
Paul Lacombe
Nicolas Lang
Joffrey Lauvergne
Ferdinand Prenom
Landing Sane
Nikola Stojilkovic
Alexis Tanghe
Mickael Var