At some point in the last 10 years, the Big 12 surpassed the ACC and Pac-10 and entered a toe-to-toe contest with the Big East for the right to be called the nation's best basketball conference.
These things have often proven cyclical over time, though the Big 12 is preparing to lose its two weakest basketball schools in Colorado and Nebraska for next season. But this year, the Big 12 may be the nation's best.
There's talent everywhere in this league. Baylor, Kansas, Kansas State and Missouri all could potentially make Final Four runs. If Texas' amalgam of talent meshes, they may join the top-tier teams as a conference contender. The Buffaloes are as good as they've been in years for their final season in the conference. Texas Tech coach Pat Knight has made clear he expects an NCAA Tournament bid out of his veteran team. And Texas A&M is equipped to continue its run as the most consistent team in the conference.
It'll be another good year for Big 12 basketball. Let's take a look at each team.
Baylor Bears
2009-10 Record: 28-8 (11-5 Big 12)
Postseason Finish: Lost to Duke 78-71 in NCAA Tournament regional finals
LaceDarius Dunn appears to have made a poor life decision. He'll serve his three-game suspension and whatever legal penalties result for it. But don't think that will prevent him from being as good a scorer as there is in college basketball. Judge him if you must. Don't underestimate him.
Supporting the explosive senior guard is the most athletic frontcourt in the country. Quincy Acy and Anthony Jones are pogo sticks with all sorts of length, but it's freshman Perry Jones who rightfully has drawn the most hype. Jones may be the best NBA prospect in the country and seems to be a surefire lottery pick in next year's draft. He's the best recruit coach Scott Drew has brought into Waco, Texas, and he'll only improve as the year goes along.
Jones should be more than adequate in replacing Ekpe Udoh, but filling the void left by Tweety Carter at point guard could be a bit more complicated. A.J. Walton and freshman Stargell Love should both improve with time, and Dunn will ease the load on them. If either, or sophomore Nolan Dennis, can become a reliable ball-handler and passer, watch out.
Baylor has all the tools in place — depth, size, skill, scoring, defense — to be better than last season's Elite Eight squad.
Key Departures: G Tweety Carter, F Ekpe Udoh, C Josh Lomers
Notable Newcomers: F Perry Jones, G Stargell Love, G Bakari Turner
Top Returnees: G LaceDarius Dunn, F Quincy Acy, F Anthony Jones
Colorado Buffaloes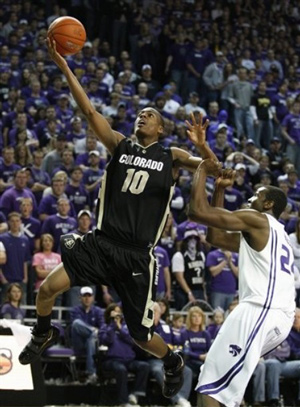 2009-10 Record: 15-16 (6-10 Big 12)
Postseason Finish: None
If Perry Jones isn't the Big 12's best NBA prospect, it's Alec Burks. The sophomore shooting guard was remarkably consistent last season, scoring in double figures in every complete game he played.
The reigning Big 12 freshman of the year has a new coach, Tad Boyle, and an elite wingman in Cory Higgins. And those three names are why Colorado should be able to make a run for its first NCAA Tournament bid since 2003.
But things don't end with Higgins, a combo guard, and Burks. Australian Nate Tomlinson gives the team a reliable shooter and steady hand at the point, while Marcus Relphorde is an excellent No. 3 offensive option at either forward position.
The frontcourt, though, may be an issue. In Big 12 games last season, the Buffaloes had a minus-11.4 rebounding margin. They simply don't have size, and will need Burks, Higgins, Relphorde and freshman Andre Roberson to chip in on the boards despite a lack of height. There are options — sophomore Shane Harris-Tunks and freshman Ben Mills have plenty of height but lack the frames to battle down low — but Colorado will rely on small ball again this season.
The difference — this year, they might have the experience to pull it off.
Key Departure: G Dwight Thorne II
Notable Newcomers: F Andre Roberson, G Shannon Sharpe, C Ben Mills
Top Returnees: G Alec Burks, G Cory Higgins, F Marcus Relphorde
Iowa State Cyclones
2009-10 Record: 15-17 (4-12 Big 12)
Postseason Finish: None
Below you'll find a list of "Key Departures." There's a reason we say "key" departures instead of listing every player gone. Iowa State is that reason.
First-year coach Fred Hoiberg is beloved by the Ames, Iowa, faithful, but he's got a monumental reorganization effort on his hands this season. For one, four of the Cyclones' best players are sitting out this year: transfers Royce White (Minnesota), Chris Allen (Michigan State), Chris Babb (Penn State) and Anthony Booker (Southern Illinois). But things may not be all bad.
Diante Garrett, Jamie Vanderbeken and Scott Christopherson are the team's only returnees. But the good news is, all three are Big 12-capable starters, though none should be a top option. Vanderbeken and Christopherson are dangerous shooters, and Garrett can run the point as long as he's not asked to do too much on a regular basis.
A lot of pressure, then, falls on freshmen Melvin Ejim and Jake Anderson, the team's other two starters, as well as several other classmates. Ejim played well in an Iowa summer league, and he may wind up the team's go-to guy by season's end.
There's a lot to look forward to in the future at Iowa State. The program appears to be headed in the right direction. But expecting anything more than potentially approaching a .500 record and beating in-state rival Iowa would be a little much.
Key Departures: F Craig Brackins, F Marquis Gilstrap, C Justin Hamilton, F LaRon Dendy, G Lucca Staiger
Notable Newcomers: F Melvin Ejim, G Jake Anderson, F Calvin Godfrey
Top Returnees: G Diante Garrett, F Jamie Vanderbeken, G Scott Christopherson
Kansas Jayhawks
2009-10 Record: 33-3 (15-1 Big 12)
Postseason Finish: Lost to Northern Iowa 69-67 in NCAA Tournament second round
At this point, the Jayhawks are a team of unanswered questions and enormous potential. No team has more depth, but only five players are allowed on the court at a time. And while Kansas may have the most competitive 5-on-5 scrimmages in the country, coach Bill Self has a big task at hand in figuring out who he wants on the court in the biggest moments.
Marcus Morris will be there. The power forward has more than proven his ability to score the basketball, appearing to be a legitimate Big 12 player of the year contender last season before fading down the stretch. His twin brother, Markieff Morris, has an unrefined offensive game but will play because of his abilities on the boards and defense. Joining them in the frontcourt are sophomores Thomas Robinson — who at times appears to be a future first rounder — and Jeff Withey. Any pairing made with that group should be effective, and the frontcourt should not be a problem.
The backcourt, on the other hand, is a bit stickier. It's possible to have too many hands in the cookie jar, and that may be the case this year for Kansas' guards. Much like Texas last season, there appears to be no standouts in a group that goes eight-deep fighting for three positions.
Josh Selby's eligibility would solve a lot of those problems. He's a dynamic scorer, even if he can be a bit selfish for a point guard. But the freshman's future is uncertain, so inconsistent junior Tyshawn Taylor will likely run the show — for now. Elijah Johnson will push him for minutes, while a group of Brady Morningstar, Tyrel Reed, Travis Releford, Mario Little and possibly Royce Woolridge fight for playing time at the other two positions.
If Self can sort out the mess, the depth should prove an asset. If not, he may have another talented team destined for a brief NCAA Tournament run on his hands.
Key Departures: G Sherron Collins, C Cole Aldrich, G Xavier Henry
Notable Newcomers: G Josh Selby, G Mario Little, G Travis Releford
Top Returnees: F Marcus Morris, G Tyshawn Taylor, G Brady Morningstar, C Markieff Morris
Kansas State Wildcats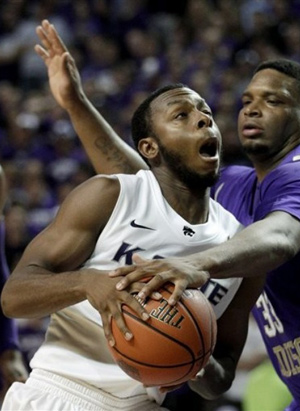 2009-10 Record: 29-8 (11-5 Big 12)
Postseason Finish: Lost to Butler 63-56 in NCAA Tournament regional finals
Jacob Pullen will be the most valuable player in college basketball this season, if we go by the definition created by most voters around the country.
He qualifies because: a. The Wildcats should be a top-five team; and b. They wouldn't be even close without him.
Pullen turned heads last season with his unbelievable one-on-one battle against Xavier's Jordan Crawford in the Sweet 16. It was the game of the NCAA Tournament, including the memorable final. It was one of the most entertaining basketball games I've ever seen, simply put.
To define Pullen by one incredible, gutsy, clutch performance, would be narrow-minded, though. He averaged 19.3 points and 3.4 assists per game for a 29-win team. This year, without Denis Clemente, the pressure will be even greater, and he will run the point much more.
There are plenty of great athletes around him. Wally Judge seems primed to breakout after a disappointing freshman campaign. Curtis Kelly is a rock down low, and Jamar Samuels is the best sixth man in the country. There's plenty more, too, that should have the Wildcats as a legitimate national championship contender all season. But Pullen is the heart of his team.
One other reason Pullen will be the most valuable player in the country — is there any other player you'd want taking the last shot more?
Key Departures: G Denis Clemente, F Dominique Sutton
Notable Newcomers: C Freddy Aspirilla, G Will Spradling
Top Returnees: G Jacob Pullen, F Curtis Kelly, F Jamar Samuels, F Wally Judg
Missouri Tigers
2009-10 Record: 23-11 (10-6 Big 12)
Postseason Finish: Lost to West Virginia 68-59 in NCAA Tournament second round
Mike Anderson has cobbled together a 54-18 record the last two seasons with a gritty, overachieving team. Missouri, meet expectations.
Despite losing three core players, the Tigers had enough returning talent to ensure a preseason top-25 spot. Factor in an oustanding recruiting class, and Anderson has the tools to top his 31-win season of two years ago.
Depth and versatility are the team's strength. Unlike Kansas, the pieces fit together nicely. Michael Dixon and Phil Pressey give the team two true point guards capable of starting. Kim English, Marcus Denmon, Laurence Bowers and Ricky Kreklow ensure the wings are in good hands. And Justin Safford and Ricardo Ratliffe, the top junior college recruit in the country will man the inside.
Factor in Tony Mitchell, the potential lottery pick whose eligibility remains uncertain but who may join the team midseason, and there's no ceiling to what this team can do. Mitchell provides that extra gear, but Anderson has proven he can win with less. This year, he's got more than ever.
Key Departures: G J.T. Tiller, G Zaire Taylor, F Keith Ramsey
Notable Newcomers: F Tony Mitchell 2586 (inelgible first semester), F Ricardo Ratliffe, G Phil Pressey
Top Returnees: G Kim English, F Laurence Bowers, G Marcus Denmon
Nebraska Cornhuskers
2009-10 Record: 15-18 (2-14 Big 12)
Postseason Finish: None
Nebraska Athletic Director Tom Osborne told The Associated Press last week that coach Doc Sadler's job is safe this season, regardless of the Cornhuskers' record this season. That's fine and comforting for Sadler, but fans are going to want some results.
Sadler posted winning records in his first three seasons in Lincoln, Neb., before falling off last season with an undermanned squad. But he has yet to lift the team to the NCAA Tournament. That goal doesn't seem likely this year, but another NIT bid could be in the works.
Nebraska has a deep core in the frontcourt and experience in the backcourt. No, they don't have elite talent, but Lance Jeter is a heady floor general who showed good efficiency last season. Christian Standhardinger, Jorge Brian Diaz and junior college transfer Andre Almeida make for a nice group of frontcourt players, and the bench is strong as well.
If Nebraska can replace Ryan Anderson's reliable shooting, they may work their way back to respectability, even if that doesn't mean sniffing the top half of the tough conference in the team's final season with the Big 12.
Key Departures: F Ryan Anderson, G Sek Henry
Notable Newcomers: C Andre Almeida, G Caleb Walker, G Kamyron Brown
Top Returnees: F Christian Standhardinger, G Lance Jeter, G Brandon Richardson, C Jorge Brian Diaz
Oklahoma Sooners
2009-10 Record: 13-18 (4-12 Big 12)
Postseason Finish: None
Talent doesn't guarantee results. For an example, see the 2009-10 Oklahoma Sooners.
It's not that Jeff Capel is a bad coach, though the jury is still out. The wheels flew off last season because of a selfish contingent of supposed stars, all of whom are gone this season. That's both good and bad, in that the Sooners are at a serious talent deficit this season without a single real NBA prospect.
That's not to say there's nothing left in Norman, Okla. Forward Andrew Fitzgerald showed promise when he was able to get his hands on the ball last year, and he should be the go-to player in the post. Cade Davis and Steven Pledger saw some time on the wings last season and will be asked to handle bigger roles this year.
But the recruiting class is key, and it's not nearly as heralded as last season's. Freshman swingman Cameron Clark leads the team in raw talent, but he may be a few years away from really showing what he can do. Another swingman, junior college transfer Nick Thompson, will be asked to do a bit of everything for the Sooners as a first-year "veteran."
Capel's got some rebuilding to do, and it may not always be pretty. But this team is only a season removed from 30 wins and Blake Griffin. Unfortunately, only Davis was around for that season among the players. It's Capel's job to put things back together.
Key Departures: G Tommy Mason-Griffin, G Willie Warren, G Tony Crocker, F Tiny Gallon
Notable Newcomers: F Cameron Clark, F Nick Thompson, G Calvin Newell
Top Returnees: F Andrew Fitzgerald, G Cade Davis, G Steven Pledger
Oklahoma State Cowboys
2009-10 Record: 22-11 (9-7 Big 12)
Postseason Finish: Lost to Georgia Tech 64-59 in NCAA Tournament first round
James Anderson was the best player at Oklahoma State since Bryant Reeves. His early departure is an enormous loss. Factor in Obi Muonelo, the team's other star wing, and it's tough to imagine another NCAA bid for a team that was ousted in the first round.
But don't rain on the parade just yet. There's some good news: Everyone else is back, and several players are poised to break out of the shadows of their former teammates.
Leading that group is Marshall Moses, a natural swingman who was moved to power forward last year but seems poised to be the team's best player for his final season. Moses, a talented rebounder, is joined by underrated freshman J.P. Olukemi on the wings. They're not Anderson and Muonelo, but they shouldn't need to be.
Matt Pilgrim and freshman Darrell Williams are rebounding anchors down low, while sophomore Ray Penn will show his wares at point guard after injuries limited him last year. And we haven't even mentioned the team's leading returning scorer, Keiton Page, who will be the team's long-range shooter.
There also more depth than last year, and the Cowboys should get out and run a bit with the horses in place.
Key Departures: G James Anderson, G Obi Muonelo
Notable Newcomers: F J.P. Olukemi, F Darrell Williams
Top Returnees: F Marshall Moses, G Keiton Page, G Ray Penn, F Matt Pilgrim
Texas Longhorns
2009-10 Record: 24-10 (9-7 Big 12)
Postseason Finish: Lost to Wake Forest 81-80 in NCAA Tournament first round
You're in a good place as a program when 24-10 is a disappointment. You're in a bad place as a team when you go 7-10 down the stretch after a 17-0 start.
That's where Texas and coach Rick Barnes stood after last season and entering this one. A complete meltdown ruined what could have been a banner year, all because Barnes saw his two true point guards go down with injuries and never found a balance with his deep but unproven roster.
The top three players from last season are gone, but there's plenty left and a pair of talented Canadian freshmen joining the team. Sophomore forward Jordan Hamilton is the likely choice to replace Damion James' impact as an all-Big 12 performer, but should the erratic California falter, that role may go to freshman forward Tristan Thompson or senior forward Gary Johnson, who was the team's most consistent player laat year.
At center, Alexis Wangmene and Matt Hill provide depth and experience but may not have essential roles if all three forwards play together.
But the key for Barnes will be figuring out the guard rotation. J'Covan Brown and Jai Lucas are lightning quick scoring point guards, while Cory Joseph is a do-everything freshman and the most talented of the buch. He is reminiscent of high school teammate and departed Longhorn Avery Bradley but more of a point guard and less of a defensive monster. Then there's Dogus Balbay, a solid defender from Turkey who Barnes favors for his distribution ability despite lacking the top-shelf talent of the others.
Barnes should spend the early part of this season experimenting in the backcourt with different pairings, even if it means not going 17-0. Figuring out a set rotation will help avoid a 7-10 finish.
Key Departures: F Damion James, G Avery Bradley, C Dexter Pittman
Notable Newcomers: G Cory Joseph, F Tristan Thompson
Top Returnees: F Jordan Hamilton, F Gary Johnson, G J'Covan Brown
Texas A&M Aggies
2009-10 Record: 24-10 (11-5 Big 12)
Postseason Finish: Lost to Purdue 63-61 in NCAA tournament second round
The Melvin Watkins-led Aggies went 7-22 in 2003-04, not winning a single Big 12 game. In the six seasons since, Texas A&M has won more than 20 games each year, never falling under .500 in league play. They've also made at least the second round of the NCAA Tournament each of the last five seasons
Mark Turgeon's followed Billy Gillispie's lead in building the Big 12's most consistent team, and even with three key parts graduating, there's no reason to expect that to change for 2010-11.
Athleticism is the key word here. This may be the most athletic Texas A&M team yet, led by forwards Khris Middleton, Nathan Walkup, Kourtney Roberson and David Loubeau. Factor in guards B.J. Holmes and Naji Hibbert, and the Aggies may be off and running.
Don't expect them to slouch on defense, though, as Gillispie rebuilt the program on the value of defensive intensity and Turgeon hasn't allowed that mantra to slip away.
Power forward Ray Turner's development could swing the Aggies from bubble team to Big 12 contender. He joined the team last December after eligibility issues, and he may be the best athlete of the bunch. If he can harnass his raw skills, the Texas A&M frontcourt could contend with Baylor's as the Big 12's best.
Key Departures: G Donald Sloan, F Bryan Davis, G Derrick Roland
Notable Newcomers: F Kourtney Roberson, C Keith Davis
Top Returnees: G B.J. Holmes, F Nathan Walkup, F David Loubeau, F Khris Middleton
Texas Tech Red Raiders
2009-10 Record: 19-16 (4-12 Big 12)
Postseason Finish: Lost to Ole Miss 90-87 in NIT quarterfinals
Coach Pat Knight put it pretty simply at Big 12 media day: "To me, this is either a 'get an extension or get fired' kind of year."
It's refressing to hear that kind of candor from a coach, even if it's a bit of an overstatement for a coach who just finished his third offseason at the helm. He clearly learned from his legendary father how to speak his mind. What he's struggled with is winning games the way dad did. Last season's 19-16 record was a step in the right direction, but the Big 12 is tougher this season and the Red Raiders struggled in league play enough last year.
Forward Mike Singletary and point guard John Roberson give Texas Tech an inside-outside duo of proven stars, but everyone around them has yet to earn their stripes.
David Tairu is a nice spotup shooter, but he'll have to be more in a starting role this year. D'walyn Roberts is slotted to start at small forward again, but he'll need to improve his production offensively by being more assertive. And Knight would love to find someone, anyone, to plug the middle.
Freshman Javarez Willis is the best recruit he's brought in so far, and Willis may allow Roberson to slide off the ball at times to maximize his scoring ability.
Knight's not likely to lose his job after this season. But reaching 20 wins would give him some welcome insurance for the future.
Key Departures: G Nick Okorie, F Darko Cohadarevic
Notable Newcomers: G Javarez Willis, F Jaye Crockett
Top Returnees: F Mike Singletary, G John Roberson, G David Tairu, F D'walyn Roberts
Top Prospects
1. Perry Jones, Baylor — With his size and versatility, Jones has as much long term potential as any player in the country.
2. Alec Burks, Colorado — Put up eye popping stats as a freshman and will look to improve upon them and maintain his great consistency.
3. Tony Mitchell 2586, Missouri — Academically ineligible for the first semester, Mitchell shows a lot of potential as an ultra-athletic wing forward.
4. Jordan Hamilton, Texas — Sweet shooting wing who has a lot of versatility and just needs to show that he's more than just a scorer.
5. Josh Selby, Kansas — Like Mitchell, still waiting to gain eligibility, Selby comes in as one of the highest rated guards in the nation and has the ability to take over games with his scoring ability.