By Aran Smith
5/28/08
With the draft less than a month away, we're coming down the home stretch beginning with the summit meeting that is the NBA pre-draft camp. Although this event has little impact on the first round, it has a huge impact on the second round as well as determining a few of the late first rounders.
It's important to keep in mind that the pre-draft camp is just one part of the process and not to over-value the performances during the week. A college career should obviously take a much greater precedence than a four day camp performance. While this event can be a good gauge of a player's mental preparation and ability to excel in a pressure filled situation, it's also important not to write off a player due to a bad performance, particularly shooting.
In recent years, players such as Kyle Korver and Paul Millsap were absolutely dreadful in the pre-draft camp and ended up being overlooked by teams and became steals in the late second round.
On the flip side, Orlando can launch a player as first rounders have emerged from the camp such as Jason Maxiell, Luther Head, Jordan Farmar, Renaldo Balkman, Daequan Cook, Jared Dudley and Aaron Brooks.
Just like in recent years, this year's NBA pre-draft camp got underway with a two hour practice including a shoot around followed by 10 minute scrimmages with teams facing off with others.
The three players with the most intrigue going into the camp:
Wayne Ellington 6-4 195 SG UNC So.
Ty Lawson 5-11 193 PG UNC So.
Davon Jefferson 6-8 210 SF USC Fr.
All three guys are projected as first rounders although the growing assumption among scouts that Ellington will ultimately pull out of the draft.
Credit all three for showing up to the event as the norm is for first rounders or even borderline first rounders to stay as far away from the event as possibly for fear of damaging their stock.
The common perception is that dominating this group (of mostly second rounders and European level prospects) can only prove so much, while playing average or poorly can capsize a players stock.
Scouts were both surprised and impressed by the fact that these guys not only were listed on the roster but actually showed up to compete.
None of the three did anything to hurt or help their stock in day one. Ellington had one break away in which he fell short of dunking the ball, but converted a lay in. His shot looked as smooth as ever and as always, he appeared to be enjoying himself out there.
Lawson flashed his great quickness and also showed solid defensive intensity in the scrimmages. He has the most to gain with a solid performance here as he's got a wide open rehearsal for as many as 18 teams who will draft after DJ Augustin is selected in the first round and may consider drafting a point guard. While it's unlikely Lawson will be selected before 20 when the Nuggets pick, he's in a perfect draft as there just aren't many point guards available this year after the first handful (Rose, Bayless, Westbrook, Augustin).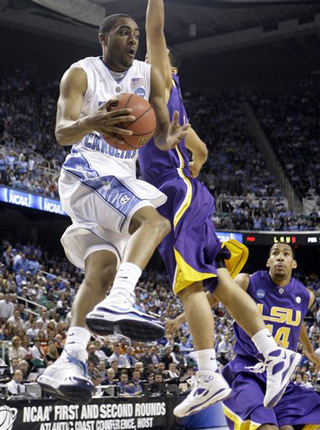 For most players this was a chance to make a first impression but it was also just a warm up and it is important to conserve energy as the intense four day event is a marathon. Jefferson seemed to take that advise a little too far as he looked lakadasical running half court warm ups. (the scrutinizing begins!) He's a cut above athletically, but has a lot of competition in the late first round and has his work cut out for him this week.
List of players that should be here but are not (presumably because of their choice):

JJ Hickson 6-9 235 PF NC State Fr. 
Bill Walker 6-6 230 SG/SF K.State Fr.
Jamont Gordon 6-4 220 SG Miss. St. Jr.
Kyle Weaver 6-5 201 SG/PG Wash.St. Sr.
DJ White 6-8 242 PF Indiana Sr.
Courtney Lee 6-5 200 SG W.Kentucky Sr.
Will Daniels 6-8 225 SF Rhode Island Sr.
Of these guys only Hickson is currently projected as a first rounder, and a case could be made that he made a wise choice by not attending with more to lose than gain. But for the other players listed, they are missing out on a prime opportunity to prove themselves and will be kicking themselves if they end up being drafted in the second round as expected.

And the list of players that should be here but are not (presumably were not invited):

Derrick Low 6-1 186 PG Wash. St. Sr. 
Jaycee Carroll 6-2 175 SG Utah St. Sr. 
Rob McKiver 6-3 195 PG/SG Houston Sr.
Bo McCalebb 6-0 180 PG New Orleans Sr.

Low, McKiver, Carroll and McCalebb all will likely end up going undrafted and did not have great performances in Portsmouth, but there's no way you can convince me that guys like Butch, Brazelton, Golubovic or Elegar are better prospects. Low, Carroll and McKiver are tremendous shooters, and an event such as Portsmouth can catch a quality shooter in a slump. But this is obviously nitpicking, the committee who put together this year's list did a tremendous job, and this year's camp appears to have more talent than usual.
Other Notes:
The much hyped John Riek got into some drills and appeared painfully bad running the floor. He did not participate in the 5-5 scrimmage and when he has played he has struggled to do much of anything. It is a wonder why he's even attending the camp considering his apparent injury problem. Hopefully it's a temporary injury and we will get a chance to see more of him. But as we've contended all along, he lacks the mobility to be a factor at the NBA level, and is far from a first round pick. Based on what scouts witnessed Tuesday, he would not be drafted at all if he stayed in the draft.

By Borko Popic
5 Players to Watch For

Richard Hendrix — Looks like he has been working hard in preparation for the camp. Possessing a finely chiseled body that he knows how to use, Hendrix has looked like a man amongst boys in the short scrimmages. With a strong and consistent performance this week, he can solidify himself as a first round pick.

Lester Hudson — There is no question that he can put the ball into the hoop, however, his scoring may need to take a back seat to his playmaking, as he should use the camp to prove that he can be a point guard at the next level. In the early scrimmages he has shown that he has come with the right mentality as he was looking to set his teammates up, displaying nice handles and court vision.

Sonny Weems — Never lacking in athleticism and explosiveness, Weems needs to prove that he has expanded his skill-set. In the short time that we have seen him today, he showed some nice moves off the dribble, and a fairly effective midrange jumpshot. Continuing to show that he can play in the half court will improve his stock tremendously.

Trent Plaisted — Has come in great shape and showed terrific aggressiveness attacking and finishing around the hoop. He runs the floor incredibly well and plays with a lot of energy. Needs to prove that his post game has continued to grow and that he has developed a more extensive repertoire with his back to the basket.

Joey Dorsey — An extremely hard worker that definitely didn't show up to camp to make friends. Aggressive play, combined with his strength and athleticism make him one of the more intriguing prospects. He may just impress enough, to play himself into the 1st round.

5 Sleepers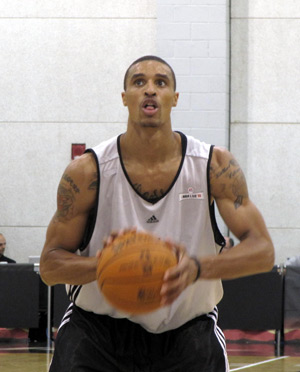 George Hill – Coming from little known IUPUI, even after a very impressive season, many have not seen much of Hill. Although he is likely to return for his senior year, a good showing this week will do more than put his name on the map. Seeing him play today, one cannot help but notice that his smooth and controlled game is very effective even against better competition. A consistent shooter, he has good handles, nice length and a very deceiving first step allowing him to play both guard positions 
Mike Taylor — Rumor has it that the NBDL participant turned down a few 10-day contracts in order to keep himself eligible for the draft. There are questions about his actual position, as he is a much better scorer than distributor, however at 6-2 he is somewhat undersized playing off the ball. Already, he has shown that his quickness will cause problems for defenses and by proving that he can create for teammates he may actually justify turning down those short stints in the league by hearing his name called on draft night.

Reggie Williams — The back to back NCAA scoring leader is continuing to show that he belongs. His game may look a bit unorthodox, but there is no question that he gets the job done both scoring wise and by setting up his teammates. His great feel for the game and uncanny ability to put the ball in the hole are undeniable and may be enough to offset the size and quickness concerns some have about him. It may not be farfetched to say that a good week at camp could result in the former VMI Cadet moving into the 2nd round

L.R. Mbah a Moute — The terrific potential we have seen from MM in his freshman season undoubtedly disappeared by the end of his junior campaign. At times looking lackadaisical and completely disinterested, he seemed to have fallen a victim of playing a minor role in a major play. Stepping out of the system that may have held him back, could be the change that he needs in order to resurrect his career. With his length and athleticism we have already seen him being a factor defensively, if he can transfer that over to the other end and show an improved scoring touch, Luc could put his name back into draft consideration.

Ramel Bradley
— His aggressive play and scoring ability turned enough heads at Portsmouth to earn him an invite here. Attacking people off the dribble and being able to turn the corner are his strengths, and even though he is a long shot to get drafted, continuing to do what he does best will definitely open doors for the future.
Participant List
Ramel Bradley 6-1 179 PG Kentucky Sr.
Tyrone Brazelton 6-2 180 PG W.Kentucky Sr.
Takais Brown 6-8 250 PF Georgia Sr.
Keith Brumbaugh 6-8 210 SG/SF HCC So.
Stanley Burrell 6-2 200 PG/SG Xavier Sr.
Brian Butch 6-11 255 PF/C Wisconsin Sr.
Jamar Butler 6-1 195 PG Ohio State Sr.
Pat Calathes 6-10 210 SF St. Joseph's Sr.
Joe Crawford 6-4 205 SG Kentucky Sr.
Chris Daniels 7-0 260 C Texas A&M CC Sr.
Joey Dorsey 6-9 260 PF/C Memphis Sr.
Marcus Dove 6-8 220 SF Oklahoma St. Sr.
Josh Duncan 6-8 225 PF Xavier Sr.
Frank Elegar 6-8 230 PF Drexel Sr.
Wayne Ellington 6-4 195 SG UNC So.
Patrick Ewing Jr. 6-8 238 Georgetown Sr.
Gary Forbes 6-6 201 SG Massachusetts Sr.
Shan Foster 6-6 190 SG Vanderbilt Sr.
JR Giddens 6-5 205 SG New Mexico Sr.
James Gist 6-8 223 SF/PF Maryland Sr.
Vladimir Golubovic 7-1 250 C Ser. 1986
Kentrell Gransberry 6-9 270 PF S.Florida Sr.
Danny Green 6-6 210 SF North Carolina Jr.
Malik Hairston 6-6 215 SG Oregon Sr.
DeVon Hardin 6-10 240 PF California Sr.
Richard Hendrix 6-8 260 PF Alabama Jr.
George Hill 6-1 180 PG IUPUI Jr.
Kyle Hines 6-6 240 PF NC Greensboro Jr.
Jiri Hubalek 6-11 225 PF Iowa St. Sr.
Lester Hudson 6-3 190 PG UT-Martin Jr.
Othello Hunter 6-9 225 PF Ohio St. Sr.
Darnell Jackson 6-8 240 PF Kansas Sr.
Shawn James 6-8 225 PF Duquesne Jr.
Davon Jefferson 6-8 210 SF USC Fr.
Joseph Jones 6-9 250 PF Texas A&M Sr.
Sasha Kaun 6-11 246 C Kansas Sr.
Marcelus Kemp 6-5 210 SG Nevada Sr.
Ty Lawson 5-11 193 PG UNC So.
Maarty Leunen 6-9 220 SF/PF Oregon Sr.
Longar Longar 6-11 228 PF/C Oklahoma Sr.
Aleks Maric 6-11 270 C Nebraska Sr.
James Mays 6-8 235 PF Clemson Sr.
L.R. Mbah a Moute 6-7 230 SF UCLA Jr.
Drew Neitzel 6-0 180 PG Michigan State Sr.
DeMarcus Nelson 6-3 195 SG Duke Sr.
David Padgett 6-11 250 C Louisville Sr.
Jeremy Pargo 6-2 219 PG Gonzaga Jr.
Trent Plaisted 6-10 245 PF/C BYU Jr.
Quan Prowell 6-8 210 SF/PF Auburn Sr.
Shaun Pruitt 6-10 255 PF/C Illinois Sr.
Charles Rhodes 6-8 240 PF Miss.St. Sr.
John Riek 7-2 230 C Sudan HSSr.
Brian Roberts 6-2 180 PG Dayton Sr.
Russell Robinson 6-1 196 PG Kansas Sr.
Richard Roby 6-6 205 SG Colorado Sr.
Sean Singletary 5-11 175 PG Virginia Sr.
Ronald Steele 6-2 185 PG Alabama Jr.
Bryce Taylor 6-4 205 SG Oregon Sr.
Mike Taylor 6-2 205 SG Idaho Stampede Sr.
Mark Tyndale 6-5 210 SG Temple Sr.
Robert Vaden 6-5 224 SG UAB Jr.
Deron Washington 6-7 205 SF Va. Tech Sr.
Sonny Weems 6-6 201 SG Arkansas Sr.
Reggie Williams 6-6 185 SG VMI Sr.