As many of you already know, the Cleveland Cavaliers – still recovering from being caught in a tidal wave called LeBron's ego and washed up on the island of futility – landed the 1st and 4th overall picks in the 2011 NBA Draft. The possibility of drafting two all-star caliber players is a decent consolation prize for losing arguably the best player in the NBA.
Kyrie Irving, a scoring freshman point guard from Duke, and Derrick Williams, a scoring hybrid forward from Arizona, seem to be the only two viable options for the 1st overall pick. Even though many experts and fans consider this draft to be lacking in elite talent, the Cavs are still under a lot of pressure to make the right pick; and whoever they select will be under a lot of pressure to help fill the shoes of Cleveland's last #1 pick. Every player that Cleveland has ever selected with the 1st overall pick has become an all-star, and Irving is next in line.
Due to a right toe injury, Irving only played in 11 games for Duke last year. However, in those 11 games, he averaged 17 points per game, 4 assists per game, 3 rebounds per game, and shot 46% from downtown for a loaded Duke team.
His two most memorable performances were a 31-point outing against Michigan State (including 13-16 from the free-throw line), and a 28-point outing in an NCAA tournament loss to Derrick Williams and Arizona. Perhaps what was most impressive about his stats was his 1.75 assist/turnover ratio – highly impressive for an up-tempo freshman point guard.
Williams, on the other hand, had a .43 assist/turnover ratio. To cut him some slack, Williams is a forward who had to carry the offensive load for the Wildcats, but it doesn't bode well for his projected court vision, or lack thereof. In comparison to similar former draft picks, Michael Beasley had a .40 assist/turnover ratio in his lone season at Kansas State, and Antawn Jamison (shout-out to ghettosermon) had a .49 assist/turnover ratio in his last season at North Carolina.
Beasley and Jamison aren't known for their ball-handling ability, and neither has ever averaged more than 2 assists per game for their career. Beasley may be quite young, but I doubt his assist numbers will ever be above 3 assists per game at any point in his career. Many have noticed Irving measuring in at 10% body fat, but Williams, who played all year, also measured in at 10% body fat. Enough with the numbers. Let's compare their actual games.
Irving has the end-to-end speed NBA bigwigs drool over. He can catch the ball under one basket and dribble to the other like a young Jason Kidd or that Derrick Rose guy. He combines that incredible speed with excellent ball-handling, "amphibious" (yes, I mean ambidextrous) finishing ability, a tremendous first step, and a respectable jumper. He also has great size at 6'3 in shoes.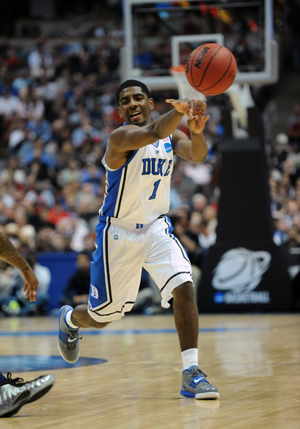 Aside from some obvious durability concerns, the only noticeable weakness in his game is his strength. Having strength isn't what separates good NBA point guards from elite ones, and it's illogical to expect a 19-year-old point guard to have an NBA body from day one – even if he is the 1st overall pick.
Williams was a dominant scorer and rebounder at the college level. He has terrific size for the small forward position at 6'8, 250 lbs with a 7'1 wingspan. But that's where the dilemma begins: Williams doesn't have the ball-handling ability or mid-range game to be a full-time small forward. He's not a shot-blocker, and he never displayed the lateral quickness to guard contemporary small forwards.
While he did draw a lot of fouls, the refs did tend to be a little loose with their whistles while earning their paychecks at Arizona games. Williams also displayed some trouble competing against length. He only shot 4-14 against Texas, and 5-13 against the national champion UConn Huskies.
Irving would be drafted into a bit of a logjam in Cleveland, but that's not necessarily a bad thing. The Cavs would have a much easier time trading Ramon Sessions, with the possibility of getting an upgrade at the 2 and/or 3-spot.
Irving could learn a lot from former all-star Baron Davis, and Ramon Sessions – if he's still on Cleveland's roster at the end of the draft – would provide good competition for the 2nd spot on the depth chart. If Irving is able to start over Davis, then he'll have the proverbial "baptism by fire," as he'll have the opportunity to learn the rigors of the NBA game early and often. It would do nothing but help him later on in his career.
When you think about every dynasty in recent memory, they all have two things in common: An emphasis on defense, and a dominant wing/ big man. "Wait a minute. Isn't this supposed to be why the Cavs should take Irving instead of Williams?" Just keep reading.
Williams, more than likely, will never be a dominant forward. Even though this draft lacks star power, the Cavs shouldn't use a #1 pick on the next Antawn Jamison. While they may not regularly compete for championships, elite point guards such as Chris Paul, Deron Williams and Derrick Rose have been able to lead their teams to perennial playoff appearances. To be honest, Irving won't lead this team back to the playoffs in his first year.
With an incredible amount of elite wings and big men projected in next year's draft (Harrison Barnes, Perry Jones, Anthony Davis, James McAdoo, Jared Sullinger, etc), the Cavs would be better off waiting a year and grabbing the potential dominant wing/big man that nearly every championship contender possesses.
Sure, some of the names I mentioned may not seem like they're head and shoulders above Williams as a prospect right now, but players improve the most between their freshman and sophomore seasons. Pairing Irving with one of next year's wings would give the Cavs a very talented and exciting foundation.
Also See: Who's #1?: The Case for Derrick Williams