Zaragoza's FIBA U17 World Championship was marked, once again, by the domination of Team USA. At the same time though, there were a lot of International prospects who managed to grab a lot of attention with their performances in the Tournament.
1. RJ Barrett (2000, 6-7, SG, Canada)
Before the Tournament, R.J Barrett was considered by many as the best born 2000 prospect in the world. And rightfully so. Playing against players one year older than him, the Canadian shooting guard was one of the players that really stood out, as the top scorer of his team averaging 18.4 points per game, adding also 4.6 points and 2.3 assists in just 25.7 minutes of playing time. But his impact on the game goes beyond his standout numbers. Barrett showed leadership skills, in addition to his great athleticism and natural scoring instincts. The reality of course is that he is far from ready, just yet. He still depends on his dominant (left) hand and he still needs to add bulk to be able to finish through contact. With all that said, it doesn't change the fact that he was the player with the higher ceiling, and top prospect at the FIBA's U17 World Tournament.
2. Simi Shittu (1999, 6-10, PF, Canada)
At first glance, his numbers weren't bad (11.1 points, 8.3 rebounds and 3.7 steals per game), especially considering that he played out of position, as a center, and he had to battle against bigger opponents. But if someone takes a closer look, they realize that Simi Shittu finished the Tournament shooting just 39.5% on FGs and 36.8% on FTs. What's even worse though was his inconsistency. Shittu had some great moments, but also some bad moments, with the worst of them coming in the Quarterfinal against Turkey, when he tallied just 3 points on 1/11 shooting and 7 rebounds in 26 minutes before fouling out. With that said, it's obvious that he must be considered a high level NBA prospect. He is fast, with great mobility and coordination for his size, his ball handling is pretty good and if he puts his mind to it and works hard he can become a really good player in the future.
3. Jaylen Hoard (1999, 6-8, SG, France)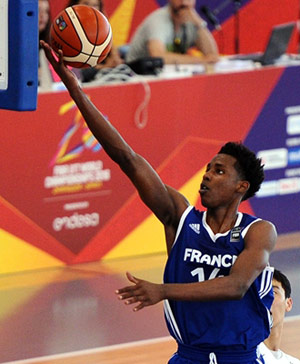 He was the star of his team and everybody had their eyes on him, expecting him to go against USA so that they could judge him against elite competition. As it turned out though, this would never happen, because France got eliminated by Lithuania in the Quarterfinals. Despite that, Hoard was able to showcase what he can do. And that's… scoring! The French guard/forward can score with the best of them. With excellent length, he can drive, score off the pull up jumper, create for his teammates and even be a threat in catch and shoot situations. On the other hand, at this point, he can't be considered a leader, he avoids contact and has the bad habit of disappearing from time to time in games. He is a bit overrated at this point as he isn't an elite level athlete, but still appears to be among the best European prospects of his (1999) generation.
4. Yves Pons (1999, 6-6, SF, France)
If there was one player that had the… "WOW factor" in FIBA's U17 Tournament, it was probably Pons. The French prospect was responsible for some of the top highlights of this Tournament. He is an elite athlete, even by NBA standards, with crazy leaping ability and a great body structure for his age. He shot an amazing 76.9% on 2pts and he impressed everybody with his power in finishing at the rim, but at the same time, his shooting selection wasn't ideal and it was obvious that he depends too much on his dominant (left) hand. He is by far a better athlete than a basketball player at the moment, but the truth is that he showed real promise and he can become an excellent 3 and D player in the future.
5. Dzanan Musa (1999, 6-8, SG/SF, Bosnia and Herzegovina)
He was the top scorer of the Tournament, averaging 34 points per game, along with 8.1 rebounds and 3 assists. He scored 50 points in one game (!) and managed to break the 30 point plateau in all but one game (against France, where he had 19 points). And perhaps it's no coincidence that his only bad game came against a team with athletic wings such as Yves Pons and Jaylen Hoard. Dzanan Musa is already a great scorer. He can score in every way possible, but has the habit to only drive left despite being right handed, he is an excellent ball handler, has good court vision and is a born leader. But there are some concerns… He is severely un-athletic to play in the NBA. At times he plays a little selfishly and, most importantly, his body structure is worrisome. He could probably be 1-2 inches taller and almost appears to have a slight hunch back. His chest and waist are small, so there is a concern that he might not be able to bulk up. He is still growing though and if he manages to overcome these issues he can become something really special.
6. Samson Froling (2000, 6-10, Power forward, Australia)
Playing for a team with a big rotation, Frolling managed to turn a lot of heads with the direction of his play. The Australian big was one year younger than most of his opponents but he was still able to hold his ground in the post, averaging a double-double (10.6 points and 10.3 rebounds per game). He caused a lot of problems with his length on both ends of the floor, he is well coordinated, his shooting touch around the basket is above average, his footwork in the post is pretty good for his age and he impressed with his decision making. On the downside, he is not very explosive and he needs to add some weight, or else he will have problems at the next level. He is an intriguing prospect though.
7. Ragip Berke Atar (1999, 6-11, Center, Turkey)
He started the tournament out slow, but as the games progressed he showed improvement. And then… he exploded against Canada in the quarterfinals, dominating their bigs for 28 points and 15 rebounds! Ragip Berke Atar was one of the pleasant surprises of this Tournament. His game still needs polishing, but he is pretty quick for his size, he is a great rebounder and also plays with a high motor, which was also obvious in the Final against Team USA, where he had 13 points and 8 rebounds playing with an ankle sprain. He is far from ready to be considered an NBA prospect, but he definitely managed to show the NBA scouts who were in Zaragoza that he is someone to keep an eye on.
8. Francisco Caffaro (2000, 6-11, C, Argentina)
He was one of the youngest players on his team, yet he managed to get noticed in this Tournament. Caffaro started playing basketball just two years ago, which is pretty obvious, because at times he looks lost on the court, missing rotations and assignments on Defense. But the truth is that he is really intriguing. He is fast and mobile for his size, he loves contact and he is not afraid of anyone, which explains why he had his second best performance in the Tournament in the game against Team USA, scoring 16 points. It's evident that he is still pretty raw, but the potential is there and if he continues working, he might be considered an NBA prospect in the future.
9. Sergi Martinez (1999, 6-7, Forward, Spain)
No International player in the Tournament had better numbers than Sergi Martinez, who averaged 19.9 points, 12.9 rebounds, 2.3 assists and 1.9 steals in Zaragoza. He was the leader of Spain, willing his team to a Top 4 finish with his all-around game, passion, amazing rebounding instincts and ability to score the ball. With all that said, it's difficult not to think that Martinez's upside is limited due to his height. Standing at 6-foot-7, he knows that he can't play power forward at the next level with his thin frame. The truth is that no player in this Tournament played with a higher motor than Martinez, who at times even slid over to the small forward position, but he had problems guarding perimeter players. If he manages to solve that problem and become a combo forward, then a lot of things will change.
10. Onuralp Bitim (1999, 6-6, Shooting Guard, Turkey)
Bitim didn't have a good Tournament, giving the impression that he took a step backwards in his development after having decided attend an American high school. He decision making was bad and his shot wasn't falling. But he stepped up for his team when he was needed the most: In the semifinal game against the host team, Spain, where he had his best performance. He had 23 points, 10 rebounds and the buzzer-beater that sent the game to overtime, where he also hit some clutch shots. Overall in the Tournament, he averaged 11.3 points and 5.7 rebounds in 21.1 minutes per game for a very deep Turkish team. Bitim is a great athlete, a good defender (when concentrated) and he loves to play in big games. If he manages to control his emotions and improve his consistency, he might be able to be considered an NBA prospect in the future.
Honorable Mention
Emmanuel Akot (1999, 6-7, Small forward, Canada), Danilo Djuricic (1999, 6-7, Small forward, Canada), Arnas Velicka (1999, 6-4, Point guard, Lithuania), Rongzhen Zhu (1999, 6-11, Center, China), Ahmed Khalaf (1999, 6-9, Center, Egypt), Miguel Gonzalez (1999, 6-7, Shooting guard, Spain), Tom Fullarton (1999, 6-7, Small forward, Australia), Elias Valtonen (1999, 6-6, Shooting guard, Finland) and N'Faly Dante (2001, 6-11, Center, Mali) also managed stand out in the Tournament, each on its own way.
Emmanuel Akot was inconsistent, but he showed potential of becoming a 3-and-D player in the future. Danilo Djuricic was the best shooter of the Tournament, shooting hitting 44.2% from the 3pt line, averaging six 3pt shots per game. Arnas Velicka was the best PG of the Tournament (and member of the All-Tournament team) but he lacks athleticism. Rongzhen Zhu showed great athleticism and mobility for his size, but his role was limited. Ahmed Khalaf was the most productive center of the Tournament (17 points and 14 rebounds per game), having a really smooth game with his back to the basket, but he needs to improve his physical conditioning. Miguel Gonzalez impressed with his size for a shooting guard, his shooting stroke and playmaking abilities, but at the same time he was inconsistent. Tom Fullarton and Elias Valtonen showed some all-around skills, with the former being more athletic, while the latter was forced to play out of position, as a power forward, due to the lack of big bodies for Finland. Lastly, N'Faly Dante, although raw, impressed everybody with his physique and his athleticism, especially considering the fact that he won't be 15 years old until October!
Follow Stefanos on twitter at @steflong85