Lithunia won the European U18 Championships on Sunday blowing out Russia 91-60 behind intriguing center prospect Jonas Valanciunas. Valanciunas was the Tournament MVP scoring 31 pts (12-14 fg) and 18 reb in the final against Russia. The young bigman was dominant showing excellent skill, mobility and desire.
He averaged 19.4 points per game over the tournament, second only to Italy's Alessandro Gentile. He led the entire event in rebounding at 13.4 per game, and recorded 2.7 blocked shots per game.
Lithuania took home gold behind their tremendous home fan support in Vilnius. The team was presented with their gold medals by European legend Arvydas Sabonis whose son played for the team. Also in attendance were Linas Kleiza and Donatas Motiejunas.
Lithuania nearly missed the gold medal game if not for an exciting comeback against Serbia the day before. They overcame a late double digit lead in the fourth quarter behind their excellent fan support.
Top Prospects: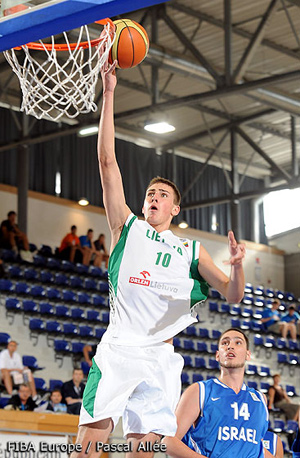 *One NBA scout I spoke with who had never seen Jonas Valanciunas before this game came away very impressed. He said this after the final: "He gets up and down the floor … Great hands … Runs the floor … If he were coming out of high school here (in USA) he would be the top "big" hands down … He finds a way … He plays hard … Knocks down his free throws … They don't give him the ball enough … Not overly athletic but his activity compensates … Good defender … He needs a face up game to 15 feet … Right now (if he entered the draft) he's a lower first rounder, but i like his upside … Better than a lot of guys that were drafted … I reserve my opinion until I see him live."
*The all tournament team consisted of: Jonas Valanciunas (Lithuania), Dmitry Kulagin (Russia), Deividas Pukis (Lithuania), Davis Bertans (Latvia), Nikola Siladi (Serbia)
*For Russia the most intriguing player was left handed 6-7 190 SG Sergey Karasev, another 93 kid that is a full year younger than most of the competitors. Kasarev struggled from the field and had a nightmare final against Lithuania, but was very impressive in the semifinal against Latvia. His versatility and scoring ability shows some promise.
*France's Rudy Gobert appeared to be the next best bigman prospect after Valanciunas. His offensive game isn't nearly as advanced but he's a got more lift. His body, like Valanciunas, still has a long ways to go and his offensive game has much further to go. He averaged just 9.2 ppg and struggled getting to the line: just 24 times (knocking down 11 45 %) in 9 games. On the positive side he was 4th overall in blocked shots (1.7) and rebounds (9).
*Ukraine's 6-11 Olexiy Len led all players in blocked shots (4.3) despite being a year younger than most of the competition. He was also very productive in other aspects of the game averaging 16 ppg and 11.4 rpg.
*Janis Timma was the most intriguing player for Latvia. The 6-7 forward has a mature body and showed solid versatility. He can put the ball on the floor as well as shoot from the perimeter. He shows an aggressive demeanor and was third on the team in scoring at 11.2 ppg.
*Italy's Allesandro Gentile is a scoring machine who led the event. He's described as a true talent with some NBA potential. He's comparable to a 6-5 version of Danilo Gallinari with decent athleticism and good shooting ability.
*Poland's Mateusz Ponitka was the most impressive shooter in the event knocking down nearly 50% of his 3 point shots (23-48). Another '93 kid, Pontika received some buzz from scouts after his performance in Hamburg at the U17 Worlds a few weeks ago.
* Poland 7-footer Przemyslaw Karnowski was one of the youngest in the event (Nov '93) and also one of the biggest. Though not overly athletic, Karnowski shows some solid skills (9.2 ppg and 6.9 rpg) for his age and should continue to develop as a legit center prospect.
*Greece's 6-8 SF Linos Chrysikopoulos was the event's third leading scorer at 17 ppg. A player we had the opportunity to see in Treviso in June. While pretty raw, he's a solid athlete with a huge wingspan.
*Croatia's 16 year old wunderkind Dario Saric had a solid though unspectacular performance. He's regarded by many as the top prospect of the next generation. His 12.4 ppg was good for 14th overall. It's easy to forget that he's 2 years younger than many of the kids here and already one of the best.