Anthony Barber, better known as 'Cat', has gone from NBA Draft afterthought, to one of the fastest rising prospects in the country. The 6'2 junior from Newport News, Virginia has been on a tear this season and is turning the heads of scouts each time he steps foot on the floor. He's the leading scorer in the ACC, to this point, at 23.4 points per game, ahead of Duke's Grayson Allen by over three points per game, and seventh in the country. He has single handedly kept the Wolfpack from having a historically bad season after losing Trevor Lacey to the Draft, Kyle Washington to transfer and Terry Henderson to injury. In other words, Barber has been a one man wrecking crew for Mark Gottfried's squad.
But Barber's career hasn't always been fairy tales and rainbows. During his recruitment, there were rumors that the five star guard had stolen things from current players during his official visit to Louisville. Those accusations never gained any traction and nothing ever came out of them, but the damage was done to his reputation. Certain schools began backing off of their recruitment of the lightning quick lead guard and he ultimately chose to make his way to Raleigh to 'run with the pack'.
Barber got his nickname 'Cat' based on his speed and quickness with the ball. He was a matchup nightmare in High School, cut from the same cloth as former NBA player and future HOF'er Allen Iverson. The comparisons between the two were a given considering they are from the same area of Virginia and played the same position. But it was that same quickness and ability to break down defenders off the dribble that was his Achilles heel during much of his freshman campaign.
He was in a timeshare of sorts with Tyler Lewis and created what, in theory, should have been a two headed attack at PG that would have been almost impossible to deal with as Lewis was the distributor and Barber the scorer. But Barber struggled during his freshman season, with future NBA Lottery pick TJ Warren dominating the touches on offense, it was a big adjustment for a guy who had been the go-to player and alpha on his teams for so long. He was in and out of the lineup/rotation for much of the second half of the season and after a few key miscues on the road at Syracuse in mid-February, had to deal with the wrath of Twitter as fans were calling for his head.
The rest of the season would be a roller coaster ride for Barber, that ended with an NCAA Tournament round of 64 loss to St. Louis, a game that the Wolfpack controlled late but were unable to sustain due to some memorable free throw line misses. Barber was 3-6 from the line in that one.
Lewis decided to transfer to Butler before the 2014-2015 season, which opened the door for Barber to take over the starting role for good. It was during that season that things really started to click as Barber became what the coaching staff thought he would be when they recruited him. He and Lacey became a one-two punch on the perimeter for a team that made their 4th consecutive NCAA Tournament under Gottfried. The team advanced to the Sweet 16 after knocking off LSU in the first round and then taking down #1 seed Villanova in the Round of 32. The end of the season was a coming out party of sorts for Barber, who torched Pittsburgh in the ACC Tournament to the tune of 34 points on 9-13 shooting, including a perfect 12-12 from the free throw line.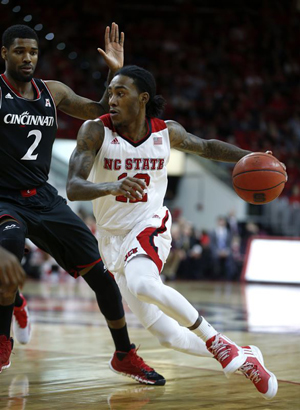 Fast forward a few months and Barber already has six 30 point performances in just 23 games, inlcuding the last three. But it isn't just that he's doing it, rather how he is doing it that is turning heads among those watching. For starters, Barber has become one of the more reliable free throw shooters in the ACC. He's well above 80% on the season, 86.8 to be exact, after shooting 69 and 73 percent respectively during his freshman and sophomore campaigns. He snapped a 40 straight made free throw streak in the team's game against Florida State and for a guy who has the ball in his hands late in games who also can get to the rim at will, making free throws is a must. After struggling during crunch time his first two years, he is now the only guy that State fans' should feel comfortable with at the charity stripe down the stretch.
Another area of improvement with his game is his ability to knock down open and contested jump shots, particularly from beyond the arc. As a freshman, he shot 26% from distance and has improved that number to 38% last season and 37% this year. The drop off from this season to last isn't that he's shooting the ball any worse, just that he's got the ball in his hands late in shot clocks and, at times, has to throw up a prayer which is something that Lacey did a lot last season. His freshman year, opposing players and coaches knew he wasn't comfortable with his jumper and they sagged off, forcing him to either shoot the deep jumper or drive to a packed lane. He's even more efficient with his two point jumpers as he's now shooting 39% on those as opposed to 33% his freshman year.
He's developed a very effective step back, pull up jumper, that is basically impossible to defend due to his quickness. His increased efficiency from outside of the paint has led to larger driving lanes inside the paint. Barber turned the ball over at an extremely high rate during his freshman year (16.1%) and that had a lot to do with the fact that teams weren't respecting his jumper so they clogged the lane and made him a one trick pony. Once he got into the lane and had nowhere to go, he turned the ball over at an alarming rate for someone with his usage numbers. He's seen that turnover number drop drastically over the last two seasons and even with the ball in his hands more than ever this season, that number is down to 10.2%.
He's become a much better leader on the court and as you'll see at times, isn't afraid to give his teammates an ear full if/when they make a mistake. He knows that the Wolfpack rely on him being at his best for the team to win. He's become a point guard that can do it all after coming into college as a guy known for his quickness off the dribble and ability to run the fast break. He's turned into so much more than that and his stock is on the rise because of it.
After a home loss to Duke late in January, Coach K said of Barber, "He's one of the best players in the country." That is pretty high praise from a HOF Coach who has had his fair share of talented point guards over the last few decades. And Barber deserves every bit of the praise as he's a highly touted player that came into college, went through some early struggles and has now come out better on the other side. He's the epitome of what athletes should strive to be like on the court, with regards to development, once they enter college.
Follow me on Twitter @CCroweNBADraft