There's an expression in the scouting industry, "draft for talent, trade for need". Basically you never want to pass on a Michael Jordan because you already have Clyde Drexler as the Trailblazers did back in 1984. And some feel you never even take team need into consideration, just take the player who's highest rated on your board at your pick, and acquire assets, unless you happen to be one player away and have no assets to trade or cap space to make changes to your roster. At the top of the draft it's all about maximizing talent at your draft position. If the talent is equal or very close to equal and a position of need is available, draft for need.
Washington Wizards
Needs: SF, PF, C
Picks: 3, 37, 54
The Wizards have their backcourt of the future in John Wall and Bradley Beal, and with the third pick will look to add some much needed skill to their frontcourt. They have Nene and Emeka Okafor to supply muscle inside, but they need to find a small forward if possible. Jan Vesely has not panned out and they need another playmaker or shooter on the wing. It may sound bizarre, but the Wizards aren't far from being playoff contenders in the top-heavy Eastern conference. They didn't have Wall for much of last season, and Beal was learning the NBA ropes. With another high lottery pick this year they could make a big jump if they nail the pick. With their picks at 37 and 54, they will likely look to get the best talent available, but they no doubt will be hoping to find a project big man with one of those two picks to give them more depth inside. They appear to be in perfect position to add local guy Otto Porter, who in a dreadful draft is about as surefire to be solid as it gets.
Charlotte Bobcats
Needs: SG, PF, C
Picks: 4
The Bobcats (soon to be Hornets), you could argue, have needs at literally every position on the floor. Is Kemba Walker the answer as a starting point guard? Michael Kidd-Gilchrist was the second overall pick, and so they probably don't want to bring in another young small forward. Their lack of any kind of true post presence really hurts them, and there is a good possibility that they let free agent Gerald Henderson leave. They had better odds at landing the 1st overall selection than everybody except division mate Orlando, but falling to #4 has to sting for them. The general consensus seems to be that in what is considered a weak draft at the top anyway, that there is a noticeable drop off after the top three picks. They could go with Victor Oladipo, but he's pretty similar to MKG, in that he's more of a super role player than a future star. They could select Anthony Bennett but is he big and tough enough to play PF consistently? A bigman such as Cody Zeller or Alex Len could be in play. They could go with Trey Burke but at this point seem to be convinced that Walker is their long term answer at PG. The Bobcats will have some decisions to make with their one and only pick in this draft. They would be ecstatic to see Ben McLemore fall to them, but that seems highly unlikely.
Atlanta Hawks
Needs: PF, PG, Backup C
Picks: 17, 18, 47, 50
The Hawks have two picks in the middle of the first round, at 17 and 18. Those may come in handy as they can take two quality players or it will give them options in terms of possibly moving one or both of the picks in an effort to move up if they have a strong conviction about somebody. It's not a foregone conclusion yet, but most people are speculating that this is the offseason that Josh Smith finally leaves Atlanta. Losing him may result in fewer headaches for the coaching staff, but it will leave a major hole in their frontcourt to fill as he's one of the most athletic forwards in the league. They may also look to grab a point guard if one of the top guard prospects falls to the late teens. With Jeff Teague on the roster, it's not a pressing need, but it may be a position that they take the opportunity to upgrade.
Orlando Magic
Needs: PF, C, PG, SG
Picks: 2, 51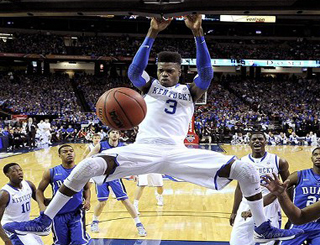 The Magic are still reeling from losing their franchise centerpiece Dwight Howard. But new GM Rob Hennigan has added some solid young complimentary players through trades. They still don't have a ton to work with talent wise moving forward and will be looking to score big in this draft. They have a quality young big man in Nikola Vucevic, Moe Harkless shows a good deal of potential, and Tobias Harris took his game to a higher level after joining the team, but they lack an all-star caliber player. Luckily for them, they do have the luxury of having the second overall pick in this draft, and will likely draft either Nerlens Noel or Ben McLemore depending on who is left. They had the best chance of landing the top pick, but with pick number two they should still get a quality player. McLemore plays the same position as Arron Afflalo, but having a few sweet shooting wings in the backcourt is never a negative. The other player linked to Orlando is Trey Burke, as there are rumors the team is interested in him, and he would be an easy sell to fans as a household name, and established reputation. Jameer Nelson is aging and there are not a ton of elite PGs on the draft horizon. However in our estimation he would be a big reach taken at 2. The team is really in rebuilding mode, though, and will likely look to stockpile as much talent as they can get their hands on. Trying to make the pieces fit is secondary at this point as the Magic know they aren't going to be contenders next year, so this draft is all about finding pieces that can be building blocks as they look to rebuild a team devastated by the loss of Howard. They'll be one of the worst teams once again next year and hope to win a top 3 spot again next year as the talent pool is much deeper at the top.
Miami Heat
Needs: C
Picks: None
If there was ever a draft to not have a pick, this would be it. Luckily for Miami, they already have everything they need to be one of the favorites to win a championship not only this season, but next season as well. They currently don't have a single pick in this year's draft. That, however, doesn't mean they won't end up making a selection on draft night, it's just that Pat Riley and company will have to find a way to acquire a pick if there is a player they like. There is no question that they would like to find another big man even though Chris "Birdman" Anderson has been great for them. Because this is widely considered to be a weak draft, there is a chance that Miami will be able to straight up buy a draft pick, but there is no guarantee they'll find a seller, or that they'll be able to acquire somebody that will help them immediately even if they get their hands on a draft pick. They'll continue to lean heavily on James, Wade, and Bosh to get them where they need to go, so not having a pick is not that big of a deal to them.