The South Region has been in the headlines since the NCAA Tournament started. Arizona busted brackets early with a loss to Buffalo, Loyola-Chicago became the Cinderella Story of the field, and oh yeah, we witnessed the first #1 seed to lose to a #16 seed, nonetheless it being the overall 1 seed and overwhelming favorite to win it all. Fast forward to the Sweet 16 and the South Region lost each of the top four seeds and we are left with a 5, 7, 9, and 11 seed and a bunch of brackets in shambles.
#5 Kentucky vs. #9 Kansas State
Kentucky
Entering the Round of 64, Kentucky was viewed primarily as a team that could make a run, but was unlikely to make it past Arizona in the second round. Fortunately for the Wildcats, Arizona got bounced by Buffalo in what was, at the time, the biggest upset of the tournament. Before Kentucky could even think about Arizona, they had to get past a gritty Davidson team. Kentucky ended up victorious, but only by five points. To be fair, it is impressive to win a game at the NCAA level without making a single three pointer, but Coach Calipari's squad found a way to do it.
Kentucky then flipped the script in the second round and were firing on all cylinders. They posted 95 points on a team that had just manhandled Arizona and cruised their way into the Sweet 16. Kentucky has been feeding off of Kevin Knox and rising star Shai Gilgeous-Alexander. Knox carried the weight against Davidson, but the Buffalo game was really the Shai Showcase. Gilgeous-Alexander lit up the board and dropped 27 points on 10-12 shooting to go along with 6 rebounds and 6 assists.
The 6'6 freshman point guard hasn't really been revered as much as fellow freshman guards like Trae Young and Collin Sexton but has used the March Madness stage to make a name for his own. Through two games he is averaging 23 points, 7 rebounds, and 6.5 assists.
Kansas State
Kansas State has had a wild ride to this point. They are missing their star player and First Team All-Big 12 selection, Dean Wade but managed to shoot the deep ball well enough to get past Creighton in the first round. KState relied on their deep ball to push them past their Big East opponent and actually shot a higher percentage from three (47.4%) than they did overall (46.0%). Regardless, they moved on.
Waiting for the Wildcats was the story of the tournament, UMBC, fresh off of a historic victory over the number one overall seed Virginia. Jairus Lyles was quickly becoming a household name and everyone was eager to see what the offense that put up 70+ on Virginia for the first time all year could do. Unfortunately, Kansas State vs. UMBC was probably the ugliest game of the tournament. Kansas State won by a score of 50-43 despite shooting 1-12 from deep and committing 18 turnovers.
But hey, a wins a win right? Barry Brown has led the Wildcats in scoring with 18 each game and he will likely shoulder the workload in this game as well. KState has their work cut out for them, but after playing in a tough Big 12 conference all year, they have their fair share of experience against talented teams.
Key to the Game
This game will likely be a classic, who gives in first game. Kansas State has had to rely on their deep ball to get this far while Kentucky has been more a slashing team. Kentucky has had a +30 point in the paint differential and Kansas State doesn't have the dynamic inside presence to stop them from getting the rim. On the other hand, Kentucky's defense has been weak inside the perimeter as opponents are shooting over 50% through their first two games.
Due to Kentucky's strengths matching up well against Kansas State's weaknesses and KState's strengths not matching up with Kentucky's weaknesses, it's likely that Kansas State will have to alter their gameplay and play Kentucky's brand of basketball. Coach Calipari will look to keep his offense rolling while Bruce Weber's team will try to turn theirs around. Not Many people are giving Kansas State a chance here, which means they're playing with house money and anything can happen.
#7 Nevada vs. #11 Loyola-Chicago
Nevada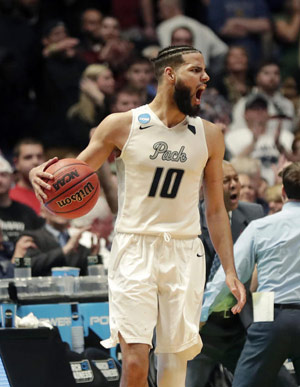 Nevada isn't necessarily a huge surprise to make it this far, but I didn't see it happening, and honestly, it wasn't looking good for them. In the Round of 64, Nevada was down by 14 in the second half to Texas, but thanks to some late-game lights-out shooting from Caleb Martin, Nevada pulled out a win in OT in what was one of the most exciting games of the tournament to send them on a date with Cincinnati.
In a classic offense vs. defense matchup, it seemed pretty clear early on that Cincinnati's defense was too much for Nevada to overcome. Nevada was down 22 points in the second half but then exploded to go on a 32-8 run and finished the comeback thanks to 25 points from Cody Martin.
Nevada is truly an offensive powerhouse led by the Martin twins and also are an efficient squad. Nevada led the nation in turnover ratio. They also knock down just about 40% of their three-balls which has helped propel them to where they are right now. With an 11 seed as their first opponent, NEvada has arguably the easiest path of any team to the Final Four
Loyola-Chicago
The Cinderella Story of the tournament is Loyola-Chicago. Despite having two wins by a combined 3 points, the Ramblers have been able to take down very respectable Miami and Tennessee teams. Sister Jean has been praying, and the prayers are being answered, as two late game winning shots have made Loyola-Chicago the most exciting team to watch.
The Ramblers are a gritty team that finds a way to hang in there and capitalize at the right time. They do have multiple ball-handlers and seemingly always work for a good shot and never settle for a contested jumper so they never take themselves out of games. Nevada is actually the lowest ranked team they've faced this tournament but it very well might be the toughest.
Key to the Game
Loyola-Chicago will have to continue to do what they've been doing in order to win this game, hang in there and wait for a mistake while limiting your own. Nevada has started games slow and the Ramblers have started strong. However, the Wolfpack seems to play their best basketball when trailing. Nevada's shooting will likely be the difference in the game because when they're hitting their shots, they're a tough team to keep up with and we've yet to see if Loyola-Chicago is capable of making a comeback. Sister Jean has the Ramblers run ending in the Sweet 16 in her bracket but I'm sure she'll be doing all she can to keep this team moving forward.
Final Four Prediction
I have a tough time seeing Kansas State being able to beat Kentucky, especially after that UMBC performance, and I think the Rambler's run will likely end as you can't keep relying on buzzer beaters in March. Kentucky is the best and most talented team left in the region and if they play their brand of basketball there is no reason they shouldn't be able to emerge as the South representative in the Final Four. The Wolf Pack surely could surprise the Wildcats. But Coach Calipari has the deepest team with the most talent left, and all signs are pointing towards Kentucky success. However, if there's one thing this region has taught us, expect the unexpected.
Kentucky over Nevada- 77 – 74