Rising
Noah Vonleh 6-10 PF Indiana Fr.
A raw physical specimen with a great work ethic and attitude, Vonleh has catapulted up scout's lists in recent weeks showing attributes that don't necessarily show up in the box score.
He is an extremely bright kid, and while his skill level remains somewhat unorthodox, he has become a dominant interior player with his strength and rebounding and appears to have few if any bad habits. Vonleh has proven to be an extremely difficult match up as he shows a willingness to play physical and has an obscene (7'3 wingspan) length.
While it's obvious that Kentucky's Julius Randle is currently the more complete offensive player, Vonleh has moved in front of him on the most recent mock as scouts feel he has more long term potential left to develop.
Vonleh's frame helps him immensely as a rebounder. His scoring numbers have not been great lately, but he continues to rebound at a very high rate (12 or more boards in 4 out of his past 5 games) and his shooting numbers remain very efficient across the board (54% FG, 56% 3p, and 72% FT).
Vonleh has jumped from a mid first rounder to a mid lottery pick in recent weeks.
Jerami Grant 6-8 SF/PF Syracuse So.
Grant was a star of stars in the huge Syracuse OT win over Duke on Saturday night, showing an ability to elevate his game on the biggest of stages. He scored 24 points and 12 rebounds on a highly efficient 10-10 from the line and 7-11 from the floor. He also exhibited his top flight athleticism that has scouts fantasizing about his prospects for the next level.
While he's a bit of tweener, his skill development has been steady this year and his athleticism is truly elite. He's one of the most explosive finishers on the college level, routinely flying way above the rim for two handed put back dunks. Grant has steadily climbed up the lottery and now sits in the top 10 at #9 on the 2014 mock draft.
Kyle Anderson 6-9 SF/PG UCLA So.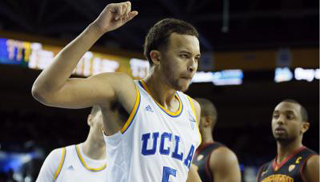 Speaking of match up problems, Anderson is arguably the NCAA's biggest match up nightmare. He continues to make huge strides in his game from a season ago and has become the unquestioned leader of this UCLA team. He still turns the ball over too much but what can you expect when the ball is in your hands and you are asked to do a little bit of everything on the court. But what has really been impressive is his shooting touch. He's above 50% overall including 50% from beyond the arc. He doesn't take a ton of threes because he knows that's not his game, but he picks his spots and he is picking them correctly.
He's on a tear of late including 28 points in a losing effort at Utah where he was 10 of 16 overall and a perfect 5 for 5 from beyond the arc. UCLA is exceeding expectations during the team's first season under new head coach Steve Alford and Anderson's play has a lot to do with it. He's leading, scoring, setting up teammates, rebounding and defending. He's improved his draft stock immensely this season and it continues to rise with every passing game. A late lottery selection is no longer out of the question and he sits just outside the top 14 on the most recent mock draft.
Elfrid Payton 6-3 PG Louisiana Lafayette Jr.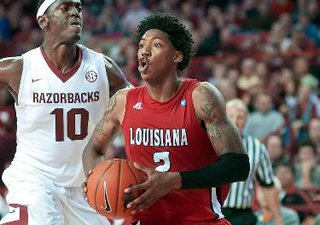 Payton is one of the most intriguing prospects for this year's draft. He broke onto the scene during the summer as he surprisingly made the U19 USA team and then played well in front of scouts in Prague at the Under 19 World Championships. He's not a finished product as his outside shooting remains a work in progress. But it's the elements of his game that you cannot teach: his point guard skills, length and quickness that makes him a highly interesting prospect. Also adding intrigue is the fact that he's the age of a sophomore.
In his most recent game against Louisiana Monroe, Payton his 13 of 14 FGs. He's averaging 20 ppg on the year, 2.4 steals, and 6 assists to 3.8 turnovers.
He has hit just 8 of 26 three pointers on the season, and needs to straighten out the form on his shot. If he can become just a solid outside shooter, his upside as a standout starting point guard at the NBA level is considerable. Despite being a pick based on upside, and a prospect that a team will likely need to wait on for productivity, Payton's high ceiling makes him a possible top 20 pick.
Nick Johnson 6-3 SG/PG Arizona Jr.
Johnson is the best player on the 2nd best team in the country and is finally getting some of the credit he deserves. While he doesn't get the publicity of his teammate Aaron Gordon, he is the engine that makes this team go. I mentioned in this season's NBADraft.net Pre-Season Top 25 that his play at the point would decide where this team went. While I was wrong about his move back to point, it has been his play that has taken this team to a different level.
His scoring, his defense and his intensity are just a few of the things that he brings on the court each night. He made two huge plays down the stretch to keep his team undefeated playing at a tough Stanford team on Wednesday night. He hit a huge three late in the game as well as two free throws to keep his team in the lead for good. While guys like Gordon and Kaleb Tarczewski get most of the media attention, Johnson is the spark plug for this team and their best all around player.
Jabari Brown 6-4 SG Missouri Jr.
The leading scorer in the entire SEC conference, Brown has been on a tear of late knocking down 3 or more three pointers in each of his past 8 games going 29 of 50 (58%). He's shooting 47% from 3 on the year and doing so on a high volume of makes, averaging 3 per game. Brown struggled to live up to the expectations in his first two seasons after being a McDonald's All American, but has really found his game and become a force playing alongside point guard Jordan Clarkson.
Brown is expected to leave after this season according to sources and is now considered a bubble first rounder for the 2014 draft. He has been a model of consistency scoring in double figures in every game this season. His measurements will likely be a critical factor as he appears to be closer to 6'4 than 6'5.
Terran Petteway 6-6 SG/SF Nebraska So.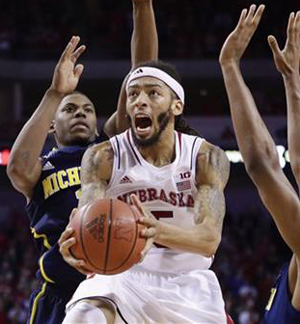 The Cornhuskers have not had a legitimate NBA wing prospect since the Polish rifle, Eric Piatkowski, in the early 90s. Petteway jumped all the way up to the late first round of the recent 2014 mock.
He's a 6'6 wing with a lot of game. Petteway shows the ability to create shots for himself and has the range to knock down 3 pointers from NBA distance. His form is textbook as he gets his feet set quickly, has solid elevation and a smooth follow through.
Petteway is born in 1992, making him the age of a senior despite being a sophomore. He plays like a senior, and there's a real chance he will look to leave after just one season in Lincoln. Petteway is a highly aggressive player who is relentless attacking the basket, and shows very good ability to push the ball in transition for a an off guard. Petteway has climbed all the way into the late first round of the 2014 draft in the most recent update.
Xavier Thames 6-2 PG San Diego State Sr.
Thames' game isn't flashy and it won't "wow" you with any particular aspect but he has gotten better each and every season with the Aztecs. After playing behind guys like Kawhi Leonard and Jamaal Franklin for most of his career, Thames is now the team leader and he has been the catalyst of their current top 5 ranking.
He was outstanding in the team's huge win in Lawrence, Kansas a few weeks ago and he hasn't let his game falter since. He's actually gotten better since. He's only been held under 11 points twice this season and has his team ranked in the top 10 currently. And he shows trust in his teammates as he did on the final play in their dramatic comeback win over Boise State deferring to Dwayne Polee who knocked down the game winning 3 pointer off a beautiful feed.
He absolutely dominated Utah State last Saturday. He played almost all 40 minutes and scored a career high 31 points to keep his team undefeated in conference play. Thames isn't going to be a lottery pick nor will he likely be a first round pick, but he has become a very likely second round pick.
Falling
Aaron Gordon 6-8 PF Arizona Fr.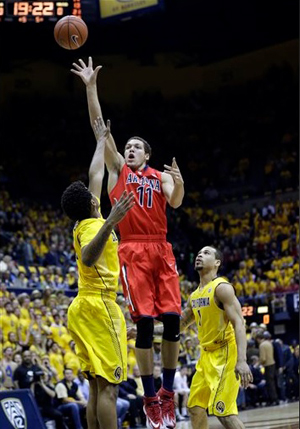 Gordon remains high on scout's lists due to the fact that he plays with a great deal of passion and energy. Scouts love his unselfishness, his intelligence and the fact that he defends so well.
But the top 5 pick projections that many placed upon him before the season began were unfair, as his overall skill set isn't near what it was built up to be. Blake Griffin he is not. He seems determined to prove that he's a small forward, but in reality scouts view him strictly as a PF for the next level. Which isn't such a bad thing, as he's still viewed as a possible lottery pick, despite being a 6'8 four-man.
The loss of Brandon Ashley for the season with a broken foot may further expose his deficiencies, as it places greater responsibilities upon Gordon, along with teammate Rondae Hollis-Jefferson to score.
Over his past 3 games he has slumped shooting 3-13, 2-10 and 4-14. His lack of offensive touch has become abundantly clear. It has come to the point where teams (Stanford and California specifically) have begun sagging off him and daring him to shoot even mid-range shots. And his confidence in his shot has taken a hit. He's shooting under 40% from the floor on non-dunks, and his 3 point percentage has plummeted (27%) having gone 10 straight games without hitting a 3.
On the bright side, Gordon is still riding a wave of hype after his strong play in Prague at the U19 World Championships. He's a very explosive athlete. He's a smart, high character kid with a high motor, plus he's one of the youngest prospects on the college level.
Willie Cauley-Stein 7-0 C Kentucky So.
Cauley-Stein was projected as a potential top 10 pick coming into the season and has been in the top 20 of this year's mock for much of the year. But his production has trailed off considerably of late. He lacks consistency in effort and really struggles to score due to a lack of shooting touch. he seems to rush his offensive moves in the post, and doesn't show much feel for the game. On the positive side, he's got a great center's frame and runs the floor like a deer. His greatest basketball attribute is his shot blocking ability.
Despite this, it's becoming more clear that his upside is something close to what Robin Lopez of the Portland Trailblazers is, and that's if Cauley-Stein can put on the necessary weight to battle in the post. he has been moved from the 2014 mock, where he;s considered a bubble first rounder at best, to the 20th pick of the 2015.
Michael Qualls 6-6 SF Arkansas So.
Qualls is one of the better, if not best, athletes in the SEC. He had one of the better moments of his career a few weeks ago as his put back dunk in overtime won the game for his team over a then top fifteen ranked Kentucky team. He had a monster game that night as he and fellow teammate Rashad Madden put the rest of the team on their backs and willed their team to a win. But his 3 point shot which had been a real strength to his game early on, has abandoned him. Prior to the January 28th Missouri game in which he hit 4 of 8 three pointers, Qualls had a stretch of 9 games where he shot 3 of 29 from distance. His 3 point percentage had been in the 40s has fallen to 34% on the year.
His two game stretch against Georgia and Tennessee where he scored three and one point respectively punctuated his struggles. He couldn't hit the broad side of the barn and seemed to be in a funk. There are a number of areas in which Qualls needs to develop his game, but he shows the type of potential to do just that over the next two seasons.
Follow me on Twitter @CroweClayton