"Situational Analysis" is a series of articles that seeks to examine the circumstances that most often influence an NBA prospect's success. Each player will be scored on a scale from 1-10 in four different categories: NBA-specific skill(s), fatal flaw(s), collegiate/overseas/pre-NBA environment, and ideal NBA ecosystem.
Zion Williamson is an 18-year-old positionless destroyer of worlds from Salisbury, North Carolina, who averaged 22.6 points and 8.9 rebounds during his freshman season at Duke University. He was named the AP men's college basketball player of the year on April 5, earning 59 of a possible 64 votes. He is expected to be selected no lower than first overall, where NBADraft.net currently has him positioned to go.
NBA-Specific Skills
Where does one even begin discussing Zion Williamson? Let's start with his name. Standard AP style conventions require use of first and last names on first reference, and then last names on each subsequent reference. In this instance, however, that convention seems limiting. He's Zion. That first name says it all. It conjures everything you need to know about the most exciting NBA prospect in years.
A typical Zion conversation sounds less like a basketball evaluation and more like a tall tale – Paul Bunyan chopping down trees, John Henry driving home railroad spikes, Zion Williamson dunking from the 3-point line over nine guys.
Zion has been in our lives seemingly forever, but he doesn't turn 19 until July 6. He's among the first post-House of Highlights superstars – players who became online celebrities long before talent evaluators began breaking down game tape. He is the most anticipated dunk contest participant in years, should he decide to accept an invitation.
Of course, people would quickly lose interest in his dunks if Zion couldn't play. There are plenty of YouTube-famous dunk artisans who could never hang with NBA-level talent. That's not true of Zion.
An equally exciting, if a bit subtler, aspect of Zion's game? His passing. He's a gifted playmaker who genuinely enjoys getting his teammates involved in the action. Opponents are so concerned about appearing in the latest Zion aerial attack that they often neglect their standard defensive assignments. Zion knows this and uses those split seconds of indecision to his advantage by whipping passes of any angle and trajectory. My favorite Zion pass? The long-distance bounce pass that never elevates beyond hip level and hits teammates in stride.
On defense, he's a tank with the lateral mobility of a guard. He can protect the rim, while closing out on shooters well beyond the 3-point line. "Closing out" doesn't quite describe it – Zion appears as if from thin air to vanquish unsuspecting jump shooters. Ask Virginia's De'Andre Hunter about it.
The most attractive aspect of Zion's game – beyond the athleticism, passing, hoops IQ, and defensive versatility? His competitiveness. He doesn't take plays off. He doesn't get down on himself or his teammates if things aren't going well. He unleashes these impressive physical gifts with the sole goal of winning basketball games.
What's not to like?
On a scale from 1-10, Zion's NBA readiness is a 10. Sometimes, it's best not to overthink this stuff.
Fatal Flaws
Hmm. Perhaps his lower body is too strong for the sneakers worn by mere mortals?
Obviously, Zion's game isn't flawless. Nobody's is. His perimeter shooting could be a liability in today's pace-and-space NBA and could limit his playmaking opportunities if opponents don't respect his outside jumper. He made 24 of 71 3-pointers from the shorter college line (33.8 percent), so it's not as if he's starting from zero. Still, one would prefer to see Zion develop into a league-average 3-point shooter in order to open up the other facets of his game.
Many experts believe foul shooting is a more accurate way to judge how a prospect's shot will translate to the professional game. Zion struggled here, as well, knocking down only 64 percent of his freebies – far too low for a player who absorbs as much contact as he does.
Zion's elite athleticism allows him to play beyond his height (6-7) and wingspan (6-10), but he still sacrifices a bit of length when matched up against top-level NBA big men. Some scouts also wonder whether his weight (listed at 285, but I would believe any number up to 315) could also turn into a detriment and cause advanced wear on his joints.
I'm less concerned about Zion's height/weight, as these issues seem overblown by those looking to poke holes in his scouting report and undercut the hype that surrounds his upcoming rookie season. The shooting, however, is an issue that could reduce his ceiling from Hall-of-Famer to "solid starter with incredible dunking ability."
On a scale 1-10, concerns surrounding Zion's streaky jumper rates at a 5.

Pre-NBA Setting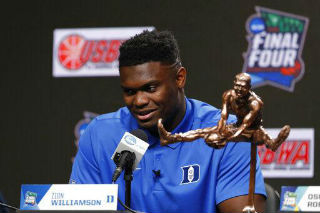 In terms of branding/exposure/popularity, Zion choosing to attend Duke was a brilliant move.
As a basketball decision, however, it gets a bit more complicated.
Zion is the first player since Kyrie Irving during his 11-game pit stop who made it "cool" (for lack of a better word) to root for Duke. This is no longer the Laettner/Hurley/Wojo/slap-the-floor villains from yesteryear. Duke is essentially the same as any other elite hoops program. NBA talent stops by for a few months, makes friends/connections, absorbs a bit of wisdom from Mike Krzyzewski, and moves on.
But even in the one-and-done era, Duke is rarely cool. Since Irving in 2011, who is the Duke product most likely to sell sneakers? Jayson Tatum? Marvin Bagley? A Plumlee?
Zion, however, is set to ink one of the richest shoe deals in sports history. He made Duke basketball appointment viewing and gave generations of traditional Duke haters outside of Chapel Hill a form of Blue Devil amnesia, forgetting any animosity they might have once had for this program.
That's an incredible feat.
Basketball-wise, however, this roster simply didn't have the shooting one has come to expect from a Coach K squad. This issue will come up in greater detail in our RJ Barrett piece, but Zion suffered from the lack of floor spacing, as well. Imagine how much more effective Zion's passing and playmaking would have been with knockdown shooters scattered along the arc. The Blue Devils had more than enough raw talent to win the national title, but no team can win at a high level if it barely cracks 30 percent from the college 3-point line. Zion, at a hair under 34 percent, was actually one of Duke's best outside shooters. That's not good enough.
On a scale from 1-10, Duke's platform for Zion's "brand" is a 10, but its roster construction (despite a legendary recruiting class) sits at only a 5.
Ideal NBA Ecosystem
We typically use this section to break down which team/front office/roster situation will provide the best framework for a given prospect to reach his ceiling. For Zion, however, let's flip this around a bit.
It's clear that Zion will enter the NBA as the most hyped rookie since LeBron James in 2003. Anthony Davis and Kevin Durant were obviously highly rated, but neither came into the league with the aura or attention surrounding LeBron/Zion.
Instead, let's discuss which team deserves to land Zion.
It's my belief that the Zion experience would be most enjoyable in Atlanta. The Hawks have a terrifically exciting young core in Trae Young and John Collins, each of whom complements Zion's game fabulously. Sharpshooter Kevin Huerter and energy wings Taurean Prince and Deandre' Bembry add to the overall picture. The ageless Vince Carter (should he return) and Kent Bazemore could interview Zion on "Winging It." 2 Chainz will expand our collective vocabularies coming up with words that rhyme/almost-rhyme with Zion.
Most importantly, the Hawks are trying to win. The plan at the outset of the season, particularly when Young was struggling to adjust to the NBA, seemed to be "lose as many games as possible." However, the Hawks slowly turned into one of those sneaky-entertaining League Pass teams and even won some big-time games against playoff teams jockeying for seeding (another way of saying "not resting their top guys").
Many want to see Zion land in New York and help save the Knicks alongside unnamed-superstar-free-agents-to-be, but as long as mediocre bluesman James Dolan continues his thin-skinned reign of terror, that franchise should not be rewarded with the rights to Zion.
On a scale from 1-10, Zion's situational independence is a 10. His arrival makes any NBA team immediately interesting.