#8 Andrew Wiggins (6'7", Canada, 1995) – Wiggins is virtually the highlight of every event he attends, and these practices were no exception. He's nearly automatic during shoot-arounds, showing off his smooth, quick release. His effortless athleticism was on display as well. Wiggins is easily the top athlete on the team, and may be the best athlete participating in this event. I've also been extremely impressed with his defensive intensity this week. I know he's not guarding any superstars during the intra-team scrimmages, but it's refreshing to see somebody so skilled offensively still working to shut down his man on the other end of the court. World Team Coach Roy Rana confirmed with us on Friday that he will be matched up with Shabazz Muhammad (at least defensively) in the game, which will be a very nice test for both players, and potential storyline for the game. Wiggins is the youngest player at the event (the only player born in 1995), but is the favorite to lead the team in scoring. That's really impressive, especially when you consider that he still has a ton of room to improve.

#10 Anthony Bennett (6'7", Canada, 1993) – Bennett was a personal favorite of mine coming in to this week, which is why I've been disappointed to see him appear so sluggish during these practices. He really has the reputation of being a super-high motor prospect that plays with a lot of intensity on both ends of the court. The speculation from those in attendance suggests that he's either tired (coming off the McDonald's All-American Game in Chicago and then the National High School Invitational in Washington D.C.) or hurt (reportedly injury-prone). Either way, he hasn't been himself on the court, and has even been sitting some of the scrimmages out. Provided he's healthy, I'd like to see him get a fair amount of minutes on Saturday. Bennett brings a lot to the table, and could be a big factor in a potential upset. His NBA prospects took a hit after only measuring 6'7" in shoes (he's more of a natural power forward, but looks shorter than Wiggins when the two stand side-by-side), but he still has future-first round potential.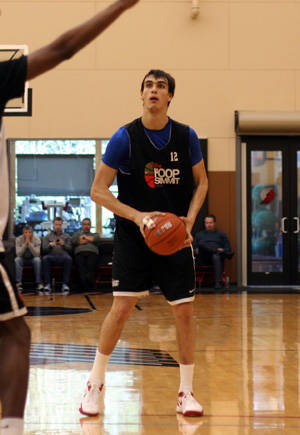 #12 Dario Saric (6'10", Croatia, 1994) – After Wiggins, there's really only one clear-cut potential lottery prospect on the World team, and that's Dario Saric. Standing a legitimate 6'10", Saric is a true perimeter player. His shooting ability was on full-display during the scrimmages last week. He has consistent range out to the three-point line, but won't force a bad shot if he doesn't have to. Dario seems to let his reputation as a shooter force defenders into over-playing him, which allows him to take advantage of his ball-handling ability to get a higher-percentage shot on the possession. He's more than capable of pulling up for a mid-range shot, but in these situations, he'd clearly rather dazzle those attending with a no-look or behind-the-back pass to an open teammate. I believe he'll carry the flash he showed in the practices, into Saturday's exhibition. Saric has a lot of tools at his disposal. He's creative, confident and intelligent. I expect a lot of good things from him in the future.

#4 Aleksandar Cvetkovic (6'2", Serbia, 1993) – I'm really a fan of players like Cvetkovic. He's a scrappy defender; willing to get right in the grill of his man. He gets low in his stance and moves his feet well enough to ball-hawk point guards trying to bring the ball up the floor. At times, he can be over-aggressive defensively, which can make him more prone to penetration, but you have to appreciate the effort anyway. Offensively, Cvetkovic's not a great scorer. He made a few shots from the perimeter, but he won't likely be scoring double-digits on Saturday. He's a good passer though, and will see time on the court because of that.

#5 Leo Westermann (6'7", France, 1992) – It's looking like the 6'7" Leo Westermann will be the starting point guard for the International team this year. Along with his size, he brings great court vision and a nice creativity with the ball to that position. He looked good shooting the ball, and scored the first eight points for his team during the first scrimmage. I'd expect him to assume more of a facilitator role during the game on Saturday though.

#6 Tauras Jogela (6'7", Lithiania, 1993) – Jogela underwhelmed in his first few practices with the team. Understandable, considering he was a late add to the squad and was matched up with Wiggins in most of the drills and scrimmages. Once he got his feet underneath him though, he became much more aggressive, and consequently, looked a lot better. Jogela is a good athlete that runs the floor hard and can do a lot of things at a solid level. He has a decent stroke from behind the arc and can finish nicely around the rim. He'll rebound and pass well for his position also. Jogela should be a nice spark for the International team coming off the bench.

#7 Michal Michalak (6'6", Poland, 1993) – Michal Michalak displayed a ton of confidence from the perimeter during the scrimmages. Unlike some of the other players, he took any open shot he had without a moment's hesitation. His results from doing so were overwhelmingly positive, and left people with the impression that he was the best pure shooter on the International team. His confidence and scoring ability are a lethal combination, which can lead to a lot of points in a short amount of time. Michalak could surprise a lot of people and finish as the top scorer on the World team.

#9 Vytenis Cizauskas (6'3", Lithuania, 1992) – Cizauskas is another option at point guard for the International team, but it's looking like they're trying to get him to play off the ball. The 6'3" guard plays a lot bigger than his size. He always seems to be around the glass, and has even had a few nice blocks. I wouldn't expect him to be a big-impact player on Saturday.

#13 Marcos Delia (6'10", Argentina, 1992) – Because of his age and experience, it's possible Delia starts Saturday's game at the center position, even though he was outshined a bit this past week. Delia is a pretty fluid athlete that runs well for his position. He has a solid stroke from mid-range, and was the only player on the team that demonstrated the ability to finish consistently with his left hand. He only weighed in at 226 lbs though, and was pushed around in the post at times by Siame and Zhelin. That's probably a bad sign considering Mitch McGary and Tony Parker are even bigger.

#14 Patson Siame (6'11", Zambia, 1993) – Siame sat out of the first day of practices with an injured left ankle, and had it wrapped in every subsequent practice he participated in. The injury seemed to affect his assertiveness, and he came off as a timid offensive player. Siame appears to be a solid athlete, but he definitely struggled finishing around the rim this week. Also — perhaps unassociated with the ankle injury — he bobbled a ridiculous amount of the passes that were thrown to him. Defensively, he tried to contest a lot of shots, but fouled more often than not. Overall, these practices weren't a great showing for Siame. Hopefully, he'll break out of his shell for the game on Saturday.

#15 Wang Zhelin (7'0", China, 1994) – At 18 years of age, Zhelin's a massive 7'0", 251 pound mountain in the post. He lacks great athletic ability and coordination, but surprised me on more than one occasion. He displayed a solid — however inconsistent — mid-range shooting touch. He took Siame off the dribble at one point, beating him to the rim and finishing nicely. His scoring ability in the post is limited (he has trouble turning over his right shoulder), but is effective regardless because of his size and freakishly thick legs. His touch around the rim is solid, and when he wants to throw-down, he can take a few players into the rim with him. He was the most impressive center on the International roster.