By Ian Powers
Ben Simmons 6'9" 230 SF Montverde Acadamy, Australia 2015­
Simmons was the best player in Sacramento this weekend. He is a lefty with a game that can only be described as smooth. He has made the transition to the small forward position seamlessly and he is just scratching the surface of how good he can be. He has a feel for the game that cannot be taught and can see the game at a different level than most people. He can shoot the long ball, rebound, handle and is a great passer. He can dominate a game without scoring. He is committed to LSU and will bring that program a much needed energy that they haven't had in quite some time. Simmons is special and has #1 pick talent. It will be an interesting battle for the #1 spot in the 2015 class between Simmons, Ivan Rabb, and Malik Newman.
Malik Monk 6'3′ 185 SG Bentonville, Bentonville, AR 2016­
Monk has taken another step in his game from last year. He already was an elite athlete that can play well above the rim, but this weekend he showed a more well rounded game. The improvement was no more evident than in his 59 point game on Sunday morning. He was 10­16 from 3 and got to the line 23 times due to his elite quickness and speed. He was simply amazing. He has become more than just a dynamic scorer in the open floor and is much more effective in the half court. If he can continue to become more efficient to go along with his elite athleticism, the sky is the limit.
Cody Riley 6'8" 230 PF/SF Sierra Canyon, Santa Clarita, CA 2017­
Riley is a lefty with a reputation that preceded my viewing of him this weekend. At first glance, you are amazed that he's only a freshman because of his man sized body. He's not just a big body though as he has a soft shooting touch to the college 3 and can put the ball on the floor enough to get to the basket. He doesn't always bring maximum effort but that will come as he matures and understands what it means to play hard for 32 minutes. Right now he's stuck in between positions but is working to make the transition to a full time wing. He reminds me of Rodney Rogers with his big body and shooting stroke. He's one to keep an eye on in the future.
Ivan Rabb 6'10" 220 PF Bishop O' Dowd, Oakland, CA 2015­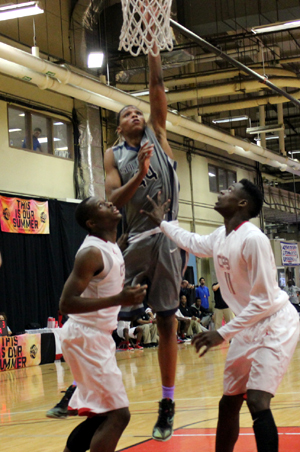 Rabb was steady all weekend even with inconsistent point guard play making things a little more difficult for him. He possesses ideal length and athleticism at the power forward position. He has improved his face up game and is now a threat from 15 feet to compliment his finishing ability with both hands around the basket. He runs like a deer and gets a lot of buckets by simply out running other bigs down the floor. The next step in his development will be getting stronger and refining his game with his back to the basket. His upside is obvious and he's clearly one of the top 3 or 4 players in the class.
Allonzo Trier 6'5" 185 SG Montrose Christian, Seattle , WA 2015­
Trier is challenging Malik Newman has the most dangerous scorer in the class. He has grown to a legit 6'5" and has added size and strength to his frame. He averaged 28.5 ppg this weekend and did it in a variety of ways. He can score from all three levels. He's not the most explosive guy but he's crafty and knows how to use his body to get shots off and get to anywhere he wants to on the floor. He can also bring the ball up and initiate your offense. His jumpshot is what sets everything else up as he shoots with textbook form, release and rotation. He is one of the top two offensive players in this class and should see a surge in his recruiting interest.
Dejounte Murray 6'5" 175 SG Rainier Beach, Seattle, WA 2015­
Murray was impressive this weekend in Sacramento. He scored the ball from deep and attacking the basket. He displayed his high IQ with his ability to find open teammates. He has wide shoulders and long arms and will fill out his frame nicely in time. He has improved his jumpshot and although it can still be streaky, it's more consistent than it was the last time I saw him. He needs to be more consistent and has some rough edges to smooth out, but he has the talent to be a top 25 guy in the class when it's all said and done.

Cheick Diallo 6'9" 225 PF Our Savior New American, Centerreach, NY 2015­


Energy is the best way to describe Diallo's game. His motor runs nonstop and he will battle you on every possession. His ability to control the game defensively is what separates him. He has shown flashes of an improving offensive game and while he doesn't have a go to move, he will score points off pure hustle and determination. He runs the floor well and has the length and athleticism that have high major programs working overtime to build a relationship with him moving forward. His upside is considerable and with his work ethic, he will continue to improve.
Caleb Swanigan 6'9′ 256 C Homestead, Ft. Wayne, IN 2016­
This was my first time seeing the man they call Biggie and I was impressed. He his nimble for a man his size and possesses a great set of hands and feet. He finishes with both hands around the basket. He knows how to use his body and can simply overpower defenders when necessary. The most impressive thing about him are his feet though. He utilizes his quick feet with a nice spin move. Swanigan is a space eater but he is not a great athlete and does most of his damage below the rim. He will rebound his area but will not block or alter any shots on the defensive end of the floor. With that being said, he is one of the elite big men in the 2016 class and will continue to get better as he gets in better condition.
De'Aaron Fox 6'3" 170 PG Cypress Lakes, Cypress, TX 2016­
This young point guard from the lone star state is a talented youngster who will continue to get better as he matures. He has elite quickness, speed, and athleticism. He is a lefty who can make shots to 3 but is still somewhat streaky at this stage. His best attribute is his ability to get in the lane at will and score or create for teammates. He has a smooth game and a feel for the position that will only improve as gets older. He needs to play a little more under control at times and become a more consistent shooter, but all the tools are there to be an elite point guard.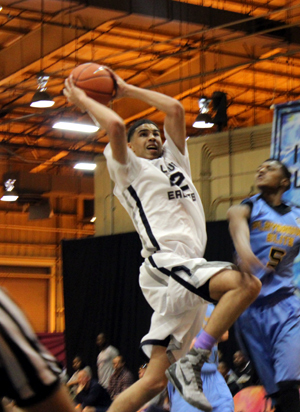 Jayson Tatum 6'7′ 190 SF Chaminade, St. Louis, MO 2016­
Tatum has been one of the more high profile members of the 2016 class since entering high school and rightfully so. He is very skilled with the basketball and can do everything from the wing position. He can bring the ball up and run your half court offense as well as rebound and start the break. The main thing holding him back is his lack of strength. There were times this weekend where he was able to make a nice move to get into the lane but was unable to finish because of contact. That is an issue that can easily be corrected but what he brings to the table from a skill and intangible standpoint cannot be taught and he has all the tools to be an elite player at the college level and beyond.

Jarred Vanderbilt 6'7" 170 SF Victory Prep Academy, Houston, TX 2017­
Another lefty in Sacramento this weekend and he was just as impressive as the others were. He is long and athletic. He is an energy guy who has an intriguing skill set. He is a jack of all trades right now, but hasn't honed in on what elite skill yet. That will change once he's able to iron out the kinks in his jumpshot. Right now, he shoots the ball a little stiff and mechanical with a slow release. That will need to improve for him to take the next step, but all the physical tools are there.