Top Overall Pick Frontrunner
Ben Simmons 6'9.5 229 SF/PF LSU Fr. (6'11 wingspan)
It was a real treat to see a potential #1 overall projected pick compete in this type of event as a college level prospect. Simmons came in and dazzled. One NBA scout compared him to LeBron without quite the strength and explosiveness. Is he a LeBron level impact player in the NBA? Unlikely. Probably closer to a Blake Griffin. But in terms of style, he's pretty close to LeBron. Will he actually run the point for LSU? He likely do so at times alongside Tim Quarterman. At Nike Academy, there were countless NBA legends both past and present and all seemed to gravitate towards the court that Simmons was playing on. He looked even taller and bigger than we last we saw him and he seems to continue his improvement. He matched up with both James Harden and Anthony Davis at different times during the event, and held his own versus each.
A number of scouts said they felt he is the number one pick and it isn't close. Skal Labisserie and the UK hype machine is sure to have something to say about that. No one showcases players better than Uk and Coach Calipari. Willie Cauly-Stein going 6th overall is all the proof you need there. At one point LeBron grabbed Simmons and seemed to take him under his wing with a "you're coming with us" (Nike brand) show of adoration. Simmons mid-range J continues to be a work in progress though it looked improved in warm ups. He didn't attempt any 3 pointers in the scrimmages. His entire game is predicated on attacking the basket and finding the open man. He's extremely unselfish. Simmons seems to take everything in stride and doesn;t seemed to be phased at all by the hoopla. His Dad having had a pro career and strong guidance is one of Simmons' advantages.
Possible Lotto Picks
Damian Jones 7'0 245 C Vanderbilt Jr. (7'2 wingspan)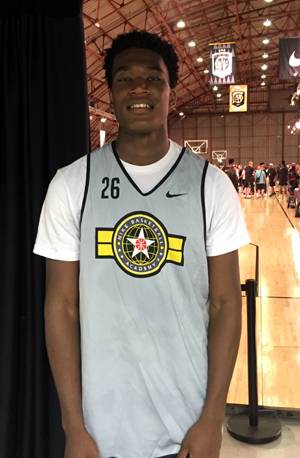 Jones was arguably the breakout performer of the event. He matched up with Jakob Poeltl on a number of occasions and got the upper hand. He still lacks great confidence on the floor, but he's a good kid and appears to be embracing the coaching he's receiving. He made some plays at Nike Academy that had scouts drooling. At one point catching the ball while knifing through the lane and volley ball spiked it. He also is showing a soft touch with range out to 15-18 feet. Jones has considerable potential when you consider his size, athleticism and offensive touch. He just needs to develop a little more confidence and allow his physical tools to shine, the talent is there for him to dominate the college level this season. This is a kid that we were very high on a year ago, and his decision to return should really be beneficial. He made an excellent decision to return to Vanderbilt and with a solid jump in production and consistency, he could end up a lottery pick.
Domantas Sabonis 6'10 238 PF Gonzaga So. (6'10.5 wingspan)
Sabonis had an excellent Academy showing. His best attribute is his toughness and his love for physicality. He gives up his body every time he's on the floor and doesn't seem to know any other way to play than 100%. I had the chance to interview him and he really seems to have great respect and love for the game. He mentioned that his father, all time great Arvydas Sabonis, allowed him to decide that basketball was his destiny and supported him without being over beraring. He may not have the explosive leaping ability that one normally expects from a lottery pick, but his skill set and determination compensate for that. Look for him to emerge as one of the top bigmen in the nation this upcoming season.
Kris Dunn 6'4 205 PG Providence Jr. (6'9 wingspan)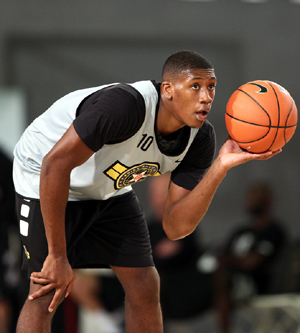 Dunn impressed scouts with his passing, scoring ability and leadership. He has a lot of confidence in himself and had a decided edge in talent over the other guards that participated. He has a few nice pull up jumpers, as well as flashing his excellent ability to whip passes to open players around the basket off the dribble. He still has a tendency to play loose with the ball and should continue to improve upon his shot selection. But he was one of the players that really impressed coach John Lucas who was in attendance as a coach. His defensive ability is also very good. Dunn was considered a likely mid-late first round pick in 2015, and should enhance his stock after his decision to return and polish his game. Late lottery is certainly within his grasp if he can improve upon his sophomore season. Dunn missed the final day's scrimmage with an ice pack on his left elbow.
First Rounders
Tyrone Wallace 6-6 198 SG California (6'9.5 wingspan)
Wallace was a player that scouts mentioned as a real first round possibility. He had a solid showing playing both on and off the ball. His shot remains a work in progress but continues to steadily improve. He has NBA athleticism and can facilitate for others with the ball in his hands. His combo guard skills give him added intrigue. He measured very well at 6-6 in shoes, with a 6-9.5 wingspan. If he shows improvement shooting and running the point as a senior, he could contend for a spot in the first round.
Jakob Poeltl 7'1 242 C Utah (7'1 wingspan)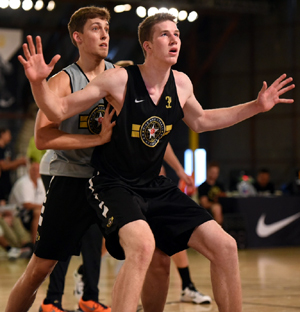 Based solely on the way he played in this event, he belongs in the one or two categories below, but just as he did last season, he's sure to look much better in the Utah system once again. In his defense, he was battling blisters that had him hobbling around by the final day. But there's no sugar coating the fact that scouts were extremely disappointed in both his play and body language. He struggled to create anything for himself on the block. He's not able to utilize his size and athleticism in the paint offensively as he seems to second guess every move and doesn't have any clear go to offensive post moves. He may ultimately be sticking around Utah longer than expected. He had a lot of hype surrounding him and most felt he was a lock to be a top 20 pick had he left as a freshman. He may have trouble recapturing that type of hype based on his play in Santa Monica.
Bubble First Rounders
Justin Jackson 6'8.5 200 SF North Carolina So. (6'10 wingspan)
Jackson had a solid showing. He makes good decisions with the ball and plays under control. He showed an improving jumper from right baseline 3. He's sort of a jack of all trades type who doesn't really stand out in any one area. He's got a strange physique with hunched shoulders, and solid but not incredible length. Scouts at the event criticized UNC's ability to develop players for the next level, so it will be interesting to see how Jackson's game improves this season. While he appears to have a positive, team first attitude, he seems to be lacking the swagger to be a star.
Antonio Blakeney 6'4.5 189 SG LSU Fr. (6'7 wingspan)
Blakeney seemed to be adjusting to the size and athleticism of top college level players. He struggled when looking to create shots off the dribble but also made some real standout plays at the rim, going up for put backs. He's got a chiseled physique and seems to have gotten stronger in his lower and upper body. At times can be too intent upon looking for his own shot, so he'll need to learn to be a little more discerning with his shot selection at LSU. While he didn't have a bad showing, scouts weren't willing to say they believed he is a one and done. For freshmen like Blakeney, it's very early and difficult to project what he will look like by mid-season. He's developed a reputation as a great kid with a positive attitude.
Isaiah Taylor (not measured)
Like Dunn, Taylor missed the final day. He showed off his tremendous floater in the lane and utilized his speed in the open floor. He still seems to be affected by physicality and needs to get stronger. His outside shot remains a weakness, though he does seem to have improved upon his form slightly. He'll need to remain healthy and have a break out season in order to crack a strong first round for the 2016 draft.
Troy Williams (not measured)
Scouts were critical of Troy for his inability to play under control. He's an elite level athlete, even by NBA standards. But for every high flying put back dunk, he seemed to make two mistakes, turning the ball over with a careless pass or over penetrating and getting the ball stripped. He hit a few outside shots, but also seemed a little wild with his shot selection. He was one of the most active players in the event. He actually looks a lot like Dennis Rodman facially, but his game has a resemblance to Matt Barnes. Now he just needs to get going on the tattoos.
Gary Payton II 6'2.5 184 PG Oregon St. Sr. (6'6.5 wingspan)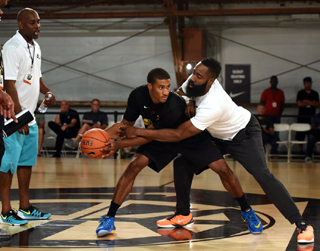 The Glove was on hand to watch his son play and GPII represented himself well. He plays with excellent energy and competes hard. He was one of the older kids here and it showed. At one point in the scrimmages, he had a highlight dunk over a big who got caught out of position, giving Payton just enough of an angle for a two hand flush. Payton shows some of the same defensive intensity that his father was known for. The main flaw in GPII's game is his lack of shooting ability. Having spoken with a number of scouts about him, few envision him as a first rounder. He will likely have a big senior season at Oregon State and could potentially be in the running for Pac 12 POY. He'll need to show improved shooting consistency and range as a senior in order to increase his stock.
DeAndre Bembry 6'7 190 SF St. Joseph's. Jr. (not measured)
Another controversial choice to have here among the first round bubble guys. And similar to Payton, Bembry's shooting will likely be what will determine his draft stock next season. Bembry was one of the big surprises with his combination of full court athleticism and energy. His shot actually looked pretty solid, although looking at his statistics from his first two seasons, it's the area of his game in need of improvement. He's also on the thin side, but shows solid ability to stay on balance and finish plays after contact. He definitely opened some eyes to his talents and should have numerous scouts visiting St. Joes next season.
Second Rounders
Daniel Hamilton 6'8 198 UConn So. (6'8 wingspan)
Based on where we had him rated, Hamilton would have to qualify as one of the biggest disappointments of the event. His body has shown very little development, and he struggles to get anywhere off the dribble. He did not impress scouts as a first round candidate here and may end up being a four year guy at UConn. On the positive side, he measured bigger than expected and does have excellent shooting ability, but will need to diversify his game in order to pique the interest of NBA scouts.
Malcolm Brogdon 6'5.5 225 SG/SF Virginia Sr. (6'9.5 wingspan)
Brogdon was one of the pleasant surprises. He wins the award for biggest set of guns. His shoulders and arms are absolutely specimen-esque. Apparently he's been hitting the gym with Justin Anderson as he's developing the same physique. He played very well showing competitiveness and the ability to impact the game on both ends. His shot is a little bit flat, but he hit it with consistency. A likely second rounder for 2016.
Shawn Long 6'10.5 248 Louisiana Lafayette Sr. (7'1 wingspan)
Long appears like he's dropped some weight, despite checking in at 248 lbs. He has tremendous size and a soft touch from the perimeter. His focus and intensity are both areas he must continue to work on. A solid athlete but not a standout. He didn't hurt himself, but probably didn't help himself much either with his performance in front of scouts.
Taurean Prince 6'7.5 215 SF/PF Baylor Sr. (6'11 wingspan)
Prince had a very solid junior season becoming one of Baylor's key players. He lacks a great offensive game as his shot has mechanical glitches. But he has excellent length, plays with great energy and loves to do the dirty work. Prince played well, but his inability to hit outside shots was a lasting impression.
James Webb 6'9 199 PF/SF Boise St. Jr (6'10.5 wingspan)
Scouts mentioned Webb as a guy they liked. He's very fluid and has solid athleticism and an excellent shot. His one big issue is he needs to get a lot stronger and he'll be 22 in a little over a month. If he can prove that he can defend on the perimeter and improve his handle, it's possible he could become a 3. But at this point he appears to be a tweener.
Kyle Wiltjer 6'10 236 PF Gonzaga Sr. (6'11.5 wingspan)
The term "in the gym range" applies to guys like Wiltjer who at 6-10 is the best shooter in the gym generally wherever he goes. That was the case in the extra large gym fashioned out of the Barker Hanger in Santa Monica. Wiltjer is a stretch four who just needs to continue to get stronger and tougher in order to not be a major liability on the defensive end. He's a below average athlete but he has proven to be a solid rebounder at the NCAA level.
Jarrod Uthoff 6'9.5 223 PF/SF Iowa Sr. (6'9 wingspan)
Uthoff's versatility is a strength as he's got some face up skills and shows a good understanding of the game. He can make plays for others with the ball in his hands with solid vision and passing. He's also fairly adept at putting the ball on the floor. Uthoff is a solid athlete, despite lacking length. He's needs strength around the basket and should look to add weight, but he certainly doesn't fear contact. If he can step into Aaron White's role of go to scorer and team leader, he'll have a good chance to be drafted and possibly find a role with a team.
The Rest
Denzel Valentine 6'5.5 223 SF Michigan St. Sr. (6'9.5 wingsapn)
Valentine is a glue guy who plays with very good energy. His size and athleticism will make cracking an NBA roster a challenge, but he seems to have intangibles that should give him a chance. Improved ability to score and facilitate will help his chances.
Paris Bass 6'8 196 SF Detroit So. (6'11.5 wingspan)
Bass was new to a lot of the scouts. He's got a few highlight dunks on youtube and possesses tremendous length. He's not the most agile of athletes, but he has very good length and decent explosiveness. He needs to add a great deal of strength and his skill set still has a ways to go. But if he continues to develop, he could be a player to watch out for in a year or two.
Tre Demps 6'3.5 200 SG Northwestern Sr. (6'3.5 wingspan)
Demps is an undersized 2 but a guy to put on the radar because of his potential as a combo and his excellent combination of shooting, competitiveness and strength. He's not a standout athlete, but he's got solid speed and athleticism.
Georges Niang 6'8 239 PF/SF Iowa State Sr. (6'9 wingspan)
One scout made the comment that Niang is going to make a ton of money in Europe at the power forward position. More than some of the Americans that stay and play D-League and NBA, even. His game is perfect for the Euroleague. He lacks great athleticism and is an undersized PF for the NBA level, but shows excellent feel for the game and leadership. Should be one of the standouts in college this year.
Isaac Copeland 6'9 198 PF Georgetown So. (6'9 wingspan)
Copeland still needs a lot of weight but could be a guy that develops into an NBA prospect in the next few years. He measured with surprisingly little length. Solid athlete in the open floor with decent energy and one of the younger kids that participated.
*Heights measured in shoes.