Why the No. 1 seed will make the Final Four:
One only has to look back a single year to see that a team does not have to necessarily beat the best teams in the country in order to make the Final Four, they only have to beat the teams in front of them. Duke was given a very generous bracket last year and took full advantage, and it is very possible that Pittsburgh could do the same this year. The 2-6 seeds in the Southeast are all imperfect teams for those seeds. Florida has a number of bad losses to Jacksonville, South Carolina, and Mississippi State as well as looked awful against Kentucky in the second half of the SEC Final. Brigham Young is still adjusting to life after Brandon Davies. Much like Purdue last year, the Cougars had the look of a team that could get to the Final Four, but the late season removal of a crucial starter makes them appear weaker. Both Kansas State and Wisconsin are different teams outside their home gyms. St. John's has a similar tale to BYU in that DJ Kennedy has a torn ACL and will not play in the tournament. It is difficult to look at those teams and see how it is fair that Ohio State can be the number one overall seed and has to share a region with North Carolina, Washington, Syracuse, and Kentucky. Pitt is not a perfect team, but it is a very imperfect region.
Why the No. 1 seed will fall short:
Pittsburgh has the weakest resume among the top seeds. While Jamie Dixon's team amassed an incredible 27-5 mark and a 15-4 record in the Big East, the record can look a bit deceptive upon a second look. The Panthers were only 11-5 against the RPI top 100 and 8-5 against the RPI top 50. Comparatively, the ninth seeded Monarchs of Old Dominion, who are a possible second round opponent, are 14-5 against the RPI top 100 and 6-4 against the RPI top 50. The Florida Gators took an ugly loss in the SEC title game to Kentucky but are still 11-3 against the RPI top 50 and 16-4 against the RPI top 100. Until Sunday, Florida has generally played up to their level of competition, which bodes well for the tournament. Brigham Young is a tremendous 9-2 against the RPI top 50 and 12-4 against the RPI top 100. They probably have the best player in the bracket with Jimmer Fredette. St. John's not only beat Pittsburgh, albeit in close and controversial fashion, but as a sixth seed are 10-8 against the RPI top 100 and 8-7 against the RPI top 50. Dwight Hardy has been playing at an All-American level for the past two months, and if Jimmer isn't the best player in the region it is because Hardy is. This does not even mention Utah State (15th in the RPI), Wisconsin (16th), Kansas State (23rd), Butler (34th), UCLA (44th), Michigan State (45th), and Gonzaga (56th). The argument against Pittsburgh is simply, what part of Pittsburgh's season would indicate that they will be able to beat three top fifty, possibly all top twenty, opponents in succession?
Best Non-No. 1 Seed: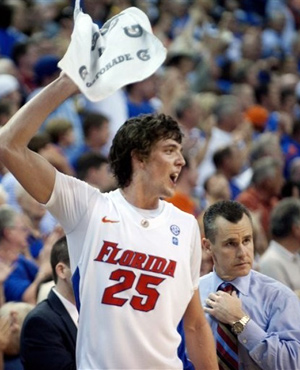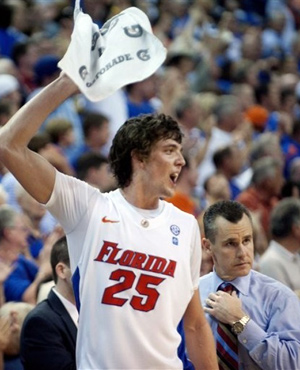 Florida can be at times maddening, but the season is more than one nationally televised game on Selection Sunday and a few stinkers over four months. Over the entirety of the year Florida's performance against the top 50 and top 100 teams in the country solidifies their status as a team that could possibly make the Final Four. The Gators have elite athletes all over their roster, tremendous length for just about everyone other than Erving Walker, and experienced upperclassmen up front. The backcourt of Walker and Kenny Boynton lead the scoring effort. The diminutive Walker can score in bunches and has developed into one of the better three point shooters in the SEC (38 percent this year). Boynton has always been an elite athlete, but an inefficient scorer. His erratic shot started to come around during the conference season, though he needs to avoid outings like the 4-16 effort against Kentucky in the SEC tournament. Each of them average 14 points per game. As good as the Gator guards can be, the front line of Chandler Parsons, Vernon Macklin, and Alex Tyus will determine whether the Gators get to the Final Four or not. The trio should cause fits for any and all opponents in the first three rounds. Chandler Parsons is the SEC Player of the Year and the most skilled of the bunch. While his scoring average of 11.5 per game is not overwhelming, he ranked among the SEC's top 10 in five other categories rebounds, assists, field goal percentage, three point percentage, and assist-to-turnover ratio. It is his versatility makes him so valuable to Florida and intriguing for NBA observers. Macklin has an NBA body and at times this season showed flashes of an NBA game. He has ability to score in the post, block shots, and get put backs, but he has not done it on a night-in-night-out basis. Tyus is a long and active power forward who is especially strong on the offensive glass. He averaged 2.3 offensive rebounds per game in SEC play, and that can be especially valuable in the tournament when possessions are at a premium.
Sweet 16 Sleeper:
This is going to seem absurd, so absurd that it virtually assures Butler will jump out to a 14-2 lead in the first three minutes on Thursday, but Old Dominion is not incapable of knocking off Pittsburgh in the second round. The Monarchs are a veteran bunch that has achieved a great amount of success. With a rotation that generally goes nine players deep, eight of the players are either seniors or juniors. The one sophomore who sees time is a third year player who redshirted as a true freshman. Over the past three seasons, this group is a combined 79-25. One also should not let the name and conference distort their accomplishments, because Old Dominion has played and beaten good teams. As mentioned earlier in the preview, the Monarchs are 14-5 against the RPI top 100 and 6-4 against the RPI top 50 this season with wins over Clemson, Xavier, Richmond, St. Peter's, George Mason, and VCU – all NCAA tournament teams. Last year, the Monarchs beat Georgetown in the regular season and upset Notre Dame in the first round of the NCAA tournament. They played Baylor close until a late run knocked them out. With that resume, they should be held in a higher regard than their current seeding.
As a team, Old Dominion likes to take the air out of the ball, limit possessions, play tough defense, and crash hard off misses. The top half of the bracket does not have many teams who are going to play a contrasting style, which guarantee that the Monarchs will be able to play to their strength. Both Butler and Pittsburgh play the same style as Old Dominion. Pittsburgh is one of the best rebounding teams in the country with a +10.4 rebounding margin for the year. The Panthers do not beat teams by playing elegant, beautiful basketball. Pittsburgh is going to want to play a tournament game in the 50s and win games by outfighting the opponent for extra possessions. It is a solid blueprint, but Old Dominion has the size, toughness, and grittiness to match them. Pittsburgh gets an offensive rebound on 42.7 percent of their missed shots, which is second in the country behind Old Dominion's 45.5 percent. Pittsburgh allows opponents to get an offensive rebound 28.9 percent of the time, but Old Dominion is just as good allowing it to happen only 27.5 percent of the time. The numbers provide hope, but recent Panther losses give a truer reason for optimism. Pitt has shown vulnerability on the glass in games that they have lost of late. Pittsburgh was outrebounded 32-25 by Connecticut in the Big East tournament, including a 17-9 advantage on the offensive glass. Louisville won the offensive rebounding battle 11-8 and Pitt only had one more rebound overall. St. John's also kept the rebounding differential close pulling down 7 offensive rebounds and 27 overall as opposed to Pitt's 8 and 28. While it is not easy to outwork Pitt, it is not impossible. The Old Dominion effort will be led by 2011 CAA Tournament MVP and first Team All-CAA Frank Hassell. The senior is 6' 9, 255 lbs. and is a bowling ball in the paint. Among his many accomplishments is that he averages 3.7 offensive rebounds per game. He is joined in the starting front court by 6' 9 230 lbs. Chris Cooper who averages 2.5 offensive rebounds per game. They come off the bench with 6' 8 senior Keyon Carter who also is averaging 1.5 offensive rebounds per game. This is not the stereotypical small, skilled, and soft mid-major. They can beat the best in the paint, and neutralizing Pittsburgh's greatest advantage gives the Monarchs a great chance at the upset.
Final Four Sleeper:
If Old Dominion gets past Pitt, they will be able to absorb the reasoning as to why Pitt can make it to the Final Four. They would not have to beat the teams in other regions. They will only have to beat the imperfect teams of the Southeast. In the Sweet Sixteen, the team would be looking at Kansas State, Wisconsin, Utah State, or Belmont. Old Dominion would not be a big favorite in any of those contests, but also would not be a heavy underdog. Kansas State has all of four wins outside of Bramlage Coliseum this season, and Wisconsin is not much better outside the Kohl Center with a 6-8 mark. Utah State cruised through the WAC in what is a down year for that league, and lack a signature win. Beating any of them would not be an impossible task. The same can be said of possible Elite Eight dates with Florida, BYU, St. John's, Michigan State, or UCLA. It is not exactly the East bracket.
Top First-Round Matchup:
Kansas State versus Utah State
This is a matchup that is more intriguing for the imperfections in what both teams have done. Utah State is 30-3, but has played only three RPI top 50 teams. They lost to Brigham Young and Georgetown, but beat St. Mary's on the road. The weakness of the WAC is the reason they are the 12th seed, and the schedule leaves a great deal of uncertainty about their ability as a team. More than a few very good teams have come out of weak conferences and done fine in the tournament, but it is very difficult to predict. Kansas State, on the other hand, has been utterly mediocre outside of Manhattan. The one saving grace for the Wildcats was beating Texas while Jordan Hamilton was mired in a miserable shooting slump.
This matchup has all the makings of a classic 5-12 game that goes down to the wire. It is worth noting that the one thing that Kansas State does at an elite level is get on the offensive glass, which could be troublesome because Utah State allows fewer offensive rebounds than any team in the NCAA tournament. Kansas State shot only 43.8 percent from field this year and is heavily reliant on three pointers and second chances. Whether the Wildcats can get those second looks will go a long way in determining who wins the game.
Top Potential Matchup:
Brigham Young versus St. John's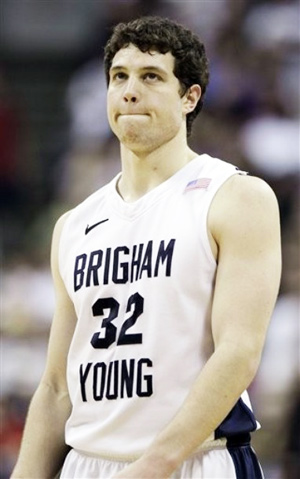 The only defensive strategy that has worked to slow Jimmer Fredette has been full court, no help man with a second defender coming to trap when he crosses halfcourt. Teams have to force the issue to get the ball out of his hands. St. John's has the depth, length, and athletes to force him to give up the ball and thereby challenge the rest of the Cougars to either beat the rotating defense or make Fredette expend great amounts of energy to try to get the ball back. The defining moment of St. John's re-emergence as a relevant program was their dismantling of Duke. They forced the Blue Devils into eleven first half turnovers with their full-court pressure and half-court traps. The game was basically over after 20 minutes, and they have played like a Top Ten program ever since. A similar defensive game plan would be an interesting and possibly effective strategy against BYU.

Top Potential One-on-One Matchup:
Jimmer Fredette versus Dwight Hardy
This potential second round matchup would pit two of college basketball's elite scorers. Like many junior college players, Hardy has been a late comer to the national scene. As a junior, he was the Red Storm's sixth man and second leading scorer, but the Red Storm were an NIT team. Most sixth men on NIT teams are relatively unknown outside their conference, but he has burst out in a big way this year. Starting with the game against Duke, Hardy has averaged 23 points per game on 49.3 percent from the field and 43.5 percent from three as well as adding 3.1 rebounds, 1.5 assists, and 1.3 steals per game. It is no coincidence that St. John's has gone 10-3 to close the season. In addition to being an elite scorer with a great fundamental shot, he is also a solid defender. Having this national spotlight that comes with being matched up against Jimmer can only help him with NBA scouts. For Fredette, despite having a two-year resume that includes big nights while being guarded by Armon Johnson, Kenny Boynton, TreVon Willis, Malcolm Lee, D.J. Gay, and Lamont Jones there are those who still doubt Jimmer's ability to handle elite athletes. It is not merited, but doubters will get to see Fredette once again face NBA-caliber athletes with the lineup St. John's puts out.
Top Coach:
Tom Izzo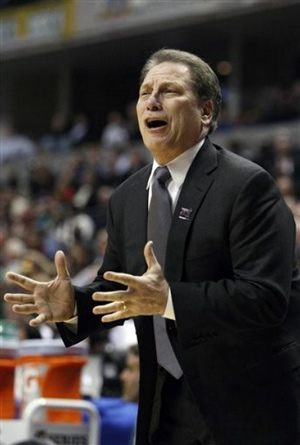 Betting against Tom Izzo teams in the tournament is betting against history. His teams have been to the Sweet Sixteen in nine of the past thirteen years and to the Final Four five times in the past eleven years. A 19-14 team generally would not scare anybody, but Tom Izzo coaches the regular season as an elongated preseason for the tournament. No other team in the country has gone through the gauntlet Michigan State has. Twenty-three of the thirty-three games the Spartans have come against teams in the RPI top 100. St. John's is said to have played a tough schedule, and they played eighteen top 100 opponents. There is a very short list of big conference teams that would schedule eighteen of thirty-three games away from their home court. After all, the toughest opponent in all of college basketball is "@." The Spartans have struggled to score at times. Izzo has had a difficult time acclimating younger players to the style of play Michigan State needs to play in order to win. It has been a frustrating season with a number of factors going into the 19-14 record, but the tournament is here and it is where the wins-and-losses truly matter. In the first round, the Spartans face a UCLA team that has struggled outside of Pauley Pavillion. The Bruins' best true road win came against a Klay Thompson-less Washington State team. Michigan State is a far from perfect team, but they are road tested. They have beaten Washington and Purdue at neutral sites. Thursday night's game in Tampa will go a long way to see whether the most difficult schedule in the country was worth the challenge the coach put forth.
Sleeper Coach:

Rick Byrd
Smaller Division I conference programs often have difficult time sustaining high levels of success due to the fact that they are heavily reliant upon player development over four years. The likes of Northern Iowa, Siena, Winthrop, and Davidson have risen up, some multiple times, but also have lulls where they fall back to the pack of their league. Belmont is not a historic power, and as late as 1996 were in the NAIA. It is not a program that can simply recruit itself to wins. One would think they should have ups and downs. With this year's Atlantic Sun title, Belmont now has its fourth Atlantic Sun Conference Tournament title and fourth NCAA Tournament berth in the last six years, only Kansas has won more conference titles in Division I. The Bruins have won at least 19 games in six of the past seven years. Even this year where many pundits have deemed Belmont as a potential deep sleeper in the tournament, they only have two seniors in their top eleven. This is a team and program built for the long haul, and Rick Byrd deserves all the credit in the world for the job he is doing. Watching him match wits and basketball style with Bo Ryan should be one of the treats of the early rounds.
Top 5 NBA Prospects:
1. Jimmer Fredette The star of the college basketball season is down to his final act. Teams have thrown the kitchen sink at him to stop him, and he has continually responded with the resolve of a pro. Teams have tried to body him and be physical, but he has the strength to absorb bumps and stay in balance. They have thrown their best athlete at him, but he has not been fazed by length or athleticism. Opponents have trapped him to get the ball out of his hands, but he has made the right reads and trusted his teammates. His resume this season is beyond reproach. In 16 games against opponents in the RPI top 100, he has averaged 32.4 points per game on 46.3 percent from the field and 40.9 percent from three. He also added 4.6 assists and 4.1 rebounds per game. Nobody questions his NBA range or quick release, but there are still doubters who wonder whether he is a true point guard and are unsure whether he can work inside the confines of an NBA defensive scheme. Still, he has played himself safely into the first round and probably into the lottery.
2. Tyler Honeycutt The gangly UCLA wing made a name for himself with a near perfect game against Kansas. Honeycutt had 33 points, 9 rebounds, 4 assists, 2 steals, and 1 blocked shot to lead the Bruins to within second of upsetting the Jayhawks. The problem is that his season fell off after that game. He shot only 37.6 percent from the floor in Pac 10 games, and his erratic shooting touch has somewhat tempered enthusiasm for an incredibly long and athletic player. He is still only a sophomore and holding a world of potential, but is still a long way from having it all come together on a consistent basis.
3. Chandler Parsons The one-time gem recruit who was to reload the Gators after Al Horford, Joakim Noah, Corey Brewer, Lee Humphrey, and Taurean Green left for the pro ranks has finally lived up his potential. After spending much of his first two years in Billy Donovan's dog house, he has rebounded to have a solid junior year and an award-winning senior campaign. As a versatile 6'10 small forward, he should have no problem finding a team wanting him to fill a niche off the bench. His still less than stellar shooting leaves him a notch below elite status, but his combination of length and skills are hard to come by.
4. Jon Leuer Leuer is a skillsy 6' 10 power forward who can score inside and out. In as much as he has done the majority of his scoring during the Big Ten season in the paint, it is his ability to shoot from the perimeter that makes him so intriguing for the NBA. While his three-point shooting percentage for the season is still an impressive 38 percent, he was only 28 percent in Big Ten play.
5. Jordan Taylor Taylor leapt onto the NBA radar this season with a much improved perimeter shot. In his first two years, Taylor was a solid facilitator who did a solid job of protecting the ball and avoiding mistakes but as a sub-40 percent shooter was a limited player with less than overwhelming physical attributes. This season, his shot has come around and his efficiency as a point guard has not waned in the least. He averaged nearly 20 points and 5 assists per game during the Big Ten season as well as had an otherworldly 4.5:1 assist-to-turnover ratio. His season long assist-to-turnover rate was 4.2:1, which is the best rate for a starting Division I point guard in a decade. Taylor is the real deal. Some will claim that his efficiency is a product of the system. The counter is that if a system can get a point guard to produce those numbers and a 23-8 record, every team at every level of basketball would play that system.
*Check back for complete breakdowns of the other 3 brackets in the next 2 days.