Why the Number 1 Seed Will Make the Final Four:
There is no secret here: talent wins games in March, and the Wildcats have a surplus of it. Of the 7 regulars on Kentucky's roster, all seven will be found on NBA rosters in the near future. Most of them have bigger plans, however, with Anthony Davis and crew likely to seize control of the lottery. On the defensive side of the ball their athleticism and length are overbearing characteristics. They rank 12th in the nation in scoring defense (59 PPG), 1st in blocked shots at nearly 9 per game, 1st in FG% defense (36.8%) and 11th in rebound margin with a +7.2 advantage on the glass. Offensively, despite their youth, they don't give away possessions (11 turnovers) and seek out quality looks near the rim utilizing their strengths (48% FG). In terms of the draw, a potential second round matchup with "similarly" talented Connecticut in the round of 32 is a bit rough, but the Huskies and team chemistry will never be synonymous. If we peek further down the bracket, only Baylor can be mentioned in the same breath physically with UK.
Why the Number 1 Seed Will Fall Short:
As per usual, Kentucky is saturated with youth and inexperience. They start three freshmen and two sophomores, with senior Darius Miller the only upperclassman of note in their seven-man rotation. Frosh point guard Marquis Teague has made advancements running the show, but he's still far from a ready-made floor general. Will he get the ball to the right people in their comfort spots in the biggest of moments? Can UK execute in the half-court against a seasoned squad with versatility in their defensive style (perhaps a Wichita State)? The Wildcats are 32-2 because they have exceptionally more talent than their opposition, but young players can't always make the appropriate adjustments in-game, particularly with their season hanging in the balance (see Regional Final vs. West Virginia). This will be an entirely new level of pressure for their quartet of freshmen, and that fact can't be overstated. Terrence Jones stepped up massively last March en route to an unexpected Final Four berth. He must avoid the disappearing acts and lapses in concentration that have plagued him all year for Kentucky to cut down the nets.
Best Non-#1 Seed: #3 Baylor
The Bears have many of the ingredients required for a lengthy run through the madness. They have two legitimate NBA talents on their front line in Perry Jones and Quincy Miller, both of whom possess inside/outside adaptability and can present matchup nightmares against any opponent. In addition, they have three others contributors on the baseline who stand 6'7 or taller and attack the offensive boards (+5 rebound margin). Pierre Jackson and AJ Walton are both creative point guards (although neither is a true PG) that can get into the paint and facilitate the cause of teammates. Baylor also shoots 38% from the three-point line as a team, and can flood the scoreboard in a hurry led by the sharpshooting of marksman Brady Heslip. Warning: If Scott Drew's team expects a cakewalk against an old-school South Dakota State team in the round of 64 their 2012 tournament could be over before it begins.

Sweet 16 Sleeper: #10 Xavier
This is a more a critique of their draw rather than a credit to Xavier. While #7 seed Notre Dame had an excellent Big East campaign, they did it with mirrors. They are well-coached, but lack playmakers and are extremely thin on the bench. Duke is a fraudulent #2, relying dramatically on accuracy from deep and their overall team athleticism is not intimidating. The Musketeers have three guards named to Atlantic Ten All-Conference teams in senior Tu Holloway, junior Mark Lyons and freshman Dezmine Wells. Holloway and Lyons have a plethora of tournament experience, and both can create offense for themselves and for teammates in crunch time. The presence of 7'0 center Kenny Frease will be critical against the likes of Jack Cooley and Mason Plumlee on the interior. Please be advised, this is a far lesser version of X than the tournament has witnessed in recent seasons. After the brawl against Cincinnati this team has been inconsistent at best, finding winning away from the Cintas Center an onerous task. With that being said, given their talent in the backcourt a journey to the Regional Semi is well within reason.
Final Four Sleeper: #5 Wichita State
If the Shockers sliver their way to New Orleans they will certainly have busted every bracket along the way. It means they would have escaped past a confident and tenacious VCU team in the round of 64, with possibly a strong Big-10 opponent in Indiana to follow. Then, barring an obscene upset in the round of 32, Wichita State will need to take down the Goliath known as Kentucky in the Sweet Sixteen to advance forward. My head is now spinning just thinking that far ahead. There is no doubting, however, that the Shockers resemble a power six program more so than a mid-major. Their four upperclassmen guards all bring forth different skills that aid the team mission. Lefty Joe Ragland runs the show and shoots 57% from the floor (50% from three), Toure' Murray is a slasher, off the bounce playmaker and defensive dynamo, David Kyles is the team's best pure shooter off the pine and Demetric Williams provides defensive energy and another sturdy handler and wise decision maker. Oh yea, then there's 7'0 center Garrett Stutz who averages 14 points and 8 rebounds on 56% field goals. The senior finished second in the MVC Player of the Year voting, and is without question the most improved player in America. He's still awkward, but a picture of efficiency. 6'8 JC transfer Carl Hall who put up big games in the non-conference against stiff competition is their best athlete on the inside.
Top First-Round Matchup:
#8 Iowa State versus #9 Connecticut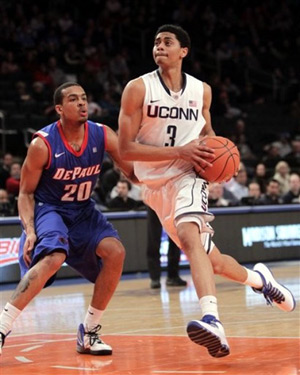 The Cyclones will get their first taste of tournament action since 2005 against the perennial stalwart Huskies. It's been a program building year for Fred Hoiberg and ISU, winning 22 games behind five key transfers. The most notable of those transfers is Royce White, one of the more interesting players in the country. He acts as a point-forward for the Clones, averaging 13 points, 9 rebounds and 5 assists at 6'8 270 pounds. Surrounding him is a plethora of three-point gunners that make 8+ treys per contest (Scott Christopherson 45%). Connecticut will try to exploit its quickness advantage on the perimeter with Shabazz Napier and Ryan Boatright to get easy points in the paint. Despite Uconn's relatively large height advantage, Iowa State is the superior rebounding team according to the numbers. The Huskies need to be disciplined guarding the three and Andre Drummond needs to play BIG.
Top Potential Matchup:
#1 Kentucky versus #3 Baylor
With all due respect to the rest of the region, the battle for the heavyweight crown will be decided in Atlanta. Queue the salivating NBA scouts. The overall skill and talent level of Baylor has never been in question, but do they have heart to battle through adversity for twelve grueling rounds? This would be an opportune time for Perry Jones to showcase his killer instinct. Kentucky's size/length advantage would be neutralized for the first time all season, meaning guard play would be paramount in deciding a victor. The Bears will almost assuredly come out in a zone and force the Wildcats to make perimeter shots. Doron Lamb and his 46% accuracy from distance can single-handedly bust that 2-3 into smithereens.

Top Potential Player Matchup:
Michael Kidd-Gilchrist versus Jeremy Lamb
There are many high-profile matchups to select from in the South (including Anthony Davis/Andre Drummond), but MKG vs. Lamb has tremendous intrigue. First of all, both are probable top 5 and lock top 10 selections whenever they decide to bolt for the draft. Secondly, they are polar opposites in how they go about their business, from personality to pace of play to overall style; comparable in many ways to Rafael Nadal vs. Roger Federer on the tennis court. MKG is a maximum energy, max-effort player at all times. His game is aesthetic only in that it results in winning basketball games. Lamb, on the other hand, is silky smooth and looks like he hasn't broken a sweat after 35 minutes. MKG is an attacker, while Lamb predominantly avoids contact in the mid-range. Lamb has difficulty creating space off the dribble against aggressive defenders, so expect him to utilize screens all day long. This should be a treat to behold.
Top Coach:
Tom Crean, Indiana
Not many coaches in America could have led this IU squad to 25 wins in the Big Ten. Crean knows how to squeeze the juice out of each and every player on his roster. The arrival of McDonald's All American Cody Zeller was huge, but keep in mind this team won 28 games total the prior three seasons. Outside of his Final Four run in 2003 with Marquette, he's only advanced past the round of 64 on one occasion (2nd round). It's time to work that magic with all the chips on the table.

Sleeper Coach:
Tad Boyle, Colorado
After allowing 90 and 83 points in their final two regular season games, Boyle's Buffaloes allowed a paltry 53 PPG in the Pac-12 Tournament. He's proven he can navigate through tournament waters and his team has bought in lock, stock and barrel to half-court defense. He's done an immaculate coaching job with limited resources, but hiding his deficient point guard play against UNLV's pressure will be the ultimate test.
Top 5 NBA Prospects:
The South bracket is absolutely loaded with NBA talent with as many as 6 potential top 5 picks in the region.
1. Anthony Davis, Kentucky
Davis will have a chance to put a big stamp on his freshman season by helping lead the Wildcats bring Coach Calipari his first national championship. Davis is a physical specimen who brings a high level of energy and passion each time out.
2. Andre Drummond, Connecticut
Apparently the selection committee has a few draft fans among their group as the 2nd round match up looming would allow Drummond and Davis to square off. While Drummond has struggled with consistency and focus, he could solidify his spot in the top 2-3 picks with a strong showing in the tourney. He could even creep back into top overall pick discussions if he were to significantly outplay Davis.
3. Jeremy Lamb, Connecticut
Lamb proved in last year's tourney that he's a clutch performer. He appears to be better suited as a team's quiet assasin and second option as opposed to the vocal leader that this team desperately needed him to be all season. UConn is a dangerous match up for Kentucky in round two due to all of the talent that they possess.
4. Cody Zeller, Indiana
Indiana was able to beat Kentucky in the regular season and Zeller was completely unintimidated by Anthony Davis taking him to school in the post. He's a top 10 pick right now with better potential than older brother Tyler. Indiana could be prime for an upset, but the have one of the most skilled bigmen in the tourney, and he's just a freshman.
5. Michael Kidd-Gilchrist, Kentucky
Gilchrist is the heart and soul of the team. He's the reason that many feel that Kentucky can finally overcome their inexperience and cut down the nets in New Orleans. Nobody plays with more intensity and desire than MKG and his effort is contageous.
5b. Austin Rivers, Duke
Not to be forgotten, the Dukies limp into the tournament as a 2 seed likely missing their top offensive post option in Ryan Kelly. Rivers showed the type of go-to, unconscious, closing ability when he hit the last second shot to beat North Carolina on their floor. He's a big game player and unlikely to be overwhelmed by the situation. Duke could be heading for an Elite Eight match up with Baylor which would be a very interesting clash of styles. Duke has the perimeter shooters to beat anyone on any night and overcome their lack of post play.