Why #1 seed Villanova Will Make the Final Four
Most people think of Villanova as a guard oriented team. However, the Wildcats have a more balanced attack this year. The play of both [player: Daniel Ochefu] and [player: JayVaughn Pinkston] has helped Villanova dominate the Big East this year. Ochefu won the Big East most improved player award last year and can definitely win it again this year. The junior center averages nine points and eight rebounds a game and is no slouch on the defensive side of the ball as well. Having two post up threats in both Pinkston and Ochefu have transformed Villanova into one of the best teams in the nation. Not only are this year's Wildcats more balanced, they also are one of the hottest teams in the nation, winning 15 in a row.
The Wildcats can beat you in a variety of ways. Villanova really doesn't care who scores. [player: Darrun Hilliard II] leads the Wildcats in points with 14, but five other players average between nine and ten points. [player: Josh Hart] is a bomber from three and one of the best sixth men in the entire nation. The fact that everyone can score for the Wildcats makes them really hard to game plan for, every opposing team basically has to pick their poison. The balanced scoring contributes to their incredible chemistry. Villanova just seems to enjoy playing with each other. Every player on the team will do anything to win. Not only are the Wildcats an incredibly strong team but the East Region does seem a bit weak. If you are looking for a consistent team to make the final four, look no further than the Wildcats.
Why #1 seed Villanova Will Fall Short
Coach Jay Wright doesn't really instill the most confidence in the NCAA tournament. Just last year, Villanova didn't even make it to the sweet 16, losing to Connecticut, the eventual champs, in the round of 32. The blueprint for beating Villanova is out there as well, they lost to both Seton Hall and Georgetown earlier in the year.
Even though the Wildcats have a much more balanced attack this year, they still take too many threes. They make them at a pretty good clip, 38.9 percent, but any team is prone to go cold from the three point line. Villanova also lacks big men depth. No matter how improved both Pinkston and Ochefu are, just one of them getting into foul trouble can spell doom for the Wildcats. Don't be surprised if a team like LSU, who has a legitimate NBA front court, comes in and pushes the Wildcats around.
Best Non-#1 Seed
#7 Michigan State
This is definitely a stretch considering Virginia is the East's two seed and could of definitely been a one seed, but the Spartans are really good. Not only did Michigan State beat Virginia last year, but the Cavalier's best player, Justin Anderson, is hurt and did not look good in the ACC tournament. Year after year the tournament proves that guard play and coaching are the two most important aspects. Both [player: Travis Trice] and [player: Denzel Valentine] are playing great basketball right now and can absolutely fill up the score sheet. Tom Izzo's resume speaks for itself, the man can coach. The real reason why the Spartans are so dangerous right now is the play of [player: Branden Dawson]. Dawson has literally taken 9 threes his entire Michigan State career, but it doesn't matter. The senior wing plays more like a center. Dawson averages nine rebounds, 1.5 blocks and a steal a game. The Spartans will not back down to anyone and should give Virginia and maybe even Villanova fits.
Sweet 16 Sleeper
#5 Northern Iowa
Northern Iowa may be lesser known, but they can definitely surprise a few teams in this tournament. The Panthers play around their center, [player: Seth Tuttle]. Tuttle isn't a prototypical NBA post prospect, he only stands at 6-8, but boy can he play. The senior can score from literally anywhere. Tuttle is shooting 61 percent from the field and 43 percent from three, scoring 15 points per game. The post player grabs 6.5 rebounds and even dishes 3.3 assists a game. The Panthers play around Tuttle by basically surrounding him with three point shooters. Northern Iowa averages 39 percent from three and can easily have five players on the field that can shoot threes. Northern Iowa may seem like a one player team, but they have great role players and Tuttle can definitely ball. The Panthers are going to be a dangerous out for any team. Villanova had better watch out if they see Northern Iowa in the Sweet Sixteen.
Final Four Sleeper
#2 Virginia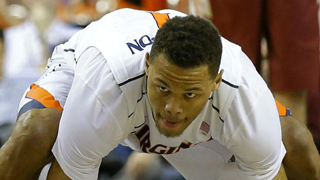 This is definitely cheating, but too many people are sleeping on the Cavaliers after watching them play with an injured Anderson. Virginia was one of the best teams in the nation when Anderson was healthy. The Cavaliers boast one of the, if not the best, defense in the country. Virginia has a style of play that infuriates viewers, but works. The Cavaliers slow down the game, get good looks, and play incredible defense. It is only a matter of time before they go on a run. Not many teams can get as many good looks as Virginia does, especially when you have to play Virginia's defense. If Anderson comes out closer to 100 percent and can actually dribble this weekend, the rest of the East region better watch out.
Top First Round Matchup
#5 Northern Iowa vs #12 Wyoming
Northern Iowa was already discussed, but what about Wyoming? The Cowboys had a rough year, but they were playing without their best player in [player:Larry Nance Jr.]. Wyoming got into the tournament by beating the then number 25 ranked Boise St. squad and San Diego State, two tournament teams. The Cowboys hang their heads on defense, ranked number 8th in the country with 56 points allowed per game. The battle between Nance Jr. and Tuttle is going to a blast to watch and everyone knows the story about five and twelve seeds. This should be a good game and it will be interesting to see what wins out, defense or offense.
Top Potential Matchup
#7 Michigan St. vs #2 Virginia
This would be an awesome game, and it is likely to happen in the round of 32! You know the Cavaliers want revenge for last year, but the Spartans won't give up easily. It will be really interesting to see how Tom Izzo decides to attack the Virginia defense. It also should be fun seeing how Izzo defends Anderson. This will probably be a low scoring game and the first team to 60 should win. Grudge matches are always interesting. The game could get chippy, especially with a couple of hard fouls. The team that wins this game will have the best chance to get to the final four other than Villanova and both teams will likely know this. This could be one of the best games in the entire tournament, let alone the East region.
Top Potential Player Matchup
Providence's [player:Kris Dunn] vs Oklahoma's [player:Buddy Hield]
The potential 6th seeded Friars vs the 3rd seeded Sooners could give us this matchup. Hield is a gunner to say the least. The junior guard isn't the tallest, he only stands at 6-4, but man, does he love to shoot. Hield leads the Sooners in points with 17.5 but only shoots 41 percent from the field. Oklahoma's offensive success relies a ton on Hield and his ability to score the basketball. On the flip side we have Dunn. The sophomore guard has been unbelievable this year. Dunn does it all for the Friars, scoring, rebounding and of course, passing. The sophomore shoots 48 precent from the field while scoring 15 a game. Dunn is unbelievable in every other aspect of the game as well. The Friar dishes 7.6 assist and game, somehow rebounds 5.6 boards a game while still getting almost three steals a game. Dunn will definitely be drafted into the NBA, the only question will be when. The matchup should definitely be fun to watch.
Top Coach
Tom Izzo, Michigan State
The man is a wizard. The Spartans honestly don't have much talent this year and the fact that Michigan State is in the tournament with a seventh seed is impressive. The entire year has been a vintage performance from Izzo. His resume speaks for itself, a 42-16 total tourney record, nobody can pick against Michigan State in the tournament and feel good about it. The Spartans don't have a NBA guard or an incredible big man, they have just been getting by with hard work and great coaching.
Sleeper Coach
Lon Kruger, Oklahoma
Having success on the basketball court at a football school is no easy feat. Kruger had a great season in one of the toughest conferences in the entire NCAA, the Big 12. Honestly, Oklahoma doesn't have that much talent. Their two leading scorers do not shoot a great percentage from the field. The Sooners manage to play at an up-tempo pace while still maintaining a top 5 defense. This actually seems impossible, just ask Mike D'Antoni. Kruger has had success almost everywhere he has been, and Oklahoma has been no different.
Top 5 NBA prospects in East Region
1. [player:Montrezl Harrell] – Louisville
Harrell is a really interesting prospect. The junior forward is a bit undersized for the NBA, standing at 6-8, but he is definitely athletic for the league. Harrell is a hard worker, he is definitely trying to improve his range, even taking some threes! The forward is a great rebounder, something that usually translates to the NBA as well. The Cardinals haven't been mentioned in this article at all for good reason, they have struggled since dismissing their best guard, [player: Chris Jones]. Harrell is going to have a monster performance to bring Louisville to the next level, something he is certainly capable of.
2. [player: Justin Anderson] – Virginia
Anderson has the size to be a two guard in the NBA and certainly has the shooting ability. The junior guard is really the only player that can create his own shot for the Cavaliers, it would just be nice to see him go to the rim and get fouled more. Anderson's numbers aren't very impressive, but since Virginia plays at such a slow pace, you have to look at the percentages. The man can flat out shoot, 46 percent from three is ridiculous. Anderson could probably get better on the defensive side of the ball but he moves his feet well and tries, which is half the battle. Anderson could definitely surprise some people in the NBA, especially when he is allowed to take more shots.
3. [player: Kris Dunn] – Providence
Dunn was already mentioned, but he really has been incredible this year. The sophomore's guard's vision is incredible and he still rebounds at a great rate. The guard tore his labrum last year, but he has come back even stronger. The sophomore still needs some work. His three point shooting isn't the best, Dunn only shoots 34 percent from three, but this is something he can work on. It will be interesting to see if Dunn can carry the Friars in the tournament, guard play always shines through. The NBA is already a formality, the sophomore will make any team happy they drafted him.
4. [player: Terry Rozier] – Louisville
Rozier has been somewhat erratic as a floor general but he's very talented as a go to scorer. He's got underrated leadership ability and doesn't shy away from big moments. His first step and ability to change speeds and get to the rim makes him difficult to guard, and he could be primed for a big tournament. Louisville doesn't have a great deal of depth in the backcourt and the suspension of Chris Jones heaped a lot of responsibility on Rozier's shoulders. The team can't be quite as aggressive defensively as a normal Pitino team without the same depth in the back court. Lousiville has not appeared to be as strong a team over the last 3-4 weeks of the season, but with the one-two punch of Rozier and Harrell, they remain dangerous.
5. [player: Jarrell Martin] & [player: Jordan Mickey] – LSU
Okay yes, cheating, but it's hard to choose between the two. Both Mickey and Jordan play forward for LSU and are absolute beasts. Martin may be higher up on the NBA draft boards mainly for the better shooting he has shown. The sophomore has stepped out the three point line this year. Martin only hits them at a 27 percent rate, but it is really the thought that counts, and it shows that he is working on it. Martin stands taller, 6-10 to Mickey's 6-8 but both are incredible rebounders. Mickey is an absolute animal in the paint, he is averaging 3.6 blocks on the year! The forward is athletic and his skills can translate to the NBA, especially if he finds himself a midrange jump shot. Martin needs some improvement on the defensive side of the ball, but all of the tools are definitely there. It would be great to see LSU get some run in the big dance, and they can definitely give Villanova a scare.