With the 2019 NBA draft now over and free agency taking up all the publicity, hopefully there is still enough bandwidth for the not so small matter of NBA summer league starting in less than a week. And while Zion, Ja and RJ will be getting all the pub and attention, this year's draft saw several players selected by teams in need that make them a "must watch" for the Summer affair and its hope of portending future NBA success. So though all players have something to prove, these are the new guys you should definitely be watching as the summer league begins (Sacramento – July 1st, Las Vegas, July 5th):
#4 DeAndre Hunter, Atlanta Hawks (via trade w/ New Orleans Pelicans)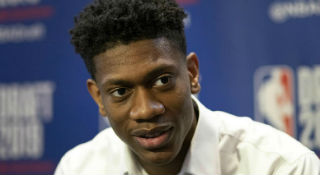 For the second year in a row, Hawks GM Travis Schlenk shook up the draft with a top-5 trade, this time moving the 8th, 17th, and 35th picks to the Pelicans to grab De'Andre Hunter with pick #4. The move further delineates the direction towards a youthful rebuild for the Hawks, and puts Hunter in a great position to grow with fellow pups: Trae Young, Kevin Heurter, and John Collins. But now Hunter, whose value crested in the wake of a strong performance during the Virginia Cavaliers title run, must prove that he, like Young last year, is worth the risk.
Hunter is a good—but not great—perimeter athlete with nice size and great defensive instincts. However, he is not particularly fluid and his jumper looks as though he struggles to get it to the rim at times and has a tendency to flatten out—which could be a problem when he stretches to NBA range. He'll be tested early by teams who will look to mitigate his athletic first step by making him consistently hit perimeter shots. That all being said, Hunter should be a readymade NBA-level defender with his size and switchability, and be able to provide effectiveness in other places as he adjusts to the NBA game. He's a safe pick here, but a team moving that many assets to jump up 4 spots in the draft is usually star hunting, not looking for "just good enough".
#8 Jaxson Hayes, New Orleans Pelicans (via trade w/Atlanta Hawks)
Hayes' abilities as a rim-runner and shot-blocker make him a great fit in the current style of play. But without any known ability to score outside of 3 feet, Hayes is a lane-clogging ill-fit for future battery mate and fellow bastion of the paint, Zion Williamson. If the former Longhorn big man can show some quick improvement—which is in his pedigree considering that there was no talk of him as a lottery pick this time last season—and display an offensive game that allows him to get out of the way, his other attributes should match well with his fellow rookie. Otherwise he may just end up being a more athletic Robin Lopez, which is not what a developing young team like the Pelicans wants with a pick like #8.
#9 Rui Hachimura, Washington Wizards
Following a disappointing season rife with player departure, habitual locker room animus, and a devastating injury to John Wall, the Wizards are in desperate need for a hit with the selection of the Japanese-born Hachimura (he is the first player of Japanese descent to be taken in the first round). Hachimura has decent size (6'8") and great length (7'2" wingspan) for an NBA power forward. He showed strong improvements in each of his 3 seasons at Gonzaga, especially in his ability to step-out to the 3 point line, where he shot a respectable 42% last season—though on only 1 attempt per game. But Hachimura often looked overmatched in games against physical bigs (see the Tennessee matchup in Dec of last year), was pretty bad defensively against all manners of player, and is going to have to show that he can take as good as he gives physically at the NBA level.
If he can continue to improve and contribute on the perimeter, rebound, and finish inside, he can compensate for his liabilities as a defender and could be a very good player going forward at a position of need for the Wizards. While Hachimura may lack superstar upside, his blend of skills and deficiencies could possibly make him a Carlos Boozer type.
#10 Cameron Reddish, Atlanta Hawks
There is not a bigger enigma in the draft than Cam Reddish and only time will tell whether or not the Hawks reached with this pick or if Reddish's potential will compensate their bravery. By all accounts, Reddish has the physical tools (though I personally find his athleticism in person to feel underwhelming versus its reputation), but his poor shooting on mostly open looks (just 33% from the 3 point line last year) along with his seemingly innate capacity to basically disappear from games, and off-court peccadilloes, leave Reddish as a prospect with far more questions than answers. He can, however, go a long way towards beginning to answer some of those queries if he can display an ability to make open shots at the NBA level. Reddish's range is fluid well beyond the NBA arc, but fluidity means nothing without effect. If he can show a touch from a distance, combined with his size, he is a perfect fit for a potential potent Atlanta offense. With all his other deficiencies, if Reddish doesn't begin to show some of that shooting potential we keep being promised, he could be out of the league before the ink dries on his rookie contract.
#14 Romeo Langford, Boston Celtics
While a reasonable argument could be made that the Celtics could have benefitted by moving down a couple spots and drafting Brandon Clarke (or moving up from their selection of Grant Williams at number 22 and doing the same), Langford at 14 is just the type of moderate risk/high reward type of player you hope to take on the fringes of the lottery. This time last year the Indiana native was projected as a possible top 5 pick in the 2019 draft, but after a somewhat lackluster season, the Celtics will gladly see if his potential is still waiting to be unlocked.
Coming out of high school, Langford was thought to be a high-level athlete with an ability to get to the rim at will, shoot with range, and get his own shot off the dribble. But following a freshman campaign where he shot only 27% from the 3 point line and had a tendency to feel ineffective in games, there are some serious questions about whether Langford's athleticism has hit its plateau. This past season saw the former prep star struggle to get separation off the dribble and often found him taking bad fall-aways in the paint after being shut down on drives. If Langford can once again show the promise that had scouts salivating going into his freshman year, and find a way to get his shooting mechanics solidified, Boston has enough depth with the sign/trade of Kemba Walker to be able to allow Langford to develop and could have themselves a steal with the last pick in the lottery.
#15 Sekou Doumbouya, Detroit Pistons
Speaking of teams needing a hit, the Pistons last good draft choice was Andre Drummond in 2012. The selection of the very young and very athletic Doumbouya (at 18 he's the youngest player in this year's draft) is a no brainer for a team that has a need at every position but center. And at a point in the draft where Doumbouya and Nassir Little were really the only two players left with star potential. Some projections had Doumbouya going as high as #9 to Washington, and while there are question about shooting ability and what position does Doumbouya play as his size and athleticism make him more of a hybrid 2-3-4, his combination of physical abilities, experience (he's played professionally in France since he was 16), and youth project well for him improving quickly at the NBA level. At worst he could be an Al Faruq-Aminu type, at best comparisons have him being Pascal Siakim like although he does not play the game as intuitively as Siakim—though few do.

#25 Nassir Little Portland Trail Blazers
Like Romeo Langford before him, Nassir Little was a player last year that many had projected going in the top 10 of this year's draft; certainly well above fellow Tar Heel Colby White (selected at #7 by the Bulls). But following a disappointing and erratic freshman campaign, Little's stock fell precipitously, primarily because the former McDonald's All-American's game is a manic exercise in athletic-mental discordance. He has all the physical tools to be a force, but the game isn't natural to him and his mental gaffs sometimes put him in a position that even his superior athletic prowess can't compensate for. Add to that a jump shot that leaves much to be desired, and Little sunk in the draft to a position where Portland could afford to roll the dice. While the Blazers are going to be in need of bodies following what looks to be some serious roster upheaval in the offseason, Little will have to show that he's more than a good athlete in summer league if he expects his rookie season to be more than a spectator's endeavor.
#30 Kevin Porter Jr., Cleveland Cavaliers (via trade w/Detroit Pistons)
With Darius Garland staying out of summer league, we can fully expect this to be the Kevin Porter Jr. Show, and that will suit Porter Jr. just fine. The former Trojan has the athleticism to be a top 10 pick, but following a season that saw as much activity off the court for Porter as on, questions are swirling around whether or not the springy lefty is more than just a superior athlete with a ton of holes in his game.
Porter Jr. is at his best in the open court where his athleticism allows him to be a terror on the wings getting to the rim. In the half court he has a great knack for getting his shot off the dribble – though economy of motion is not there as he tends to do a lot of dribbling to get to his spots and does not make other players better with even a false sentiment of playmaking. Off-ball he isn't a factor, and while he shot a respectable 41% from 3 this past season, his low release and lack of ability to shoot off the move mean that he's going to have to really show the potential to knock down open 3's off of kick outs on dribble drives to be a factor at the next level. Porter Jr. would help his potential playing time considerably if he can be a factor without the ball, as the Cavaliers have taken primary ball handlers with top 5 picks in each of last to two drafts.
#33 Carsen Edwards, Boston Celtics (via trade w/ Philadelphia 76'ers)
How does a guy who averaged 24.3 points per game during the regular season and 34.8 per game in the tournament drop this low in the draft? That same player shot 39% from the field during the season and 35% from the 3 on a whopping 10.6 attempts with a Lebronesque 37.3 usage percentage. Oh, and that same player is a diminutive 6'1". With all that said, Edwards is a gamer who competes, has range out to Steph Curry's line, and has great strength if not size. But the former Boilermaker star is going to have to show some playmaking ability or at the very least be so "lights out" at the next level that he's a threat whenever he's on the floor. The young man would go a long way in his development if he were to send a few text messages to Seth Curry to see exactly how he can find a place for himself in this league.
#47 Ignas Brazdeikis, New York Knicks (via Sacramento Kings)
Speaking of tweeners, Brazdeikis (bet you can't spell that with your eyes closed) is a stretch 4 living in an NBA small forward's body (he's just 6'7" and 220lbs). The one-and-done former Wolverine should have stayed in school and worked on his perimeter game, but as it is, Iggie will have a chance to get some solid playing time for a very young and very developing Knicks roster. As a freshman at Michigan the often brash Brazdeikis (I couldn't help myself) showed an ability to hit contested 3's and was a force on the offensive boards, but his lack of size and underwhelming athleticism for a perimeter player leave him having to answer a lot of question about where exactly he fits on the floor. He's an erratic shooter, though he has no issues shooting while contested, and has a great drive off of the pump fake and would do well to work on those skills as a possible spark off the bench. But, will that be enough for him to compensate for his physical limitations at the next level?
#55 Kyle Guy, Sacramento Kings via trade w/New York Knicks
How quickly we forget… just a few months ago Kyle Guy was a star of the NCAA tournament, hitting big shot after big shot for a Virginia team with 3 players taken in this year's draft. And while the questions of size (6'2" 175lbs) and strength are more than valid, Guy's high release, great lift, and solid percentage (42.6% on 7.4 attempts per game) should be more than enough to project him as a pro in the current style of play. There is a lot of JJ Reddick potential here, though the Kings' selection of Guy conjures up too recent memories of Nick Stauskas. Thankfully it seems safe to assume that at least this time around Vivek Ranadivé wasn't able to strong arm a draft day reach for this shooter.
Michael Porter Jr., Denver Nuggets
How soon we forget indeed… Porter Jr. will finally make his Nuggets debut this offseason, and next to the madness that is free agency, Porter Jr. may be the biggest addition to an NBA roster this offseason. If the second year rookie's back is healthy—it was the only thing that stopped him from being a top 5 selection two years ago—the 6'10" shooter could be in a position for a "Rookie of the Year" run on one of the best teams in the league. His combination of size and shooting ability makes him perfect for the current NBA, and Porter, like Ben Simmons two years ago, has the benefit of a redshirt year in which he was able to see how it's done at the professional level.