Day 5 standouts included Anthony Randolph (42 pts), Nick Young
(36 pts), James Harden (23 pts), Darrell Arthur (22 pts), Eric Gordon (22 pts),
DeAndre Jordan (21 pts, 12 reb), Andray Blatche (21 pts, 10 reb), James Johnson
(22 pts, 8 reb), Tarence Kinsey (22 pts), James Augustine (21 pts), Coby Karl
(19 pts), Ian Mahinmi (16 reb)
Memphis 90
New York 86
Box
Score
Second year PF Darrell Arthur broke out with a 22 point
(8-15), 6 reb performance to lead the Grizzlies (2-0) to victory over New York.
Arthur played with great energy knocking down mid range shots and using his
great speed out on the break.
Jordan Hill looked somewhat tentative as the Knicks lost their first Summer
League game.
Hill had some nice plays (13 pts, 6-14 fg, 8 reb) including some solid turnaround jumpers
and post moves, and did have some solid plays including an and-1 off a post move in
the closing minutes which drew the game even.
But he missed a potential game tying turnaround hook with less
than 10 seconds to play. The Grizzlies iced the game after grabbing the rebound
and being fouled.
2nd overall pick Hasheem Thabeet got loose for a dunk on the break, but looked
a little awkward at times. On one occasion, he missed a rebound as he completely
mistimed his jump and the ball went right over him as he was coming down. He
finished 3-6 from the floor for 6 points and 6 boards in 23 minutes.
Toney Douglas struggled mightily in his debut going (2-13 fg) for 8 points,
but his 11 assists helped ease the pain. Douglas is extremely quick in the open
floor but needs to improve his shot selection. Morris Almond led the Knicks
in scoring with 17 pts (7-12 fg) and 3-6 from 3.
"Mr Bean", aka Nikoloz Tskitishvilli continues to make his annual
trip to Las Vegas in an attempt to make it in the league (to no avail), he knocked
down 3-5 from 3 but did little else scoring 12 on 4-8.

Washington 95 Cleveland 90
Box
Score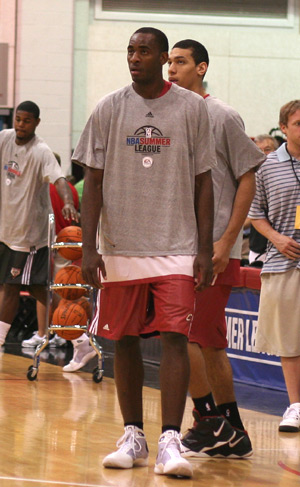 The Washington Wizards played their first game of
the 2009 SL, taking on the Cleveland Cavaliers (0-2) at Thomas & Mack Center.
Led by Nick Young (36 pts 13/19 FG) and Andray Blatche (21 pts,10 reb 3 ast)
the Wizards shot at a high level for the entire game.
Tarence Kinsey displayed a variety of skills on his way to 22 pts (9-15), 5
rebs, 4 stl. Although he has a slender frame, Kinsey wasn't timid in being aggressive
scoring inside and out whilst also willing to make the extra pass.
The Wizards, directed by Tyrese Rice (11 points), made a push
in the second, taking advantage of the Blatche/Lyons match up and maintaining
their shooting percentage (54%). They took a 47-35 lead heading into the halftime.
Kinsey had a good battle going on with Young heading into the
second half, with Young eventually coming out well on top. The Cavs made a surge
largely due to the play of Christian Eyenga (17 pts 7/13 fg). The rookie had
his first taste of success in the SL showing some skills to match his outstanding
athleticism and giving some cause for his 30th selection. He displayed better
decision making today and it showed in his improved offensive efficiency.
Young was unconscious in the third though and it didn't matter who was covering
him. His offense gave Washington a 16 point lead going into the 4th with the
team shooting an incredible 60%.
Danny Green struggled going 0/5 from the floor. While he knows the game and
puts in a solid defensive effort, at the moment he isn't much more than a spot
up shooter. Blatche put up nice numbers and has room for improvement on offense
as he had a couple of sloppy turnovers (a few from over dribbling) and was called
for a charge.
The Wizards win was set up by Young's red hot shooting in the third quarter.
He was lethal all day offensively and was also a committed defender.
Washington returns Wednesday to battle the Denver Nuggets, while
Cleveland dropped to 0-3 and will look to post their first SL win against Dallas
(without their PG Rodrigue Beaubois, out with an injury) on Thursday.
Golden State 95 Chicago
83
Box
Score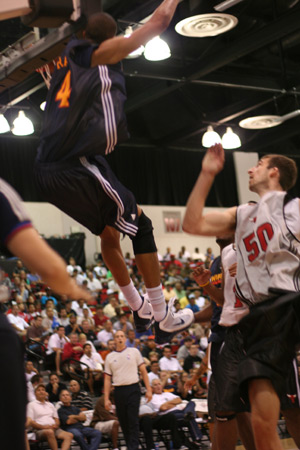 Anthony Randolph put on an absolute show tying the NBA Summer League record
for points (42) helping the Warriors (3-1) seal a 12 point win over Chicago.
Randolph's baseline dunk and-1 (photo) was the highlight of the summer league
so far. He went well over the rim and threw the ball through the net on the
way down without actually grabbing he rim (similar to the D-Howard Superman
dunk). Randolph scored in a variety of ways showing his improved jump shot and
ability to use his quickness and ball handling to get by defenders to the rim.
Randolph got to the line just one fewer time than the entire Bulls team knocking
down 16-21 ft. He's definitely getting the superstar treatment from the refs
as he gets into the lane and as soon as he feels any contact, he lets out a
yell and usually gets the benefit of the doubt.
He was yanked from the game at the 5 minute mark after taking the ball coast
to coast and shooting an ill advised shot but was put back in with 2 minutes
to go when someone probably informed coach Keith Smart that he was just 2 points
shy of the record. He would knock down 2 free throws in the final 1:30 to tie
the mark set by Marcus Banks two years ago.
James Johnson looked very good for Chicago. His 21 and 8 came on an efficient
9-13 fg, as he showed polished skills around the rim and a solid ability to
create shots for himself. He's a guy that should come in and instantly be a
factor for the Bulls. James Augustin added 21 as well (on a near perfect 10-11
fg) showing solid effort on both ends of the floor. Taj Gibson also looked
good, although his lack of strength wasn't really challenged in this one (12
and 14).
Stephen Curry struggled with his shot today (3-15 fg) for 10 pts. Instead he
looked to get teammates involved totaling 8 ast to 4 to.
LA Lakers 74 Oklahoma City 68
Box
Score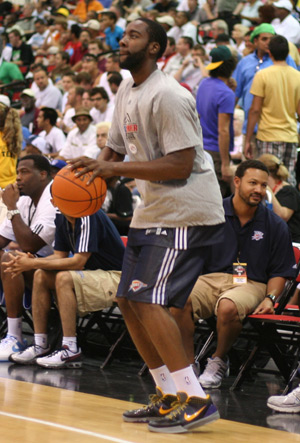 James Harden and the Oklahoma City Thunder took on the Los Angeles
Lakers (2-1) today falling just short, 74-68. The Thunder started strong and
didn't look as sluggish as their opening SL game missing just 2 of their first
11 shots. Harden played like a top 3 choice Tuesday, doing a bit of everything
on his way to 23 points 5 rebs 5 ast. But without the help of teammate Russell
Westbrook, Harden gassed out at the end.
The Thunder went into the half up 4, after a 63% first half shooting
effort. Combined with an increase in defensive intensity in the second quarter,
which resulted in some stops and long contested Lakers shots, Oklahoma City
got the lead out to 7 at one stage.
Points off turnovers (5 to's in 5 minutes) hurt the Thunder badly
to start the second half with the Lakers going on a 11-2 run to take a 5 point
lead. Harden then calmed his team down with a much needed three point play and
2 three's from the left wing. The Thunder remarkably went on a 16-6 run themselves
to go up 5 after three quarters.
Despite Harden's efforts to tie the game on a fast break dunk
with 1:44 left, the Thunder committed far too many turnovers and the Lakers
punished them for it (32 points off of them). The Lakers outscored OKC 23-12
in the 4th to steal the game from the Thunder.
Mullens showed some positive things finishing with 10 points
and 5 rebounds. He took some tough shots and got a little frustrated early but
also had some success crashing he boards and altering some shots on the defensive
end. Adam Morrison (17 points 5/18 FG) had a bad shooting night statistically
but not all of his misses were poor shots, and the Lakers got the W.
Denver 88 San Antonio 86
Box
Score
The San Antonio Spurs overcame the Denver Nuggets 88-86 at Cox Pavilion. George
Hill (16 pts 2 reb 2 ast) backed up his Sunday performance to get the Spurs
across the finish line following a tightly contested match.
Without second round pick DeJuan Blair (#37), the Spurs got out to an early
10 point lead thanks to strong play from Ian Mahinmi (12 pts 16 rebs). Rookie
Ty Lawson had a horrendous shooting night (0-8 fg) but did make some key plays.
Coby Karl (19 pts 6/7 FG, 3/4 3FG) led all scorers for the Nuggets. His play
allowed the Nuggets to take the lead at the end of the second period 39-33.
Richard Hendrix (11 points 4 reb) also provided his team with a small, albeit
important contribution.
San Antonio made a push in the final period where Malik Hairston (17 pts 7/11)
and Romel Beck (14 PTS 6/11) combined to help the Spurs out score Denver 26-19
in the final period. In his two games Hairston has been efficient offensively
averaging 16.5 PPG at an impressive 63% shooting. Beck has been a threat from
outside in both games and doesn't force many shots (13.5 ppg 54%)
The work of Mahinmi (who technically got a triple double with 10 fouls) provided
the Spurs with a rebounding advantage (44-34) and ultimately helped put them
in position to win. The play of Sonny Weems didn't help Denver's cause who saw
their 3-point lead evaporate after his introduction. Weems, who was 2/12 fg
before returning, first committed a turnover then missed his last 4 field goal
attempts, including a lay up. They were costly in such a tight game.
LA Clippers 88 New Orleans 86
Box
Score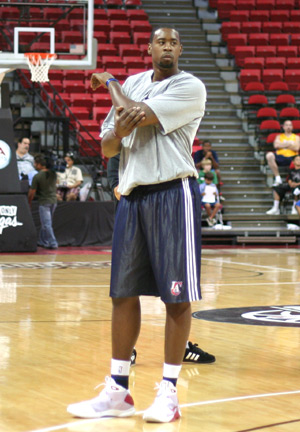 DeAndre Jordan (21 pts, 12 rebs, 3 blks) and Eric Gordon (22
pts, 5 to, 6/14 fg) led the Clippers in scoring as they defeated the New Orleans
Hornets 88-86. Top pick Blake Griffin finished with 16 pts 9 rebs and 5 ast,
to take the Clippers to 2-0 SL record.
Poor shooting from the Hornets (33%) put them in an early hole trailing by
6 after the first quarter. Griffin's presence was also responsible for the Clippers
registering a lopsided rebound edge early in the game.
It was DeAndre Jordan & Eric Gordon's turn in the second to continue the
Clippers quality play. Gordon (22 points) was looking for his offense all game
challenging the Hornets defense and also showing his outside touch. Jordan was
damaging on the offensive glass and made a couple of spectacular rejections.
LAC committed too many turnovers in the third period allowing the Hornets
to outscore them (26-18) and close the Clipper lead to just one. Julian Wright
(12 points 4 rebs) got the crowd interested with a stunning one handed follow
for a dunk.
Griffin's defensive effort was largely responsible for the Clippers getting
some important stops. He did commit some sloppy turnovers however and some of
his perimeter dribbling was excessive. But he also made some excellent passes
setting up teammates for easy buckets.
Louisiana native and second rounder Marcus Thornton (19 Points 8/17) displayed
his soft touch from outside swishing a series of threes to keep his team in
range midway through the final quarter.
Darren Collison has a pleasant surprise for the Hornets (23 pts 4 ast 3 stl
4 to) and came alive when it mattered leading his squad well and getting a breakaway
dunk off a steal to make it a one point game. A volleyball spike-type block
from Anthony Tolliver (9 points 4 rebs) was indicative of the Hornets defensive
intensity to finish the game.
A Griffin assist to McAlarney gave the Clippers a 4 point lead and turned
the match into a free throw shooting contest. Following a late Collison drive,
2 Taylor missed free throws gave the Hornets a chance to tie or win, however
Collison was bumped out of bounds after he controlled the rebound.
To nearly everyone's surprise, the officials called it Clippers basketball instead
of a foul. Time expired before Hornets could foul again. Its tough to believe
that the Collision wouldn't have received a call if it happened during any other
part of the game, another example of the effects of landing the #1 pick, perhaps.