The top performers on Day 4 were Tyreke Evans (33 pts), Robin
Lopez (24 pts, 16 reb), Joe Alexander (24 pts), Wayne Ellington (22 pts), Jerryd
Bayless (22 pts) Anthony Randolph (21 pts 10 reb), Stephen Curry (23 pts), Eric
Gordon (21 pts), Adam Morrison (20 ps), Jodie Meeks (20 pts), Gary Forbes (20 pts),
Othyus Jeffers (20 pts), and Jonny Flynn (14 ast)
NBA D-League Select 96
Minnesota 91
Box
Score
The
D-League Select team posted their first ever Vegas SL win with a surprising
96-91 victory today at Cox Pavillion over a sloppy Minnesota bunch. Johnny Flynn
and Wayne Ellington got the Timberwolves off to a fast start in the opening
game of day 4. But after building a 10 point halftime lead, the Timberwolves
were outscored by 20 in the 3rd and could not recover falling to 0-2.
Oleksiy Pecherov (15 pts 10 rebs) had his shot falling. Ellington came out aggressive
scoring 7 first quarter pts which included an impressive transition dunk and
a three to give his team an early 14-5 lead. The D-Leaguers were getting good
looks, converting on a few later in the quarter and ended the first down only
5.
Pecherov showed off more than his shooting in the second quarter,
converting a three point play and being active on the boards. He finished with
6 pts 6 rebs in the second. D-League select player Gary Forbes (20 pts 4 rebs)
proved he could hit the outside shot and also score inside, finishing with 6
pts 2 rebs in the 2nd. He got some help from Othyus Jeffers (20 pts 7 rebs)
who had 8 in the quarter.
The D-League select team came out running in the second half,
with Forbes converting on two transition lay ups which cut the lead down to
4, forcing Minnesota into an early time out. A combination of some good Walker
Russell (9 pts 3 rebs 5 ast) defense and poor Timberwolves shot selection allowed
the D-League team to run and take the lead. Jasper Johnson (10 pts 4 rebs 2
ast) had a productive third quarter, making jumpers, assisting on a lob to Forbes
and hitting the glass. Jeffers also chimed in with 6 pts 4 reb in the quarter
giving the D-League team a 10 point lead.
Jonny Flynn (12 pts 14 ast 6 TO) tried to spark his teammates
to begin the fourth with mixed results. A few handling errors after good looks
from Flynn prolonged the T-Wolves comeback. Flynn totaled 7 assists in the fourth,
however a carrying violation, reaching foul and a TO in the last 10 seconds
cost his team the chance to tie the game. Flynn's 14 assists (would've broken
he old SL record) is a positive sign for the Timberwolves however 6 TO, particularly
the one which sealed the game is concerning.
Wayne Ellington was on fire in the first half bouncing
back nicely from a horrible (2-12) shooting performance yesterday (22 pts 8/14
fg).

Phoenix 95 Dallas 90
Box
Score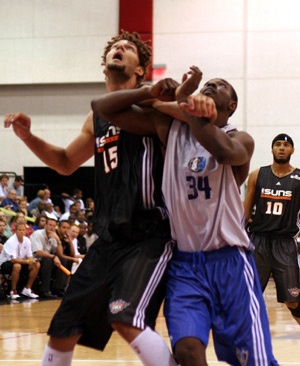 The Phoenix Suns, missing 14th pick Earl Clark with back spasms, made their
first appearance of this years SL defeating the Dallas Mavericks under unusual
circumstances. It was Robin Lopez (24 pts 7-10 fg, 16 rebs,) that set the pace
early and often for the Suns, impacting the game with his offense, rebounding
and defensive presence.
Dallas' record fell to 0-3 but point guard Rodrigue Beaubois was impressive
once again with 16 pts (5-11) 5 reb, 3 ast. His quickness in he open court and
ability to blow by opponents (Goran Dragic today) makes him a very intriguing
prospect.
Amhad Nivins (12pts 4 rebs) led the Mavs with a nice block, offensive rebound
and putback. Shan Foster(13 pts) drained 2 three's but on the back of
20% first quarter shooting , Dallas found themselves in a10 point hole at the
end of one.
Andre Brown (8 pts, 4 reb) helped the Mavericks go on an early
run in the second half to tie the game, battling Taylor Griffin for an putback
and also converting a Beaubois pass. Curtis Jerrells stroked 3 jumpers for 6
points in the second. Although he went undrafted, he remains a player who should
have an NBA career and one scouts mentioned they were high on.
Although their field goal percentage was hovering around 37%,
the Mavs came back and tied the game going into the 4th. An atrocious finish
to the quarter from Goran Dragic allowed Dallas to get some easy baskets. Dragic
committed 2 to's and missed a lay up in the end which Dallas capitalized on.
Lopez was a nightmare for the Mavericks on the offensive
boards, picking up his 5th (o-rebound) and giving his team a 4 point cushion.
The Mavericks were penalized with a technical as they took a Webber (time out)
they didnt have, allowing the Suns to make it a 2 possession game with 11 seconds
left. Beaubois made a timely 3 pointer and was more aggressive offensively to
finish the game, but again it was in vain.
Although his team lost, Marc Cuban (who was watching courtside) had to be pleased
with the developments of rookie PG Rodrigue Beaubois.
Toronto 92 Portland
87
Box
Score
2008 SL MVP Jerryd Bayless (22 pts 8-17 fg) and the Portland
Trailblazers went down 92-87 to the Toronto Raptors in their first Summer League
outing. Bayless did a solid job scoring but struggled with his ball protection
committing 6 turnovers to 7 assists.
Dante Cunningham (21pts 9 rebs) started nicely hustling and also being the recipient
of Bayless' playmaking for 10 first quarter points. Second rounder (#31)
Jeff Pendergraph (12 pts 9 rebs) hit the glass hard and finished strong inside.
After jumping out to a quick lead, the Raptors got back into the game with Bayless
out.
DeRozan had an impressive tip in while Patrick O'Bryant also
contributed with 2 dunks. Roko Ukic hit consecutive shots on Bayless for 5 in
the quarter. The game got a little spicy towards end of the second with a double
technical called on Ekene Ibekwe and Cunningham. Not long after, Bobby Jones
committed a heavy foul on a breaking Ibekwe. An athletic Brent Petway dunk excited
the crowd while Bayless finished a strong drive to give him 11 for the quarter
and cut the Raptors lead to 2.
Early turnovers by Bayless and Jones were converted into points for the Raptors,
giving them a 4 point lead. In a tightly contested quarter Matt Frieje and Shawn
Taggart were given a warning on the run from the official. Only 2 points split
the teams heading in the 4th quarter.
The fourth quarter belonged to Quincy Douby (game high
20 pts in 20 min) who scored 10 points in the period to stretch the lead out
to ten and squash off any hopes of a Blazer comeback. A missed dunk from O'Bryant
midway through the 4th looked to be a turning point. The Raptors regrouped and
were assisted by Bayless going cold, who shot 0/6 in the final quarter. Cunningham
and Bayless fizzled out going without a field goal between them in the final
quarter.
Rookie DeRozan had another solid performance (15 pts, 6 reb) and his confidence
appears to be growing.
LA Clippers 93 LA
Lakers 82
Box
Score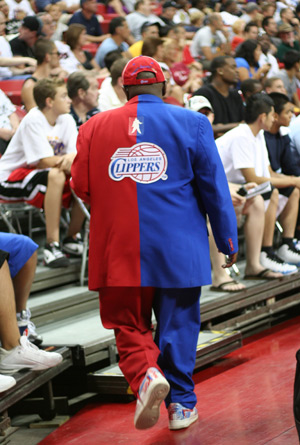 With 5000+ fans in the first game played at the Thomas & Mack, Blake Griffin
got his SL off to a roaring start with the first 7 points of the game including
a 3 pointer. He finished with 27 pts (11-15 fg) and 12 reb showing excellent
versatility to handle the ball in the open floor as well as create with his
back to the basket. He hammered down a number of impressive dunks including
a few off the break.
Eric Gordon was also very impressive for the Clips, scoring 21 on a number of
aggressive drives to the basket and dunks. His physical strength makes things
difficult for opponents from keeping him away from the basket. Former Michigan
State forward Alan Anderson did a solid job battling him, but Gordon got to
the rim or the line nearly any time he wanted.
Clipper bigman DeAndre Jordan showed some positive developments (16 pts, 8-9
fg) making a number of excellent plays around the basket, including one highlight
ally oop, and showing an improved understanding of spacing.
One raucous Clipper fan (didn't know they existed) let everyone in the arena
know that (1) Blake Griffin was indeed the #1 pick (for anyone who hadn't heard)
and also (2) reminded Adam Morrison that he had not played in the championship
series. Obviously, the Clippers landing the #1 pick is beginning to have it's
affect on fans.
For the Lakers, Adam Morrison led them with his outside shooting with 20 points
on 8-17 fg. He lacks the foot speed to defend at the NBA level, but if he can
improve as a shooter (creating shots) he could potentially find a role for himself
in the league.
Golden State 97 Detroit 69
Box
Score
With
Floyd Mayweather watching courtside, the Warriors blew the doors open on this one quickly
in the second half building a 20 point lead, cruising to victory and running
their record to 2-1.
You got the feeling that either Curry or Randolph could have gone for 30 if
they had put their minds to it. Randolph had a dominating 21 and 10 in 25 min,
scoring on a number of drives as well as disrupting the Pistons forwards on
the defensive end.
Randolph is an absolute beast (with his incredible length, quickness and developing
skills) and it's scary to think what he may become in a few years when his body
and game fully mature. Becoming a top 5-10 player in the league is certainly
within his reach.
Curry had a stuffed stat line with a game high 23 pts (7-19 fg), 7 rebs, 4 ast,
5 stl and 4 to. His composure and ability to create shots for himself and others
should make him instantly effective on the offensive end. Where he'll need to
put the most work in is defensively, but his ability to anticipate really helps
him.
After an early loss to Cleveland and the addition of Anthony Morrow, the young
Warrior bunch is beginning to play as well as any team in the SL and showing
some real chemistry. Stephen Curry commented after game 2 that he'd never seen
anything like the length Anthony Randolph possesses blocking shots.
For the Pistons, rookie second rounder Jonas Jerebko (pronounced Yo-nas Ya-reb-ko)
was the lone bright spot showing excellent energy crashing the boards and improving
confidence. He led the team with 16 pts (6-9 fg) converting on a number of put
back dunks and highlight plays.
DaJuan Summers (9 pts) struggled after playing well in his first 2. Randolph's
length appeared to disrupt both he and Austin Daye (11pts). The duo shot a combined
8-25. Daye has shown a pattern of starting strong and finishing weak which is
a product of endurance.
Mayweather made a quick exit just before the end of this one, but not before
a few fans reminded him about a certain Manny Pacquiao waiting for him.
Milwaukee 91 Sacramento 86
Box
Score
The Milwaukee Bucks (3-0) out-dueled the Sacramento Kings (0-3)
91-86 at Thomas & Mack. This game pitted lottery picks Tyreke Evans (#4)
with Brandon Jennings (#10). For the second straight game, it was Jennings who
seized control and iced the game with a late 3 to seal the win.
While Evans put up big numbers (33 pts 9 reb 7 ast 7 to), once again showing
his tremendous ability to drive by defenders and draw fouls at the rim, Jennings
playmaking and timely scoring late helped Milwaukee get the win. Evans aggressive
style attacking the basket forces the refs to make decisions, which often go
in has favor. He seems to spend a lot of time on the deck after getting past
his man and meeting up with bigmen inside. He's got a sturdy body which will
be key in staying healthy with his full contact style of play.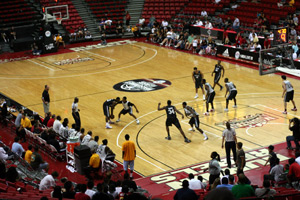 Jodie
Meeks (20 pts 8/12 FG) got the scoring under way. Joe Alexander (24 pts 7 rebs
2 blk) had his best game of SL so far, exercising much better shot selection
than what we have previously seen. It was Evans though, with the help of Jason
Thompson and John Brockman, that sparked a 13-2 Kings run to put them up 7 at
the first quarter break.
Sacramento's Marcus Landry (13 pts 6 rebs) and the Bucks' Szymon
Szewczyk (9 pts 3/3 3fg all in 3rd) both went 3/3 from downtown in the second
period. The crowd was also treated to an Amir Johnson (10 pts 7 reb 2 blk) windmill.
He then went on to violently pin an Evans shot against the backboard. The Kings
managed to maintain a narrow 4 point lead at the half.
Meeks quickly erased the lead in the second half with two quick baskets. It
was Jennings though, who did the damage in the third period (just as he'd done
the night before), quickly taking control and finding a streaking Johnson on
consecutive alley oops to give the Bucks the lead.
Up by 2 with in the last 15 seconds, Jennings drained a top of the key three
with less than 5 seconds on the shot clock to put the game out of reach. It
was another clutch performance from Jennings who is gaining confidence with
every game. His shooting is streaky and he takes gambles on defense but was
successful more often than not today notching 7 steals.
Evans started well, putting up his best scoring output of the SL, however the
timing and frequency of his turnovers were costly. Omri Casspi (2 pts 3 rebs
1 blk) had a disappointing outing. He tried too hard to make things happen when
a little more patience would have benefitted him.
The Milwaukee Bucks head back to Cox Pavilion on Wednesday to take on the Chicago
Bulls. The Kings take on the D-League select team at Thomas & Mack on Wednesday.