• Day 1 recap
• Day 2 recap
• Day 3 recap
• Day 4 recap
• Day 5 recap
• Day 6 recap
• Day 7 recap
• Day 8 recap
• Day 9 recap
Phoenix Suns 91, Miami Heat 89
Boxscore
In the opening semifinal on Day 10 of the Las Vegas Summer League, the Phoenix Suns (6-0) held off a furious second-half comeback from the Miami Heat (4-3) to advance to the championship game.
The Suns led by as many as 20 at one point, but it took a Markieff Morris drive with 21 seconds left to seal the win. You might remember Markiff's brother, Marcus Morris, hitting a game winner of his own back on Day 4. The Suns have the most salary cap on the floor out of the semifinalists and appear intent on taking the inaugural summer league championship.
Markieff had a quiet game by his standards, but made the big play when it counted. He finished with 10 points, seven rebounds, three assists, two steals and two blocks. Brother Marcus went 6-9 from the field (including 2-3 from deep) for 17 points.
PJ Tucker scored a Suns-high 19 points on 8-11 shooting to go with four rebounds and two steals. Tucker made plays both inside and out. With the smaller DJ Kennedy on him, he had little trouble using his strength to get position. When a bigger Heat player defended him, Tucker stepped outside and buried jumpers.
Archie Goodwin couldn't repeat yesterday's scoring display, but he still had some moments in this game. Goodwin's best plays came away from the ball, using a slick back-cut for a lay-up and tipping in a missed Kendall Marshall shot.
Dionte Christmas mixed some impressive drives with a couple of pretty jumpers for his 10 points off the bench. Arinze Onuaku contributed solid minutes, putting up 10 points and four rebounds in his 15 minutes. Onuaku used his size to get good position under the basket and finished well around the rim.
Miami's James Ennis has been one of the LVSL's most impressive rookies. He tallied game highs in both points (25, 8-17 FG) and rebounds (nine) despite the loss. Ennis brings great energy to each game and can hit from long range, especially when he gets his feet set. Although couldn't always convert, his hustle on the offensive boards was relentless, picking up six offensive rebounds. Ennis also excited the crowd with a nice dunk in the second quarter.
James Nunnally continues to impress with his shooting, going for 16 points in the third quarter alone to spark the Heat comeback. Nunnally is at his best as a spot-up shooter; however, he also has a knack when it comes to using shot fakes to pull up from midrange or finish with a short floater. Nunnally also showed his passing skills with a nice drive and dish. He finished the game with 24 points (8-12 FG, 5-6 3-FG).
DJ Kennedy added 18 points for Miami and did an excellent job getting to the line (7-8 FT). Kennedy had some nice drives, using his preferred left hand to his advantage. Damion James, one of the Heat's better performers all summer, had a forgettable game at the wrong time. He was unable to hit several open shots, going just 1-11 from the field for two points in 24 minutes. James also committed five turnovers.
Charlotte Bobcats, Golden State Warriors 75, Charlotte Bobcats 67
Boxscore
The Golden State Warriors (6-0) advanced to the championship game, as well, with a 75-67 win over the Charlotte Bobcats (4-2). The Bobcats rested their bigger-name players once again and struggled shooting from the floor (35 percent). Golden State, meanwhile, played most of its top players big minutes, much like the Suns did in the earlier semifinal.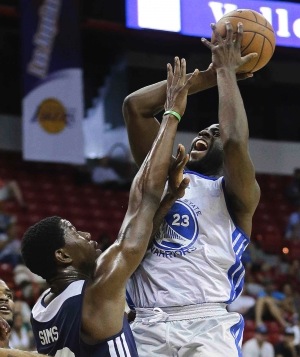 Cameron Jones played well, yet again, taking smart shots and hitting a perfect 3-3 from long range. Jones plays within himself and works hard on the defensive end. He finished with a game-high 16 points (5-10 FG).
Draymond Green didn't suddenly morph into [Player:Stephen Curry] or anything, but he shot much better in this game, connecting on 7-17 from the floor. Green (12 rebounds) was his typically strong self on the boards, and once he corrals the rebound, he has the ability to start a break by himself. He played good help defense, collecting four steals and blocking a Jerome Dyson reverse lay-up attempt on one occasion.
Kent Bazemore (13 points, 4-12 shooting, three rebounds, four assists, two steals) was much quieter in this game. He was getting to the rim almost at will, but he struggled converting those drives into baskets. His field goals came from a pair of 3-pointers, a pretty lay-up he put high off the glass and a two-handed dunk in the last minutes.
James Southerland went perfect off the bench, hitting three from long range for his 11 points and five rebounds.
Troy Daniels and Brandon Triche led Charlotte with 13 points each. Daniels has played well in his last two games, hitting outside shots and displaying his ability to split the defense and drive to the basket. Triche hasn't got many opportunities this summer, but continues to provide good minutes off the bench. Triche showed nice touch on some pull-up jump shots and played under control.