Mustang Madness had a variety of prospects on display. The Grind Session provided talented teams from all over the country, and even Canada, in a sold-out gym. Here's a rundown of the event.
LaMelo Ball 6'5 170 PG – Spire Academy 2019
This was my first live look at Ball and I came away impressed. He's a tremendous passer, best in the class in my estimation, and has the court vision to match as he never misses the open man and knows where all four teammates are at all times. His game brings out the best in high-flying big man, Isaiah Jackson. Ball had no trouble scoring but he never forced it, going stretches without shooting then to fill it up as the game progressed. He did shoot some nonchalant contested threes from the NBA line, and although he hit a few, they wouldn't be considered ideal shot selection. However, he in no way shot his team out of the game or put the lead in jeopardy as Spire ran away with both games fairly easily. He wasn't incredibly active defending off the ball but played good on the ball defense, coming away with numerous steals. Although very thin; his size, length, and rebounding are very good for position and his athleticism is on par as he finished with a few tip slams and alley oops. He also has good body control moving with the ball, as well as in the air. Overall, Ball's passing and confidence is the best I've seen in a long time at this stage and his age adds more to the intrigue considering he's a full year younger than many 2019 high school prospects. Ball finished with 24 points, nine rebounds, 12 assists, and four steals against The Rock School and 14 points, eight rebounds, eight assists, four steals, and five turnovers against Trinity International.
Daishen Nix 6'2 195 PG – Trinity International 2020
Trinity International lost both games at Mustang Madness but Nix showcased his advanced ballhandling ability. He changes speed, is shifty, and is very instinctive off the dribble to keep the defense guessing. He can get to the middle and dump off to the open teammate when the help comes. His shot was hit or miss over the weekend, but he still put points on the board. He showed good on ball defense as well. Nix's stock has been on the rise since last season as he's among the top point guards in the 2020 class. Nix finished with 14 points against Callaway and 13 points, five assists, and fours steals against Spire Academy.
Daeshun Ruffin 5'9 160 PG – Callaway 2021
Ruffin's a very gifted scorer and offensive talent. Only 5'9 but gets his shot off against any defender using an effective elevated step back and quick release. His 42 points in the win against Trinity International set a new Mustang Madness record originally set by former Callaway guard, Malik Newman. His shot selection isn't ideal, pulling up for contested threes and he overdribbles at times, but he was his team's best scoring option. He has a very effective crossover and beat the defense to make impressive dump offs on occasions. At this stage he seems to be more of an undersized scorer than true point guard, but the sophomore is just getting started. In addition to his 42-point outburst, he scored 28 points in the loss to Salesian.
Nimari Burnett 6'3 185 PG – Prolific Prep 2020
With the return of transfer, Pierre Crockrell, Burnett can play off the ball more, allowing him to spot up and create in the half court. Prolific Prep won both games and while Burnett shots weren't falling at the rate we're used to seeing (6-19), he still managed to drop 25 points in the win over Orangeville Prep. He went down with an injury against The Rock School but came back to finish with ten points. Burnett's one of the best shooters in the nation but as a combo guard, he's effective even when he's not scoring as he can create for others.
Tyrese Samuel 6'8 225 SF/PF – Orangeville Prep 2019 (Seton Hall)
Samuel displayed a smooth shot and faceup scoring ability. He's a good interior defender with good strength and gets off the ground well, he even snatched a floater attempt out of midair. The versatile forward's effort wasn't enough to beat Prolific Prep, but he finished with 12 points, 11 rebounds, and three assists.
Matthew Alexander-Moncrieffe 6'6 195 SF – Orangeville Prep (2020)
Alexander-Moncrieffe contributed 17 points and eight rebounds in the loss to Prolific Prep. He's very explosive and may have had the best play of the event with a poster dunk on a baseline drive. His half court game still has a lot of room to expand. His ballhandling can improve, as well, as he doesn't create much with it and loses it on drives at times. He didn't show much shooting and left some points at the free throw line. He has potential as a defender but has choppy steps when changing directions on that end. Overall, he displayed his talent and is still working on putting it all together.
Rocket Watts 6'2 175 PG – Spire Academy 2019 (Michigan State)
Watts is a high-level scorer. He didn't get a lot of baskets in the flow but excelled in isolation, controlling his defender and creating with his dribble. He used his quickness to get the rim and his step back jumper on the perimeter. He was a high-volume scorer going for 27 points while shooting 10-20 from the floor and 6-15 from three in the win over The Rock School. He followed up with 19 points, five rebounds, five assists, and four turnovers in the win against Trinity International. Cutting down on his overdribbling and developing more as a facilitator would be an ideal area of focus as he prepares for college as he's more of a scoring guard at 6'2.
Isaiah Jackson 6'9 180 PF – Spire Academy 2020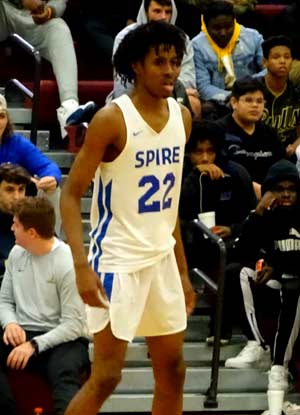 The bouncy big man for Spire brought the crowd to their feet throughout both games, finishing with highlight jams. As mentioned above, he plays well with LaMelo Ball, staying active and alert when the pass comes. Jackson's a good defender and shot blocker but catches himself in foul trouble often. He's shown the improvement we were hoping to see in his shooting, knocking down a three and getting it done at the foul line. Jackson ended with 18 points (8-11) and five rebounds against The Rock School and 26 points, 14 rebounds, three blocks, two steals, and three turnovers over Trinity International.
Carl Lewis 6'9 260 C – Hillcrest Prep 2019
There's no doubt Lewis has unique athletic ability to explode with his massive frame. He pops off the ground from a standstill and finishes over/through the defense. He also displayed some perimeter shooting as well as making his free throws count. He does tend to mishandle passes, get caught in double teams, and tries to put it on the floor in traffic at times. He also must work on staying out of foul trouble as he tries to block every shot whether he's protecting the paint or getting out to a jump shooter on the perimeter, rather than simply contesting. He also picks up fouls off the ball and moving screens from time to time. Lewis only played in the one game for Hillcrest and was a factor when he was on the floor.
Oscar Lopez 6'4 215 SG – Hillcrest Prep 2019 (DePaul)
Lopez is a sleeper and nice pickup for DePaul. He's smart and creative with the ball, always staying under control. He also brings great confidence with the ability to score in bunches from anywhere on the floor. He's strong and plays physical, battling underneath to embrace contact on layups. He got hot against Victory Rock Prep to knock down three after three to finish with 34 points to go along with 14 rebounds, six assists, and two steals. He's a better athlete than one would think at first glance, throwing down dunks, even tip slams on occasions. Lopez finished with 25 points and 15 rebounds in the overtime loss to Athens Prep as Hillcrest went 1-1.
Terry Armstrong 6'5 170 SG – Bella Vista Prep 2019 (Arizona)
Armstrong and Bella Vista split to go 1-1 at Mustang Madness. He knocked down threes and exploded at the rim offensively. I would like to see him develop as a playmaker and creator off the dribble, as he tends to settle for contested threes at times. He gets good elevation and uses his athleticism on both ends of the floor. He has good tools defensively, is light on his feet, and can guard multiple positions.
Addison Patterson 6'6 190 SG/SF – Bella Vista Prep 2020
Patterson does a great job of getting into the lane where he can finish at the rim or use his IQ mid drive to display his strong passing ability. He has a good balance of when to score and when to move the ball. Patterson's a good athlete with a versatile skillset, showing contribution in a variety of ways. He can shoot from outside and score from anywhere on the floor. Patterson finished with 20 points, ten rebounds, and five assists in the win over Aspire Academy.
Damion Baugh 6'3 185 PG – Tennessee Prep 2019
Highly underrated and confident, Baugh had a great showing in the win against Bella Vista Prep with 19 points, seven rebounds, and six assists. He's very creative and is effective attacking the basket at different angles. He changes his speed very well and gets where he wants with his dribble. He makes impressive passes and can thread the needle with a bullet to the open man. In addition to scoring at the rim, Baugh used his jump shot to knock down threes off the dribble.