Rising
Draymond Green, 6'6 SF, Michigan State
Green will probably hear 30 names called before his, yet play 10 years getting regular rotational minutes.
He's one of the most versatile players in the draft pool, with the ability to contribute in practically every statistical category. He possesses an extremely high basketball IQ, which helps make up for his physical limitations and lack of a true position. Green leads the Big Ten in rebounding, which speaks volumes about his overall nose for the ball, aggressive pursuit and willingness to bang at just 6'6. He's 9 for 16 from downtown over his last three games, and is earning plenty of back for the conference player of the year award.
Spreading the floor, making the extra pass, hitting the boards and keeping the offense in rhythm will be his primary responsibilities as an NBA player. Which is similar to what they are now.
A Spartan run to the Final Four could garner first round consideration for Dray. Green has steadily moved from the mid second round up to #32 overall on our 2012 draft board.
Isaiah Canaan, 6'0 PG, Murray State
Though just 6 feet, Canaan has the build, strength and foundation to overcome his physical deficiencies at the next level.
He's got sick range, showing confidence and comfort pulling up out to 26 feet from the rim. And they're not just heat checks. He's shooting an astounding 49% from three on 6.5 attempts her game, an almost incomprehensible statistic. He's actually 21 for his last 35 from downtown, hitting at least five in four of his last seven games. As a ball-handler, his ability to shoot off the dribble with range will make defenders who choose to go under screens pay dearly on the perimeter. He's quick with the ball yet maintains impressive control, averaging only 2.7 turnovers in 33 minutes of ball-dominance.
He's not a pure point guard and remains undersized without any true vertical explosiveness, but his shooting touch, quickness and steadiness are absolutely NBA worthy.
Jorge Gutierrez, 6'3 PG, California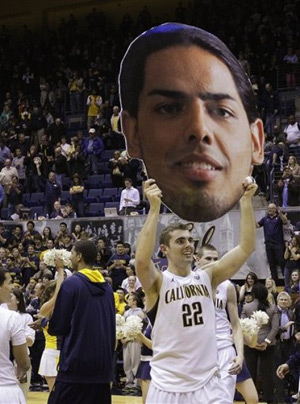 The potential Pac-12 POY, Gutierrez is feisty– a crafty ball-handler with the quickness and elusiveness to put defenses in a state of chaos.
He's at his best breaking down the defense, showing strong vision and recognition once he's penetrated the first line of defense. Gutierrez is a pass-first guard that creates off the dribble, showing a slight resemblance to fellow Mexican guard Earl Watson. At 6'3 with a strong overall frame, his only physical deficiencies surround his lack of explosiveness, which affects his ability to finish at the rim. However, he's a suffocating on-ball defender who takes opposing point guards out of their comfort zone.
While his jumper is nothing to praise, it's not a complete disaster– when left open he's proven capable of hitting threes off the catch (32%). There's not a ton of upside here, but his physical style of play can add a unique dimension to an NBA backcourt.
We had Gutierrez undrafted to start the year, and is now #51 on our 2012 draft board.
Robbie Hummel, 6'8 PF, Purdue
I'm convinced someone's going to take him based predominantly on his toughness.
Returning from back to back ACL tears, Hummel doesn't move like he used to, yet still manages to contribute thanks to the intangibles he brings to the table. He's filled out since his freshman year seemingly 10 years ago, which should allow him to body up with next-level competition. Hummel has actually been scoring at a higher rate than at any other point in his career, averaging almost 25 points and 10 boards over his last four games.
Hummel's role at the next level will certainly require dirty work and spot up shooting, and although his ceiling is only a few floors off ground level, someone's going to take him with their second draft pick.
Kentavious Caldwell-Pope, 6'5 SG, Georgia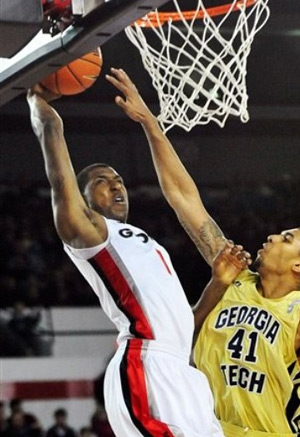 KCP is an explosive athlete with NBA 2-guard size, and while his shooting percentages are not highlight-worthy, he's a prolific three-point sniper with NBA range and a speedy release. Caldwell-Pope clearly as the confidence required for a shooter, attempting 7 per game showing a lack of conscience when in the zone. He kind of reminds me of JR Smith, with the ability to shoot off screens and dribble pull-backs, while possessing the athleticism to hit difficult shots attacking the rim.
He came up big an overtime win over Mississippi State, scoring 20 on 6 three-point makes and the game winner with time winding down. A promising defender with excellent off-ball skills, Caldwell-Pope has substantial upside with lottery potential.
Caldwell-Pope went from #29 to #14 on our 2013 draft board.
Kenny Gabriel, 6'8 SF, Auburn
Gabriel stands 6'8 with shooting guard/small forward type athleticism. He's a high flyer as Dickie V would say, and is featured above the rim numerous times throughout a game. He went down with an injury on two separate occasions during last week's Florida game, illustrating his somewhat reckless approach in regards to making the highlight play. But his outside game has gradually improved over the past few years, and he's doing a much better job on the glass as a senior.
Defensively he's an active rim security guard, blocking 2.4 shots a game while tallying a 10-block triple double earlier in the year. He had one of his best games recently against Mississippi State, going for 22, 11 and 4 three-pointers, and has positioned himself as a second round flier with a strong close to the year.
We had Gabriel undrafted to start the year, and now have him at #57 on our 2012 board.
Royce White, 6'8 F, Iowa State
White is one of the more interesting prospects in all of college basketball. He possesses a unique game for a 6'8, 270-pounder, leading the Cyclones in scoring, rebounding, assists, blocks and steals. He's a point forward who can operate at any spot on the floor, and is revered as one of those rare players who makes his teammates better.
While he's not an adept shot-creator, White's game fits the Boris Diaw model- little bit of everything, not too much of anything. He was 2 assists shy of a triple double Wednesday against Texas Tech, and continues to flourish in unorthodox fashion.
We had White going undrafted, and now have him at #36 overall in 2013.
Slippin'
Dwight Powell 6'9 PF, Stanford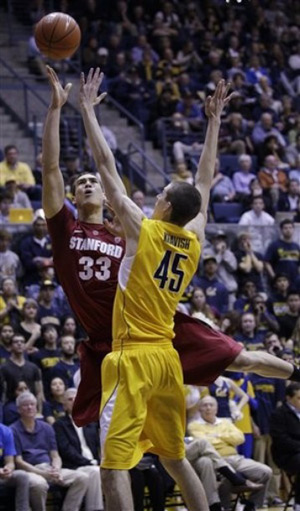 It's not often you'll find an NBA prospect see his minutes reduced from his freshman to sophomore year.
Not really sure what his strengths are at this point. Powell lacks strength on the interior and skills on the perimeter. He got some good run last week against Oregon and Oregon State, but took only six total shots despite playing over 30 minutes in each. Without producing on the scoreboard or defensively, Powell will need to establish an identity that portrays his strengths and attributes as an NBA prospect.
He's averaging 5 and 4 shooting 42% as a 6'9 athlete. That's just not going to attract many suitors at the next level. He's been taken off our draft boards.
Elijah Johnson, 6'4 G, Kansas
Johnson's inconsistencies while getting regular minutes have been frustrating from a development standpoint. He put up a goose egg in 37 minutes against Baylor, shot 2-9 against Kansas State and only recorded double figures back to back four times all year.
Johnson fooled us after shooting 40% from three as a sophomore, and although a tiny sample size, we didn't expect such a dramatic drop-off. He's at 30% from behind the arch and 40% from the floor despite taking only 8 shots a game. He's shown some playmaking ability, and at 6'4 has good size for a guard. But he has struggled to glow playing alongside Tyshawn Taylor, and will need another year to improve his draft value.
We had Johnson as a mid second rounder, and now have him at #51 in 2013.
Follow Jonathan Wasserman on Twitter @NBADraftnetWass