The prestigious McDonald's All-American game will be played today, Wednesday, March 28th at Phillip's Arena, home of the Atlanta Hawks. The top players in the 2018 class showed off their games in a series of drills and scrimmages at the all star game practices in front of NBA teams and media. Scouts generally are of the opinion that the practices are more imporatant than the game in terms of a scouting device. Here is a look at how the top prospects fared.
RJ Barrett 6'7 200 SG – Duke
Widely considered the top prospect in the class, Barrett has improved as a jump shooter. At times in the past he would hesitate, now he's letting it fly with confidence. He looked to run and push the ball up the floor at every opportunity. He finished with above the rim dunks and showed a good array of skills. He played off the ball most of the time and wasn't as ball dominant as times in the past. Barrett also stood out as the most intense defender, never failing to get into his stance and trying to lock down his man.
Coby White 6'4 182 PG/SG – North Carolina
White displayed his strong outside shooting ability and quick release. He was matched up with bigger wings, usually Romeo Langford, and had no issue with getting his shot off. He got into the paint in transition and on broken plays. He held his own, and with his strongest attribute being his scoring, he was able to showcase his ability to the fullest.
Moses Brown 7'2 260 C – UCLA
Brown has a long ways to go offensively. Some of his midrange shots fell short of the rim as he doesn't look too comfortable shooting. He twists his wrist and has wasted motion in his shot. It's apparent that he would benefit from changing his form. He also has trouble finishing around the rim and missed a few uncontested layups. His size and defense are his bread and butter but his moves around the basket are very much a work in progress.
Nazreon Reid 6'11 250 PF/C – LSU
There aren't many big men who can do the things Reid can naturally. He stands out among the other big men with his footwork, mobility and finesse. He's able to shake and get by his man, which is rare for someone his size. He is a mismatch problem in the one-on-one drills on both the perimeter and in the post. He didn't try to do too much as a ballhandler but was smooth, showing impressive vision and passing as well.
Romeo Langford 6'6 200 SG – Undecided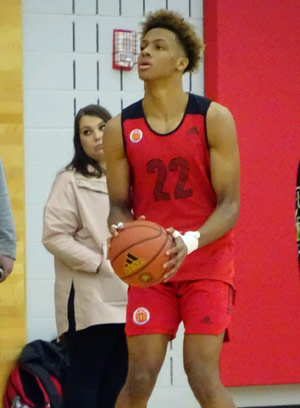 Langford was one of the best scorers, shooting from three and midrange. His ballhandling looks improved and although he's labeled as a combo guard by many, he's better off the ball. He's not a selfish player but he's struggled to stand out in events where he shared the ball with other stars (adidas Eurocamp, adidas Nations, USA camp). However, he had a good pair of practices; scoring on step backs and fadeaways in the post, always squared up to the basket and ready to shoot on the move with good perimeter footwork. He did an excellent job of displaying his high-level athleticism in both transition and in the half court with the defense getting out of the way on some of his drives.
Darius Garland 6'2 175 PG – Vanderbilt
Garland shot well and was teamed up with a group of players that can create for themselves, playing with RJ Barrett, Zion Williamson, and Romeo Langford. He took his shots within the flow without having the responsibility of taking on the scoring load. He battled with Immanuel Quickley in most of the drills with both players exchanging blows.
Zion Williamson 6'7 250 PF – Duke
Williamson has noticeably lost weight since I saw him at adidas Nations back in August and is smaller than the 272 pounds he weighed back in October at the USA camp. His jump shot looked good in drills, it could use more arch as most of his misses are just a tad short, but he has a smooth release. He exploded at the rim in some of the drills and connected on well defended layups when he couldn't dunk, converting a high percentage of shots. He finished a few alley oops catching lobs the defense couldn't get high enough to get a hand on.
Jalen Smith 6'10 205 PF – Maryland
Smith was the best shooting big man, with Bol Bol not participating. He's raw in the post but finished well in close. He has a lot of potential as an inside/outside threat. He has good defensive tools and consistently ran the floor well. Smith seemed to know where to be at the right times, giving solid contribution without forcing things.
Quentin Grimes 6'5 200 SG – Kansas
Grimes struggled shooting the ball. His misses were all over the place and unfortunately, he didn't bring much else to the table outside of scoring. His size and athleticism as a combo guard are a plus but with Devon Dotson and Jahvon Quinerly running the point, Grimes played on the wing but lacked his usual scoring punch.
Cameron Reddish 6'8 205 SG – Duke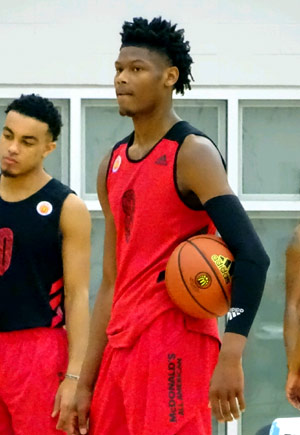 Reddish was too content as a jump shooter, I would've liked to see him play more aggressively. His jump shot was hot and cold, some shots look great and other times he drops his wrist in the shooting pocket, causing it to fall short. He made some finesse finishes in the paint and made some reads with the ball in his hands but would like to see him bring it a little more as he coasted off his talent a bit.
Nassir Little 6'7 215 SF – North Carolina
Little played hard and was a versatile defender, matching up with a variety of positions. He exploded off the ground for rebounds as well as finishes at the basket. His jump shot was working for him as well, scoring inside and out. He's showing good development on the wing, to pair with his high energy and athleticism.
Jahvon Quinerly 6'1 165 PG – Villanova
Although he didn't shoot too well in the three-point contest, Quinerly was the best shooter on the West. His shot could get better rotation, but he connected well with consistency, so you can't argue with the results. He played with a good balance of scoring and passing. He changed his speed and shifted with the ball, getting where he wanted. As we saw in the Jamfest, he's not an above the rim athlete but has great creativity as a finisher.
Darius Bazley 6'9 210 PF – Syracuse
Bazley displayed great versatility, playing multiple positions. While he's still figuring things out, he's showing progression as a decision maker and developing as a shooter. He keeps his elbow out on his shot a bit, so his misses are off to the side. If his game catches up with his tools, he can be very good at the highest level. He naturally has some variety to his game, while you can't pinpoint his go-to for offensive production, he does a lot of things at a basic level.
Keldon Johnson 6'6 205 SG – Kentucky
Johnson was the most vocal player on either team. He provides a scoring mentality and had no problem scoring in the half court. He attacked with aggression and finished through contact. He looked to take it at his man when isolated and the defense wasn't in position to help. He never failed to bring effort, which made him a handful with his ability to create and athletic ability.