The East jumped out to an early double digit lead and was able to hold onto it. Despite only shooting 4-18 (22.2%) from three and 9-17 (52.9%) from the foul line, the East came away with the 115-100 victory over the West.
Cole Anthony 6'3 185 PG – Undecided
Anthony wasn't his team's leading scorer, but his 14 points on 7-11 shooting helped him earn MVP. He scored in a variety of ways; floaters, using either hand to score in the paint, and dunks in the open floor. He handles pressure well and while he's an explosive athlete, he has the polished skills to match his natural talent. He played well with Isaiah Stewart from start to finish, showcasing his pick and roll ability. Anthony didn't make any of his three-point attempts but shot well in both days of practice and won the three-point shootout for the boys. In addition to his scoring, Anthony recorded five rebounds, seven assists to no turnovers, one block, and two steals.
Scottie Lewis 6'5 185 SG/SF – Florida
Lewis had a share of nice takes to the basket, with some finesse layups and a strong left-handed drive through traffic. He didn't get to show much his high-flying ability but finished with a fast break dunk on one play after picking the ballhandler. Lewis scored ten points while shooting 4-7 from the floor. His defensive intensity led to four steals.
Trendon Watford 6'8 225 PF – Undecided
Watford finished with ten points, with all of his field goals coming on floaters and layups. He had a nice up and under finish, as well as taking a rebound coast to coast for an easy basket to shoot 4-6. He also grabbed seven rebounds and recorded four assists to only one turnover. He had some defensive plays as well with a steal and a block on one of Tyrese Maxey's floaters.
Anthony Edwards 6'4 210 SG – Georgia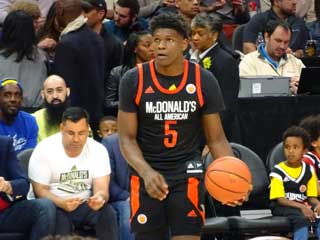 Edwards scored 12 points on 5-8 shooting. He left a few points on the table, going 1-4 on his free throws. He displayed his elite athleticism in the open floor on a few jams and hit a three from NBA range. He also had a nice play in isolation, driving the baseline and used a spin move to finish with a layup. Edwards had a solid game while flashing his scoring package and dishing out three assists.
Jaden McDaniels 6'11 195 SF/PF – Undecided
McDaniels had a quiet seven points, along with two rebounds and two assists. He knocked down a three early and finished with two dunks, one on a dump off and another in the open floor. McDaniels wasn't involved with much of the action and has a way to go to tap into his potential as a scorer. His floor game can improve as well, on one play he telegraphed a pass to a cutter leading to a turnover.
Precious Achiuwa 6'9 215 SF/PF – Undecided
Achiuwa led the game with 22 points. He played hard but forced a lot of shots and layups. He missed a few layups but did show a left-handed jump hook after an offensive rebound while getting fouled, eventually missing the free throw to grab his own miss to finish with another left-handed soft shot. Possibly the most explosive athlete in the game, his highlight play came from a dunk coming down the middle of the lane. Achiuwa gave great effort on the glass to lead the team with nine rebounds and five of those came on the offensive end.
Isaiah Stewart 6'9 245 PF/C – Washington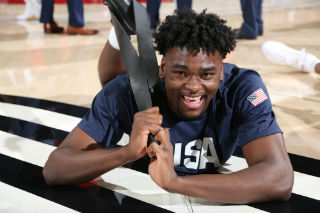 Stewart brought great energy on the both ends. He's a willing screener and has the ideal skillset as a roll man, and although he didn't make any jump shots in the game, he's developing the pop potential as well. He played alert and ran a lot of plays with Cole Anthony. A few of his 16 points came from the finishing end of alley oops, including catching and flushing a one-hander off an inbounds pass. Stewart has an impressive combination of size/strength, athleticism, and finesse that you don't see very often. He played good low post defense on James Wiseman, possessing the strength advantage. Stewart shot 8-11 from the floor and grabbed five rebounds in the game.
Wendell Moore 6'6 210 SG/SF – Duke
Moore kept it simple, yet extremely efficient with a perfect shooting night; 13 points making all five of his shots from the floor, connecting on his only three-pointer, and both free throw attempts. He also recorded two assists with no turnovers. He showed strong ballhandling and passing with good control on layups with the body control to maneuver around defenders. Moore scored on a few easy layups but hit a nice reverse on one play and banked in a three off a step back.
Trayce Jackson-Davis 6'10 235 PF – Indiana
Jackson-Davis finished witseven points. He had a nice tip in on a hustle play and two baseline dunks off the catch. He also grabbed five rebounds (three offensive) and blocked a shot. He's a nice athlete but has a way to go in expanding his half court and right hand.
Armando Bacot 6'10 235 C – North Carolina
Bacot's four points came from an easy dunk from a Josiah-Jordan James pass and a nice left-handed layup to finish on the other side of the rim in traffic. He shot 2-7 from the floor and missed both free throw attempts. He grabbed four rebounds with two coming on offense. He's made improvement trimming his body over the past year, which has noticeably improved his speed.
Josiah-Jordan James 6'7 220 SG/SF – Tennessee
James went scoreless missing all three shots. He didn't shoot well over the week and had a rough looking attempt from three in the game. He grabbed two rebounds and had a nice pocket pass to Armando Bacot to record an assist but also threw a few right to the defense to finish with four turnovers.