Malcolm Lee is a junior combo guard at UCLA. He was a McDonald's All American and highly acclaimed recruit and currently averages 12.4 points, 3.1 rebounds, and 1.7 assists. Despite having some ups and downs through his college career, some scouts remain extrtemely high on his NBA potential.
NBADraft.net: The team has been a bit inconsistent so far. What do you make of the start to the season?
Malcolm Lee: I think we are a lot better than last year. Our record isn't where we want it to be and we could be playing better but we are better than last year's team.
NBADraft.net: What are your thoughts on Pac-10 play this year? Who are the toughest teams?
Malcolm Lee: They say the top two teams are Washington and Arizona. When you have a look at it though, there aren't going to be any automatic wins. Every game will be a dogfight and we can't just turn up and expect an automatic win.

NBADraft.net: UCLA has a great basketball tradition. Was committing to UCLA an easy decision?
Malcolm Lee: At first when I got recruited, I thought I could go and play anywhere around the country. Then I went on a 2 week trip to Italy for a Team Reebok Eurocamp and I was homesick after like the third day. I embraced that and wanted to play closer to home after that. Plus UCLA has a great tradition so I committed there.
NBADraft.net: Who are some of the other players that went to Italy with you?
Malcolm Lee: I went with players like Isiah Thomas (Washington), Darius Miller (Kentucky), Bill Walker (Kansas State/NY Knicks), Will Buford (Ohio State) & Quincy Acy (Baylor).
NBADraft.net: Do you work out with past Bruins in the summer?
Malcolm Lee: Yeah I work out with Russell Westbrook & Jrue Holiday a lot. I also workout with Ryan Hollins and Earl Watson.
NBADraft.net: How do you feel about your readiness for the NBA?
Malcolm Lee: I feel like I can come in and hold my own on the offensive and defensive ends. At the moment I am more like a streaky shooter, so I'm working hard to become more consistent with my shooting.
NBADraft.net: Do you think that the NBA success of past UCLA guards will impact your chances?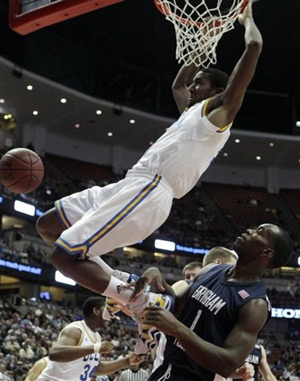 Malcolm Lee: I feel it could help my chances. People have seen what recent UCLA guards have done. Jrue had a mediocre season at UCLA. He then came into the NBA and surprised a lot of people. He is now a starter. It's the same with Darren Collison when he took over from Chris Paul last year and Russell is a no-brainer. He's shown all his capabilities since coming to the league.
NBADraft.net: How do you think your game is suited to the NBA? What will you bring to an NBA team?
Malcolm Lee: I think I will play a lot of one in the NBA. I've spent a lot of time running the team and I am good at finding cracks in the defense. Due to the way the league is, it's so spread out and so 1 on 1 orientated, I think it suits my game nicely. With my size as well, I will also be able to provide some versatility in the backcourt and play off the ball if I'm needed to.
NBADraft.net: What are you working on to improve your chances?
Malcolm Lee: My outside shot but generally just every aspect of the game. I'm working to become the complete player so working on all parts of my game, from passing, dribbling to my pull-up jumper.
NBADraft.net: Who is the toughest opponent you have played against at any level?
Malcolm Lee: Tyreke (Evans) in high school. When I play against someone, I am either taller, quicker or stronger than them. With Tyreke, he is my size. I might be a little quicker but he handles it so well. The difference in high school is that Tyreke had grown man strength at that age. He knows how to use his strength and body so well too.
NBADraft.net: Which players do you enjoy watching?
Malcolm Lee: When I was younger, growing up, I used to watch Kobe. These days, I watch a lot of Chris Paul, Deron Williams, and Steve Nash. Those kind of guys.
NBADraft.net: Do you keep in touch with past UCLA teammates?
Malcolm Lee: Yeah I talk to Jrue (Holiday) and Russell (Westbrook) a lot. Where we work out, we are all in the same place. Arron Afflalo too. Ryan Hollins gives me a lot of advice about the league, always giving me hints and advice on the difference between the college and pros. He gives me a heads up on what to expect in the NBA.