From January 3th to 5th C.B. L'Hospitalet held the second of the four qualification tournaments (Rome, Kaunas and Belgrade the other locations), of Nike Junior International Tournament. The winner was Spanish team Real Madrid, as they defeated Unicaja in the finals. Highly regarded prospect Domantas Sabonis, missed the tournament, as he is part of the Malaga senior team (he would have played for Unicaja if present). Here is a list of prospects that showed the most potential during this event.
Marc Garcia (1996, 6'6", SG/SF, FC Regal Barcelona, Spain)
Garcia was named MVP of the tournament, thanks to his remarkable performances against Brose Basket Bamberg (40 points, 7 rebounds) and Badalona (27 points, 11 rebounds). What he lacked most during the tournament was consistency. He alternated great performances with those in which he showed questionable shot selection and decision-making. This could be due to the fact that, like all Barcelona best junior prospects, he didn't practice with the junior team during the year. He is part of Barcelona "B" team, currently playing in LEB Gold (Spanish second division).
Garcia seems to have grown up a couple of inches since last year. Was more mature and solid, with his usual combination of great fluidity and balance. He is versatile as an offensive player with the ability to create with the ball in his hands for he and his teammates. Great in catch and shoot situations, exploiting cuts and screens. With a nicely developed handle, he likes to switch to point forward guiding the offense at times. Even so, he mostly looks to score in these scenarios. His length and size allow him to be a superb rebounder in this position, with almost 9 rebounds per game during the tournament. At the moment, Garcia is the best NBA prospect in Spanish hoops.
Ayberk Olmaz (1996, 6'10", PF, Fenerbahce Ulker Istanbul, Turkey)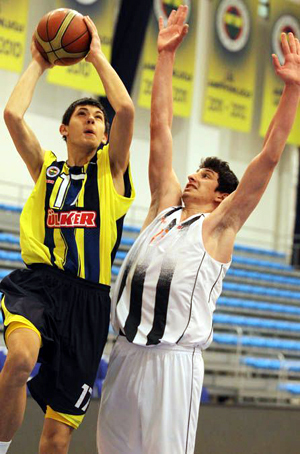 Olmaz was without a doubt the best NBA prospect at L'Hospitalet with a good combination of size, mobility and natural talent. At 6'10" he has a good height for a PF, along with a great wingspan and a lot of room for future physical development. Showed a body that looks to be made for basketball. Displaying solid fundamentals with good foundation of a post game. He showed the ability to use the hook shot along the baseline and in the middle of the paint.
The big man showed great instincts and feel though he lacked confidence. Even over a game, one could see a shift in consistency. His game against FC Barcelona was a prime example. The first quarter, he had 12 points and 13 rebounds. Over the next 30 minutes, Olmaz only had 3 points and 5 rebounds. On the defensive side, he was a good intimidator showing great timing and mobility. Overall, he needs to build confidence and maturity to tap into his potential. Closing the tournament with 13 ppg and 11.8 rpg, he showed nice flashes toward a bright future.
Berk Ugurlu (1996, PG, 6'2", Fenerbahce Ulker Istanbul, Turkey)
Crafty point guard who plays with a low center of gravity. A solid frame allows him to withstand contact effectively. Extremely fast pushing transition game, with a great confidence and effectiveness. At 6'2" he could be a little bit undersized to play at the maximum European level. He compensates for this shortcoming with good strength and speed. Showed a great motor, playing with intensity on both sides of the floor. Conditioning is not an issue, displayed remarkable stamina. Is not a consistent shooter yet, but has shown some encouraging improvements from last year. This was especially evident from long range.
The area Ugurlu has to work to do is on his pull up jumper from the midrange. In pick and roll situations, this is a coveted basic skill for a modern point guard. With his ability to beat the direct defender in basically every situation at the youth level, he generates close to 90% of the offensive opportunities of his team. His handle is solid and he uses both hands effectively. In order to become a top point guard once he plays professionally, his overall decision-making needs to improve. This especially applies to handling slower paced games and half court situations.
Ludde Hakanson (1996, 6'4", PG, FC Barcelona, Sweden)
Standing 6'4" Hakanson has good height for his role, with great passing skills and creativity. He displayed an increase in aggressiveness and confidence. This looks to be one of the benefits from his experience with the Swedish Senior National team during Eurobasket 2013. Lacking elite explosiveness, he is still a good athlete and showed solid bounce. Also, he definitely looks like he has been spending time in the weight room.
He showed a solid step back jumper, especially in pick and roll situations. Still, he needs screens and cuts to create his own shot, as he tends to struggle creating space in isolation. Ultimately showed a great deal of improvement as a long-range shooter. Was great in catch and shoot situations, though he still has work to do on the consistency of his release. Hakanson is a solid prospect and playing at the senior level on a regular basis would be the next step towards his development.
Vasilije Vucetic (1996, 6'8", PF, Oljmpija Ljubljana, Serbia)
The Serbian power forward was solid throughout L'Hospitalet and was selected to the All-Tournament team. Probably undersized to be an elite level PF in Europe, he still exhibited great technical skills as well as game comprehension. There was noticeable improvement in Vucetic's conditioning over the past year. Losing most of his baby fat, which made him much more mobile and explosive. He has a high basketball IQ and a sense of where to be on the court. With a well-rounded offensive game, he should be more aggressive in using it to his advantage.
The physical game could be seen as an area he has struggled with. This is noticeable when he is facing bigger and taller opponents. Even though strength and length give him issues, he can take contact and will fight for position in the low post. For a big man, he has a nice touch and range out to the 3-pt line, though he still could be more consistent as a distance shooter. His face-up game is also something he has worked on, though it is a work in progress. If Vucetic keeps working on his body, athleticism and aggressiveness, he could be one of the best 4-men in Europe down the line. He finished the tournament averaging 11.4 ppg and 7.2 rpg.
Jules Akodo (1996, 6'2", PG, Oljmpija Ljubljana, England)
One of the most improved prospects this year in Europe, Akodo showed signs of evolving into a true point guard on the professional level. He has a well-developed body, great physical strength and is also quite explosive. His ball handling ability is also a standout skill. Combined with effective use of change of speed and direction, this gives him an ability to create space for a shot at a good rate.
Akodo has a good offensive repertoire and confidence with his step back jumper from the midrange. He also fearlessly attacks the basket, displaying great body control and ability to withstand contact. Showed great improvement in his shot, though he still has to work on the consistency and selection. On the defensive side he has great instincts in the passing lanes and quick hands, helping him create steals.
Blaz Mesicek (1997, 6'4", SG, Oljmpija Ljubljana, Slovenia)
Mesicek is the prospect with the most upside on a very talented Ljubljana team. Moving to the heralded Slovenian team from a minor city club, this gave him the chance to play in international showcases and train at a highly competitive level. He showed solid size for his position, with a skinny frame and long arms. Another thing that stood out was how smooth and quick he was running the court. Still in the developmental stage, he could possibly add a few inches. He also looks to have a body structure to allow him to put on some weight without losing quickness. Displayed remarkable poise and maturity for his age.
The young man was even able to play point at times, with a good handle and adept court vision. Able to change speed and direction quite effectively, creating space to attack the basket or for a jump shot. Lefty shooter, with good mechanics needs to work on his consistency. The ability to create from the dribble, especially the pull-up, is also needs work. In catch and shoot, has range and shows the ability to work off the ball. Must work on balance during his dribble, which would lead to better use of his quickness and first step. Without a doubt, one of the most promising guard prospects in Europe.
Jonathan Barreiro (1997, 6'7", SF, Real Madrid, Spain)
Barreiro is one the typical Spanish swingmen; smooth and gifted from the physical standpoint, even while lacking top-flight athleticism. With solid offensive fundamentals and skill, his handle allows him to create off the dribble. He has a complete offensive repertoire with a midrange game, floater, drives to the basket and a consistent three point shot. Game comprehension is already rather developed showing great spacing and good shot selection. Furthermore, he has confidence and clutch instincts.
Leadership ability was recognized from all of his teammates, even without necessarily needing to be vocal to show it. Despite his individual talent, he gave his contribution to the team on the court in many ways, displaying a blue-collar attitude. Needs to work on his body control when receiving the ball after cuts as well as his passing skills in order to better use his court vision. Instincts and court sense both help make him a good rebounder. Barreiro closed the tournament averaging 12.4 ppg and 5 rpg, he was the key player for the tournament champions.
Santiago Yusta (1997, 6'7", SF, Real Madrid, Spain)
Yusta was a key player on Spain's U16 team, that won the European championships this summer in Kiev. Really mobile with long arms and a good structure for a modern wing player. He has a really concrete game, exploiting his quick first step. Still evolving as a backcourt player, he still has to work on his ball skills. Even so, seems to be at a good point their in his evolution. Shows strong athleticism and speed, along with passing instincts best displayed when defenses would collapse on him.
Has a complete set of offensive solutions when attacking the basket with floaters and reverse lay-ups, even when faced from multiple defenders. His three point shot was consistent, though he has to develop more ability to create off the dribble. Offensively, he could be considered a volume shooter. This could limit his consistency as a pro, when he will need to be effective in fewer possessions per game. Yusta has shown steady improvement since he was 15 and made the adjustment from PF to the wing. Needs to stick to his strengths, as he can try to do too much at times. The turnovers generated from this are from a lack of confidence in his ball handling skills.
Xabier Lopez Arostegui (1997, 6'6", SF, Badalona, Spain)
Lopez has good height for his position and a good structure. Still has to bulk up as he is too slight to compete at senior level effectively. Has a nice handle, an ability to create shots for himself and his teammates, thanks to his agility. At L'Hospitalet, he spent a lot of time as a point forward. Overall, his evolution in this role is still an ongoing project.
Could be a late bloomer, as he develops in his game comprehension and improves as a decision maker. Defensively he is very aggressive, with a high level of activity while putting pressure on opponents with his quick hands. Exhibited a positive attitude, even if he could have had more influence as a vocal leader. Was definitely the most skilled player on his team.
Andrej Magdevski (1996, 6'3", PG, Real Madrid, Macedonia)
Magdevski moved this summer from Partizan Belgrade to Real Madrid. Seen as one of the brightest prospects of Balkan basketball, due to his combination of size and superior feel for the game. He is a combo guard with a good body and height, who needs work as a playmaker, currently relying mostly on instincts. Most of his assists come from his ability to create space beating the defender with his lightning quick first step. Even so, he has shown some improvement in this capacity during the tournament.
He is really effective attacking the basket, showing the ability to finish in multiple ways. Even in situations where he was off balance, he could still manage to draw a foul. Midrange game is solid and he has a reliable floater as well. Despite his reputation as a clutch player, he still needs to work on his shot. It lacks consistency, especially outside three points line and off the dribble. Formed a very talented trio with Yusta and Barreiro, he is a prospect with upside.
Leon Kratzer (1997, PF, 6'9", Brose Basket Bamberg, Germany)
Kratzer has a lot of maturity and is well defined physically given his age. Standing 6'9" with a good wingspan, he uses those attributes and court sense to impact the boards. He may be a little undersized for his position and it is not apparent he will get much taller. Tough and really effective taking position in the paint, showed the ability to exploit his body and use power to fight below the boards.
From an offensive standpoint, his range was limited to the painted area. He also struggled also from the foul line (17-40, 42.5%). He has work to do on his post game where adding moves and improving this foot work should be the focus. He was one of the best rebounders in the tournament, averaging 10.8. Seen as one of Germany's top young prospects, will still be eligible to play at the NJIT level next year.
Honorable Mention
Alexandar Lazic (1996, 6'7", SF, Olimpja Ljubljana, Bosnia Herzegovina)
Freakish athlete with a high ceiling and superior rebounding skills for his position. Has a natural feel for the game and good passing instincts. Decision-making and ball handling skills are quite raw. Alos has to work on his shot selection and mechanics; still is definitely an intriguing prospect.
Francis Alonso (1996, 6'4", PG, Unicaja Malaga, Spain)
Alonso is a crafty point guard with great maturity and poise. Was a killer in exploiting cuts and screens. Showed a complete offensive repertoire, especially in the midrange game with his effective jump shot. Only an average athlete, he could build a solid senior career at the European level.
Moritz Sanders (1998 6'11", C, Brose Basket Bamberg, Germany)
Prospect with the most upside on his team, still in the developmental stage. Needs to add strength to his upper body. Has a tremendous combination of size, skill and mobility. He also has a nice touch, good range, and is able to sometimes guard backcourt players with his long arms and lateral quickness. Work on conditioning will be a key to keeping his energy level consistent throughout the game.